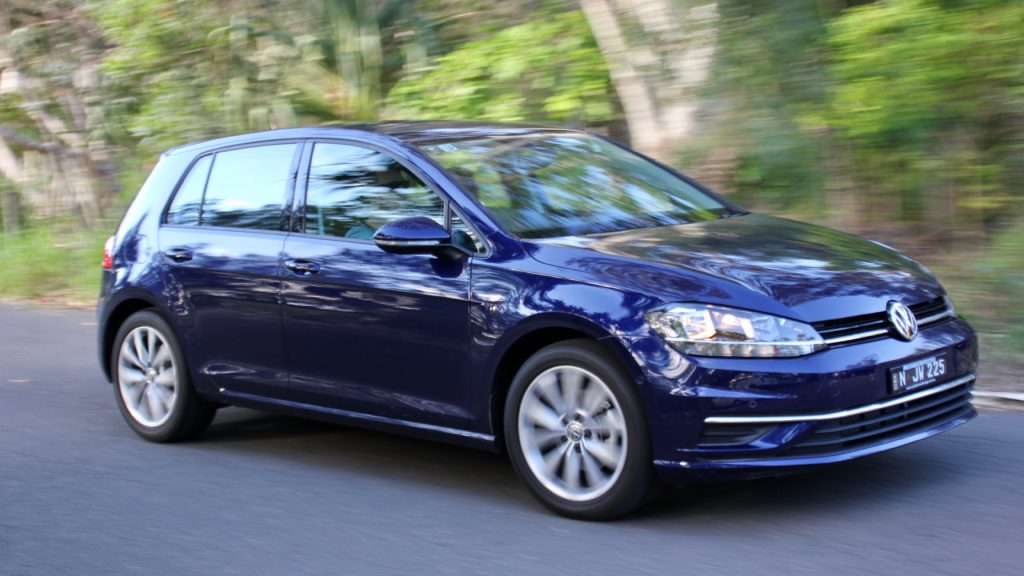 Because we automotive journalists are always sampling recently-released models, it's relatively rare that one of us actually goes through the process of buying a completely-new car. However, that's just what I did in September last year: I was so impressed off the back of the launch of the 2017 Volkswagen Golf Mk 7.5 that I bought one. What pushed me over the line? Well, in the Mk 7.5 update, Volkswagen finally equipped the small car benchmark Golf with standard equipment to match more generous rivals – including a significantly-improved, standard infotainment system. Taking delivery of my Atlantic Blue Golf Comfortline hatch was an exciting moment: I have a lot planned for this car.
In December, an opportunity arose to take some time off and hit Noosa on Queensland's Sunshine Coast for 10 days. Australians love a good road trip and rather than fly up and hire car, I chose to take my new baby along for the trip. Brand new from the box, the Golf had just 500km on the odometer before travelling north.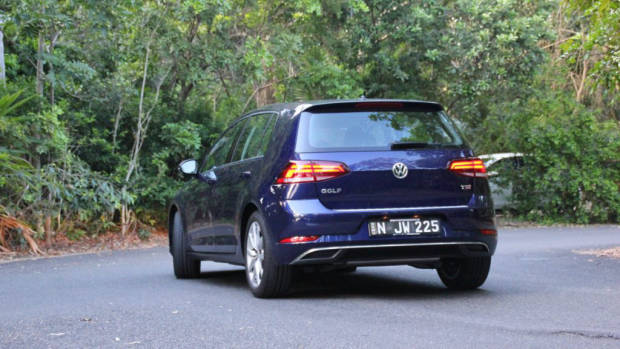 The Golf I chose was the Comfortine grade, priced at $28,990 (plus on-road costs); this tier arrives mandatorily equipped with the Volkswagen's seven-speed DSG dual-clutch automatic transmission. The Comfortline is the mid-tier of the Golf range, and it includes 17-inch alloys, navigation, dual-zone climate control, and upgraded fabric seats – though it misses the heated leather seats, LED headlights, and sunroof of the next-level Highline ($35,990).
There are two models beneath the Comfortline; the base 110TSI ($23,990 manual, $26,490 automatic) and Trendline ($25,250 manual, $27,750 automatic), while the remainder of the Golf range offers the choice of more practical wagons, the off-roading Alltrack, and sporty options in the Golf GTI and all-paw Golf R – however, it was the sweet-spot Comfortline that did it for me. Like all non-sports Golf models, it is fitted with a 110kW/250Nm 1.4-litre turbocharged petrol engine.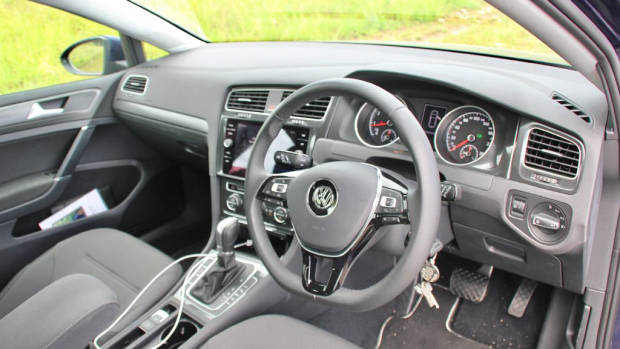 Two option packages were available; I chose the $1,500 Driver Assistance package that adds radar cruise control, blind spot monitoring, rear cross traffic alert, lane departure warning, automated parking and customisable drive modes. I skipped the $2,300 Infotainment package that adds a Dynaudio stereo, 9.2-inch touchscreen and the Active Info Display that replaces the driver's traditional analogue dials with a large, sharp screen. A third package – the $2,500 R-Line suite – is exclusively available on the Highline, and adds a sportier aesthetic outside and in.
The radar cruise control and rear cross traffic alert are two major drawcards of the Driver Assistance package that I wanted on my car – though I do question why, at the mid-grade level, these technologies aren't standard on the Golf. The radar cruise is smarter than most systems of this type that I've experienced; it has less lag while overtaking than most and a quick prod of the throttle wakes it up, while rear cross traffic alert helps while backing out of Australia's ubiquitous perpendicular parking spots by detecting passing traffic.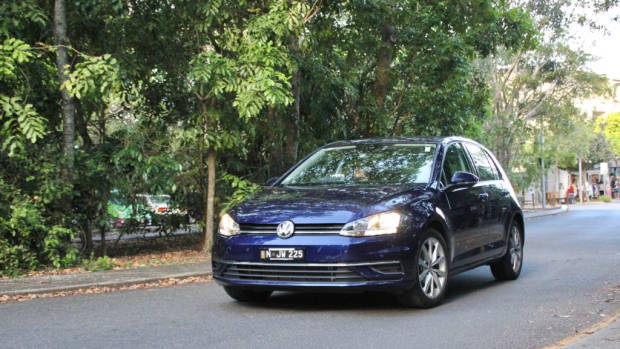 The only other option I ticked a premium colour in the form of the $500 Atlantic Blue metallic, which is a colour that is significantly more attractive in person than how it is depicted on Volkswagen's online configurator. It's a dark and deep blue in real life. The colour range offered on the Golf Mk 7.5 is a little broader than in the past, especially because of the inclusion of a bright hero colour, Turmeric yellow.
So that's my car outlined. What was the road trip like? We split the driving up into a Sydney to Coffs Harbour run, before heading onto Brisbane, and then finally to Noosa on the Sunshine Coast, dropping in on family and friends on the way – with the same again on the return to Sydney. Overall, 2,300 kilometres were added to the odometer in climate-controlled comfort.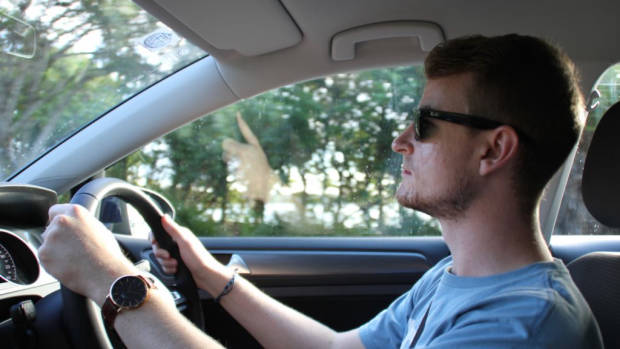 Thanks to significant improvements on the Pacific Highway north of Sydney, the formerly-seven hour trip to Coffs has been reduced to around five hours thanks to hugely improved traffic flows in old pain points like Macksville and Port Macquarie. The highway is almost dual-carriageway the entire distance from Sydney to Brisbane – finally.
Leaving my grandparents' place in Coffs and heading on to Brisbane, the weather quickly turned wet north of Grafton all the way to the Gold Coast. Designed for depressing European weather, it was no surprise the Golf took it all in its stride, remaining quiet, composed and comfortable regardless of what was happening outside, and the conditions gave an opportunity to appreciate lesser-known standard touches like a quick-to-defog windscreen, rapidly-heating mirrors and headlights that activate with rain.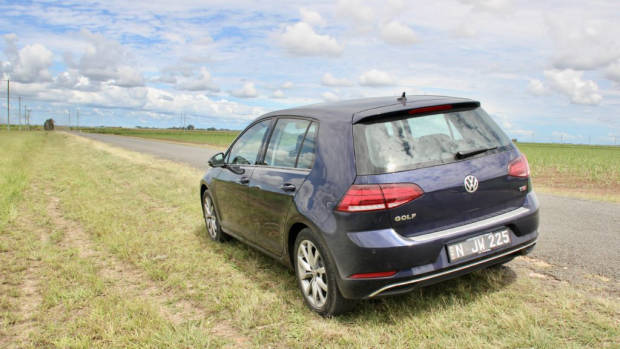 European air conditioning systems of old might have been weak but that's no longer an issue, at least in the Golf; humid Brisbane weather was no match for the freezing 18 degrees desired by my passenger. A ride in a mate's Skoda Rapid made me appreciate the inclusion of rear air-vents on my Golf, though the Rapid does offer more rear legroom and boot space.
Sydney to Brisbane on a tank of fuel was something only possible out of a diesel engine until recently, but thanks to the huge efficiency gains Volkswagen have extracted out of their TSI turbocharged engines, this kind of economy is now possible in a petrol Golf as well, which has a reasonable 50-litre fuel tank aboard. Particularly impressive is that this economy is delivered by an engine that provides decent power and strong torque, with 110kW and 250Nm on tap. Volkswagen claims a 0-100km/h sprint time of just over eight seconds, yet thanks to the abundance of torque, the Golf feels faster. The 1.4-litre's CO2 emissions of 124g/km are low, though the new 1.5-litre 'Evo' TSI petrol offered in Europe is even cleaner.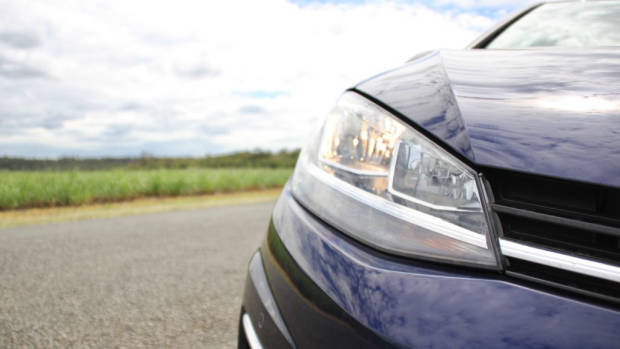 Depending on your view, the DSG dual-clutch transmission either helps or hinders the Golf. This is the first automatic car that I've owned, and the new dry-clutch seven-speed has taken time to get used to. Treat it like a normal automatic, and you'll be disappointed to find that the Golf feels laggy and lurchy off the line. Take some time to learn how to drive a DSG automatic properly, though – mainly, treating it like a manual without a clutch (which is what this gearbox actually is), and the experience is much better.
Thanks to the DSG's seven well-spaced ratios, the Golf cruises at 100km/h at under 2,000rpm, aiding highway economy. It is quick to downshift when more power is demanded, and it downshifts sportily while braking, making it more intuitive than most automatics. I'm still yet to get used to the transmission's eagerness to shift into second gear ASAP off the line – this can happen as slow as 10km/h, which adds to the perception of sluggishness. Shifting the transmission manually or starting off in Sport mode helps, though you shouldn't really have to. I do wish the Comfortline and Highline grades were offered with the six-speed manual found lower in the range, even only as a special order.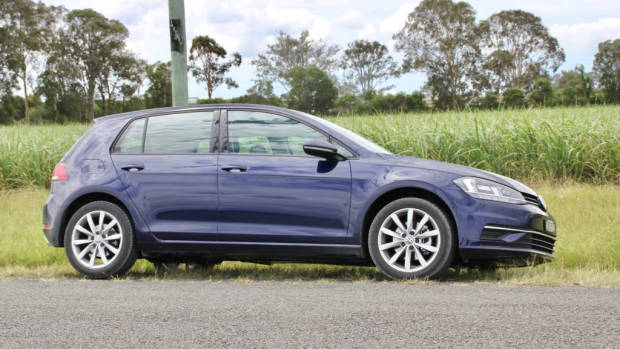 One dynamic quirk is the overly enthusiastic start-stop system, which cuts the Golf's engine in the name of economy before you've even come to a complete stop – for example, when slowing down for a tight roundabout. This can be frustrating and as a result, I deactivate the start-stop system whenever I start the car. This is not an affliction only found in Volkswagen products; BMW recently announced that their start-stop systems will receive data from the onboard satellite navigation to prevent the engine from being stopped while waiting in the middle of a junction, for example, in the name of safety. The system is clever – it recognises when the vehicle in front has moved and re-fires the engine, but is too enthusiastic to turn it off.
The fact that the Golf is actually a fun car to drive despite the lack of an overt sporting persona is part of this car's all-rounder status. Around the Sunshine Coast towns of Eumundi and Maleny, the Golf impressed with its balance and agility. It doesn't reach the nuanced dynamic capability of a Holden Astra RS or Hyundai i30 SR, but for a non-sports model it is impressive, giving an able driver more confidence than a Mazda 3. Well-weighted steering and a punchy engine make the Golf an enjoyable car to toss about on a good country road – another thing that made driving the car more fun than option B (flying, and hiring a dull Corolla).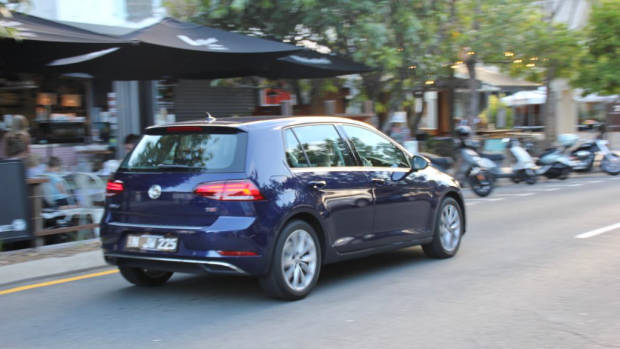 The driving modes that form part of the Driver Assistance package – Eco, Normal, Sport, and the customisable Individual – enhance the driving experience. For those who appreciate a well-engineered offering – especially at an attainable price point – the Golf has a lot of offer, and those who aspire to own a Golf GTI or Golf R but cannot stretch to their premium pricing will still find plenty of speed and handling capability to exploit in the standard car.
It is rare to find a car that belts a back road as well as it covers long distances, but the Golf is such a car. You can drive 1,000 kilometres and feel pretty fresh at the other end. The Comfortline's upgraded seats are supportive and offer adjustable lumbar for different back shapes. The square-ish Golf's excellent outward visibility makes highway driving simple, which helps with unpredictable Australian country driving traits. The active safety systems are unobtrusive and well-tuned. Although the road noise levels are higher than anticipated – the Subaru Impreza is the quietest in this class – the eight-speaker stereo is so good that it drowns out all the other noise. In fact, we feel there is no need to opt for the premium Dynaudio stereo that forms part of the Infotainment package.
While better levels of standard equipment helped pushed me into buying a new Golf, the specification sheet still doesn't fully match the competitor set. Throw a Mazda 3 SP25 into the mix and not only is it cheaper to buy at $27,690, it offers a larger 2.5-litre engine, blind spot monitoring, rear cross-traffic alert, AEB in reverse, keyless entry and auto-folding mirrors, all as standard – features the Golf Comfortline either requires option packages to add or, in the case of keyless entry and folding mirrors, does not offer at all until the expensive Highline specification.
I also wonder why Volkswagen in Australia persists in saving front fog lamps for the Highline. The blanks in their place make the Comfortline look cheap, though this is not a cheap car. Other gripes include the fitment of just one USB port in a car with five seats – in 2018, this is not really acceptable, as is the lack of lighting above the car's single USB port. The lack of DAB+ digital radio and traffic reports in the navigation system are odd omissions given both technologies are found on European-market Golfs. Finally, the Comfortline's jaggy single-colour driver information display between the dials is very 1980s. When the Skoda Octavia – the Golf's cousin – offers a full-colour version across its (cheaper) range, something is wrong.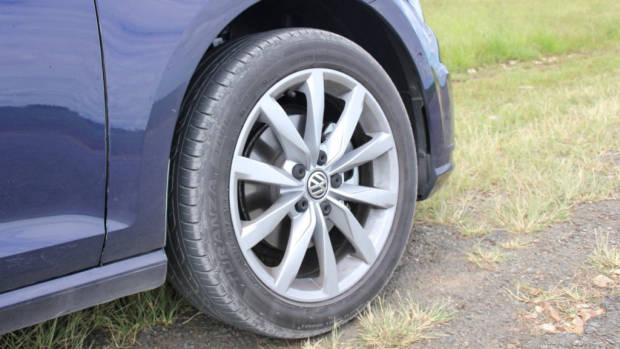 Those relatively minor issues aside, the Golf is fundamentally an excellent car. It may lack a little equipment but it is built more expensively than its rivals, feeling like a little luxury car. It is also a fantastic road trip machine – get it away from the city and not only do you not notice any DSG drivability issues, but the fuel economy is great; we averaged just 5.2L/100km over the entire drive. Putting that sort of distance on a car opens up the engine and the 1.4-litre in my Golf now feels punchier and offers good fuel consumption back home; I am currently averaging just 6.8L/100km in mostly urban settings – almost bang-on the official urban figure of 6.6L/100km.
My 2017 Volkswagen Golf now has over 5,000km on it, and over that distance it has remained a thoroughly enjoyable car to drive. We're lucky at Chasing Cars to have access to some of the best cars in the world, but there is still something special about owning your own car – especially one that feels superior to most of our test cars! Over the coming months, I will update you on how my Golf experience is going – including the ongoing servicing and maintenance experience, so stay tuned.