Major engine changes are the highlights for the 2015 update of the BMW 3 Series – including the debut of three-cylinder power, as well as a plug-in hybrid. The 2016 model-year 3 Series will hit Australian roads in October.
Design and equipment updates are limited to reworked bumpers, additional LED lighting and revised headlight graphics, as well as LTE-grade connectivity for 3ers equipped with the Professional navigation system.
The changes on the surface are even more minor than expected, but the powertrain updates under the bonnet are downright radical.
No matter if you're after a petrol, diesel or hybrid 3 Series, buyers will encounter new engines in each.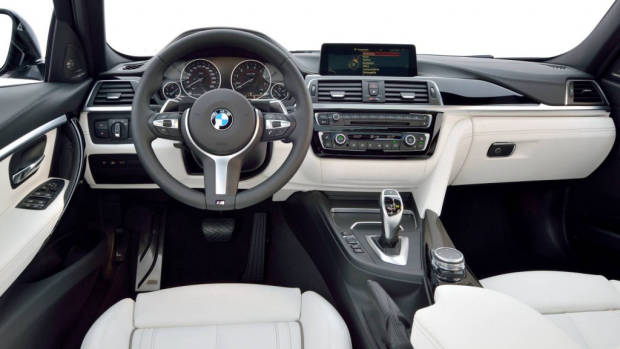 At the entry-level end, the old 316i has been replaced by a new base 318i, which heralds the introduction of three-cylinder power for the 3 Series range. The three-pot 3 produces 100kW and a stout 220Nm of torque.
A new two-litre turbocharged four-cylinder petrol is shared by the 320i and 330i – which replaces the 328i. In the lower state of tune, the 320i will make 135kW and 290Nm; while the faster 330i makes 185kW and 350Nm.
The European range will see four separate diesel four-cylinder models, all making use of the same basic two-litre plant. Australia is likely to score the 110kW 318d, 140kW 320d, and 160kW 325d.
Six-cylinder power remains at the head of the 3 Series range, with a new 340i superseding the 335i. This competitor to the Mercedes-Benz C450 AMG will sprint to 100 in just 5.1 seconds, with outputs of 240kW of power, and 450Nm of torque.
The economy-conscious will benefit from the addition of a plug-in electric hybrid 3 Series. Branded the 330e, the PHEV is no slouch, hitting 100 in 6.3 seconds. The hybrid's system output is 185kW and 420Nm, teaming an 80kW electric motor with the 135kW petrol turbo four.
With the Mercedes-Benz C-Class still barnstorming sales in this segment, and an all-new Audi A4 on the cards, BMW will be hoping modern new engines will tide the 3 Series over until the new model arrives within the next four years.