Porsche's plug-in hybrid batteries have expanded again – this time in the belly of the Cayenne E-Hybrid SUV, following on from the Panamera's upgrade earlier in the year. The large plug-in hybrid SUVs now start from $141,200 before options and on-road costs.
Naturally, though, the Cayenne runs right up the price scale, culminating at the $297,900 Cayenne Turbo S E-Hybrid Coupe. A full price list appears at the end of this article.
The battery capacity has grown from an already respectable 14.1kWh to 17.9kWh for 2021 which will undoubtedly improve the Cayenne's all-electric range, though Porsche hasn't quoted exact numbers.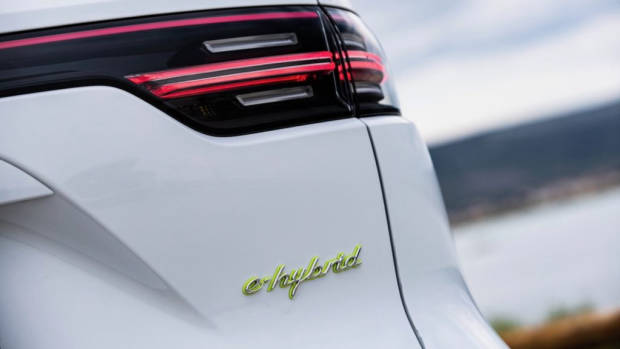 Charging can be carried out with a domestic wall socket, though unlike some PHEVs the Cayenne will accommodate fast-charging at up to 7.2kW using a three-phase wall-box, or at a public charging station with a type 3 cable. Otherwise, the electric powertrains remain the same. 100kW and 400Nm outputs from the system can propel the Cayenne at 135km/h alone.
Combined with a 250kW/450Nm 2.9-litre twin-turbo petrol V6, the total system output for the standard E-Hybrid powertrain is 340kW, with Porsche not releasing a combined torque figure. Shifting for both powertrain is handled by an eight-speed automatic. Claimed fuel consumption is 2.4L/100km, pretty impressive stuff.
In E-Hybrid specification the Cayenne will compete directly with the BMW X5 xDrive45e which also adds electrification to a turbo 'six.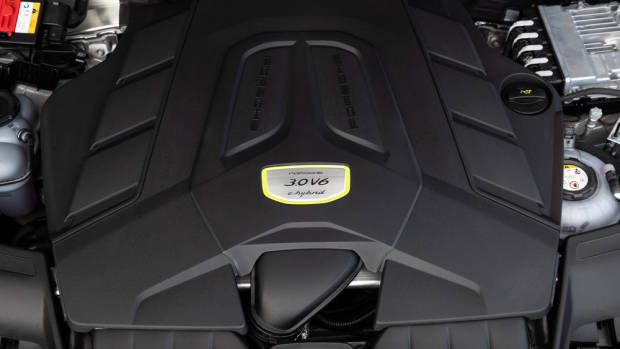 Considering the power, torque and effortless delivery these PHEV models promise, we wonder how long until we see this level of electrification powering legacy models like the 911 sports car.
The Sport Chrono package will be standard for 2021 and incorporates a revised charge-hold mode. There is a drive mode that keeps charge in the Cayenne's batteries while on the highway, to extend the possible range at urban speeds. Previously this aimed to keep charge topped up to 100 per cent, now it has been revised to keep everything more efficient with 80 per cent charge held.
Additionally, Porsche has revised the Sport Plus drive mode so that the Cayenne holds more charge than before when the battery is close to being depleted, allowing more prolonged and savage torque-fill from the electric motor.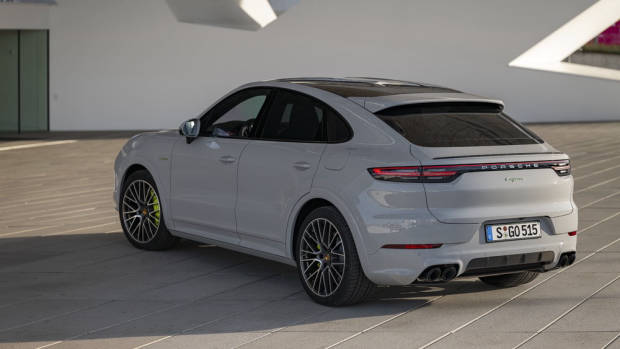 Both the traditional Wagon-bodied Cayenne and sleeker Cayenne Coupe are available with the updated E-Hybrid powertrain. Niceties for the $141,200 asking price include 19-inch alloy wheels, electrically-adjustable leather-appointed seats, park assist and six-piston front brake callipers.
Topping off the Australian Cayenne range for 2021 is the $292,200 Cayenne Turbo S E-Hybrid which employs the same electric power as the E-Hybrid, but in conjunction with a twin-turbo four-litre V8. Outputs of that motor alone are 404kW and 770Nm but with the electric boost those climb to 500kW, or 14kW shy of the Panamera Turbo S E-Hybrid. Consumption does climb, though, with Porsche claiming around 3.3L/100km, again pretty impressive for a 500kW behemoth.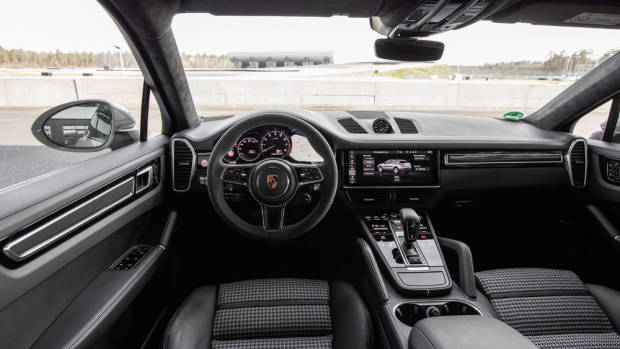 Being the sportiest model the Turbo S E-Hybrid is fitted with massive 22-inch light-alloy wheels, Porsche adaptive suspension, torque vectoring, active roll stabilisation and ten-piston front brake callipers. Though it is an SUV, as such some thoughtful comfort features make it standard; heated, leather-appointed seats for first and second-row passengers and a premium Bose sound system round out the spec. Although, as typical for Porsche, there are myriad options to personalise your Cayenne.
All Cayennes will be equipped with Apple CarPlay with a sim-card and wi-fi hotspot to offer continuous over-the-air software updates to keep apps and navigation software functioning effectively.
2021 Cayenne PHEV pricing
All prices are before on-road costs
Cayenne E-Hybrid – $141,200
Cayenne E-Hybrid Coupe – $151,000
Cayenne Turbo S E-Hybrid – $292,200
Cayenne Turbo S E-Hybrid Coupe – $297,900