While Australians are just now starting to revel in the balance of the Mk7.5 Golf GTI TCR, the rest of the world is taking deliveries of the latest Mk8 Golf GTI, of which Volkswagen has just released a most serious variant: this GTI Clubsport.
This new model is reminiscent of the 2016 GTI Clubsport which brought a bump in power, retuned suspension and snazzy exterior trimmings, all of which are present and accounted for on this new car.
The standard Mk8 GTI makes 180kW from its two-litre turbocharged four-cylinder – this Clubsport ups those numbers meaningfully, to 221kW, 8kW more than the performance pack Mk7.5.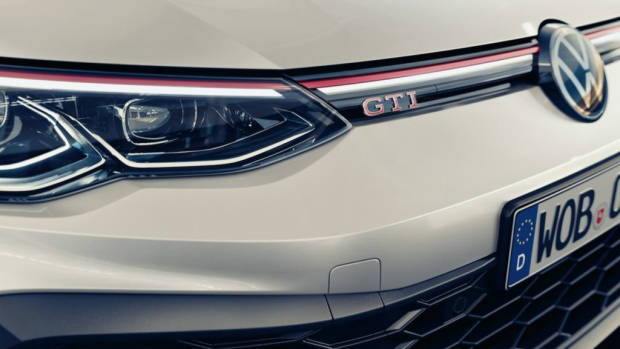 Golf-spotters out there will be aware that this new Clubsport still isn't the most potent GTI ever sold – that honour stays safely with the previous-gen Clubsport S, a proper track weapon with 228kW and a rapid Nurburgring lap time of 7 minutes and 49 seconds.
This juicier number is good enough to bring the GTI Clubsport's numbers up to near best-in-class, besting the Renault Sport Megane's 220kW 1.8-litre, and falling just shy of the Banzai 235kW Civic Type R.
If hot hatches have taught us anything it's that outright figures rarely, if ever, tell the full story. That was certainly the case with the previous Golf GTI which garnered favour with excellent throttle adjustability and an interior that was one of the classiest for the price.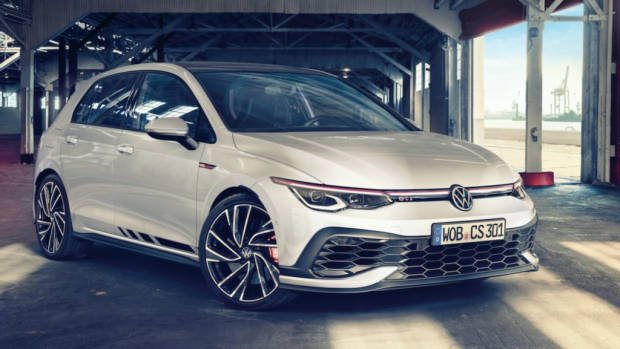 Other changes to the Clubsport include the hard-to-miss exterior styling package which extends to a decal package, an aggressive front bumper, larger 18-inch alloy wheels, oval exhaust tips and broader sills.
Volkswagen has teamed that front bumper with a distinctive rear spoiler and rear diffuser, all of which have been tested on the Nurburgring and in the wind tunnel, the marque claims they reduce lift at high speed, though give no concrete figures.
While Volkswagen stresses these changes are for performance reasons, they certainly haven't hurt the Golf's visual impact. The Clubsport solves the regular Mk8's lack of visual drama very nicely indeed.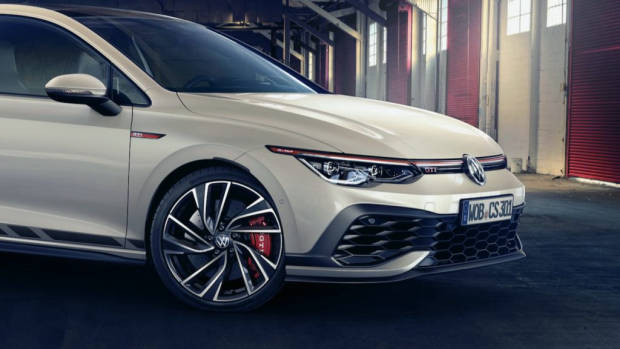 Further performance enhancements include a 10mm lower suspension with adaptive dampers and electronically actuated mechanical limited-slip differential, both of which are adjustable via the drive mode selector.
Displaying the GTI Clubsport's intention is a Nurburgring drive mode, about which Karsten Schebsdat, Head of Driving Dynamics, Steering and Control Systems at Volkswagen was rather enthusiastic.
Mr Schebsdat said: "for the legendary Nordschleife track, we have also programmed a new Nürburgring profile, which specifically adapts the running gear components in the new Golf GTI Clubsport to this race track".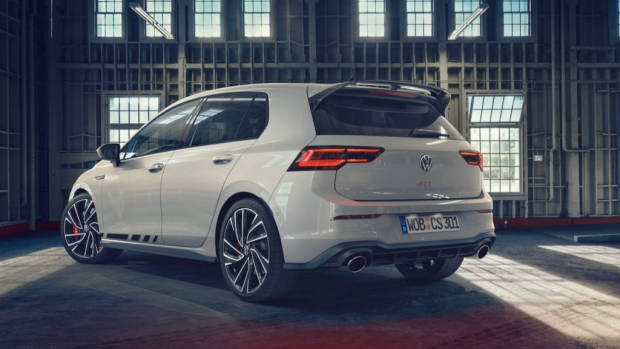 That's good news for those on the continent, less so for Australian customers, but it's great to know the Clubsport is more than just a sticker package.
Inside there are a couple of tweaks including a perforated leather-appointed steering wheel and ArtVelour-appointed front seats. Otherwise, the cabin is identical to the regular GTI.
We mentioned the power before, but delving deeper into the specs reveals that this new Clubsport employs a fourth evolution of the long-serving two-litre turbocharged EA888 engine, outputs once more are 221kW and 400Nm.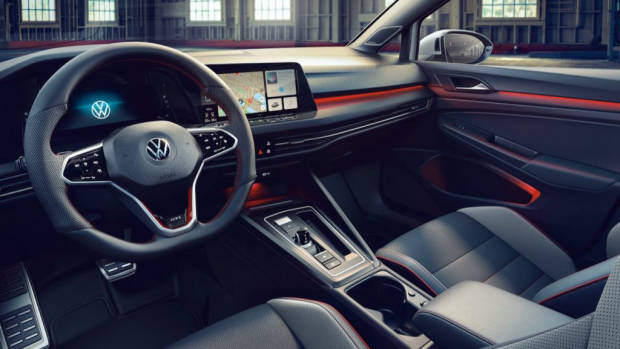 The Clubsport will send power and torque to the front wheels only – we're still waiting on info about the next-gen Golf R – via a seven-speed dual-clutch gearbox, with no manual option.
Sadly, it will still be some time before the MK8 GTI reaches Australian shores, but at least for now, we have the nearly-as-potent GTI TCR to tide us over.