America is the name of the game for the 2017 Nissan Pathfinder, but Australian buyers benefit from annual updates to Nissan's seven-seat hauler. The staple V6 engine sees power and torque bumped, there's more safety tech and the front end gets just a little more handsome.
Underneath the restyled bonnet that integrates Nissan's new "V-Motion" grille will lie a pair of American-focussed engines as the Japanese brand continues to eschew diesel power for the Pathfinder.
Instead, you'll find a substantially reworked 3.5-litre V6 petrol now making 202kW and 340Nm. About half of the engine components are new, and they've contributed to modestly increasing the outputs upwards by about 5% and lowering the fuel economy ever so slightly to 9.9L/100km for the front-wheel-drive, or 10.1K/100km for the all-wheel-drive.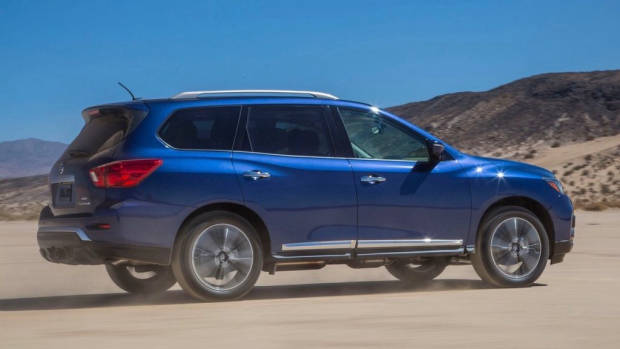 If you're after an engine that's a bit more frugal, Nissan will sell you a Pathfinder Hybrid. There are no changes to that setup, which pairs a 2.5-litre four-cylinder to an electric propulsion system with total outputs of 188kW and 330Nm. The Hybrid asks another $2,500 but cuts fuel consumption marginally to 8.6L/100km. If you spend all your time in traffic, that may make sense.
The Pathfinder ST base model rises by $500 for the V6 front-driver but all other Pathfinder trims have kept their asking prices steady. The ST adds an eight-inch touchscreen, LED daytime running lights and 18-inch wheels to its feature set.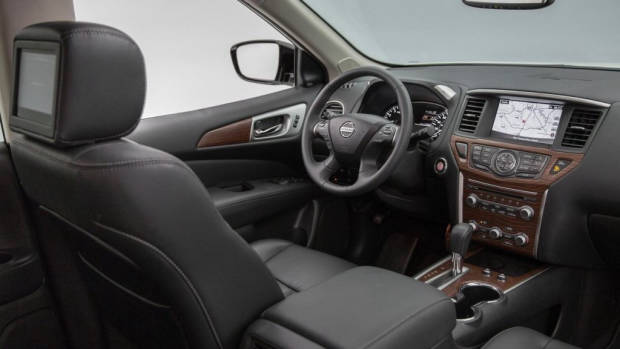 But it's only the mid-range Pathfinder ST-L and top-spec Pathfinder Ti that add critical safety tech as standard kit: they now include adaptive cruise control, forward collision warning, autonomous emergency braking, rear cross traffic alert and blind spot assistance.
The ST-L also adds navigation, while the Ti scores upgraded 20-inch wheels, dual screens with wireless headphones to pacify the kids in the back, and LED headlights.
2017 Nissan Pathfinder Australian price
Pathfinder ST petrol front wheel drive: $41,990
Pathfinder ST petrol all wheel drive: $45,490
Pathfinder ST hybrid front wheel drive: $44,490
Pathfinder ST-L petrol front wheel drive: $53,690
Pathfinder ST-L petrol all wheel drive: $57,690
Pathfinder ST-L hybrid all wheel drive: $60,690
Pathfinder Ti petrol front wheel drive: $62,190
Pathfinder Ti petrol all wheel drive: $66,190
Pathfinder Ti hybrid all wheel drive: $69,190