Nissan Australia has revealed some of the highlight features of the fifth-generation Pathfinder that is set to arrive down under in the second half of 2022.
Armed exclusively with a refreshed 3.5-litre direct-injection V6 petrol engine with a mechanical all-wheel-drive option, the Pathfinder will help fill the void left by its predecessor that was discontinued in early 2021.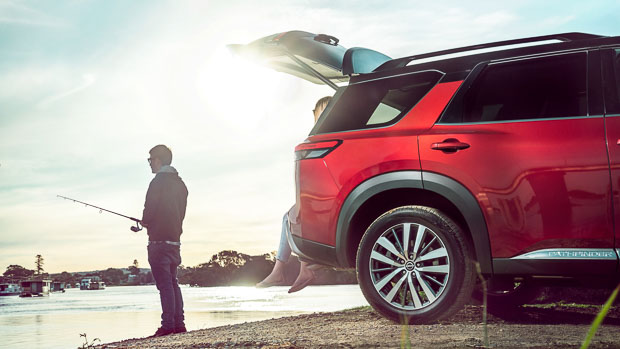 The new-generation Pathfinder went on sale in North America in September, and Nissan's Tennesse factory will soon begin building models in right-hand drive for our market.
Nissan says the 2022 Pathfinder is "all-new from the ground up" and it looks to bring significant improvements in practicality, tech and safety that will help it take on accomplished rivals such as the Mazda CX-9, Toyota Kluger and Kia Sorento.
The arrival of the new Pathfinder marks a major product revitalisation for Nissan Australia that will also see a new-generation Qashqai small SUV, X-Trail midsize SUV and Z coupe join the fray in 2022.
Chasing Cars has already covered the 2022 Pathfinder extensively in a separate article that discusses the likely grade by grade breakdown and pricing in Australia.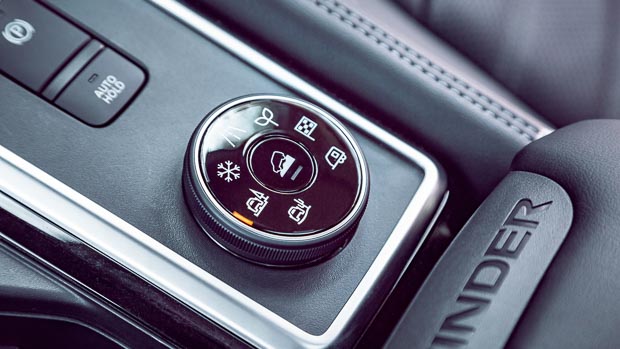 Under the bonnet of the 2022 Pathfinder
Nissan Australia has confirmed the early specification of the new-generation Pathfinder with the full list of features and options set to be released closer to its release date.
Under the bonnet, Nissan has fitted the aforementioned 3.5-litre direct-injected V6 petrol producing 212kW of power and 351Nm of torque (in US spec), offering healthy increases over the last generation.
Nissan has dumped the unloved CVT transmission for a new ZF nine-speed torque-converter automatic transmission that can be paired with either or front- or all-wheel drive.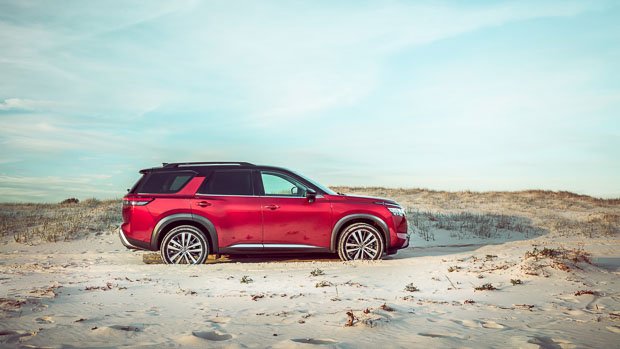 Engineers have armed the all-wheel-drive system with seven drive modes tuned for both on and off-road conditions, along with a dedicated towing mode. Low-traction acceleration has also been improved on AWD models with activation of the rear wheels faster for better all-round grip.
The supercharged 2.5-litre four-cylinder petrol-hybrid has been discontinued from the Pathfinder range, making the V6 petrol the only option available at launch.
Towing remains a key strength for the Pathfinder with a maximum rating of 2720kg braked in the US specification, a remarkable figure for a monocoque SUV that comes very close to body-on-frame SUVs such as the Mitsubishi Pajero Sport at 3000kg braked.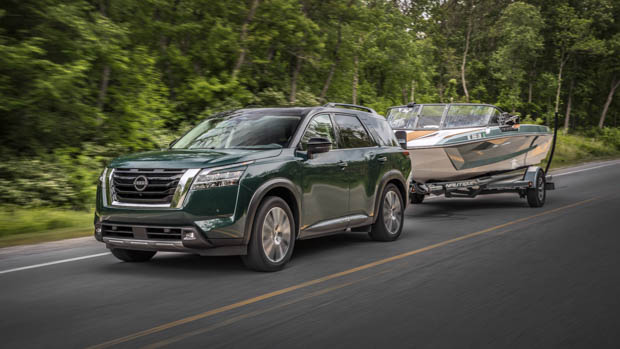 The Pathfinder sits on a newly developed platform though an identical 2900mm wheelbase suggests that this is a re-engineered version of the previous Pathfinder – though we won't know until it arrives in Australia.
While slightly shorter than the previous model at 5022mm (-20mm), the Pathfinder has grown slightly in width at 1979mm (+19mm) and height at 1770mm (+6mm).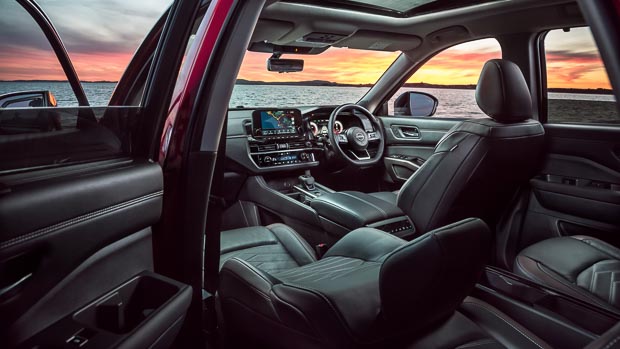 What does the 2022 Pathfinder include?
Buyers will be happy to know that the Pathfinder will be available in both a traditional eight-seat and a seven-seat option, with the latter adopting two captain's chairs joined by a removable centre console.
Third-row access has been made easier thanks to a Nissan an upgrade of the EZ-Flex system that allows passengers to touch a button on either side of the car and the second-row seats will fold forwards automatically.
The pathway to the third-row has also been widened and baby seats will not have to be removed to allow access.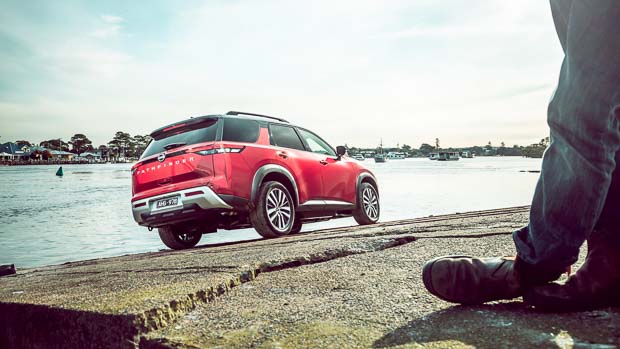 Up front, Nissan has fitted a suite of technology including a 13-speaker Bose Sound system, wireless phone charging and 360-degree camera on higher-grade models.
Nissan is yet to confirm if it will offer both the 8.0-inch or 9.0-inch centre touchscreen, with the latter available with wireless functionality for the standard Apple CarPlay and Android Auto.
In the US, the Pathfinder is fitted with a 7.0-inch display in the instrument cluster as standard with a full-width 12.3-inch display and head-up display available on higher trim levels.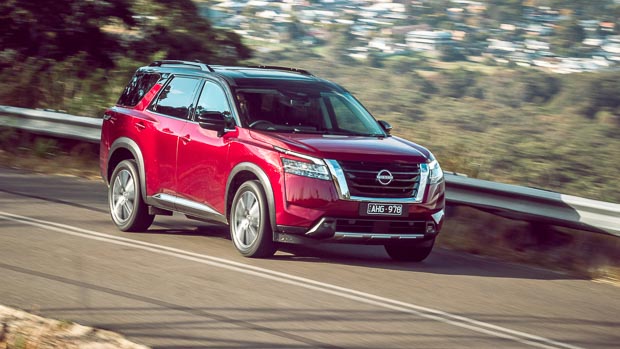 Bold new styling with new equipment
Nissan has pursued a more modern appearance with the fifth-generation Pathfinder that features a V-shaped grille trimmed in chrome as a homage to the original frame-based Pathfinder but with a modern twist.
The grille is flanked by two C-shaped LED headlights and daytime running lights, that are fitted as standard, and matched with a similar U-shape design for the rear LED tail-lights.
Nissan Australia will offer 11 colour combinations including a two-tone paint job for the first time, with the model pictured wearing a shade combination known as Scarlet Ember and Super Black metallic.
Chasing Cars understand that the Pathfinder will go on sale closer to the new generation X-Trail during the latter half of 2022.