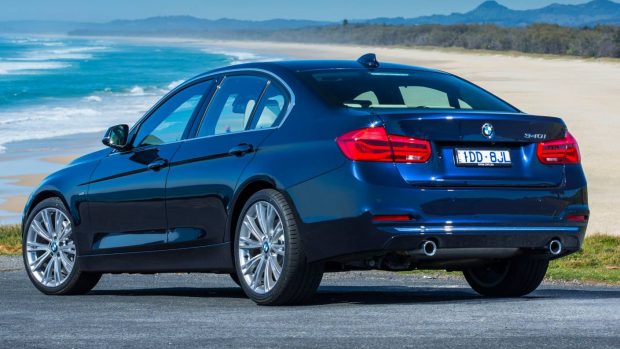 New engines, more equipment, fiercely competitive pricing: that's BMW's strategy for the 2016 3 Series, which arrives in Australia this week.
Visual changes are few and far between, but these updates represent BMW's comprehensive refresh of the current 3 Series shape. The 'Life Cycle Impulse' is mainly designed to boost the profile of the 3 Series against the segment-leading Mercedes-Benz C-Class. The new Audi A4 is another threat just over the horizon.
The C-Class has been a standout performer in the segment, outselling the 3 Series by more than two to one in recent months. BMW's answer is to aggressively undercut the Mercedes on price: this round of updates introduces a turbo three-cylinder 318i model that is $6,000 less expensive than the most basic C-Class.
Much like what was seen on the 2016 BMW M3 and 2016 BMW M4 updates, visual changes are limited. Trainspotters will notice the revised numbers and light graphics, courtesy of LED headlights and tail lights on all models.
A single diesel is present among a range of four petrols ranging from the 100kW 318i to a new 240kW 340i.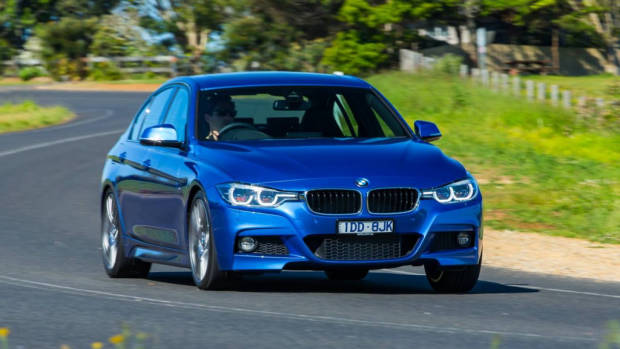 While pricing is competitive, BMW have also fired salvos on the equipment front. The entire range, which spans $54,900 to $89,900, receives a number of premium features: a rear- and surround-view camera, head up display, and blind spot warning will be fitted to every car.
The new base model sees a return to the 318i nameplate, making use of the 1.5-litre turbocharged three-pot petrol that has been Mini and BMW 1 Series service. It produces 100kW and 220Nm. The 318i is sedan-only, and is fitted standard with a six-speed manual priced at $54,900.
The 320i makes use of a new four-cylinder turbo producing 135kW and 270Nm. A manual is available (as it is on each 3 Series in the range—a fact we applaud), but the 320i is standard with an eight-speed automatic. Above and beyond the 318i, the two-litre is equipped with electric front seats, with drivers' memory function, plus the worthwhile adaptive suspension and a DAB+ radio. The sedan is $61,900, while the Touring adds $3,400 for a total of $65,300.
The sole diesel is the 140kW, 400Nm 320d. It remains rapid, sprinting to 100 in 7.2 seconds. At $63,800, the diesel is (bizarrely) sedan-only.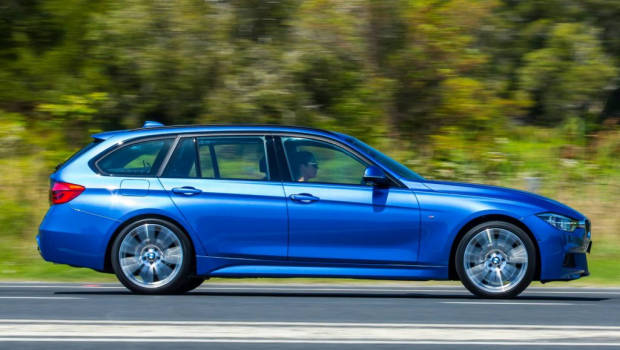 The volume-seller of the range will be the 330i, which replaces the popular 328i. Don't be fooled: it's still a higher-output two-litre, not a three-litre as the name suggests. It is slightly more potent than the 28i, making 185kW and 350Nm, and getting to 100 in 5.8 seconds. With a sedan priced at $69,900 and the touring at $73,300, BMW also fits widescreen navigation, keyless entry and go, real leather and 19-inch wheels standard.
Our pick of the range sits there: a manual 330i wagon. But that's just us.
The new 3 Series range-topper is the quite-warm-indeed 340i, which uses a brand-new three-litre inline turbo six. It's a motor that makes 240kW and 450Nm and it'll shunt you to 100 in just 5.1 seconds: any faster and you're making the M3 a little uncomfortable.
At $89,900 it's sedan only, and the $20,000 premium buys a number of upmarket features: the M Sport package beefs things up visually, while there's rear and side window blinds, a Harmon Kardon premium sound system, heated seats with lumbar support, sports steering, a leather dash, adaptive LED headlights and fog lights, as well as active cruise control.
2016 BMW 3 Series: Australian price
318i sedan: $54,900
320i sedan: $61,900
320i touring: $65,300
320d sedan: $63,800
330i sedan: $69,900
330i touring: $73,300
340i sedan: $89,900