Crucial safety features have been announced for the Toyota Land Cruiser 70 Series ute and wagon just months after the introduction of a legislated government deadline that will apply from March 2025 – mandating specific safety features.
The Land Cruiser safety update will be introduced on vehicles sold from November 2022, and will be accompanied by increased payload capacity for the 70 Series thanks to an increase in the vehicle's GVM – upgrading the range from light- to medium-goods categorisation
Both the 70 Series wagon and ute will see the introduction of Toyota's pre-collision safety system which includes autonomous emergency braking (AEB) with pedestrian and cyclist detection – joining traction control, vehicle stability control and hill-start assistance as standard safety equipment.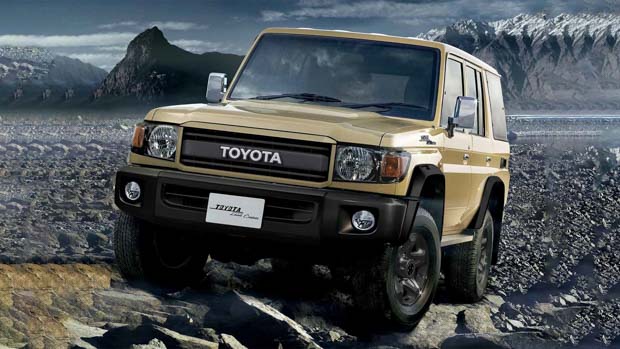 But it remains unclear if the 70 Series wagon will receive the safety upgrades made to the ute in 2016, which included an expanded airbag suite.
In November 2021, the Australian government announced that all existing vehicles would need to implement AEB by March 2025, while new vehicles would need to fit the technology by March 2023.
3500kg payload capacity confirmed
Toyota Motor Corporation Australia confirmed the gross vehicle mass (GVM) would be upgraded to "more than 3500kg", an increase of 100kg for the ute and 440kg for the wagon.
These improvements were the latest in literally dozens of incremental changes made to the 70 Series' over its lifetime, which stretches way back to 1984.
All 70 Series models will retain their 3500kg towing capacity – a limit which is quickly becoming the expected benchmarkin the four-wheel-drive wagon segment.
Toyota Motor Corporation Australia said more information on the upgrade package will be released close to the launch.
Toyota Land Cruiser 70 Series: prices in Australia
All prices listed are before on-road costs.
70 Series (single cab) 70th Anniversary: $80,050
70 Series (dual cab) 70th Anniversary: $82,600
70 Series (wagon) 70th Anniversary: $78,500
70 Series Workmate (single cab): $68,950
70 Series Workmate (dual cab): $71,500
70 Series Workmate (wagon): $67,400
70 Series Workmate (troopcarrier): $71,350
70 Series GX (single cab): $70,950
70 Series GXL (single cab): $73,050
70 Sereies GXL (dual cab): $75,600
70 Series GXL: (wagon): $71,500