Toyota has unveiled the highly-anticipated 2022 300 Series Land Cruiser that ditches the hulking V8, cuts down on weight and gets smarter to entice a new generation of those who wish to follow the path less travelled.
The new Land Cruiser will make its way to Australia in the final quarter of this year and these early images appear to show it will consist of at least three variants with a base and high trim model sitting alongside a GR Sport variant that dons a more rugged outer appearance.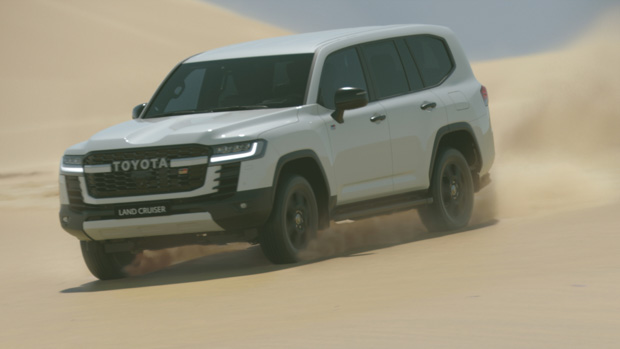 What has Toyota done to the chassis?
Replacing the 200 Series that was first released way back in 2007, the new 300 Series sits on the new TNGA-F platform that includes a traditional body-on-frame design to retain durability.
Toyota says the new platform lowers the centre of gravity and distributes its weight more efficiently than the old model and is some 200kg lighter overall – which should put the kerb weight around 2.4 tonnes.
Evolving the current mechanical Kinetic Dynamic Suspension System (KDSS) Toyota has created e-KDSS which now electrically adjusts the 4×4's sway bars as you drive to adapt to different road conditions.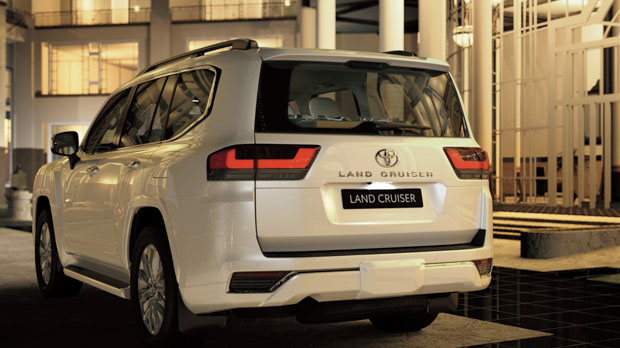 The new system also has far more body control when driving over bumps that cuts down on head movement inside the cabin but also allows the wheels to stay on the ground more of the time.
Another adaptive off road system is 'Multi Terrain Select' which automatically adapts the wheel control for the terrain, while a terrain monitor just does that and gives drivers a better view of what's ahead and around them.
What's under the bonnet of the 300 Series Land Cruiser?
The most controversial change is the removal of the 4.5L turbodiesel V8 for two newly developed twin-turbocharged V6 engines which offer a solid boost over the current 200kW/650Nm outputs.
The biggest engine is the 3.5L petrol which offers significantly more power at 305kW and the same torque at 650Nm while the diesel option has 3.3L of displacement and produces 227kW/700Nm.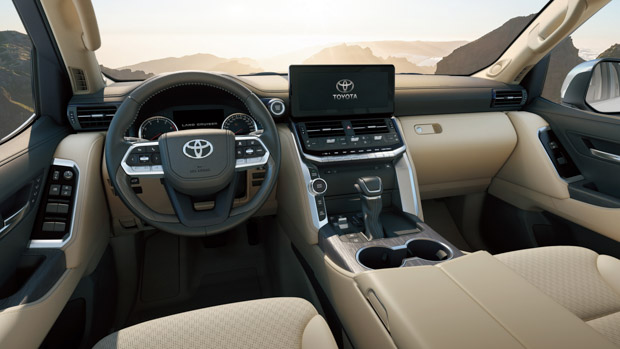 Both engines are coupled to a 10-speed automatic transmission and so far the twin-turbo diesel model looks most likely for Australia.
With all this torque on offer the Land Cruiser will retain its ability to pull a maximum of 3.5-tonnes braked which is enough to tow just about any caravan or boat you need.
Toyota did note that some markets will be offered a model with a naturally aspirated V6 petrol engine mated to a six-speed automatic but that has not been confirmed for Australia.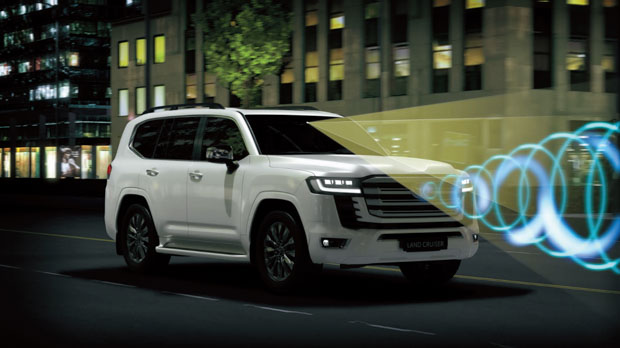 Safety has also been given a boost with the adoption of the latest Toyota Safety Sense active safety package that now features AEB with pedestrian detection in either day or night time while cyclists are only detectable when the sun is shining.  
In the event of an emergency, the seven-seater will also smooth out steering inputs when swerving around an accident, along with rear AEB to better detect pedestrians when reversing.
Further details including pricing are not yet available but expect to see that closer to the offical Australian launch later this year.