The hot John Cooper Works version of BMW's third-generation Mini will come to Australia in mid-2015.
Breaking news from the BMW Group's German headquarters announced the green-lighting of the latest round of the John Cooper Works project. This time, a 170kW version of the two-litre turbocharged petrol four will be squeezed under the Mini's hood, adding even more serious performance to one of the best-handling hatchbacks on the market.
This model is the most powerful in the marque's history, and will take the fight directly to the Audi S1. While it's certainly potent, it's a size smaller than the Mercedes-Benz A45 AMG or BMW's own M135i, leaving those 200kW+ monsters some breathing space.
Compared with the last car, power goes up by ten percent; the torque figure of 320Nm represents an even-more impressive 23% improvement. That power will continue to feed the front wheels exclusively, fed through a standard six-speed manual (hitting 100 in 6.3 seconds), or an optional six-speed automatic that beats that figure by 0.2 seconds.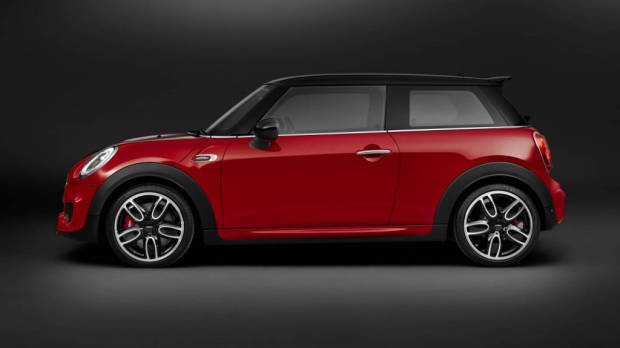 It should be the last thing on your mind in a John Cooper Works, but the environmental benefits of turbocharging are crystal clear: fuel consumption falls to an incredible 5.7L/100km on the combined cycle for the automatic. Just don't expect that if you, like us, plan to wring its neck on a regular basis.
The John Cooper Works trim traditionally builds on the fantastically tight Mini chassis by adding a number of serious performance suspension upgrades. That spirit returns here, with bespoke suspension improvements joined by Brembo brake inclusions, light alloy wheels, and a trick Electronic Differential Lock Control (look out, Golf GTI). The fantastic adjustable dampers, essentially mandatory in any BMW product, remain an option.
A newly-developed "Rebel Green" will allow the JCW Mini to stand out, although red with black stripes is also being featured as the highlight colour. Exclusive interior trims set the car apart, too, and "John Cooper Works Pro" design options are available to spice things up further.
While it'll rip up a mountain road with pleasure, when you just need to commute, the John Cooper Works benefits from the third-generation Mini's excellent new cabin. The Mini Connected and professional navigation systems are optional in the German market (but will likely be standard here); a Harmon-Kardon sound system will be available.
When to expect it? Probably on the earlier side of mid-2015. And for how much? Just shy of $50,000 is our educated guess.