Arriving in time for summer, the fourth-generation Mazda MX-5 ND launches smaller and lighter than the model it replaces.
Priced from $31,990 and offered in two engine sizes for this generation, the new MX-5 improves upon the older NC generation in keeping the model's promise of inexpensive, simple open-top motoring.
Though a more powerful two-litre model producing a healthy 118kW and 200Nm will arrive later this year, at launch the only displacement available will be the 1.5-litre four-cylinder.
The 1.5-litre car's outputs of 96kW of power and 150Nm of torque may appear modest, but that would belie both the significant weight reductions over the old vehicle, and new six-speed transmissions that maximise the available outputs. Both displacements will be available with either a six-speed manual or a six-speed automatic.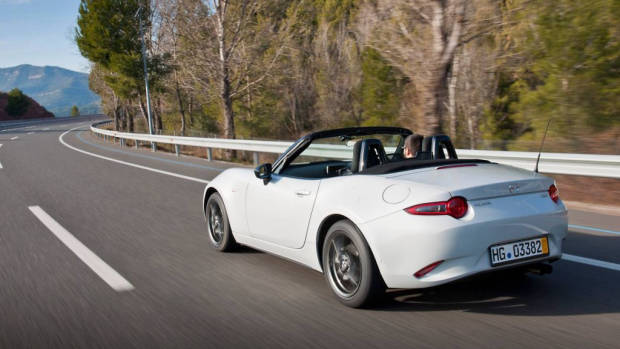 Most notable though is the 90 kilogram weight saving, despite further improvements in safety technology over the old MX-5. In 1.5-litre guise, the ND MX-5 weighs in at just 1,009 kilograms—barely over a tonne. That saving is thanks to lighter and smaller components, including a new soft-top, lighter electric power steering, and a new suspension.
Though a base trim, known just as the Roadster, keeps things simple with a black cloth interior, the availability of a GT option pack takes cabin comfort up a notch. GT's seats are covered in black or tan leather, and the package bundles Mazda's MZD Connect seven-inch touchscreen and central rotary controller.
2016 Mazda MX-5: Australian price
1.5-litre petrol
MX-5 1.5L Roadster manual: $31,990
MX-5 1.5L Roadster automatic: $33,990
MX-5 1.5L Roadster GT manual: $37,990
MX-5 1.5L Roadster GT automatic: $39,990
2.0-litre petrol

MX-5 2.0L Roadster manual: $34,490
MX-5 2.0L Roadster automatic: $36,490
MX-5 2.0L Roadster GT manual: $39,550
MX-5 2.0L Roadster GT automatic: $41,550