The 2021 Jeep Grand Cherokee large SUV has made its debut overnight in the United States, where it will go on sale in the second quarter of 2021.
First to be revealed is the 'Grand Cherokee L' – a stretched three-row version of the new Grand Cherokee. The spacious L will sit at the top of a Grand Cherokee lineup that will also include a shorter two-row version that rides on the same, all-new platform.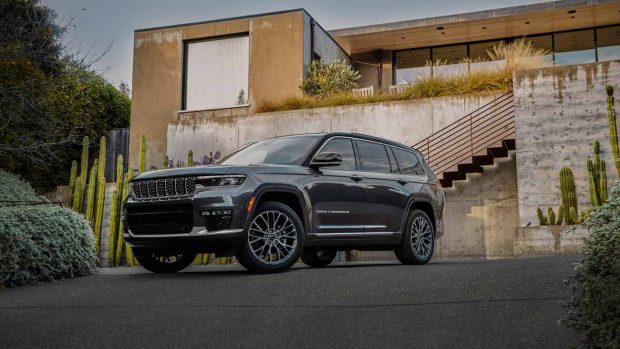 The new two-row Grand Cherokee, which will be revealed later in 2021, will pack an electrified '4xe' hybrid version that, if it comes to Australia, would offer Jeep a low-emission competitor to the incoming Toyota Kluger hybrid and Hyundai Santa Fe hybrid.
The Grand Cherokee L will arrive in Australia in the fourth quarter of 2021 – in October, November or December of this year.
Tracie Stoltenberg, head of corporate communications at Fiat Chrysler Australia, told Chasing Cars that Australian pricing and specifications would be released in the lead-up to the Grand Cherokee L's Q4 launch.
That said, the American specifications for the new Grand Cherokee provide a number of clues about this new large SUV.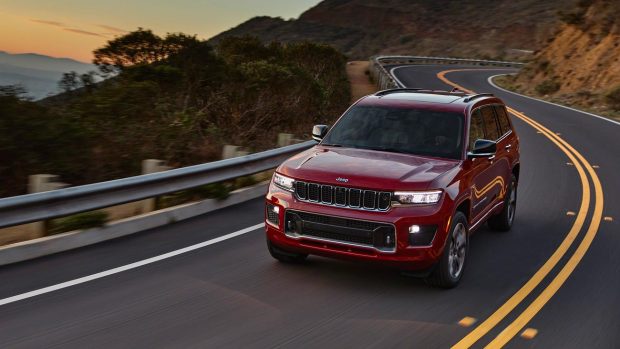 What's new about the 2021 Jeep Grand Cherokee?
Almost everything. Sitting on a newly designed unibody platform, the Grand Cherokee promises to be more dynamically capable and more refined than the outgoing version that was first introduced in 2011.
The Grand Cherokee L variant is built from over 60 per cent high-strength steel that Jeep says gives the large SUV a lighter frame that delivers better fuel consumption, while retaining the brand's reputation as a capable off-road vehicle.
The chassis underneath the 2021 Grand Cherokee is built with an independent front and rear suspension system with adjustable air suspension that is more traditionally found at the luxury end of the market.
Jeep has given the exterior a familiar but noticeably fresher appearance, with a bold but subdued stance imposed by the longer bonnet and lower roof-line that is said to increase aerodynamic efficiency.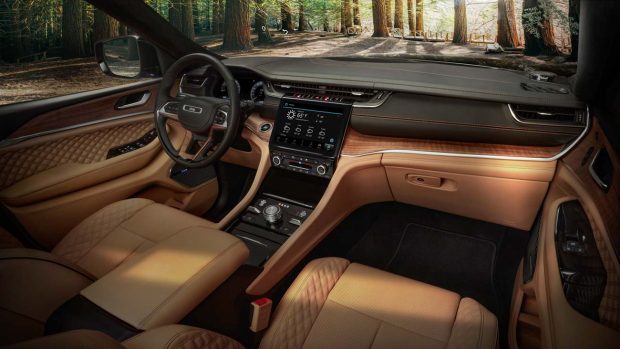 How practical is the 2021 Grand Cherokee?
The outgoing Grand Cherokee was limited mainly by only offering two rows of seating. With the 2021 Grand Cherokee L ushering in a crucial third row, the vehicle has been stretched considerably. The wheelbase increases from 2,915mm to 3,091mm in the new Grand Cherokee.
With families in mind, Jeep has made the Grand Cherokee easier to get in and out of with the doors now opening to 64 degrees. For the American market, six seats will be standard – with captain's chairs in the second row – while buyers can option a three-seat bench with the ability to slide 180mm fore and aft.
It would once have been a certainty that Jeep would only bring the seven-seat version to Australia. However, the introduction of optional captain's chairs rival Hyundai Palisade and Mazda CX-9 large SUVs means it's possible Jeep will bring a choice down under.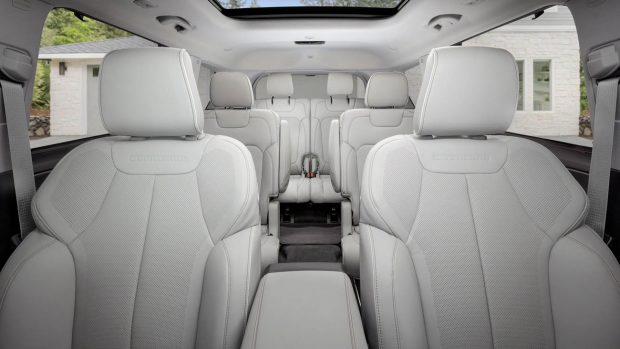 Jeep has designed the new Grand Cherokee's second-row so a child seat does not have to be removed before you can access the third-row. That back row can also be optioned with a function to electronically raise or lower the seats.
Both the second and third-row fold flat. The maximum boot space when operating in two-seat mode has increased from 1,934 litres in the outgoing version to 2,396 litres in the new car, though final Australian specifications are yet to be confirmed.
Climb into the driver's seat and you'll find a new 10.25-inch frameless digital gauge cluster which will work in conjunction with a heads-up display projected onto the windscreen.
A choice of either a 8.4-inch or 10.1-inch touchscreen display will handle the multimedia with wireless Apple CarPlay and Android Auto arriving as standard.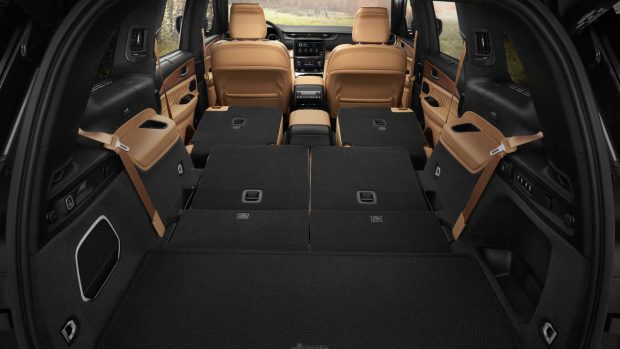 Jeep's UConnect multimedia system will allow up to two people to connect to the Grand Cherokee's Bluetooth system, with a wireless charging pad and up to 12 USB Type A and Type C ports scattered throughout the three rows.
Once hooked into the Bluetooth system, occupants can enjoy the McIntosh premium stereo with sound played through 19 speakers, which includes a 10-inch subwoofer and is powered by a 950-watt amplifier.
The Grand Cherokee L is also available with up to four-zone automatic climate control in the higher-spec models, which can adjust different temperatures for the occupants in the first and second-row.
Leather seats are standard, with a luxury package bringing a higher-grade quilted Palermo leather hide. Higher grades will score 16-way power-adjustable seats at the front, along with both heated and ventilated seats in the first and second rows.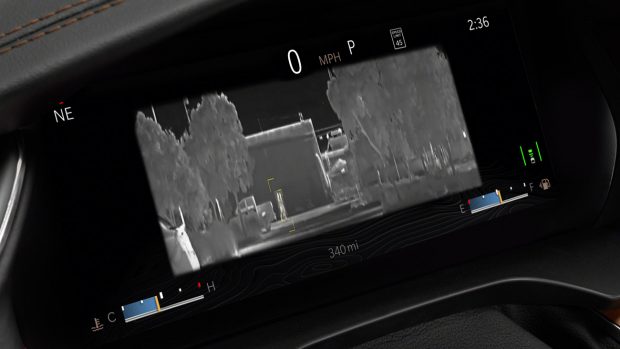 Is the new Jeep Grand Cherokee L safe?
The fifth-generation Jeep Grand Cherokee is fitted with a range of driver-assist technologies such as adaptive cruise control, drowsy driver detection and speed sign recognition.
The seven-seater SUV is also equipped with a night vision camera that can detect people and animals from up to 200 metres away and notify the driver of the hazard's location using the digital instrument cluster.
Common features such as blind-spot monitoring, lane keep assist, and AEB with the ability to detect pedestrians and cyclists will also be included, as will a both a 360-degree and rear reversing camera.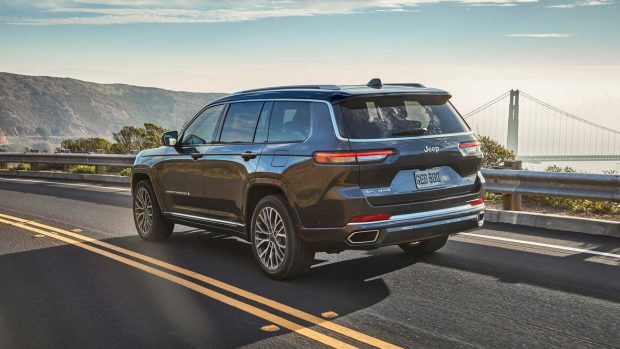 What engines are offered in the 2021 Grand Cherokee??
At launch, the Jeep Grand Cherokee L will have two engine options that carry over from the outgoing Grand Cherokee.
Jeep's steadfast 3.6-litre naturally aspirated Pentastar V6 will serve as the entry level engine, producing 216kW of power and 348Nm of torque.
Jeep also offers a 5.7-litre naturally aspirated petrol V8 making 266kW of power and 529Nm of torque. The V6 offers a towing capacity of 2,800kg, while the V8 pulls slightly more at around 3,300kg for the American market. Final towing figures are yet to be confirmed for Australia.
There is no word yet on whether a diesel engine option will be offered. The outgoing Grand Cherokee can be optioned with a three-litre turbo diesel V6 engine producing 184kW of power and 570Nm of torque.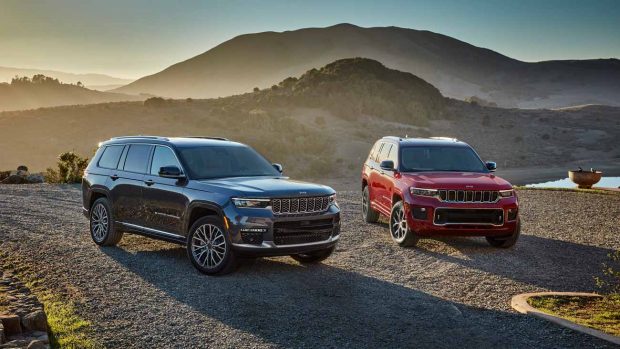 Nor is there confirmation yet of hotted-up Grand Cherokee trims, but given their success in the outgoing shape, it would be a safe bet to assume that Jeep will be bringing SRT and Trackhawk badges back to their large SUV – though probably only in two-row form.
The outgoing Grand Cherokee SRT uses a 6.4-litre naturally aspirated V8 engine to produce 344kW of power, while the ultimate Grand Cherokee Trackhawk is built around a supercharged 6.2-litre V8 that makes 522kW.
While official fuel economy figures are not provided for the new Grand Cherokee, Jeep says it has managed to trim down some consumption through the use of cylinder deactivation and sending power only to the rear wheels when front traction isn't needed.
The outgoing 3.6-litre V6 engine is rated to consume 10L/100km in Australia, while the 5.7-litre V8 chews through 13L/100km.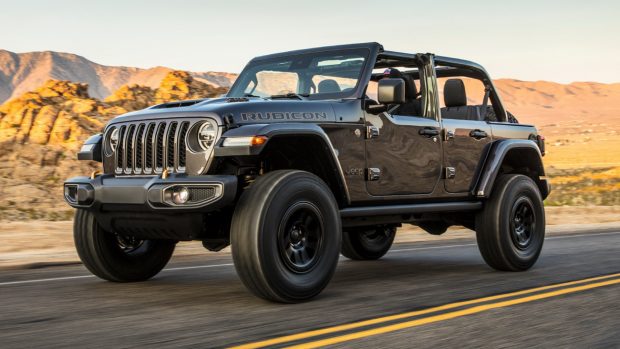 Tell me more about the Grand Cherokee Hybrid
Jeep will offer a hybrid powertrain on the new Grand Cherokee, but only on the shorter two-row version of the car that has not been revealed at this point.
It's a safe bet that the two-row Grand Cherokee will look similar to the L, but with a shorter rear overhang. The 3,091mm wheelbase is likely to be shared between the two, as is the case with the two-row Lexus RX and three-row RX L siblings.
The new Grand Cherokee hybrid will be known as the '4xe', a nomenclature Jeep will also use for the incoming Wrangler plug-in hybrid.
We think it's fairly likely that the Grand Cherokee and Wrangler will share the same plug-in system.
This would see the Grand Cherokee Hybrid combine a two-litre turbocharged petrol four-cylinder engine with a 400-volt electric motor and 17kWh battery. In the Wrangler, this combination produces 280kW of power and 637Nm of torque in hybrid mode, while allowing 40 kilometres of pure electric driving.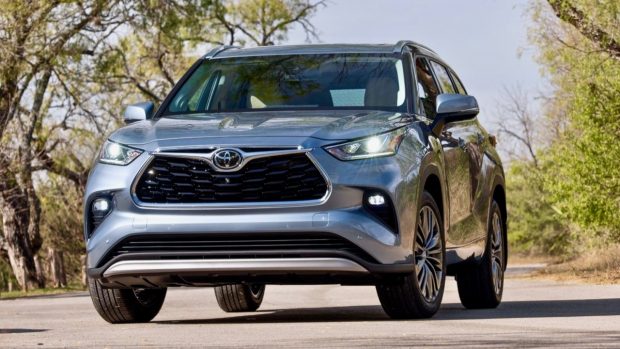 Can the new Grand Cherokee still go off-road??
The core dogma of Jeep SUVs is to offer customers the ability to go off-road without having to make crude sacrifices everyday, and the new Grand Cherokee will continue this tradition.
The Grand Cherokee L will be available in the US with three different four-wheel-drive systems known as Quadra-Trac I, Quadra-Trac II and Quadra-Drive II.
An active transfer case will be standard on all three systems so power can be sent to the wheels with the most traction. As the name implies the Quadra-Trac I will use a single-speed transfer case while the Quadra-Trac II will use a two-speed.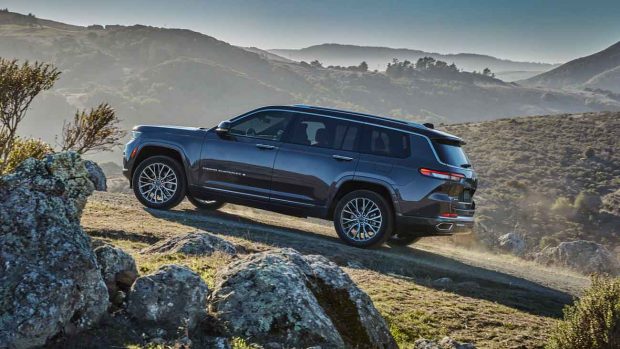 The full-fat Quadra-Drive II will use a two-speed transfer case that will be combined with a rear limited-slip differential. This 4×4 system will come as standard on higher models and will be available as an option on lower trim levels.
The Grand Cherokee L's air suspension can raise the ride height from 212mm to give the SUV a maximum of 276mmcm of ground clearance. The air suspension can also help to improve the fuel economy by dropping the base height by 21mm to make the SUV more aerodynamic.
When the air suspension is raised the Jeep has an approach angle of 30.1 degrees, departure angle of 23.6 degrees and breakover angle of 22.6 degrees. Wading depth has also been improved by 10 centimetres over the previous model to give the Jeep a total of 61 centimeters without modification.
A choice of five terrain modes will be available with specific categories for dealing with rock, snow and mud/sand surfaces. Hill descent control is also available in higher trims and will work both in forwards and reverse.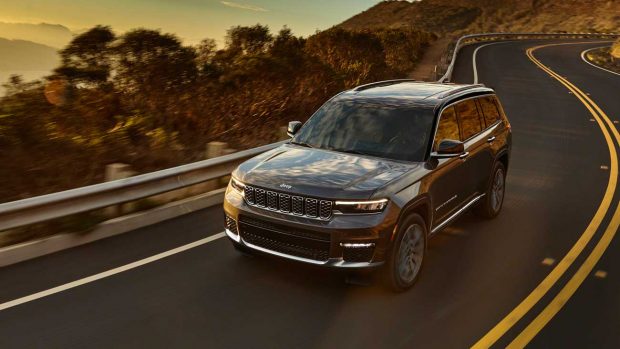 When will the new Grand Cherokee come to Australia?
The new Jeep Grand Cherokee L will arrive in Australia before the end of 2021 should unexpected delays not arise.
Release details for the two-row Grand Cherokee and the highly-anticipated Grand Cherokee Hybrid 4xe will flow once those vehicles are revealed to the public later this year.
At present, Jeep Australia has only confirmed the three-row Grand Cherokee for our market.