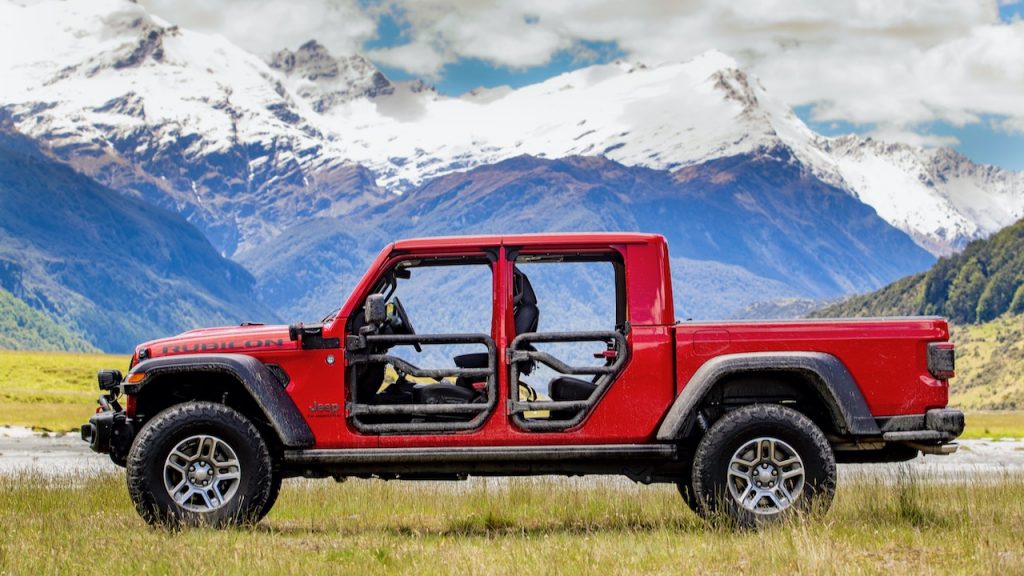 In introducing this review, there's little need to rehash Jeep's storied heritage and earned reputation as an off-road vehicle specialist. When it comes to a bona fide tough-truck image, few would argue that Jeep are right up there. It's true that this American brand might prefer to write off the last decade in Australia, the early part of which was marred by a reputation for patchy quality … but Jeep will enter the 2020s with a product onslaught led by a dual-cab that brings back a healthy serve of cool-factor – and not just via the removable doors – and undoubtedly will bring some enthusiasts back to the table.
Enter the 2020 Jeep Gladiator, which Chasing Cars drove in the final weeks of 2019. On the mountain roads and trails of New Zealand's Otago region, we sampled two Gladiators in high-specification Overland and all-out Rubicon trim. Far from being a contained trek on a pre-prepared off-roading course, unprecedented rain meant altering our route on the fly, fording flooded highways and traversing rushing streams, as well as coming to grips with the Gladiator's considerable 5.54m length in Queenstown.
That will be the first thought of many who see this vehicle, which marks Jeep's return to the pick-up game after a long hiatus. The Gladiator, which launches exclusively as a dual-cab, is long. It's 12cm longer than a Ford Ranger. Sitting on a wheelbase that is half-a-metre longer than that of a four-door Wrangler, the Gladiator benefits from huge improvements to stability and ride quality over that car – but there's no ignoring that many Australian garages won't be able to contain it. A shorter single-cab version has been teased but it remains a concept.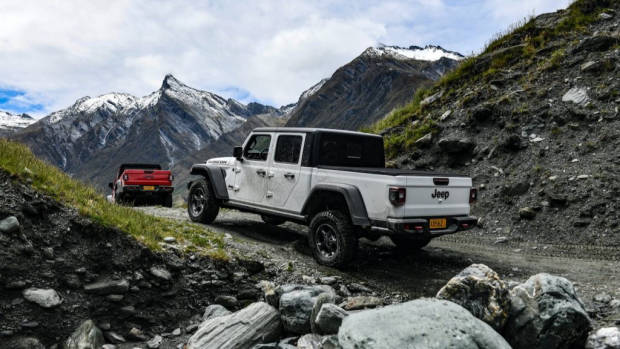 The next thing you notice is just how well Jeep's current blend of retro and modern styling cues fit the utilitarian Gladiator. With extroverted fender flares, a minimalist tailgate and a just-lightly-revised slatted front end, to our eyes, the Gladiator works. The availability of several bright colours adds to the effect. There's no doubt that the Gladiator will strongly stand out in a lineup of Rangers, Amaroks and HiLuxes.
Climb inside, and it's clear the Gladiator makes a serious play for class honours in the interior game. Plush pick-ups are par for the course in the United States but Australians are used to more rugged, durable utes designed primarily for Southeast Asia. The Jeep is quite different, sporting a surprising array of refined, soft-touch materials and a pragmatic, attractive industrial design to the key controls.
A crisp touchscreen sits in the centre of the dash and is nearly square in shape, allowing for user-defined shortcuts, plus a compass, to remain in sight at all times – a nice touch. Jeep's uConnect software is easier to navigate than most, and wired – not wireless – Apple CarPlay and Android Auto are standard-fit. Connectivity is no issue; those in the back benefit from four USB ports of their own, plus air vents. The backrest in the second row is a bit upright but accommodation is sufficient for four tall adults.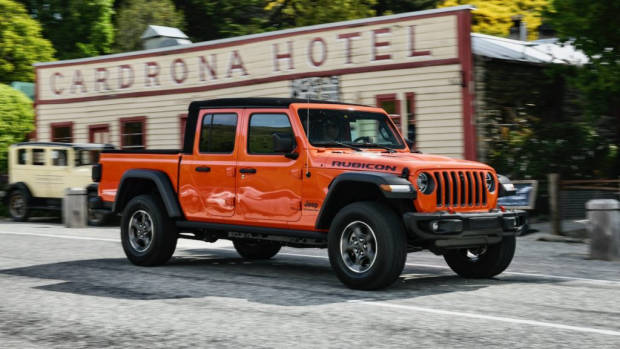 Clever touches are everywhere you look, from the netted door storage that prevents clutter from moving around to the Yank-size rubberised cupholders and in-roof shelf on the soft-top models. A hard-top skips that feature but is much quieter inside and features two easily-removable pieces over the front row, meaning a huge sunroof is just a few latches away.
Out the back sits the Gladiator's 1.5m square 'box', as the Americans call it – what is better known as a tray to us. American-spec cars get a power outlet in there, but it's not clear whether this will be homologated for Australia, but four tie-down points and a spray-in bed liner will be standard fit. In a premium touch, the gate is damped, unlike most rivals which slam the door down if you don't catch it yourself.
The Gladiator is still 4-5 months away from being launched in Australia and detail is thin about the specifications we will receive – but word is that it's a good bet to expect both grades we drove. The more road-focussed Overland and the harder-core Rubicon are both fitted with manually-adjusted heated leather seats and other creature comforts. Expect these vehicles to scrape in under $80,000. A more basic grade could come to Australia for closer to $60,000.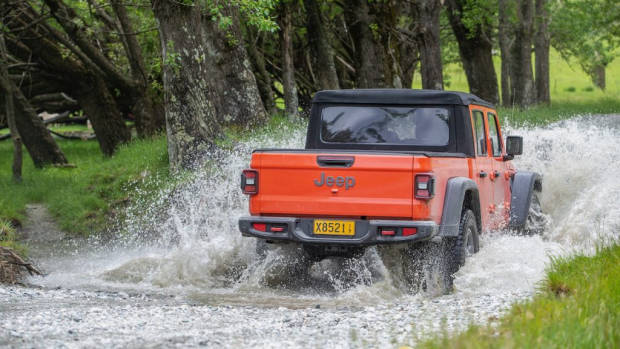 If those predicted figures are borne out, the Gladiator will be pitched at the premium end of the dual-cab ute segment, playing among a set of accomplished vehicles like the Volkswagen Amarok V6, the Ford Ranger, and the Mercedes-Benz X-Class. But where the aforementioned rigs are all diesel-powered, the Gladiator will launch with petrol power only.
The engine is Jeep's familiar 3.6-litre 'Pentastar' V6 producing 213kW/352Nm. It's a smooth, free-revving unit but without the aid of turbochargers, progress is adequate, not swift. Fuel consumption was better than expected – we managed about 12L/100km in mixed driving – and there's certainly an easy-going, laidback nature to this powertrain that we really like. It also pairs reasonably well with the standard eight-speed torque converter automatic gearbox.
That being said, diesel engines are far more common in this segment for a reason. Their low-end torque suits the diversity of use cases for a dual-cab – towing in particular. The Gladiator's limited to 2.7 tonnes there – contrast that to the Amarok V6 diesel which can do 3.5 tonnes. In the United States plans are well progressed to push a 3.0-litre V6 turbo diesel into service in the Gladiator and if that happens, expect to see it in Australia for a few thousand bucks extra over the petrol.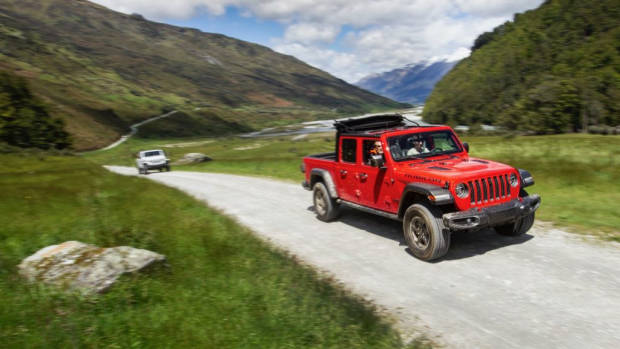 Refined engine aside, it is clear that on-road driving dynamics were not the focus during the development of the Gladiator. As we'll see, it rewards richly off-road – but on the blacktop, the steering and handling are off the pace compared to this segment's best-driving vehicles: the Ranger and Amarok.
The Gladiator's chassis is decent but it is inflicted with steering that is heavily biased toward low speed accuracy off-road. The rack is light and the ratio is slow, requiring more lock than you expect when cornering. The broader ride and handling characteristics, which are middling-to-good. Ride quality on NZ's characteristically smooth roads was compliant, with less scuttle shimmying from the tray than most dual-cabs. The stability control tune is well resolved. Once you've accepted the steering situation, it manages a mountain pass reasonably well. But on the same road in an Amarok, you'd think you were driving an SUV, not a ute.
The heart of the problem is the steering, which is heavily biased towards off-roading accuracy. The tiller – and a huge dinner-plate sized tiller it is – turns the front wheels with a much slower ratio than the Ford or the Volkswagen. The steering's light – very light – and on road, it is difficult to place the Gladiator through corners with accuracy. You do get used to it, but other options in this segment offer better on-road dynamics. Off-road, you appreciate the slower inputs which allow very deliberate manipulation of the vehicle's track. It's a compromise, but an informed one.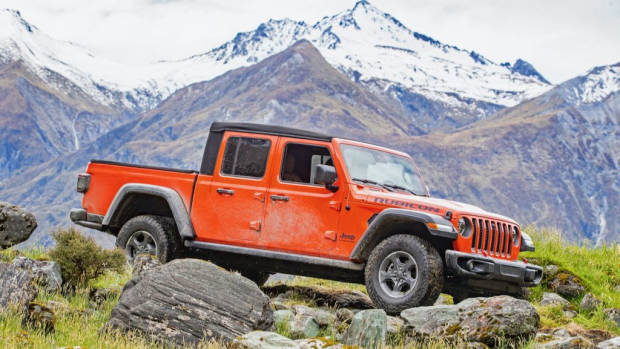 Despite the Gladiator's mammoth 5.54m length and 3.49m wheelbase – which is a chunk longer than the already sizeable four-door Wrangler – Jeep have still managed an approach angle of 18.4º, with approach angles and departure angles of 40.7º and 25º respectively. 274mm of ground clearance is backed by a 762mm fording capability, which was extensively tested during our launch drive across the sodden South Island of New Zealand, which had sustained unprecedented rainfall, soaking trails and covering some roads.
We think it's likely that the Gladiator will generate plenty of hype as it arrives to the Australian market. This is a vehicle that brings cool factor back to Jeep. It's good-looking. It excels off-road. It's fine to drive on-road. It has a great interior. For our market, that is quite a compelling combination indeed. The bigger question will be whether Jeep can restore a quality reputation in Australia in the years ahead. If it fails, its most important market for this type of vehicle – off-roading aficionados – will look past it to the more traditional vehicles of this segment.