Fiat Chrysler Automobiles has continued its long-held tradition of fitting absurdly powerful engines into everyday cars, with the Jeep Wrangler the latest to receive a big-block V8 in a new model to be branded Rubicon 392.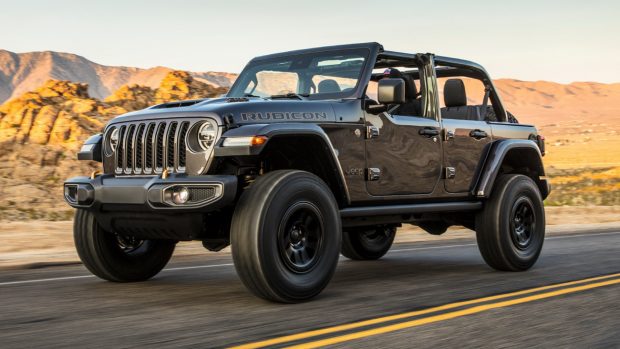 It's a move not only designed to appeal to Jeep aficionados and fans of FCA's 'Hemi'-series engines, but also to distract from the successful launch of the rival Ford Bronco in the American market.
A thumping 6.4-litre V8 has been fitted under the bonnet, which sends 350kW of power and 637Nm of torque to all-four corners, giving the no-nonsense offroader enough shove to slingshot it from 0 to 97kph (60mph) in 4.5 seconds and do the quarter-mile in 13 seconds.
Those figures make it 40 per cent faster than the 209kW/347 Nm naturally-aspirated 3.6-litre V6 petrol engine offered in the normal Rubicon available in Australia.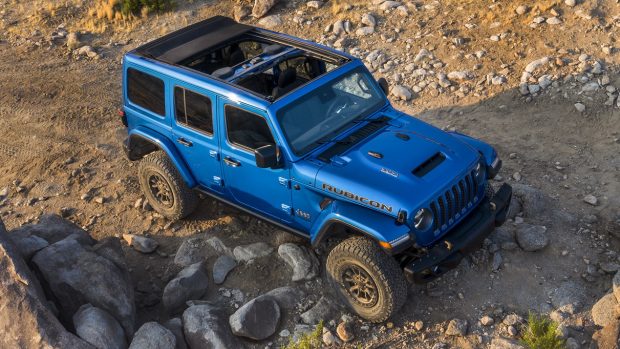 The powertrain will only be offered in the four-door body style known as the Unlimited and will be coupled with an eight-speed automatic with wheel-mounted paddle shifters and a full-time two-speed transfer case.
Tracie Stoltenburg, Director of Corporate Communications at Jeep Australia told Chasing Cars the Rubicon 392 was currently only being built in left-hand drive, but they were holding out hope for bringing the Wrangler V8 to Australia in future.
"We know how much Australian's love their V8's so if that changes we'll be the first to put our hand up," they said.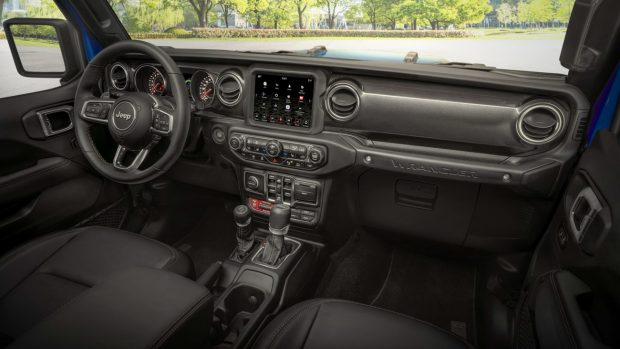 If the V8-powered Wrangler does make it to our shores, buyers will be happy to know that Jeep hasn't just focused on what it can do in a straight line, and have also amped up its off road credentials.
Underneath the Wrangler has been given upgraded frame rails and tweaked suspension geometry along with new FOX shocks that have given the off roader a two-inch lift.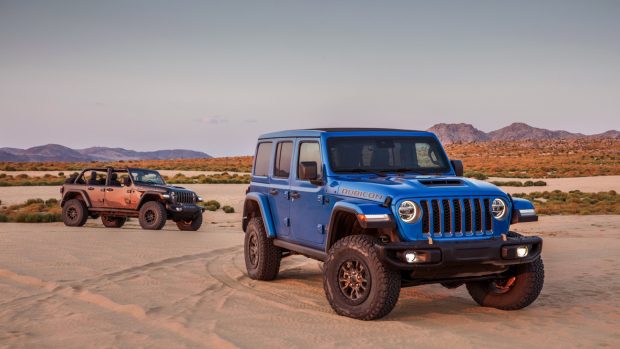 Jeep says the lift has given the Rubicon 392 increased approach and departure angles and manoeuvrability and will be able to safely endure up to 32.5 inches of water – with Jeep's Tri-level Hydro-Guide intake able to displace 56 litres a minute away from the engine if any slips in.
On the outside the Wrangler has been given a functional hood scoop, a redesigned grill for cooling and quad-exhausts – with both a loud and quiet mode – to help it breathe effectively.
The Rubicon 392 rolls on 33-inch tires with 17-inch bronze-coloured and beadlock-capable wheels, with the body itself will be available in nine different colours.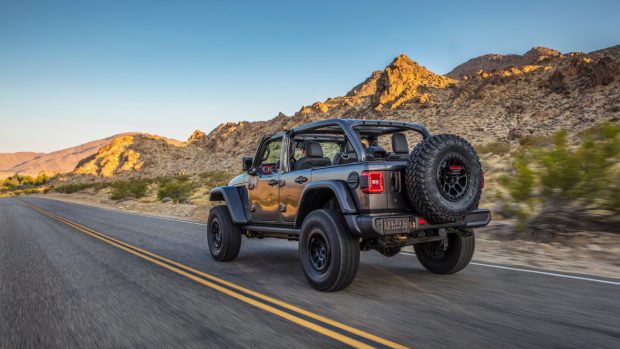 Those craving the true open-air jeep experience will be happy to know 'half-doors' will also be an option for buyers along with black locking rings for the wheels.
While pricing has not yet been revealed the Wrangler Rubicon 392 is expected to go on sale in the first quarter of 2021 with more details to be confirmed closer to the date.