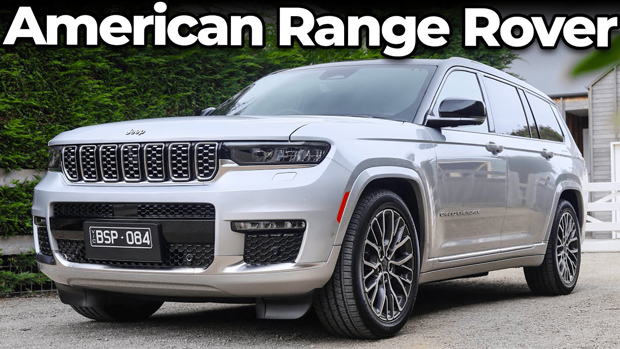 Jeep proudly made a kerfuffle about turning 80 recently (in 2021 – the first army Jeep dates from 1941), which is a good stint anyway you look at it, however probably more relevant is the recent 30-year milestone celebrated by the Grand Cherokee.
As the first modern expression of Jeep design and luxury, it became an instant hit in the US (over 1.6 million of the original model sold from 1993-98), and has now sired five generations, starting with the completely new Grand Cherokee L in its latest form. For the first time ever, the Grand Cherokee will be available with two wheelbase lengths in both five- and seven-seat forms – starting with what's expected to be the volume seller, the seven-seat L.
Jeep says the new-gen Grand Cherokee's platform and structure is 96 percent new (which some sources claim is related to Alfa Romeo's Giorgio platform underpinning the Giulia and Stelvio), though given that a plug-in hybrid version of the five-seat Grand Cherokee is coming, it's pretty clear that Jeep has developed virtually an all-new vehicle.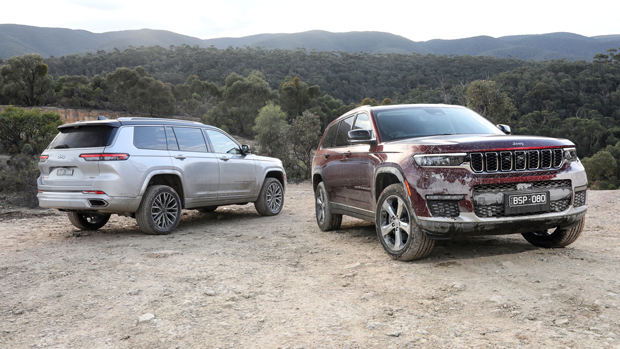 Expect to see other Stellantis models utilise developments of its fresh underpinnings – designed with future electrification in mind – though the first to arrive in Australia will be the five-seat Grand Cherokee in early 2023.
Meanwhile, we have the new seven-seat Grand Cherokee L to occupy our interest – complete with a three-variant range spanning the Night Eagle ($82,250), Limited ($87,950) and Summit Reserve ($115,450), with all prices before on-road costs.
Options on the Night Eagle and Limited include premium paint ($1750) and a Vision Pack ($4250) that includes a dual-pane sunroof, head-up display and a rear-facing camera that can individually spotlight rear passengers/naughty children.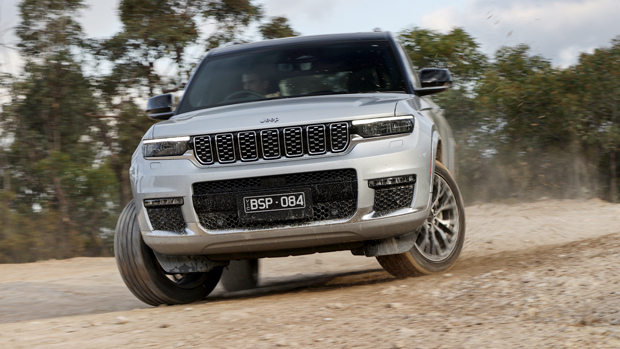 The Summit Reserve also commands extra for premium paint but includes a black-painted roof and the sunroof as standard. Its chief option is the Advanced Technology Group ($5500) which adds a head-up display, wireless phone charging (which, curiously, is standard on lesser models), and a Night Vision instrument-pack screen with pedestrian and animal detection.
Jeep expects most Summit Reserve customers to add that package, though even the 'base' Grand Cherokee L Night Eagle is incredibly well-stocked. Equipment includes gloss-black 20s, LED headlamps, keyless entry/start, UConnect 5 navigation with an 8.4-inch touchscreen, wireless Apple CarPlay/Android Auto and 12 USB ports, as well as a 10.25-inch instrument display.
Inside, the Night Eagle includes leather/suede upholstery with heated eight-way electric front seats, a heated steering wheel, three-zone climate control, an electric tailgate and loads of active-safety kit (including rear cross-traffic alert, adaptive cruise, active lane-assist and junction AEB).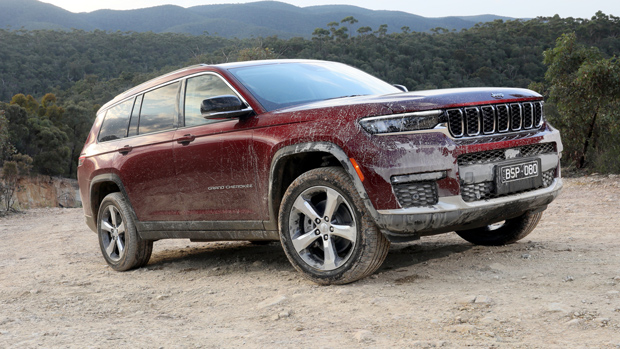 The Limited adds 'terrain-select' for its AWD system, a larger 10.1-inch touchscreen with a nine-speaker Alpine sound system and active noise control, premium 'Capri' leather, driver's seat memory, ventilated front seats and heated second-row seats, ambient LED lighting and auto high-beam, while the $27K-dearer Summit Reserve goes bananas on added luxuries (see below).
All three share Chrysler's 3.6-litre 'Pentastar' V6 with eight-speed auto, though there's two different 'Quadra-Trac' all-wheel drive systems and two suspension set-ups – one steel, one adaptive air.
So which Grand Cherokee L variant is the 'ranch wagon' hero?
How does the Grand Cherokee drive?
Given that the Grand Cherokee L rides on such a long wheelbase – extended by 127mm over the five-seat version to a considerable 3091mm (which is also 191mm longer than a Hyundai Palisade's) – and weighs 2270kg in top-spec Summit Reserve form, it's a surprisingly agile beast.
With high-tech suspension hardware (independent multi-link front and rear ends with aluminium control arms and knuckles, plus adaptive air springs and dampers with adjustable ride height for the Summit Reserve) and high-quality Continental Cross Contact tyres (275/45R21s on Summit Reserve), there's a level of smooth sophistication about the way the Grand Cherokee L (mostly) glides down the road – supported by the hushed refinement of its road and wind noise, and the deftness of its handling.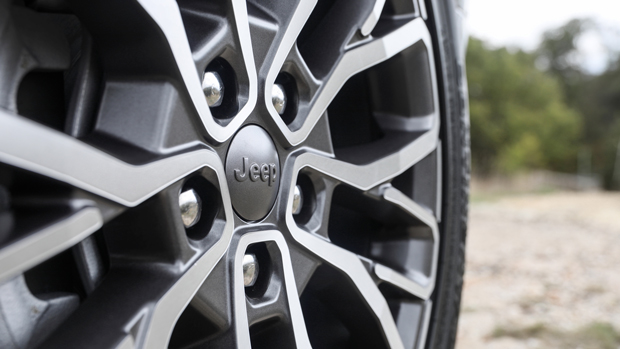 With 2.8 turns lock-to-lock spanning a reasonably workable 11.7m turning circle (for a vehicle measuring 5204mm long!), there's a surprising keenness to the Grand Cherokee L's steering, with near-instant response either side of straight ahead, though not really a whole lot of feel. At parking speeds, the Jeep's steering is actually quite firmly weighted whereas at speed, it's a bit too light – even with Sport mode selected.
That said, once you've bonded with the Grand Cherokee L's dynamic personality there's unexpected involvement from the rear end when hustling through faster corners (marked 65km/h or higher) and loads of purchase from its permanent 4WD system and grippy tyres.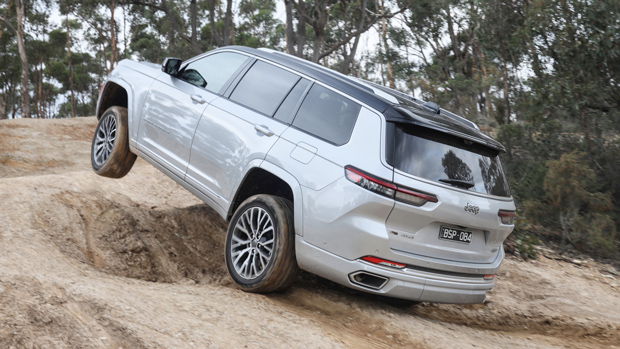 While the steel-sprung Night Eagle and Limited don't possess the ride plushness of the Summit Reserve, it could be argued they transmit more road feel, while suffering similar levels of slightly annoying ESC intrusion on tighter roads tackled briskly.
Off road, the air suspension can be raised to offer 276mm of ground clearance, and also includes an extra drive mode (Rock) as well as low-range and hill-descent control – all of which work beautifully, despite the huge tyres with shallow sidewalls worn by the Summit Reserve. Clearly a Trailhawk variant mixing air suspension and higher-profile 18s would make the most sense, though it remains unclear as to whether Jeep will do a Trailhawk L version (the new Trailhawk is currently five-seat only).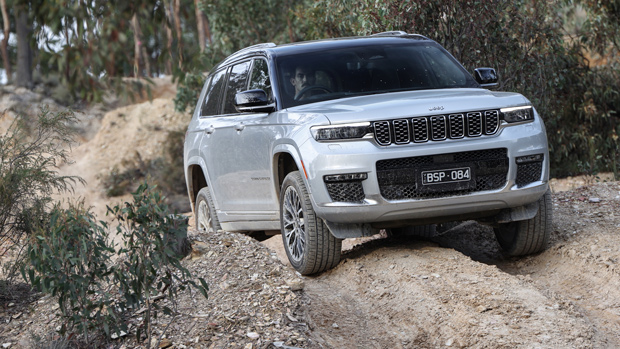 What also works well off-road is the Grand Cherokee L's proven 3.6-litre 'Pentastar' petrol V6 with ZF eight-speed automatic transmission. It works particularly well with low-range because the gearset can mask its relative lack of torque (344Nm at 4000rpm is mediocre at best), yet the drivetrain's on-road calibration also does an impressive job in making the most of what it has.
On flat roads, the alert transmission channels 210kW at 6400rpm to the best of its ability – keeping the revvy V6 humming in its upper reaches, and nudging 6600rpm-plus when upshifting under full throttle – though there's often a sense of the engine working relatively hard to mobilise the Grand Cherokee L.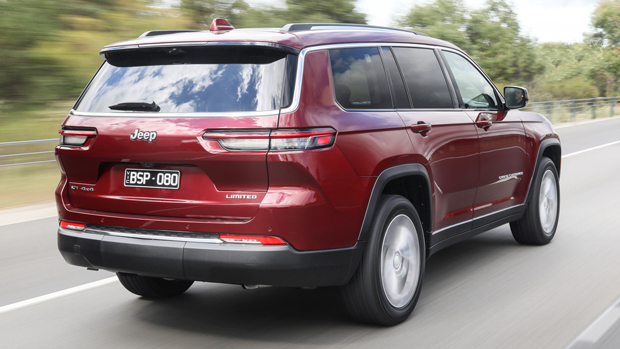 Acceleration is strong from a standing start but uphill overtaking at three-figure speeds requires planning, patience and a completely mashed right foot. It's really only at those moments that you become convinced the L deserves more than a 3.6 V6, though that won't be the 5.7-litre Hemi V8 available in the US.
Instead, it'll more likely be Chrysler-Jeep's recently debuted 3.0-litre turbo-petrol 'Hurricane' straight-six, though this may not happen for some time in Grand Cherokee models.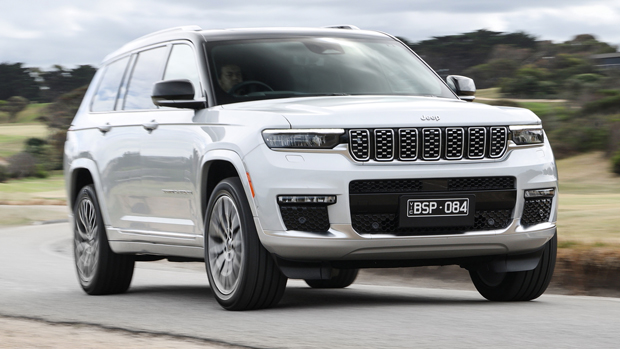 The Grand Cherokee L offers plenty of active-safety kit, with some of it reserved for the, er, Summit Reserve. Among its exclusives are a 360-degree surround view camera and active driving assist (as in highway assistance), though it also gets all-speed collision warning, active lane assist, blind-spot monitoring, rear cross-traffic alert, intersection AEB, drowsy-driver detection and (switchable) adaptive cruise control.
How is the Grand Cherokee's interior?
With its leggy 3091mm wheelbase and considerable 5204mm length, it should come as no surprise that the Grand Cherokee L's seven-seat cabin is indeed quite splendid. It may not be the roomiest US-market seven-seater in existence but it makes something like a BMW X7 seem almost cramped.
The Summit Reserve gets excellent heated and ventilated 12-way electric front seats with massaging, upholstered with diamond-stitched  'Palermo' leather, which integrate beautifully with its deep-dished steering wheel with electric column adjustment, and the superb vision through its glassy windows and out over its imposing (but not intrusive) bonnet.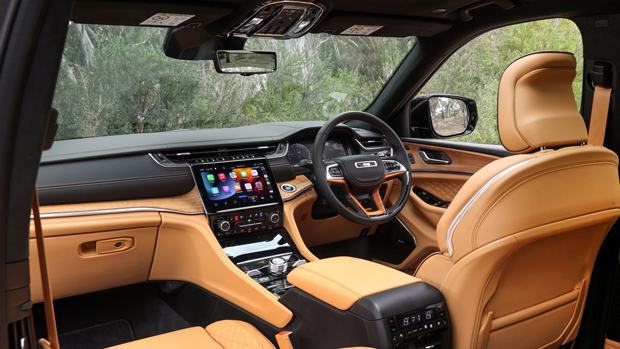 This level of seating class and all-round vision continues as you move rearwards in the cabin. The second row offers ample leg-, head- and foot-room, and while the fore-aft adjustable seat itself can't match the plushness of the front buckets, it still delivers impressive under-thigh support and long-distance comfort. It's also mounted higher than the front pair, providing a theatre-style view that's complemented perfectly by the panoramic sunroof and relatively flat floor.
There's also features galore in the second row. Every variant offers lock/unlock buttons on each door, but the Summit Reserve adds four-zone climate control (with centre and B-pillar vents) as well as three-setting fan cooling for the second-row seat (as well as heating), plus a multitude of USB and USB-C ports that combine with two more sets in the third row to make 12 in total!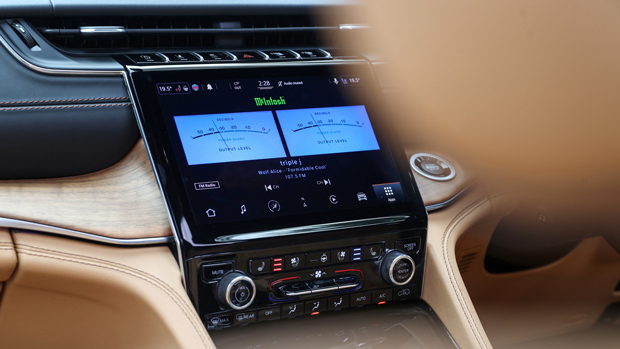 Getting into the third row is relatively easy, thanks to the lift-and-slide folding mechanism of the second row, and seated back there, the Jeep's glassiness and packaging keeps on giving with a fine view forward, a pair of C-pillar vents and the same level of diamond-stitched trim quality as the front pews! There's also a pair of cupholders and buttons on the side trim to electrically lower either of the third-row seats (though preferably not the one you're sitting in).
As for the general layout of the interior, there's a sleek cohesion to the Grand Cherokee L's dash design – despite some of the switchgear being a little bit spread out – and the waxed walnut wood trim that decorates the main cabin is a lovely 1960s touch, constructed with 2020s quality.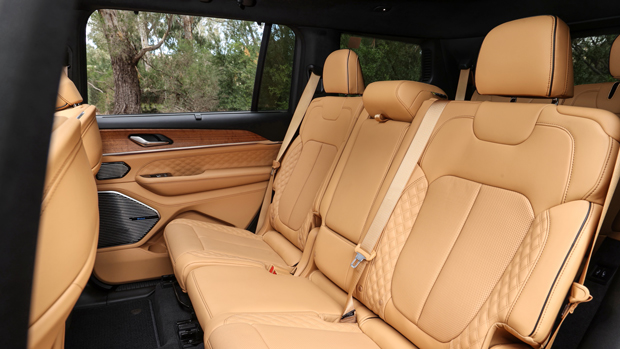 Even blended with an all-digital 12.3-inch instrument pack (that can be configured to show a bunch of different, and pleasing, designs), the Jeep's cabin implies restrained American luxury better than any of its predecessors – even though the underlying structures could feel a little more solid.
The star of the show, however, is the 10.1-inch centre touchscreen and its super-classy graphics – lifting this Grand Cherokee generation leagues beyond its plasticky predecessor. The Summit Reserve gets a 19-speaker, 760-watt McIntosh stereo with wireless Apple CarPlay/Android Auto which is a terrific system, blended with some really cool screen graphics. But even the Limited's nine-speaker Alpine system is strong.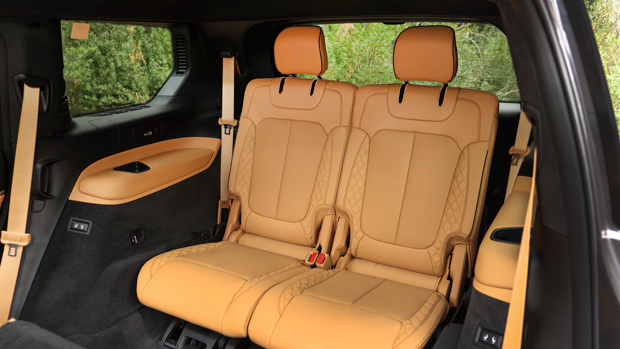 As for storage, the front doors will take one-litre camping bottles but the rear pair can only house 600ml bottles, in a rare example of the Grand Cherokee L not offering enough space. But the boot volume is huge.
Jeep doesn't quote figures measured below the luggage cover, however 487 litres from floor to ceiling behind the third row is clearly a vast amount, and so is the 2395 litres of total space it offers when both the electrically-foldable second and third rows are stowed away.
What are the Grand Cherokee's running costs?
The official ADR81/02 government combined fuel consumption figure for the Grand Cherokee L is 10.6L/100km, drinking 95-octane premium unleaded, however we averaged a respectable 11.5L/100km – particularly given the Jeep's XL size and weight.
The Jeep's official combined figure compares to 10.7L/100km for the front-drive (and 300kg-lighter) Hyundai Palisade, which only has a 71-litre fuel tank – significantly less than the 104-litre Grand Cherokee L. And 9.0L/100km combined for the Mazda CX-9 Azami LE AWD seven-seater, which is essentially one SUV size down from the long-wheelbase Jeep.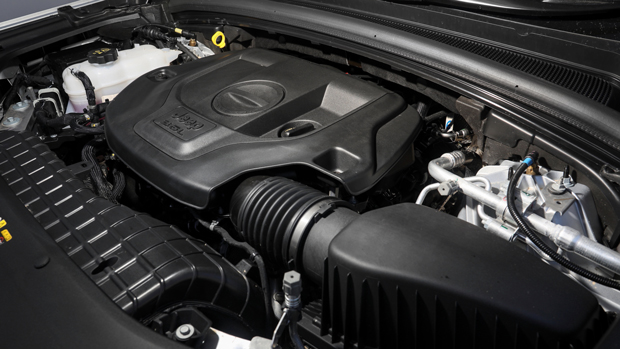 Recommended service intervals for the Grand Cherokee L are every 12 months or 12,000km, with Jeep's five-year/60,000km capped-price servicing plan costing a very affordable $1995. This compares to exactly the same cost ($1995) for a Palisade Highlander's five-year servicing plan, however the Hyundai can travel up to 75,000km during that time.
Jeep's warranty in Australia spans five years/100,000km, though it also includes lifetime roadside assistance if you service your vehicle at a Jeep dealership.
The final verdict
The most surprising thing about the Jeep Grand Cherokee L is the level of refinement, presence and class it offers. Channelling a large element of 1960s American automotive styling restraint on the outside, mixed with a modern interpretation of American luxe on the inside, the Grand Cherokee L is easily the most sophisticated Jeep ever produced.
Yet it's also a terrific all-rounder. While the petrol V6 is acceptable at best, at least it's calibrated well and effortlessly supports the L's multi-talented nature because this is both a surprisingly accomplished large SUV on-road and a not-so-surprisingly capable 4WD off-road. Combine that with a serious level of space and comfort inside, plus a tonne of useful equipment and gadgetry, and you start to notice there's value-for-money even in an $82K Jeep.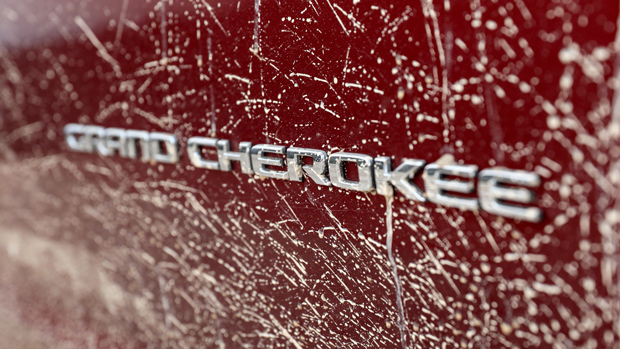 But the Summit Reserve, in particular, kind of exists in a land of its own. It sits beyond the upper-end of its core mainstream-brand rivals (Hyundai, Kia, Toyota and, for now, Mazda) yet well below the pukka premium alternatives, while blending surprise-and-delight equipment with (mostly) tangible luxury. And it has its own personality – a plush, luxurious beast, with a really likeable level of ranch-wagon cool.
Finally, a large international-market US SUV that seems proud of its heritage.