A bold "Built Ford Tough" design language, a wider track, an automatic four-wheel drive system and a diesel V6 all feature on the 2022 Ford Ranger ute, with the revamped model set to launch in Australia in mid-2022.
Revealed simultaneously in three Australian cities this evening, the T6.2 Ranger utilises the third-generation of the body-on-frame platform that has underpinned Ford's midsize pick-up truck since 2011.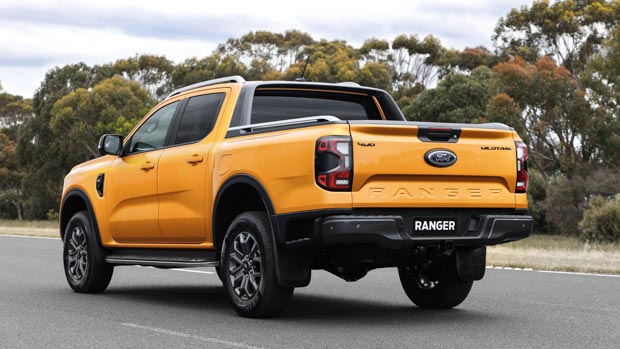 Ford's designers, engineers and product planners were at pains to explain that the T6.2 Ranger is the outcome of five years of extensive customer research, observance and consultation – with many final decisions the direct result of input from existing Ranger drivers and customers of competing brands.
3.0-litre V6 diesel and 2.0-litre four-cylinders available
With an Australian release date of mid-2022 confirmed by local Ford executives, the Ranger will launch with conventional diesel and petrol powertrains globally, though Australia will receive only diesels.
The big news under the Ranger's longer bonnet is the availability of a new-to-Ranger 3.0-litre turbo diesel V6 engine that has previously done service in the larger Ford F-150 pick-up in the Americas – but it is has been upgraded and validated for 2022, its maker says.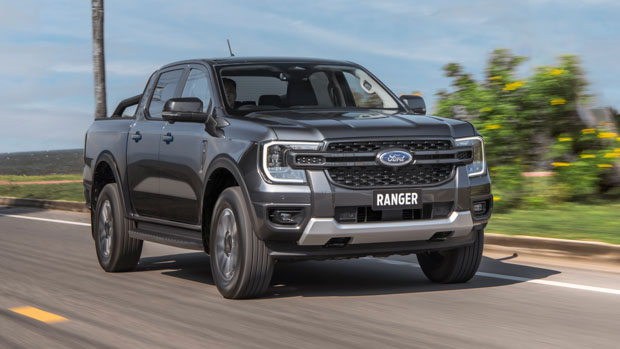 Slated to produce 190kW of power and 600Nm of torque, the 3.0-litre diesel V6 is a Ford engine that Chasing Cars understands to be derived from the Lion family of powertrains originally co-developed with PSA Peugeot Citroen.
For use in the Ranger, the diesel V6 will be paired exclusively to a ten-speed automatic transmission. The 10R80 transmission has been overhauled for 2022 and includes a redesigned torque converter.
The 3.0-litre V6 will be available in high-spec Ranger variants, with Pritika Maharaja, the T6 platform programme manager, confirming that it is not reserved only for the Raptor – which will be revealed at a later date.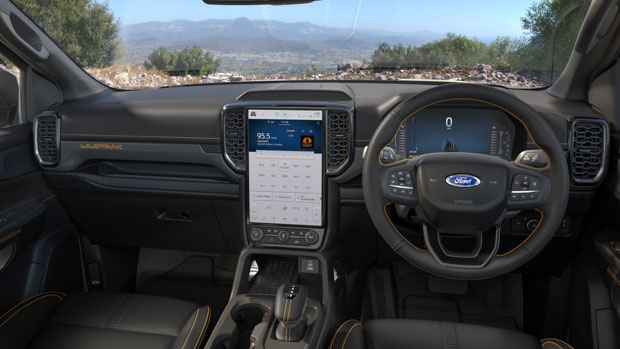 The availability of a circa-190kW 3.0-litre diesel V6 also means that the new Ranger's platform-sharing partner – the second-generation Volkswagen Amarok – will continue to be available with stout six-cylinder diesel power.
Ford confirmed that the 2.0-litre four-cylinder diesel engine will make a return for the T6.2 in lower-spec single-turbo form and higher-spec twin-turbo guise.
The ten-speed auto is likely to be the only transmission for the 2.0-litre biturbo that makes 157kW/500Nm, while a redesigned MT88 manual will be offered for the single-turbo in five- and six-speed versions globally.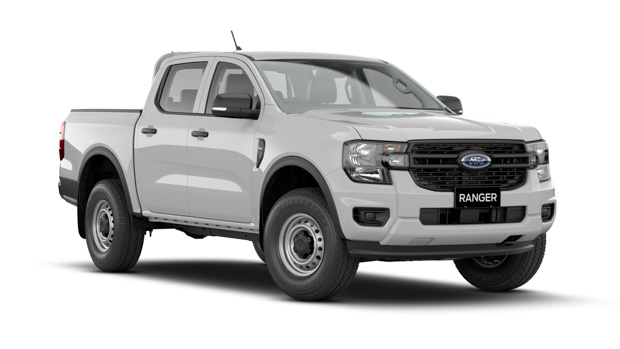 Electric and hybrid Ranger likely in future
Later, it is expected that Ford will bring an electric Ranger to market, either in hybrid or full-EV form, in response to shifting customer demands and legislative requirements.
Ford says every part of the T6 platform has been upgraded or reviewed for use in the 2022 Ranger, with the chassis capable of electrification down the track.
Designed to be fit for purpose into the latter part of the 2020s, Ford says changing customer tastes and legislative requirements will create demand for a Ranger powered by "future propulsion technologies".
Ford would not be drawn on whether a series-parallel hybrid, plug-in hybrid or a fully-electric Ranger was most likely; rather, it acknowledged legislative schemes as a key driver for future powertrains.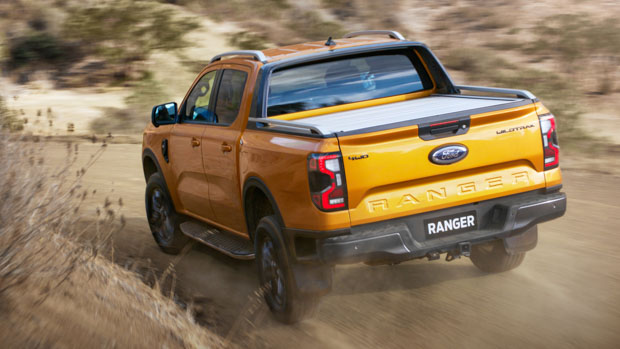 Overhauled interior with 12" portrait touchscreen
A dramatically more modern interior was displayed on the high-specification Ranger variant Chasing Cars has seen, dominated by a vast 12-inch portrait touchscreen similar to the 15.5-inch unit seen in Ford's Mustang Mach-E electric SUV.
The smallest available display still measures 10.1-inches – on the lower grades – while the FordPass app will allow remote unlocking and locking along with service scheduling functions and access to FAQ videos.
A digital instrument cluster is understood to be standard on the T6.2 Ranger, with a narrower base version and a full-width iteration seen in product videos.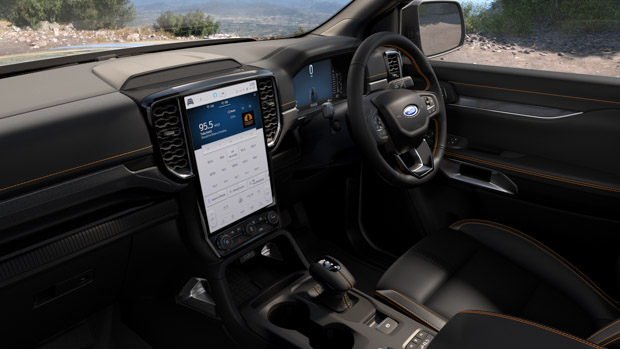 Reflecting the increasingly non-commercial use of high-spec Ranger variants, Ford interior designers have fitted soft-touch materials to more surfaces while retaining a focus on durability for trade-orientated trim levels.
Ford says three dashboard and console shapes have been developed, though only the high-specification version has been seen by Chasing Cars at this stage.
Wider track, tray step and "Built Ford Tough" front end
The outgoing T6.1 Ranger's relatively benign front end design has been substituted for a substantially more aggressive design in the 2022 T6.2 overhaul.
Inspired by the F-150 and Ford of America's "Built Ford Tough" design language, the C-shaped daytime running lights, integrated grille and H-shaped fascia support structure are all substantially more aggressive and give the new Ranger a distinctly American aesthetic.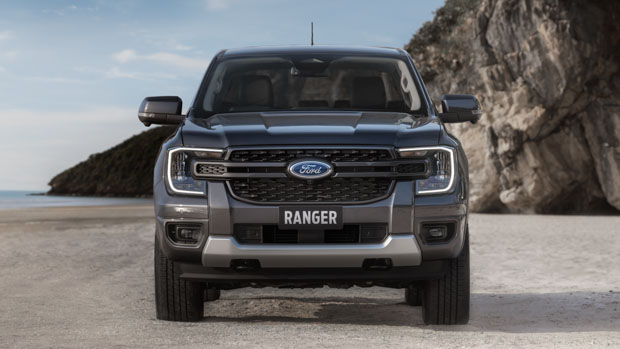 The bonnet is higher and longer and the vehicle is more squared off, with fewer rounded corners and reduced use of brightwork, with satin and darker finishes substituted in most places.
T6.2's track is wider and Ford says the vehicle has a 50mm increase in width – enough to allow space for a pallet between the arches of the lined tray, which also incorporates additional lighting and an available 240-volt power outlet.
An integrated side-step at the rear end will allow easier access to the tray, while there are additional tie-down points and flexible load box caps around the edges of the box to more easily fit aftermarket accessories. ARB is Ford's official partner in this space.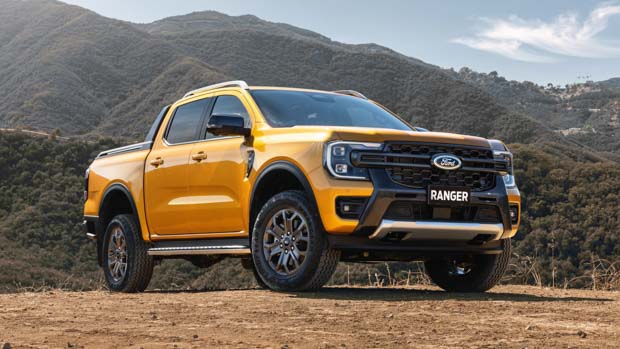 Suspension redeveloped with greater articulation
The front wheels have moved 50mm forward compared to the outgoing T6.1 Ranger, which Ford says improves the ute's approach angle – while the wheels also shift outboard for better articulation off-road.
The rear dampers have also been moved outboard relative to the frame rails, again for superior off-road suspension articulation but also what Ford says is more consistent ride comfort on-road whether laden or unladen.
Mid-2022 Australian release date for new Ranger
Ford would not be drawn on specific specifications, including power outputs, trim grades, or pricing on what was essentially a call limited to the global reveal of the design and tech of the 2022 Ranger.
Matt Moran, Ford Australia communications director, told media that the manufacturer had set mid-2022 as a target for a local release date for the Thailand-sourced T6.2 Ranger.