BMW has released new images of a lightly camouflage M3 Touring undergoing testing ahead of its global unveiling.
The M3 Touring has been confirmed for Australia and is expected to go into production in the next few months ahead of a 2022 launch in Europe, though an Australian arrival may have to wait until 2023.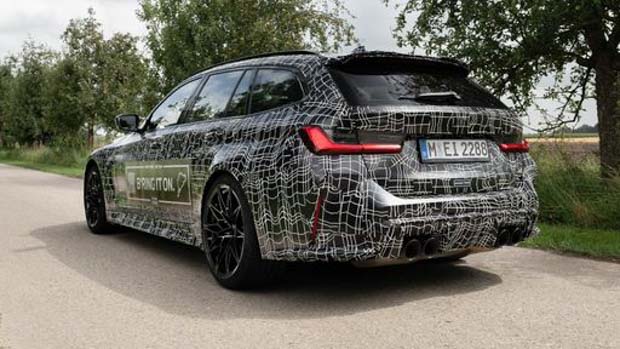 When it arrives, the M3 Touring will face off against fierce competition in the Mercedes-AMG C63 and Audi RS4, which have both occupied the performance wagon space for decades.
In the images released across BMW M's social media pages this week, the marque was not afraid to show off the rear of the car which retains the same general shape as the regular 3 Series Touring.
Lower down, designers have incorporated some aggressive quad tailpipes, flanked by deep cut reflectors and LED taillights from the M3 sedan and M4 coupe and cabriolet.
Previous spy images have shown that the M3 Touring will retain the controversial tall kidney grille of the M3 sedan and M4 twins.
German BMW specialist Alpina have produced fast 3 Series wagons for years – but with a more subtle design than the forthcoming G81 M3 Touring, which scores an aggressive spoiler above the rear glass.
Adorned on the digi-camoed side of the M3 Touring is a logo of the Nürburgring, where the wagon has been seen undergoing development since late 2020 when it began its two-year development cycle.
By captioning one image "same big power, exciting new shape" BMW has seemingly confirmed the long-roof will retain the 'S58' twin-turbo 3.0-litre straight-six from the sedan.
BMW is expected to release the M3 Touring exclusively in Competition guise, which should see outputs of around 375kW of power and 600Nm of torque.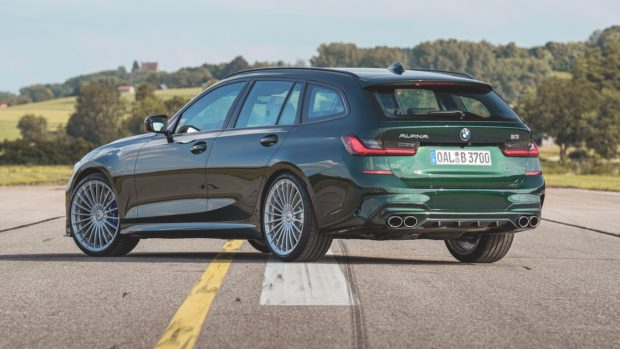 This means we are unlikely to see the six-speed manual make its way into the M3 Touring, but we found no issues with the eight-speed ZF torque-converter automatic in our recent review of the M3 Competition in sedan form.
At present, the M3 Competition sedan is available in both RWD and AWD configurations, with the Touring expected to adopt the latter of the two.
In AWD guise, the M3 Competition sedan can accelerate from 0 to 100km/h in 3.5 seconds. With the additional weight on the back, the M3 Touring will be unlikely to match this figure but we can still expect a time under four seconds.
More official information on price and official specification are expected to arise closer to the rumoured Australian launch in 2023.