Alpina Australia has confirmed Australian pricing for the new G20 3 Series-based B3 Biturbo due on our shores in the second half of 2020. With a top speed in excess of 300km/h, it might just be our favourite 3 Series ever.
B3 pricing will begin with the $142,900 (driveaway pricing TBA) sedan, the fetching Toruing variant commanding a small premium at $145,900 (driveaway pricing TBA) before options.
Pricing is surprisingly sharp with the B3 undercutting BMW Australia's aging F80 M4 at $156,529 ($169,041 driveaway), the B3 boasts4 more power from its S58 engine, too, with 340kW and 700Nm, the M4 makes do with a comparatively measly 331kW/550Nm.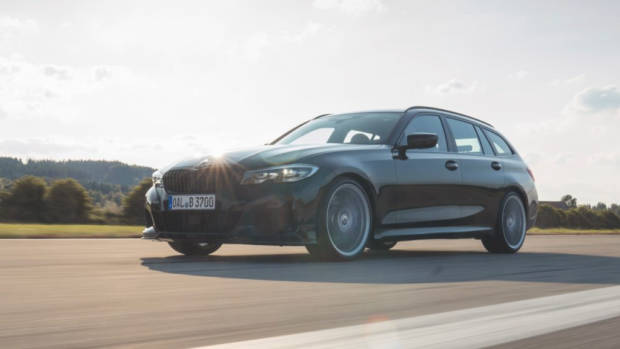 As for external competition, the B3 will offer greater exclusivity, comfort and interior class – all Alpina trademarks – than current Mercedes-AMG C63 S and Audi RS4, with the Touring offering a livelier alternative to BMW's bonkers X3 M.
It's important not to think of Alpina as a direct competitor to BMW's own in-house M brand that has connotations of motorsport development, cars honed for extreme conditions on the track.
Alpina is different, receiving bodies-in-white from BMW the brand tunes their vehicles with the intention of high-speed autobahn cruising in maximum comfort, ergo plenty of torque and sumptuous suspension tuning.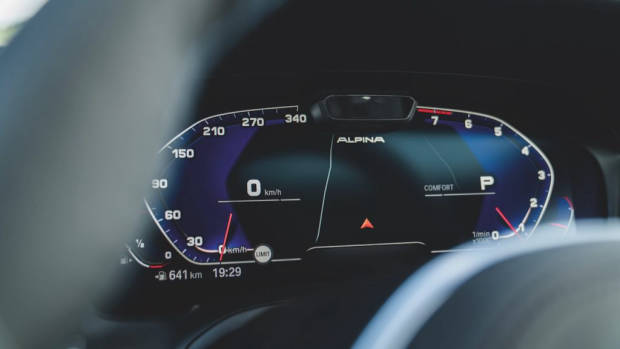 The B3 boasts the brand's signature 'comfort plus' setting for the standard adaptive dampers, it's a setting that's more sumptuous than any configuration so far in the G20, don't worry though, there's still a Sport mode for when things get twisty.
Naturally, Alpina has also worked their magic on the three-litre twin-turbocharged S58 – which already appears in the BMW X3 and X4 M models and is slated for the next-gen M4 and M3 – producing rather beefy outputs of 375Kw and 600Nm.
It's not the power Alpina strives for though at 340kW the B3 has a deficit to the pair of sporty SUVs, though peak torque swells to an insane 700Nm. All that power and torque means all B3s will be fitted with BMW's excellent xDrive system via an eight-speed automatic transmission.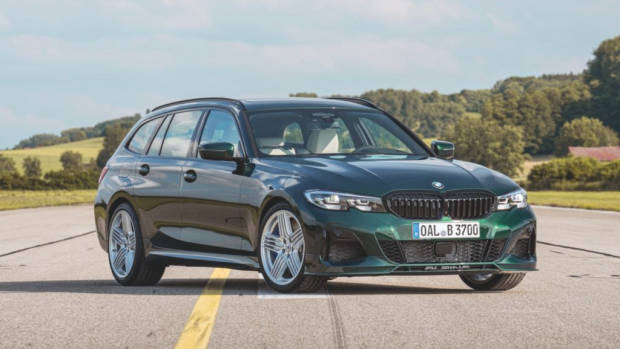 Exterior tweaks are what you expect – you know it's an Alpina. Heritage touches include the huge 20-inch multispoke alloys and the unmistakable front valance that we reckon suits the G20 shape as well as it did the E30 back in the 80s. Pictured here in Alpina Green it's a seriously classy vehicle.
Alpina touches will extend inside with their roundel replacing the BMW at the centre of the tiller, custom graphics for the infotainment system and luxurious Lavalina leather-appointed seats.
Naturally, interior customisation will be possible for the B3 – think custom seat embossing, piping and stitching colours, all at a premium, of course.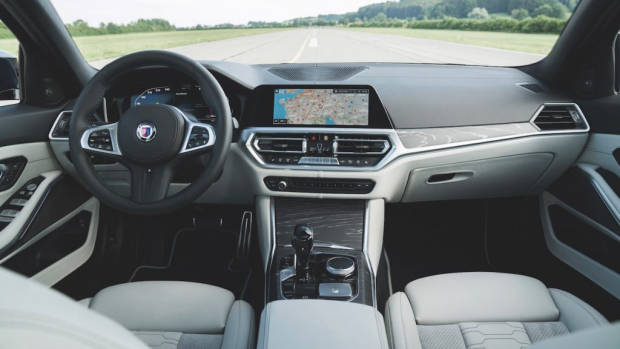 For those who don't intend to track their luxury sports car very often the B3 is shaping up to offer a great option, the sharp pricing will make this the most attainable Alpina yet.