Designer threads, fine dining, Cavoodles and fast Audi wagons – it's a lifestyle the German brand has been crafting for quite some time now. And, not surprisingly, succeeding.
While Audi Australia's sales fortunes have been on a rollercoaster ride for the past few years, with several key models unavailable (for various reasons), the arrival of loads of new metal in 2020 should put a rocket up demand for the Ingolstadt brand. Among them is a facelifted RS4 Avant.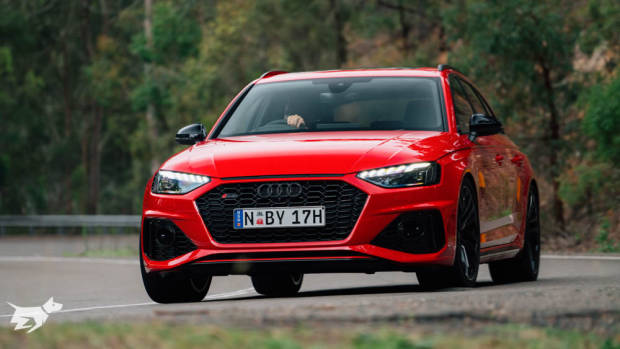 Twinned with a matching upgrade to the mechanically identical RS5 Coupe and RS5 Sportback (reviewed separately), the RS4 has undergone a surprising amount of scalpel work given that this B9-generation was only debuted at the Frankfurt show in late-2017. These visual changes bring it into line with the new-generation RS6 and RS7 that launched here in July.
Bonnet and guards aside, the front-end is completely new. The 2021 RS4's broader, flatter single-frame grille is now frameless (it's part of the bumper assembly) but the easiest way to tell the updated RS4 is by its Sport Quattro-inspired slit above the grille, and all-new Matrix LED headlights that lose the zig-zag shape at the bottom and gain new segmented running lights across the top (that look a bit like a rapper's eyebrows), teamed with sequential indicators.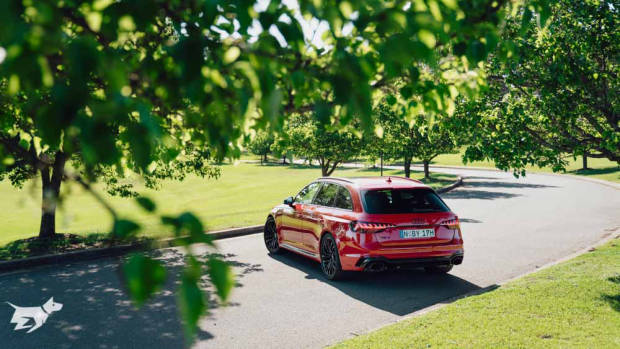 The rear sparkles with new LED tail-lights sporting similar design details and lighting theatrics (and an A8-like horizontal trim section through their guts), as well as a new bumper and diffuser. All Aussie RS4s also feature black styling packages as standard, meaning every piece of body garnish is as dark and shiny as Darth Vader's helmet.
They also get new five-arm 'flag design' 20-inch rims in gloss anthracite black with gloss-turned finish (and 275/30R20 tyres), plus three 20-inch alternatives including the multi-spoke gloss-black rims worn by our test car and an intriguing matte-bronze five-spoker.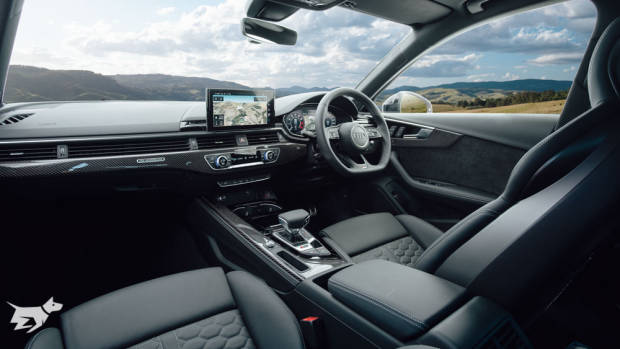 Inside, it's a rinse-and-repeat of the latest A4/A5 upgrades, which means bye-bye MMI controller and hello vast new 10.1-inch touchscreen with fast, seamless response and superior functionality. It's blessed with wired Apple CarPlay/Android Auto (not the wireless system from the RS6/RS7), wireless phone charging and a solid 19-speaker, 755-watt Bang & Olufsen 3D sound system – continuing Audi's on-point multimedia game.
The updated RS4 also gets a new Virtual Cockpit Plus instrument cluster, with a bar-graph tacho taking centre stage when one of the two RS modes is selected – both accessible by a new button on the steering wheel (ala RS6), alongside new wheel paddles. And Audi has taken to increasing the RS4's equipment content without slugging the buyer for the extra coin. The RS4's price drops by $4629 (to $147,900 before on-road costs) but Audi says there's $3400 worth of extra stuff.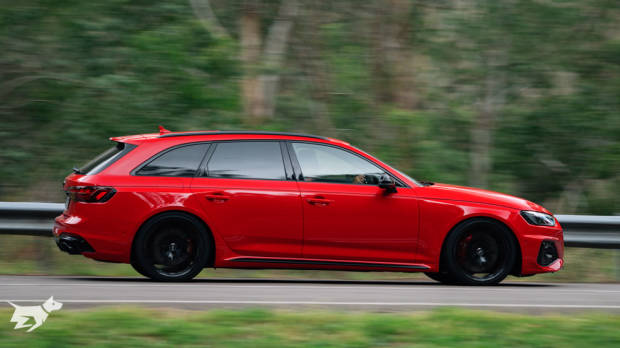 It certainly doesn't seem like the RS4 is wanting for anything more, at least equipment- and styling-wise. Those pumped guards – 30mm wider than an A4 Avant's – look totally porn and the RS4's size is near-perfect. It has never looked better and its cabin has never worked better – both in terms of packaging effectiveness, seat comfort and overall quality.
It's a lusty thing to listen to as well, with a standard RS sports exhaust system overlaying the twin-turbo 2.9-litre V6's efforts with various stages of bent-six snarl and blare. You can fluff around with all different sorts of settings in the MMI screen for steering, suspension, drivetrain, engine sound and the torque vectoring effects of the sport rear differential, along with an ESP Sport safety net to keep the dynamics entertaining.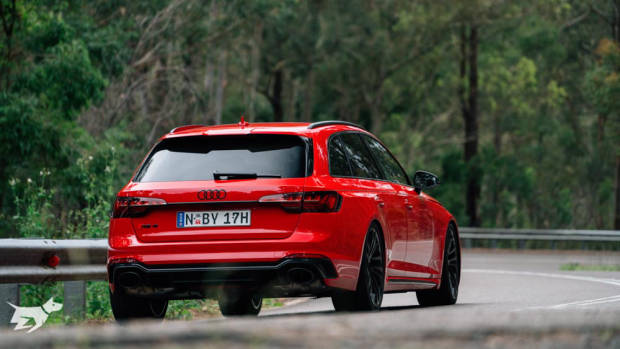 But the RS4 isn't quite as fun as its RS5 siblings. At 1745kg, the RS4 weighs 60kg more than an RS5 coupe and 20kg more than a Sportback, meaning it isn't the weight that's diluting its sportiness. It's the more comfort-oriented tune in its standard RS sports suspension, which delivers an unexpectedly terrific ride (given the huge 20s it's riding on) but not the more tied-down feel of its brothers – at least compared to the RS5 Coupe we tested with optional adaptive dampers ($4400).
The RS4's steering is also lighter, even in Dynamic mode, which confirms that there isn't the outright fingertip communication you'd expect in a car like this. Yet thanks to its trick rear diff and 60 percent drive split to the rear, there's a chuck-ability to the RS4 that becomes more addictive the longer and harder you drive it. Driven well, it's foolproof.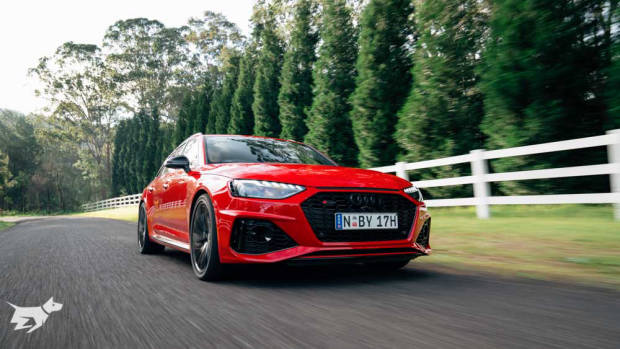 So too is the eight-speed automatic that has been serving the RS4 for the last few years, and the carry-over engine packing 331kW at 5700-6700rpm and a chubby 600Nm from 1900-5000rpm. This twin-turbo V6 is exceptionally driveable – as happy crawling in gridlocked traffic as it is kissing the 7000rpm ignition cut-out – and the transmission has none of the quirks of the old dual-clutch S-tronic 'box.
Like its RS stablemates, the RS4 also offers accessible performance – you don't need to be Tom Kristensen to match (or beat) Audi's 0-100km/h claim of 4.1 seconds.
In the grand scheme of things, the B9 RS4 Avant will never be as brash as a Mercedes-AMG C63 S estate, or as loutish as the Porsche-developed 1994 RS2 that spawned Audi's modern fast-wagon stable.
But there's much to be said for the suaveness and sophistication of the voluminously voracious RS4. It's like a sharp-suited banker hiding a Nissaco body tatt – equal parts naughty and nice. But perhaps the RS4 isn't quite naughty enough to get my heart palpitating.