This year is shaping up to be a record for Audi's performance lineup in Australia, with the Audi Sport sub-brand chalking up 950 sales so far in 2018. Audi Sport, which comprises Audi's RS-badged vehicles and the R8 supercar, will mark its most successful year in Australia if the current performance bears out into the summer season.
Speaking with Chasing Cars at the launch of the 2018 Audi Sport Week – a customer-facing celebration of fast Audis, held at the recently-opened Bend Motorsport Park near Adelaide – corporate communications manager of Audi Australia Shaun Cleary said the strong Audi Sport result "is clearly driven by a lot of new product".
This year has seen two launches for Audi Sport, with a new generation arriving for the popular midsize RS4 Avant, along with a limited-edition rear-wheel-drive version of the R8, coined RWS, or Rear Wheel Series. The midsize RS5 Coupe launched in the last weeks of 2017, with many early sales falling inside the 2018 calendar year.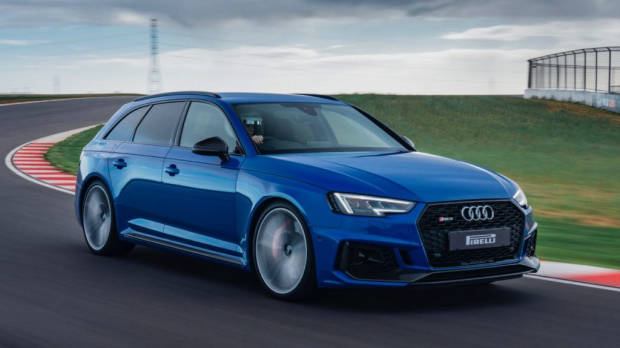 The new Audi RS4 Avant, which launched this year.
"It's a really strong part of the lifecycle," Mr Cleary said, while suggesting that future product still in the Audi Sport pipeline will help to sustain interest in future. "There's not a lot we can talk about yet, but there are definitely new things coming. We know there is a new-generation A6 and A7 – and though there has been no announcement about a successor to the RS6 and RS7, clearly they were successful in Australia, so we'd be really hopeful to see those cars."
The base vehicles that sit underneath the RS6 and RS7 – the upper midsize A6 and A7 – will shortly arrive in Australia. The A7 will drop before Christmas with the A6 range to arrive in the first quarter of 2019. There is usually a delay of about a year before RS models are seen.
Despite the surging popularity of SUVs in the Australian market – and the emergence of fast midsize SUVs like the Mercedes-AMG GLC 63S, Audi have not yet confirmed more high-riding Audi Sport versions of the brand's Q family of crossovers.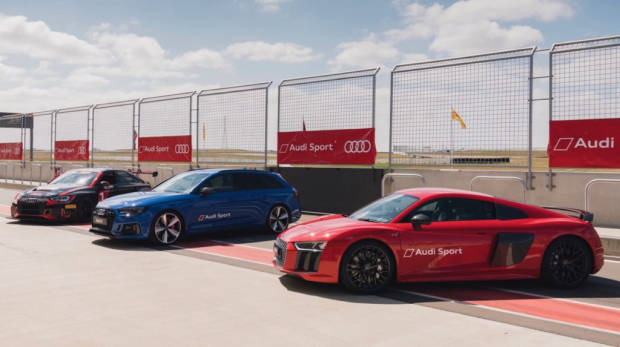 The Audi RS3 TCR, Audi RS4 Avant, and Audi R8.
Thus far, the sole Audi Sport SUV has been the 270kW/465Nm RSQ3, a small SUV that was upgraded to 'RSQ3 performance' specification in 2016 from the previous 250kW/450Nm tune. Cleary indicated that "the RSQ3 has been successful…I'd say it has proved quite popular with a section of the buying public."
As for whether – or, more pertinently when – further Audi Sport SUVs will arrive, such as a hotter RS version of the existing SQ5 midsizer, Mr Cleary said Audi is "looking for opportunities for growth. Only 10 years ago, the Audi Sport range only had one model at a time…clearly, we know the SUV range is very strong, and it's definitely being looked at.
Australia is well-known as being one of the strongest performance car markets worldwide, routinely placing in the top few countries for per-capita takeup of the sportiest models. This phenomenon is reflected in increasing Audi Sport demand, Mr Cleary says. "We're regularly in the top 5 in the world for Audi Sport, whereas with overall volume, we're more like an 11th – so we're definitely higher in RS and R8 models."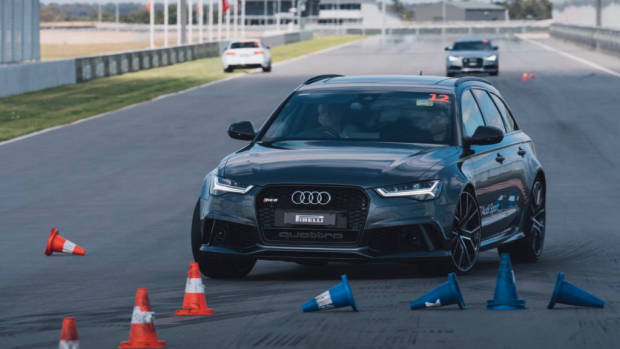 Mr Clearly says that opportunities like the Audi Driving Experience – which is central to Audi Sport Week – gives RS owners and potential buyers the chance to push the vehicles to the limit, adding another dimension to the performance Audi experience. "The most important thing for people to appreciate Audi Sport cars is to get the chance to drive them. If you're a customer or potential customer, and you get the chance to drive a car you've been looking at seriously…what an experience. It's a great chance to immerse someone in the brand."
Early next year the RS5 Coupe will get a sibling in the form of the 2019 RS5 Sportback – a five-door liftback variant that will share the Coupe's 331kW/600m 2.9-litre V6 engine. "We're really positive about the RS5 Sportback," Cleary says. "It has that classic GT styling, but inside it has versatility you don't have in a coupe. That said, it's different again to something like an RS4, so we see it will draw in a new type of customer."
Mr Cleary says that he differentiates an RS4 Avant customer, who is draw to the classic Audi fast wagon lineage, and a potential RS5 Sportback driver – "a person who just loves that sports GT coupe styling. I think the fact we can cater to that customer now in something that's much more versatile, with the same performance, pretty much the same looks [as RS5 Coupe]…is a very strong proposition in the segment."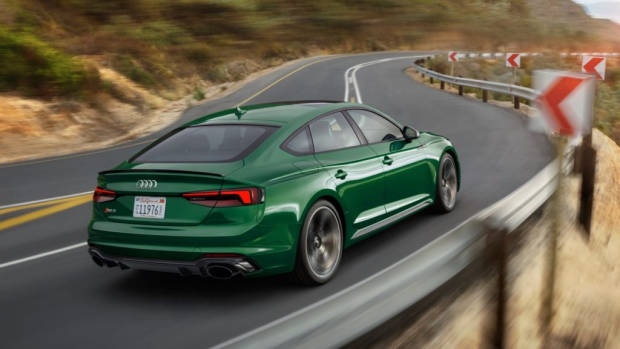 The incoming Audi RS5 Sportback.
Eighteen Audi dealerships are authorised to sell Audi Sport cars and Mr Cleary says that although Audi are satisfied with the current level of coverage, the brand are "keeping an eye on how it's moving, and where the stronger areas [of demand] are." Audi executives did not rule out a potential expansion in Audi Sport retail availability.
The local success of Audi Sport in 2018 has, to a marginal extent, offset a slight recession in brand-wide sales this year. "We haven't had an awful lot of product launches [in 2018], which is unlike recent years. But we know what's coming: we've just launched the A8…in the next 12-18 months, it's going to be an incredible product offensive. We've got A7, Q8, A6, A1, Q3 – these are significant models," Mr Cleary said.
Audi Sport's strong sales so far this year have not been dampened by temporary emissions testing delays with the most popular vehicle in the Sport lineup, the RS3, which has resulted in new custom orders of the car being suspended until early 2019. The Audi RS3 is the entry point to the Audi Sport range, priced at $80,240 as a hatch and $84,240 as a sedan.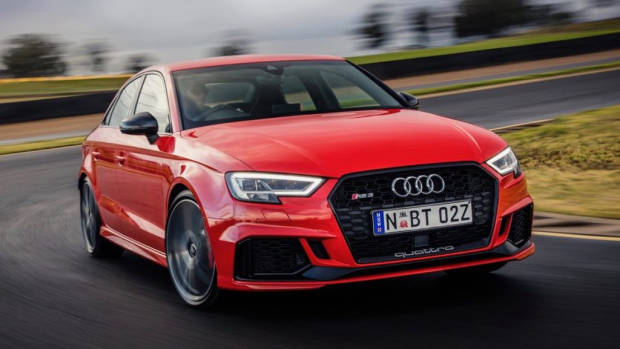 The Audi RS3, which is in stock despite WLTP issues affecting the 2.5-litre engine.
Delays involved with onerous new Worldwide Harmonised Light Vehicle Test (WLTP) emissions testing have plagued Audi's group cousin, Volkswagen. The delays are now affecting the RS3's 2.5-litre five-cylinder TFSI engine. "We've got a good supply [of RS3] currently, both here and coming on boats, which will sustain us until [orders can resume]," Mr Cleary said.
"WLTP is a huge task. All the manufacturers have to do it, all engine configurations have to be tested, so you can imagine the logistics behind that. There will be some delays."
As part of the Audi Sport Week launch at The Bend, the opportunity was offered to drive a key selection of RS models in skid pad, motorkhana and track situations, in addition to the R8 in RWS and V10 quattro forms. You'll be able to see some video content shot from that experience on Chasing Cars soon.