Audi might be known for its laser focus on all-wheel-drive performance, but last year the Ingolstadt brand went a bit mad. By disconnecting the driven front wheels from a limited run of their R8 supercar, making a proper tyre-smoker, Audi's 500-example R8 Rear Wheel Series received a rapturous reception. Now, that concept is back and Audi say it's here to stay.
Arriving in Australia with the facelifted 2020 Audi R8 mid-next year, a permanent V10 RWD grade will sit alongside more familiar R8 coupe and spyder models that feature the brand's signature Quattro all-wheel-drive system. Audi Australia will also offer customer racing teams access to buy the all-new R8 GT4 race car.

With the front axle disconnected Audi claim the V10 RWD offers a "puristic kind of driving pleasure", which suits us just fine. The new rear-driven variant will compete against the venerable Porsche 911, BMW M8 Competition Coupe, and Mercedes AMG GT.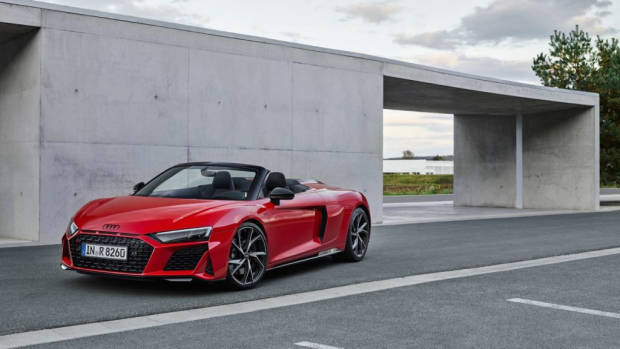 Despite ever constricting emissions regulations, 2020 is shaping up to be a great year for drivers' cars, with the R8 V10 RWD being no exception. The car will be available in both coupe and spyder convertible form when it arrives.

The 5.2-litre FSI V10 carries over from the Quattro model and will produce 397kW at 6,500 RPM, and 540Nm while screaming to its insane 8,500 RPM redline. All of this power will be sent to the rear wheels via a seven-speed S Tronic dual-clutch, and divvied up by a proper mechanical LSD.

Interestingly, the road-car derived R8 GT4 that Audi have debuted alongside produces less power – 364kW to be exact – due to class restrictions, so your road car will pack more punch than a full-fledged racer.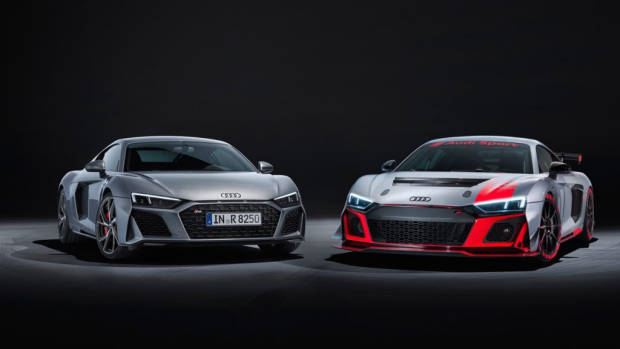 Acceleration from 0-100km/h is certainly impressive at 3.7 seconds – the spyder getting there in 3.8 seconds – though a five-seater RS5 will complete the sprint barely any slower at 3.9 seconds, and is probably faster in real-world conditions. The V10 RWD spyder will go on to top out at 320km/h, with the spyder reaching 318km/h.

However, acceleration figures are not what the R8 RWD is about, instead the sports car bucks Audi's usual modus operandi in favour of chasing the indescribable pleasure of driving. A lighter front end and uncorrupted steering feel should give a much greater connection between driver and car.

Audi have updated dynamics for the rear-wheel drive variant too, as ditching the propshaft, diffs, and other components associated with the Quattro system has removed 65kg of weight from the coupe (55kg for the spyder), resulting in a 40/60 weight distribution.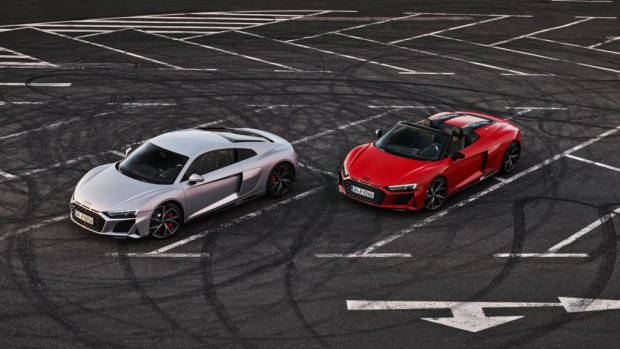 The engineers have retuned the ESC system to accommodate the different handling characteristics, with Audi claiming that in sport mode the systems are smart enough to allow "controlled drifting", which sounds pretty awesome to us.

Outside, the R8 V10 RWD shows off the coming facelift for the whole R8 range, and it looks great in photos. Sharper lines all around work in tandem with a more aggressively sloping bonnet give the refreshed car a more imposing stance.

Audi have also incorporated the three strakes between the hexagonal grille and bonnet in reference to the 80's Quattro Sport, despite the fact that in the R8 they won't be providing any cooling.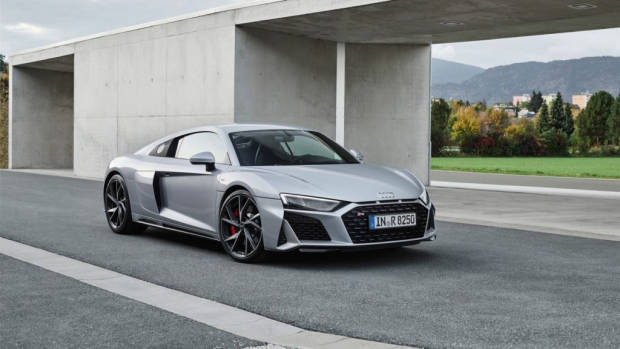 The V10 RWD also gets 19-inch fully forged wheels with 245/35 series tyres up front, and 295/35 in the rear, with larger 20-inch wheels available as an option. Exact specification has yet to be confirmed, but expect a complete suite of safety tech such as AEB, front and rear cross-traffic assist and active cruise when the V10 RWD arrives as well as Audi's digital dash and intuitive infotainment system.

In 2018 the original RWS coupe sold for $299,129 ($322,134 driveaway), with Quattro coupe variants starting at $366,340 ($392,705 driveawat) so we expect the new V10 RWD variant to push $300,000 before on-road costs.

Of course, pricing will be confirmed closer to the R8 V10 RWDs Australian arrival in mid-2020, with more information about the updated Quattro models coming. It's great to see manufacturers still making fun, enthusiast focussed cars with bombastic engines, we certainly hope to have a steer in the R8 V10 RWD when it arrives.