Mercedes-Benz has unveiled the Vision EQXX concept, a four-door grand tourer touting Tesla Model S and Porsche Taycan electric range of 1000km.
The Vision EQXX concept is just that for the moment, a study that sprouted from a blank page to what you see here in around 18 months as a proof of what Mercedes-Benz's future looks like.
It's an electric future of course, which started with the marque's plan to offer an EV in every segment and axe new combustion vehicle launches by 2025.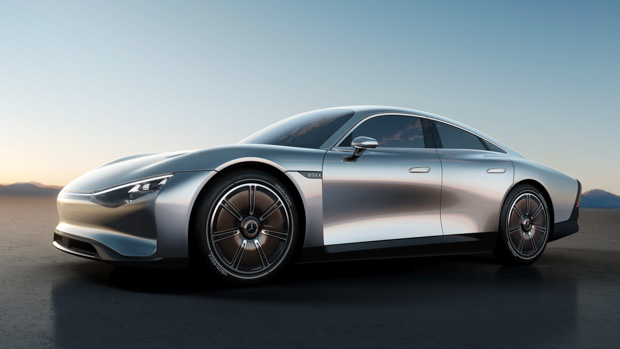 The plan is already in full swing, with the Mercedes-Benz EQC midsize SUV, EQS luxury sedan and EQA small SUV all currently on-sale globally.
In eventual production form, the slinky four-door Vision EQXX could become Benz's EV flagship grand tourer, though it sits on a 2800mm wheelbase that is 151mm shorter than the Mercedes-AMG GT 63 four-door. 
While the Vision EQXX's range figure is anything but demure, the way Mercedes-Benz has gone about achieving the number is not through sledgehammer excess but through optimising every aspect of the four-door to maximise efficiency.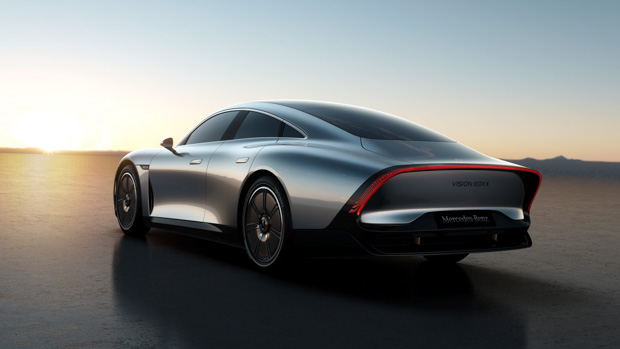 As such, there aren't whopping outputs or battery capacities. Mercedes-Benz only claims 150kW of power – a far cry from the Tesla Model 3 Plaid's 761KW – and its battery is under 100kWh, so how on earth will the Vision EQXX achieve 1000km of range?
The Mercedes-Benz Vision EQXX is all about efficiency
From its cira-100kWh lithium-ion battery (Mercedes-Benz hasn't given an exact figure yet), the Vision EQXX would need to return an energy consumption figure of 10kWh/100km or less. 
To give some context to that low figure, when we tested the range of five EVs in Australia the most efficient was the Tesla Model 3 Long Range returning 13.8kWh.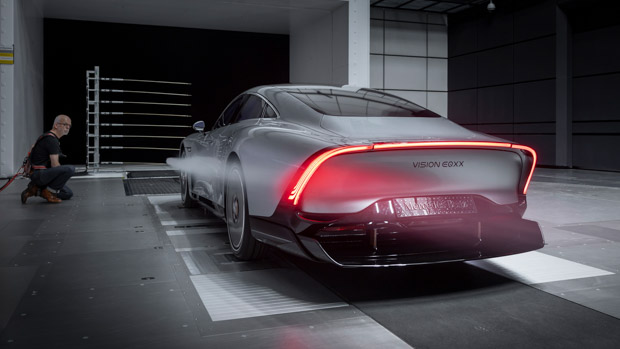 The Mercedes-Benz EQXX achieves its low theoretical energy consumption using several tricks, chiefly a low-drag figure of 0.17 Cd – and a frontal area 50mm smaller than the CLA small sedan.
A lot of the Vision EQXX's aero efficiency comes not only from the small frontal area, but also the extended rear deck – reminiscent of the 1978 Porsche 935 'Moby Dick' racecar – and flat underfloor.
Thermal management also plays a role, and Mercedes-Benz claims its approach of using a combination of underbody air management, liquid-cooling and accessory fans increases range by 20km according to the marque.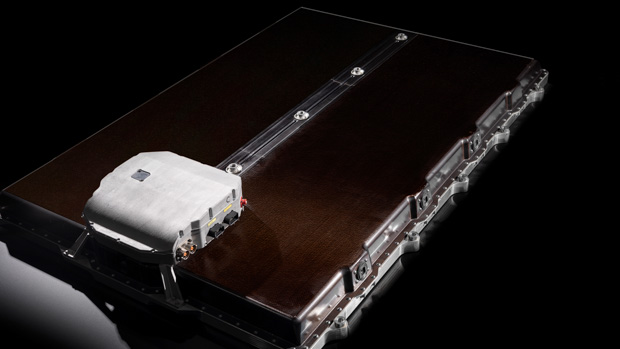 Keeping the weight low is relative, Mercedes-Benz quotes a 1750kg figure which is in the ballpark for a large combustion car but 730kg lighter than the 2480kg Mercedes-Benz EQS. 
The Vision EQXX uses a development of a lithium-ion battery pack weighing 495kg, roughly 30 percent lighter and 50 percent smaller than the 107.8kWh lithium-ion pack used by the EQS. 
What is powering the EQXX?
Adding to the EQXX's claimed range is the inherent efficiency of electric motors which in this case transfer 95 percent of potential energy to the wheels, versus around 30 percent for a production ICE vehicle.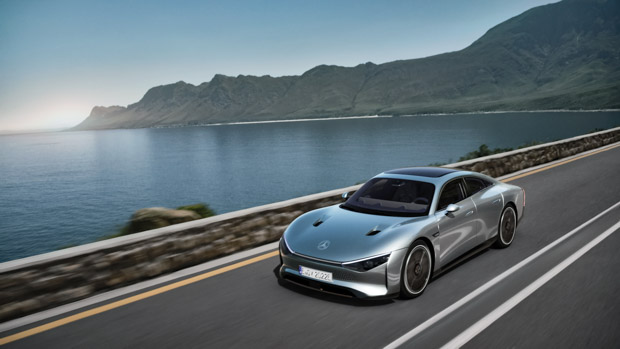 Where traditional EVs use 240 or 400-volt systems, Audi and Porsche stepped this up to 800-volts in the Taycan and e-tron GT, the EQXX ramps this up to 900-volts. 
At the unveiling of the Vision EQXX concept, Mercedes-Benz didn't make any claims about charging, though its high-voltage electrics suggest it would be capable of ultra-rapid charging speeds of 350kW. 
However, the EQXX isn't about all-out performance at all, and for the moment Mercedes-Benz claims 150kW of total power output from a single electric motor, and no absurd 0-100km/h times.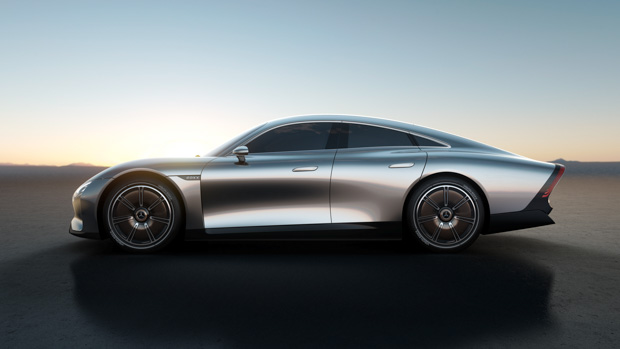 Further emphasising its lean towards efficiency, the EQXX's 20-inch magnesium-alloy wheels are only shod in Bridgestone Turanza rubber, so while it may have an athletic appearance speed is not the goal of the Vision EQXX.
What kind of technology is inside Vision EQXX?
There is an enormous curved screen that spans door-to-door and measures 47.5-inches wide in doing so with a built-in 'Star-cloud avatar' assistant. 
There's the usual 'Hey Mercedes' voice command too, though the EQXX uses 'neuromorphic' technology that makes interfacing with the system more efficient.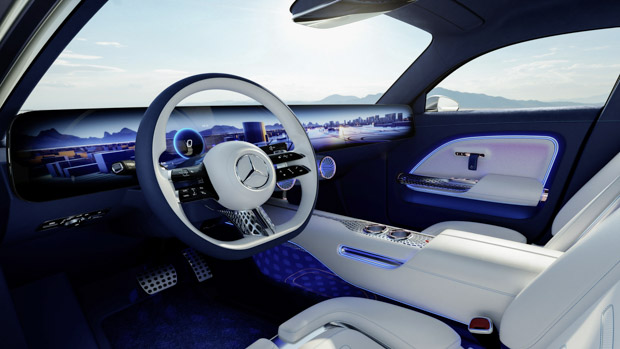 Along with all the new technology there is also 3D navigation and a sound system that utilises only a single speaker in the headrest and subwoofer in the base cushion for both front seat passengers to conserve energy.
More interesting tech that helps the EQXX stay green
There are solar panels mounted on the EQXX's roof which Mercedes says adds 25km of range to the claim while driving (which answers the question of solar panels providing perpetual propulsion). 
That is partly because the 117 panels don't feed back into the high-voltage power system, and instead power interior functions like climate control, lights and infotainment system to minimise parasitic drain from the driving battery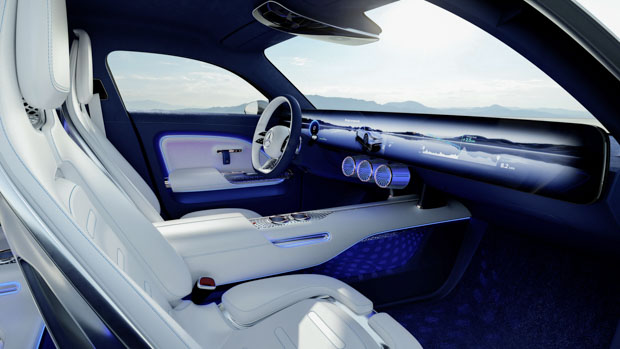 It's hard not to notice the jutting rear diffuser, though it's active. At speed, the lip kicks out to smooth out the air flow beneath the but when parked or in town it slides back in to preserve the EQXX's suave proportions.
Inside ,there are a multitude of sustainable materials used including 'leather' made from your choice of Mushroom or Cactus fibre, bamboo carpets and 'Biosteel' vegan Silk along with the usual textiles that are made fully or partially from recycled PET.
The Vision EQXX has so far spent 46 hours being tested in wind tunnels and completed 300,000km of virtual road testing over its 18 month gestation period.