Mercedes-AMG has announced the 2022 EQS 53 4Matic+ will be the performance sub brand's first electric vehicle amid a wider shift away from combustion engines.
The luxury sports sedan will arrive at some point during the first half of 2022, following the arrival of the regular EQS in December this year.
While the EQS is still largely without direct competition, it will prove as an attractive option for current S-Class buyers and even Tesla Model S buyers looking to move into something a bit more luxurious.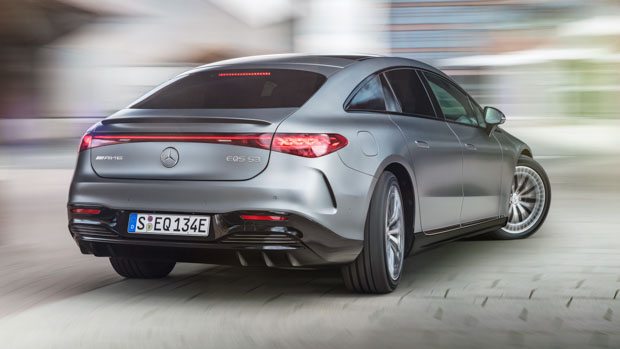 How fast is the AMG EQS 53?
While the AMG EQS 53 does share a number of components with its cooking variants AMG has continued its long-held tradition of building its own parts – including custom motors.
Sticking to a dual-motor system, with one motor mounted at the front and the other at the rear, the pair produce a combined 484kW of power and 950Nm of torque right out the box.
Buyers can upgrade this to a maximum of 560kW/1020Nm with the optional Dynamic Plus package, giving the AMG EQS a 0-100km/h time of 3.4 seconds.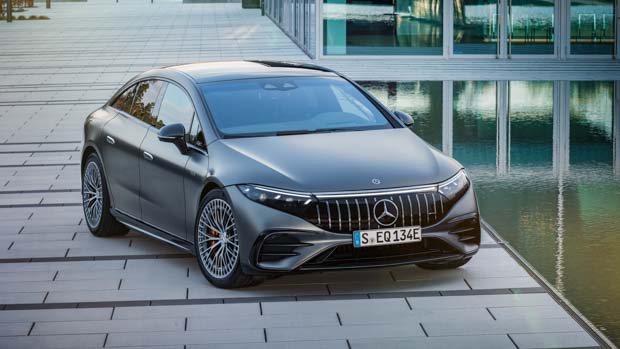 Top speed isn't as high as some of its combustion-powered Autobarn-stormers of old at 250km/h, but that's unlikely to be a problem on Australian roads.
Driver's who love the howl of a combustion engine should take comfort in AMG's decision to fit a sound system that provides some feedback during driving and changes depending on what drive mode you select.
AMG says the fitment of an electric drive system allows the application of torque to be much more precise than a traditional mechanical all-wheel drive system, which along with the rear-wheel steering, should make it handier in the bends than its 5.2m length and 2.6-tonne kerb weight may suggest.
While a sporting vehicle, the AMG EQS is still an S-Class and therefore comfort is still considered with the fitment of adaptive air suspension at all four corners.
The suspension system is able to read the road ahead and monitor the driving behaviour to, for example, firm up the rear end under acceleration and generally make the sedan more dynamically capable.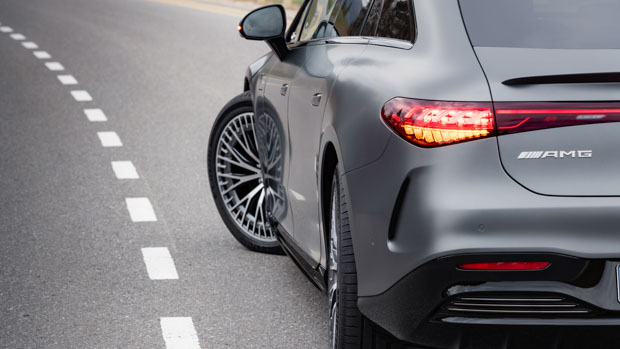 Has the design of the EQS changed?
The visual changes made to the AMG EQS 53 lean towards the more conservative end for an AMG product with engineers retaining a strong focus on aerodynamic efficiency.
With a drag coefficient holding strong at 0.23 the EQS is still the most aerodynamic vehicle on sale in AMG form, but changes have still be made to increase performance.
A subtle splitter sits upfront in gloss black while at the rear a finned-diffuser has been added and if you look closely you'll see the tiny rear spoiler which is able to produce downforce without adding drag, according to AMG.
The wheels are the most noticeable difference, opting for a spikey design in these images but they can be had in a more aerodynamic design in either 21 or 22-inch size.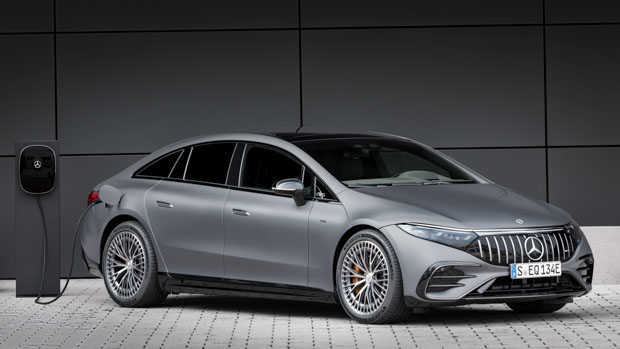 How much range does the AMG EQS 53 have?
While the AMG EQS can't match the 770km of WLTP-tested range of its cooking variant, it does offer up to 580km which is still impressive for an electric vehicle at the moment.
AMG keeps the huge battery boasting 107.8kWh of usable energy but uses specific wiring to achieve the desired performance outputs.
Out on the open road, buyers will enjoy the charging speed which reaches up to 200kW on a DC charger, which is enough to add around 300km in 19 minutes, according to Mercedes.
Additionally, the EQS 53 can be charged using a 22kW AC charger at home, for quick overnight charging.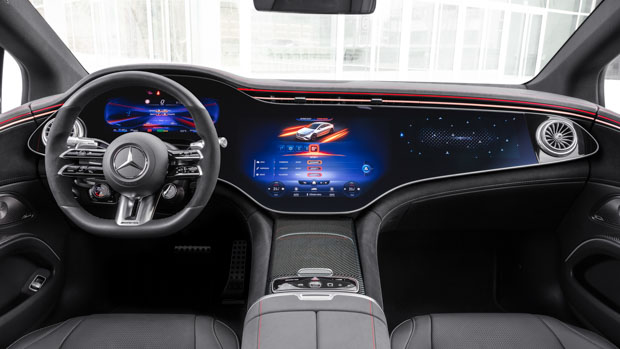 Inside the AMG EQS 53's interior
Much of the interior is to be expected in an AMG branded vehicle, with sportier touches including a nappa leather steering wheel, AMG-specific pedals and a slew of red stitching across the cabin to drive home the racier feel.
Mercedes has also kept with some modern trends and used Artico man-made leather instead of the natural produce, to line the seats and interior though nappa leather is still available as an option.
The AMG EQS carries over the huge 55-inch MBUX Hyperscreen system and adds a range of more sporting-oriented configurations when driving at speed.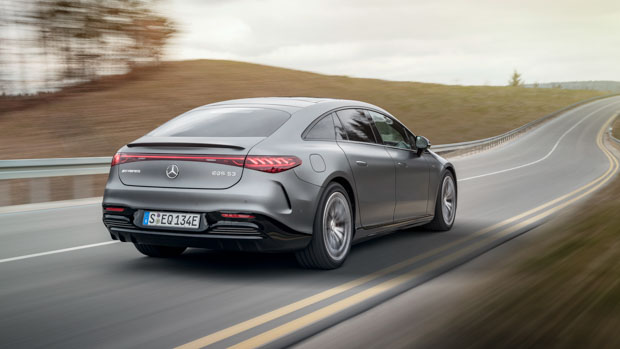 Will AMG make an even faster EQS?
The fact this AMG EQS is badged a '53' suggests but does not confirm, that a more powerful and faster '63' is in the works, potentially fitted with even more powerful motors capable of quicker acceleration times.
With parent company Daimler promising to electrify its entire range in due time we will see more performance models in the future but the timing of which remains a close secret for now.
Pricing and exact specification for the Mercedes-AMG EQS 53 remain underwraps for now but we will see more official details closer to its release next year.