Mercedes-Benz has confirmed to Chasing Cars that its new flagship electric vehicle – EQS sedan – will gain a new EQS450 variant by the end of 2022.
The release of the comfort-focussed, 265kW EQS450 4MATIC will follow the first EQS to land in Australia – the 484kW AMG EQS53 that launches locally next week.
A luxury version of the EQS that slots between the EQS450 and EQS53 in some markets, the 385kW EQS580, will not come to Australia, and nor will an entry-level rear-wheel drive (RWD) version.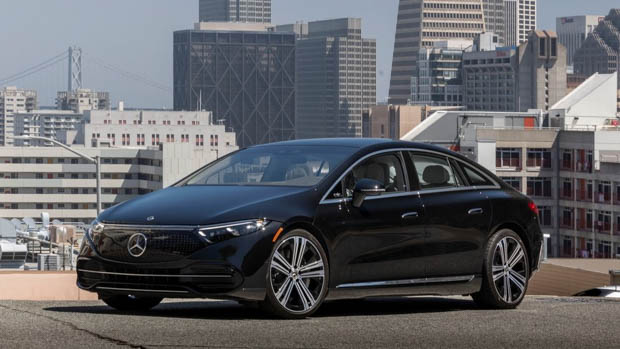 Mercedes-Benz buyers seeking an RWD electric sedan will be served with the smaller EQE300 that is set to launch alongside AWD EQE350 and AMG EQE53 models in Australia in the fourth quarter of 2022.
Powerful drivetrains underpin the Mercedes-Benz EQS
The EQS450 4Matic will be fitted with a 265kW/800Nm electric powertrain that features dual-motors – one mounted on the front axle and another on the rear. This electric car is capable of doing the 0-100km/h sprint in 5.6 seconds.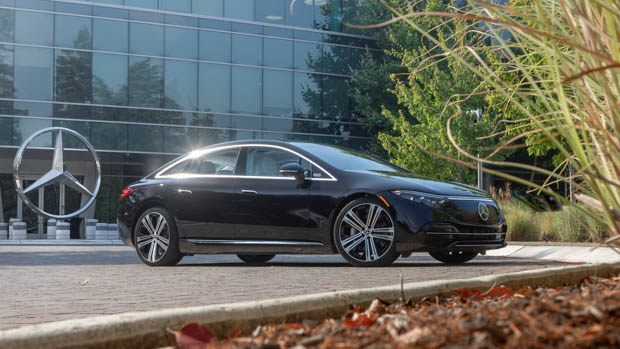 The high-performance Mercedes-AMG EQS53 4Matic+ will put 484kW/950Nm to the ground via a dual-motor system, but this power can be pushed up a notch thanks to a Dynamic Plus package that raises outputs to 560kW/1020Nm. The 0-100km/h time for the EQS53 is a seriously impressive 3.4 seconds. 
Both cars will have a usable battery size of 107.8kWh. The EQS450 4Matic will have a range of approximately 685km, while the EQS53 variant will have a reduced range of just 586km.
Next-gen infotainment takes EQS to new heights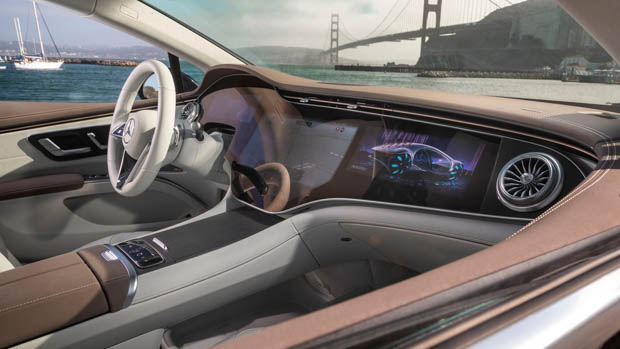 Other than the powertrains, a big talking point is the new Hyperscreen that will run the most up-to-date version of Mercedes-Benz MBUX infotainment, navigation and HVAC system.
The Hyperscreen will integrate two 12.3-inch touchscreens – one for the driver and another for the front passenger – plus a portrait-orientated 12.8-inch screen at the centre of the dashboard.
For the tech lovers out there, there are two screens for the rear, also, that feed sound to a huge 15-speaker Dolby Atmos system. It's a movie theatre on wheels!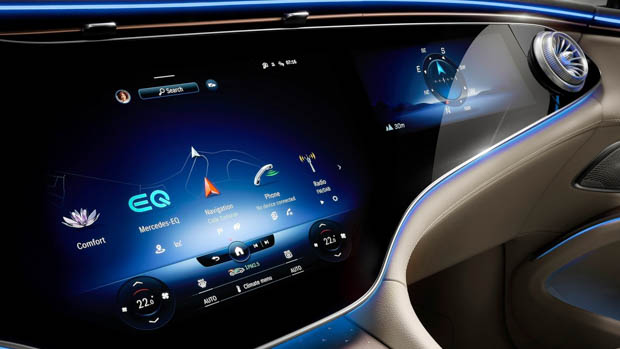 Also available on the AMG EQS53 is AMG Sound Experience Performance, a multi-mode sensory experience when driving the car. It has three modes: Balanced, Sport and Powerful.
Many electric cars are now going down this same path including BMW who has used film score composer Hans Zimmer to score the soundtrack to the BMW electric car program.