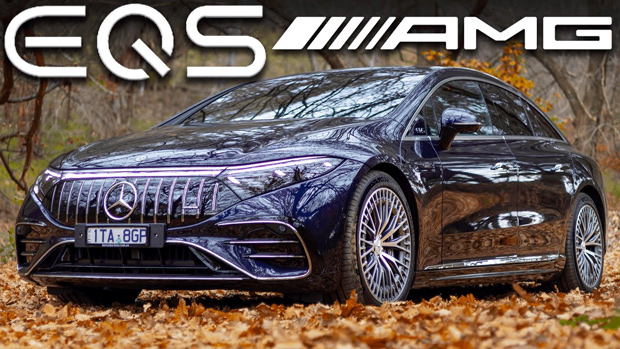 Eight years after Tesla gave its Model S a dramatic head start in the all-electric, luxury sedan market in Australia, German stalwart Mercedes-Benz is finally ready to join the fray.
Move over S-Class: there's a new joint flagship in town from the company's EQ electric division. Understandably, it's called the EQS, and at over 5.2 metres in length and riding on an S-Class L-matching 3.2 metre wheelbase, there's no mistaking this vehicle for anything other than a grand, full-strength Mercedes.
But it's a Mercedes that hails from an altogether different design school to the utterly dignified and elegant but conventional W223 S-Class.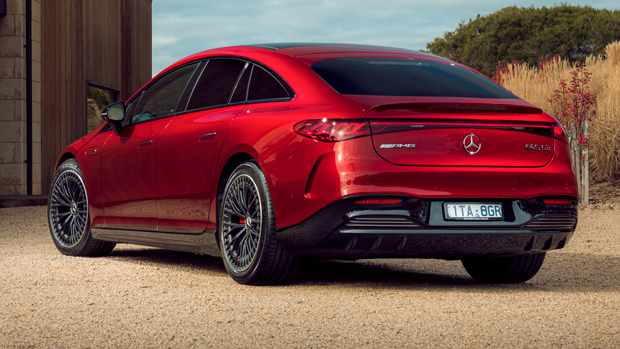 Instead, the V297-chassis EQS leans into the school of slippery, streamlined shapes increasingly adopted by low-riding electric passenger cars, emphasising its huge cab-forward interior, arguably at the expense of the more subtle lines that have made S-Class-grade vehicles a favourite of the well-heeled for decades.
The first EQS to land in Australia is the highest-performance version, hailing from and being tuned by AMG: enter the 2022 Mercedes-AMG EQS53 4MATIC Plus, to give the $328,400 machine its full name.
With 484kW of power – or a staggering 560kW via the straightforward, optional $7690 AMG dynamic plus package that takes top speed to 250km/h – this feels like an Affalterbach product, electrified: hugely muscular, aggressively powerful – and with its faux-grille with Panamericana slats, it is no shrinking violet aesthetically.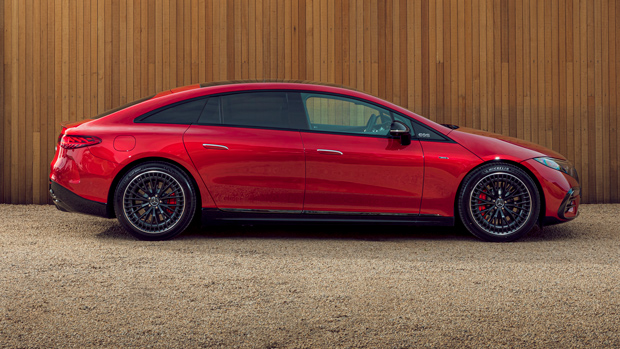 There is no AMG version of the current S-Class. One is coming, but for now, if you want a full-size, full-luxury, full-fat Mercedes-Benz saloon with more than a tickle from the marque's performance specialists, full-electric is the only choice.
Later, the AMG EQS53 will be joined by a more affordable, less powerful, comfort-orientated EQS450 model. It will share the AMG version's 107.8kWh battery, dual-motor AWD, overall shape and EVA2 platform, but a less frenetic rear motor means the 450 will make 'just' 245kW/568Nm.
In the era beyond handmade combustion engines, AMG now develops bespoke electric car motors. They are not 'one man, one motor' like the V12s and V8s that have rolled down Affalterbach's line, but they are distinct to the Mercedes-Benz version.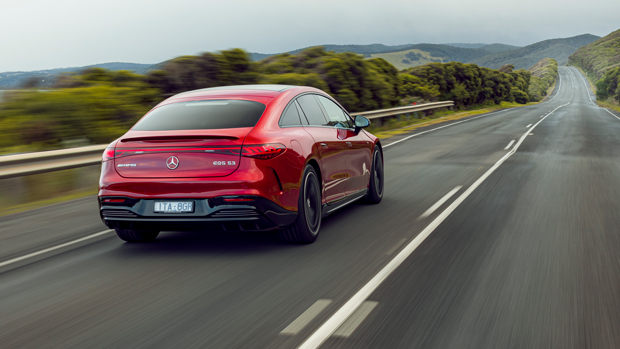 In this case, the EQS53 gains a highly strung, six-phase rear electric motor with distinct, tiger, closer windings, stronger currents and AMG-modified inverter control when compared to the smaller, less powerful Mercedes-Benz motor. The front motors are common, though the power tune differs.
Your $328K plus on-road formalities buys you the standard – perhaps conservative – 484kW/950Nm tune of the EQS53's motors, with the $7690 dynamic plus package hiking power by another 76kW while torque heads northward to 1020Nm, joining a very short list of AMG vehicles that have broken metric four-figure twist. The others have had twelve cylinders.
Unlike those gas-guzzlers, the EQS53 sucks down volts of electricity – and lots of them when you're indulging in its 3.4sec 0-100km/h sprint and prodigious ability to maintain momentum in corners – and then pile on pace on the straights.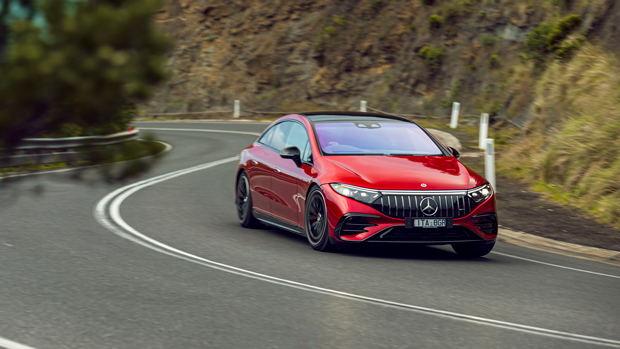 Mercedes claims consumption of about 20.5kWh/100km but we weren't able to beat 25kWh/100km on our day of country touring – without the benefit of urban regenerative braking that helps EVs hit their targets. We'll test it in the city soon to see if we can approach the claim.
The kind of consumption we recorded means the huge 107.8kWh battery will be exhausted in about 430km – rather than 525km (WLTP). The electrical architecture of the EQS is 400-volt, rather than 800-volt as in a Porsche Taycan, so charging speeds are capped at 200kW: reasonable, but not class-leading. 
Nearly all EQS buyers will charge their super-sedan at home with an AC wallbox. With a single-phase 7kW system, you'll fully recharge the car in 15 hours. Beef up your wiring for three-phase and full-charge times fall to 10 hours (on 11kW) or 5 hours with the $2490 22kW upgrade.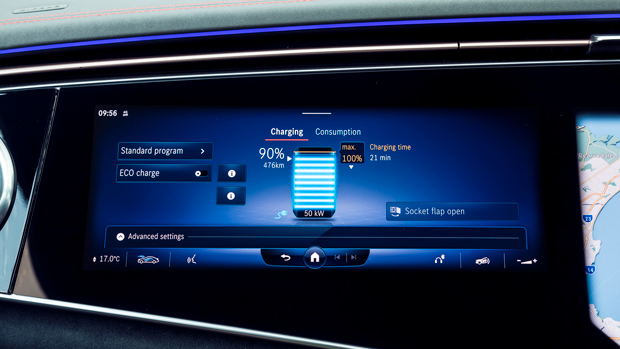 Public chargers that can deliver a full 200kW to the EQS are relatively few but are increasingly being installed on key interstate trunk routes in Australia. A three-year subscription to the Chargefox ultra-rapid network is included in the price of the car.
While the EQS53 has astonishing grip in corners – behaving something like a huge speed boat on fast-forward – it is ultimately tough to conceal its vast mass, which exceeds 2600kg. Push too hard and understeer bleeds in – but you're travelling at very high speeds before this sets in.
That mass – and the significant unsprung mass from the 21- or 22-inch wheels – is also evident when traversing lateral imperfections on Australian country roads, where there is a bit too much judder through the platform and into the cabin, almost feeling slightly body-on-frame.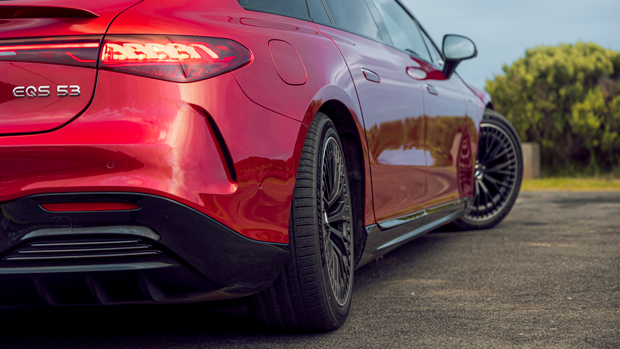 Australian roads are famously broken up and it's just difficult to get this much weight to settle when you plunge a huge wheel into a hole at 100km/h – but mainstream EVs like the Kia EV6 are actually a bit better at containing these small-frequency aftershocks.
Of course, this is a three-hundred-grand luxury sedan and it's hard for us to cast aside the lighter, lither S-Class from our memory – it's a natural point of comparison, after all.
The same roads used for the launch of the AMG EQS53 were used for the testing programme for 2022 Chasing Cars car of the year, in which the petrol-six S450 was a finalist – so we couldn't resist the conclusion the S-Class is the better-riding and more agile car of the pair.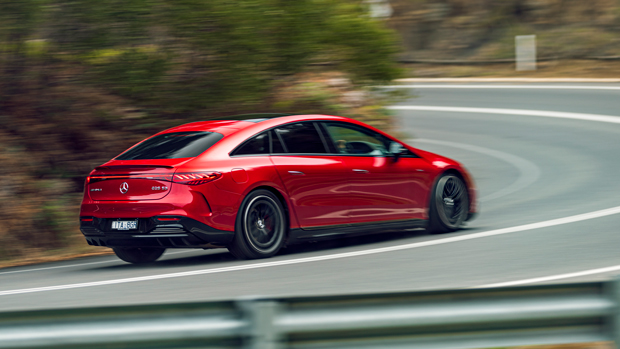 Even so, driving the EQS is a fun, spirited, enjoyable experience, even if the loads generated by slingshotting 2.6 tonnes around like it's a hot hatch is slightly unedifying. The high limits of the vehicle are deeply impressive.
At lower speeds in town – over speed humps, through potholes – the EQS53 feels serene and appropriately damped with just slight underlying fitness that it shares in common with other 53-badged AMG cars, including the superb E53 that remains a top-rated car on this website.
Speaking of the 53s, which are usually junior partners to a hairier-chested 63 – there won't be a higher-level EQS. Mercedes-Benz says it is holding over the 63 mark for true track-ready EVs, which it says it currently does not build.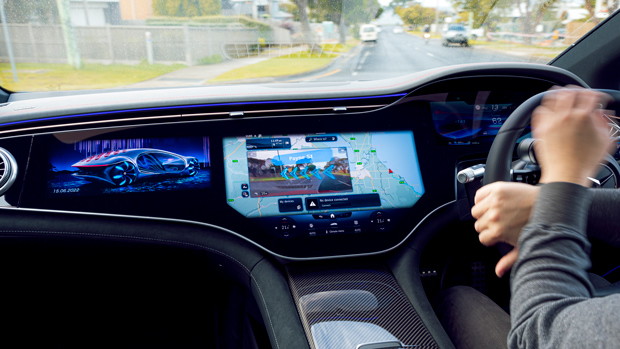 Returning to the avantgarde exterior: Mercedes is allowing a broader degree of customisation than normal in Australia for an AMG product. A black pack, for instance, is not standard – so you can actually specify a relatively elegant EQS53 with silver or chrome trim, disguising its overt performance intentions.
One car on the 53's national launch was specified just so, in a deep navy that matched well to silver detailing – perfect for a traditional buyer. But for $3990 a Night Package swaps metal for gloss black trim outside, while adding red brake callipers and matte black wheels that is more in line with contemporary AMG buyer intentions.
We wouldn't call the EQS the belle of the ball, per se, but the assertively cab-forward, smooth-sided form is becoming distinctly electric-Mercedes: later in 2022 when the smaller EQE range arrives, the shared family look will be completely clear.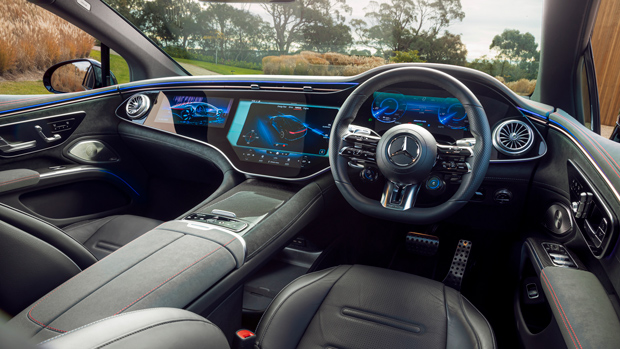 Inside, significant advantage has been taken of the 3.2m wheelbase: despite not being a long-wheelbase variant, rear legroom is truly voluminous – and the back seat is a great place to be, especially with a $9290 energising comfort pack that gifts massaging functions, heated rear seats and back-row entertainment – though not in a screen size that approaches the theatre-like BMW i7.
But it's an equally enjoyable car to drive, both for its impressively sorted dynamics and for the lushness of the front seat, which is broad, comfortable and hugely adjustable not just via buttons on the door, but more extensively through the vast central touchscreen.
The middle touchscreen is just one of three screens that make up the EQS 'hyperscreen' concept that is standard-fit in Australia: a single piece of glass covers the three separated displays that incorporate a fully-featured passenger touchscreen and a non-touch digital driver's display.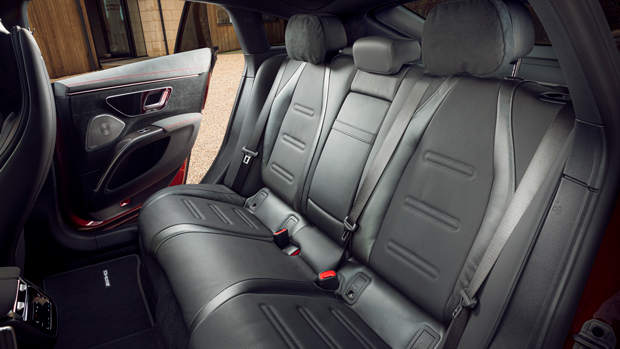 Quality seems top-notch, and the two cars we sampled on the day were free of creaks and rattles – though there was a quiet but high-pitch and definitely audible whine from the electric motors. Some motor noise is expected but this is a sound that should have been tuned out of the system.
A note on practicality: we like that the EQS is a liftback rather than a saloon. A huge, power tailgate opens to reveal an enormous aperture for stashing suitcases, golf bags and other bulky items that are annoying to slide into a sedan boot's narrower opening.
We also like the EQS's 10 year, 250,000km high-voltage component warranty that includes the battery – that's a long time to not worry about degradation being your problem.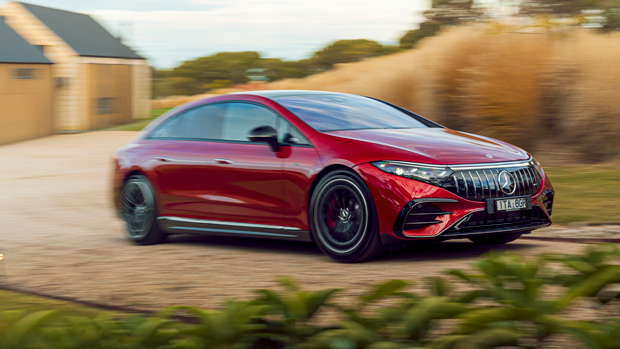 A vestige of a fortunate few, the EQS53 is not a car intended to sell in vast numbers in Australia. Instead, it's a halo for Mercedes-EQ and a signal of what's to come when the brand launches its EQE and future, cheaper dedicated EVs.
While the design won't be to all tastes, there's a remarkable level of capability to this car – and in quality terms, it appears to be a true Mercedes-Benz – a trait sorely missing in some other electric cars pitched as luxuriously high-end.