Lexus has unveiled the 2021 LF-Z Electrified concept which is said to showcase the future of the marque's design and technological direction in a large SUV form factor.
The LF-Z Electrified concept sits on a dedicated battery electric vehicle (BEV) platform and makes use of the Direct4 all-wheel-drive system that we have seen Lexus testing previously.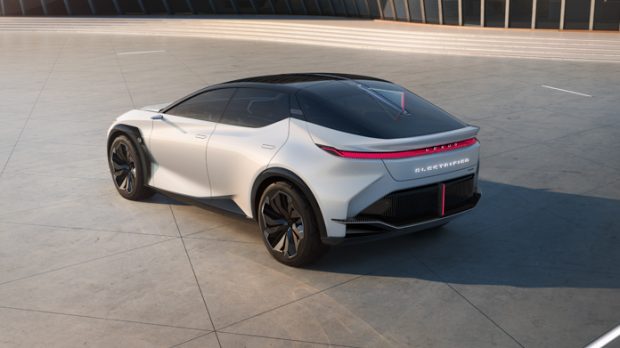 The concept is the first vehicle to use the LF signature since the LFA, and while it may not provide the same aural excitement as the supercar it may be faster, thanks to multiple electric motors making 400kW of power and 700Nm of torque.
This sheer power along with the trick Direct4 AWD system, which controls the specific output of each wheel, is said to make the LF-Z Electrified quite rapid around corners, design its high centre of gravity.
The motors are powered by a huge 90kWh battery pack that is mounted longitudinally to increase rigidity and contains enough juice to see the LF-Z Electrified deliver 600km of WLTP-tested range.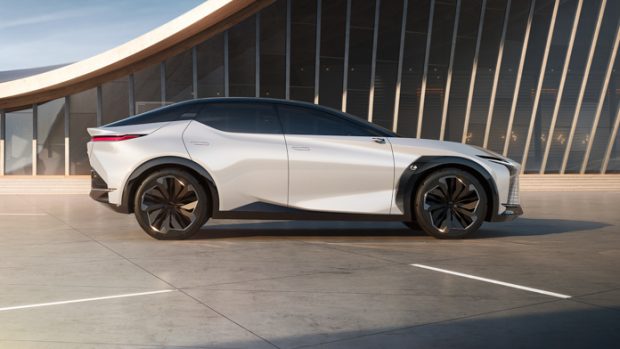 The large motors and battery come at a cost however, with the LF-Z Electrified weighing in at a whopping 2,100kmof kerb weight but that doesn't stop it accelerating from 0-100km/h in three seconds flat.
When that huge battery finally runs out Lexus says it can recharge at up to 150kW which is fast but not quite as fast as we have seen from others, with Porsche leading the pack with Taycan's ability to recharge at 270kW, which will soon be extended to 350kW.
The inside of the LF-Z Electrified is possibly where it looks the most futuristic, with a minimalist design that features a unique seat design and, without the intrusion of any internal combustion engine hardware, a completely flat floor in the front and rear.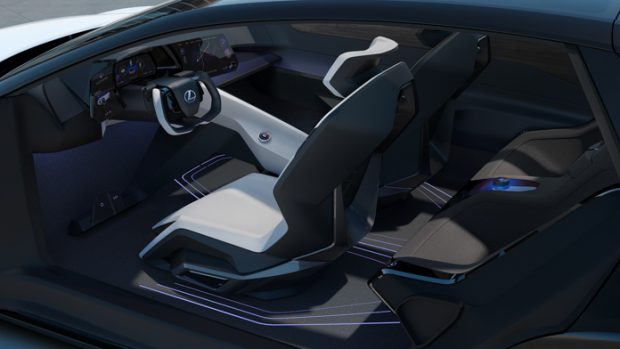 Lexus has placed the driver in front of no less than three screens, with one acting as the digital instrument cluster and two either side communicating navigation and vehicle information.
While unlikely to make it onto any production model, the addition of an uber-cool F1-style steering wheel while the fast forward and stop markings on the accelerator and brake are also a nice touch.
There is no denying the LF-Z Electrified features a radical design but the most abrupt point to note is the absense of a large grille that has become synonymous with Lexus yet the familiar shape still remains through clever design.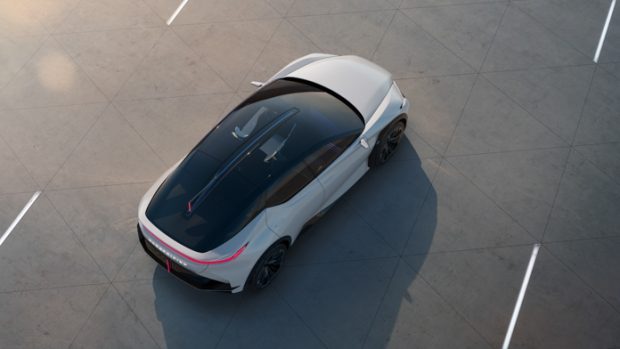 It's a move that was alluded to by Koichi Suga, the general manager of Lexus Design, who previously said the lack of an internal combustion engine would give designers the ability to forgo large grilles and other air intakes.
Being a concept, there is no harm in ticking all the boxes on the accessory list and Lexus has done just that adding a panoramic roof with a shark tail design, a heads up display and a next-generation Mark Levinson 2 audio system that is said to replicate a 'concert hall-like experience'.
Time will tell which of these features make it to market, with the Lexus set to introduce 20 new or redesigned vehicles globally by 2025 with more than 10 of those to be electrified in some form.