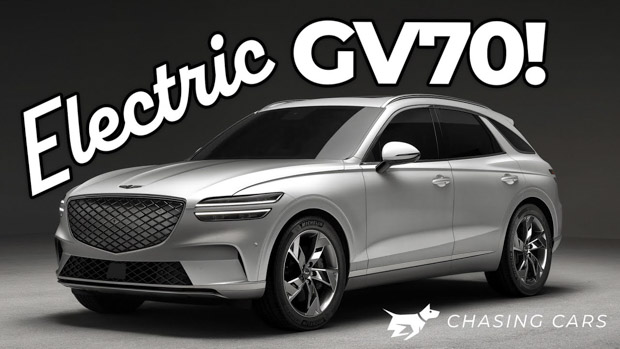 The Genesis GV70 midsize luxury SUV will soon be available with a fully electric powertrain option, complementing the petrol and diesel options that launched earlier in 2021.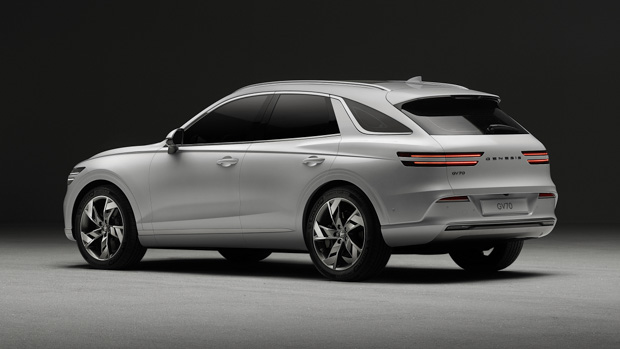 Electrified GV70: key points
All-electric Genesis GV70 variant confirmed with standard dual-motor AWD
About 400km range from a circa-75kWh battery
360kW of power in Boost Mode, 700Nm of torque
Battery size, range and charging speed
Dubbed the 2022 Genesis Electrified GV70, the battery-electric GV70 offers the same 350kW maximum DC charging speed as the smaller, electric-only Genesis GV60 crossover.
A battery size has not yet been specified, but Genesis says the Electrified GV70 is capable of being recharged to 80 percent in 18 minutes when using a 350kW charger, implying a capacity of around 75kWh – as in the GV60, Hyundai Ioniq 5 and Kia EV6.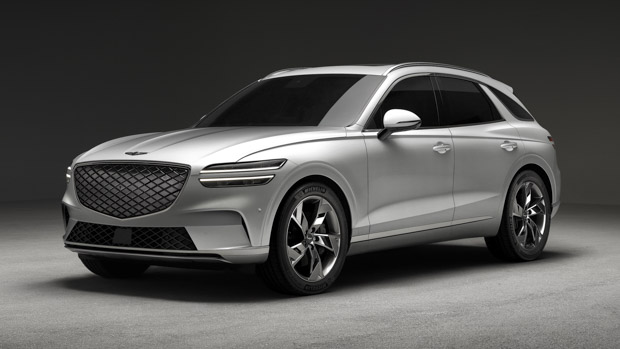 Range is estimated at 400km on the relatively conservative Korea Certification system, though a WLTP range rating is yet to be settled.
A 3.6kW vehicle-to-load feature will be fitted as standard, allowing common appliances to be powered from the Electrified GV70.
360kW of power in Boost Mode
Dual-motor all-wheel drive is standard on the Electrified GV70. The front and rear axle are both fitted with a motor producing 160kW of power and 350Nm of torque.
Combined torque is rated at 700Nm but a Boost Mode allows a combined power output of 360kW for short stints – making the Electrified GV70 easily the most powerful version of this SUV.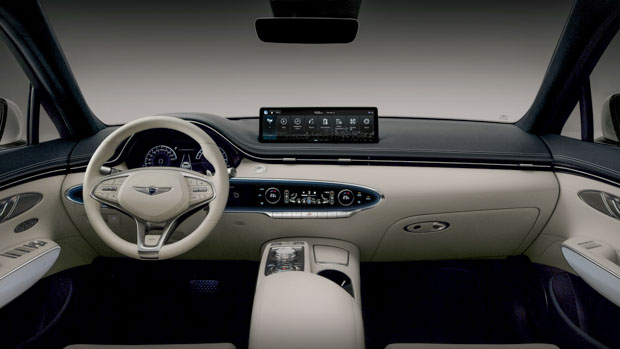 In relaxed driving conditions a "Disconnector Actuator System" will allow the front motor to automatically disconnect, reducing energy consumption.
Of the combustion versions, only the available 3.5-litre twin-turbo petrol V6 comes close, making 279kW of power and 530Nm of torque.
GV70 underpinnings with e-GMP smarts
Unlike the GV60, Hyundai Ioniq 5 and Kia EV6, the Electrified GV70 does not utilise the Hyundai Motor Corporation e-GMP electric vehicle architecture, but instead borrows some e-GMP componentry while riding on the standard GV70 chassis.
Visually, the Electrified GV70 retains much the well-received aesthetic of the petrol- and diesel-powered versions, though there have been a number of subtle adjustments made in the name of aerodynamic efficiency.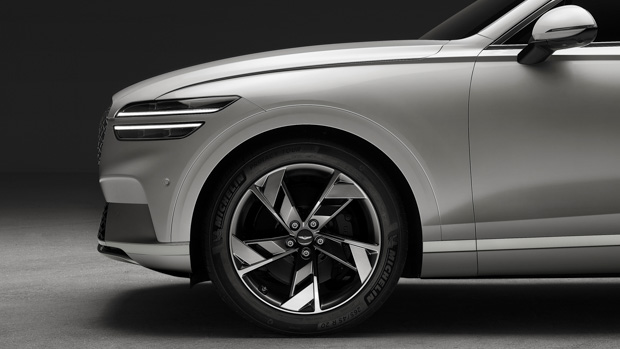 The signature Crest Grille has been filled in with a grey back plate and specific-to-Electrified aero bumpers help to deflect airflow around the sides of the car, where they meet unique aerodynamic wheel designs. Naturally, there are no tailpipes.
Pictured in this article is a white Electrified GV70 wearing 20-inch aero wheels wearing 265/45 R 20 Michelin Primacy Tour tyres.
Only the left side of the vehicle has been shown so far. It is likely that the charging port door is located on the right-hand side.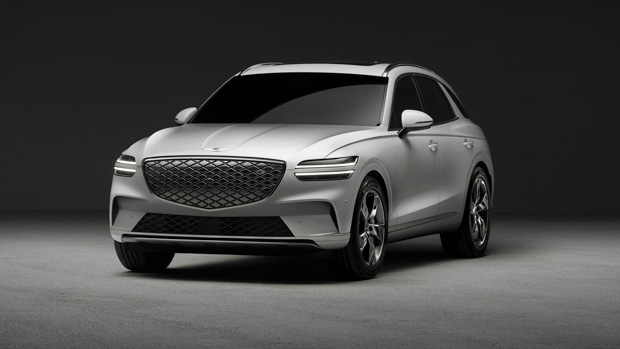 Inside, two visible changes are evident: a Boost button fitted to the lower spoke of the steering wheel, and the replacement of the digital tachometer with a digital power gauge.
Other aspects from the combustion GV70 cabin appear to carry over, including leather-lined surfaces and a huge 14.5-inch central touchscreen, plus a 12.3-inch digital cluster for the driver.
Australian release confirmed for first half of 2022
While today's unveiling coincides with the 2021 Guangzhou Motor Show – and the vehicle is in some ways directed at the burgeoning Chinese electric vehicle market – the Electrified GV70 has already been confirmed for Australia.
Genesis says the Electrified GV70 will join the Electrified G80 sedan and GV60 SUV in Australia in the first half of 2022.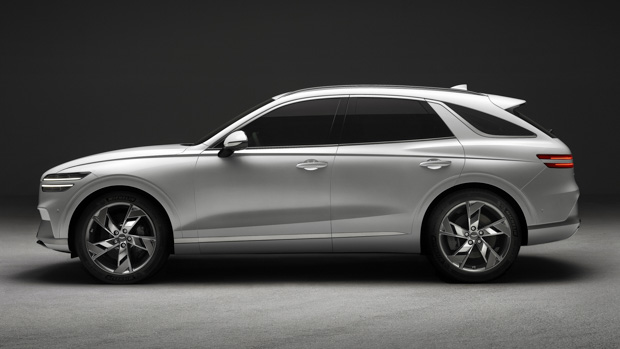 Eventually all Genesis vehicles will be available with alternative propulsion, the brand says.
This is likely to encompass both hydrogen and battery-electric solutions. Genesis Australia has already confirmed that it plans to eliminate diesel from its lineup over time, with the diesel-powered G80 large sedan scrapped from the local range in recent weeks.