The Toyota Yaris badge once stood for tiny, sub-$20,000 hatchbacks largely loved by first car buyers and retirees. However, what was once Toyota's most modest nameplate in Australia has been subject to considerable work behind the scenes, with the Yaris name now sitting behind what the company calls a 'family' of cars: a familiar, traditional hatch, along with the GR Yaris hot hatch, and most relevantly of all, the new 2021 Yaris Cross small SUV.
The first member of the Yaris familial trio, the classic Yaris hatch, launched in fourth-generation form in Australia two months ago with a substantial price jump – a reflection of the increased costs manufacturers are facing if they want their new models to score five stars on today's tough safety test standards. For customers seeking a basic car closer to $15,000, though, the circa-$25,000-driveaway entry price for the new Yaris hatch will be tough to swallow.
Well, the new Yaris Cross SUV is more expensive again, starting at about $30,000 driveaway – but, as it turns out, this restyled, raised and cladded version of Toyota's smallest model makes more sense than the traditional hatchback from which it borrows its name. In taking on an SUV form factor, the humble Yaris has moved with the times – and it is actually a better car for it.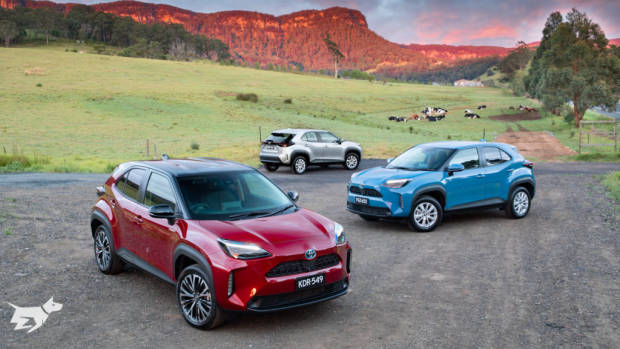 Jacking up the Yaris into a Cross-badged SUV has been remarkably successful on the styling front: this is a cute little rig, well-proportioned, and the size is pretty much perfect for the city. Parking is easy, thanks to short overhangs and good visibility. The driving position is boosted slightly over the Yaris but not absurdly so: this car rides comfortably high.
Inside, the Yaris Cross isn't especially adventurous but the simple cascading dashboard layout works well, putting a seven-inch touchscreen front and centre, mounted close to your line of sight. Wired Apple CarPlay and Android Auto are standard – and the stereo ain't bad. The driver's instruments are well executed: a retro digital speedo is ever-present but it avoids impeding the extensive colour trip computer. However, the presence of just one USB port – apart from on the posh Urban – is underdone.
Materials are plusher here than in the Yaris hatch – even the base Cross gets a shapely, feelsome leather steering wheel, as it should – and there are cool cloth inserts in the doors. The seats in the GX and GXL could be more supportive; the top-spec Urban gets 'premium' front pews.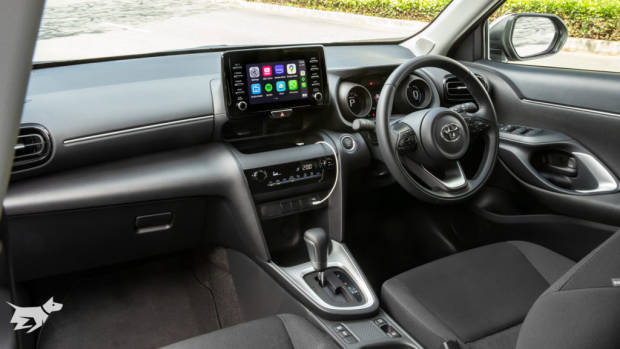 Despite the SUV looks, the Yaris Cross was really designed as a car for singles or couples but the back seats are still reasonably usable – it's just that the lack of air vents in there, and reasonably upright rear backrest, make it less than supple for country road trips four- or five-up. A 390 litre boot is useful, though – bigger than the larger Corolla hatch! – though capacity falls to 314 litres if you opt for a hybrid all-wheel-drive … more on that later. Plus, those back seats fold 40/20/40, meaning you keep four seats if you have long, thin cargo. Nice touch.
Like its low-rider hatch sibling, the new Yaris Cross joins many other Toyota products in offering a petrol-electric hybrid drivetrain (from about $33,000 driveaway), elevating this car's eco credentials beyond rivals like the Mazda CX-3 and the Ford Puma. Real-world fuel consumption for the hybrid is an impressive 5L/100km, giving small SUV buyers a way to reduce their CO2 footprint – without having to shell out double this price for a full EV.
For the cost-conscious, the entry engine is a naturally aspirated 1.5-litre petrol three-cylinder engine producing 88kW/145Nm. This engine is sufficient around town and is pretty frugal, returning about 6.5L/100km in our testing, but it quickly becomes harsh and noisy if used at highway speeds.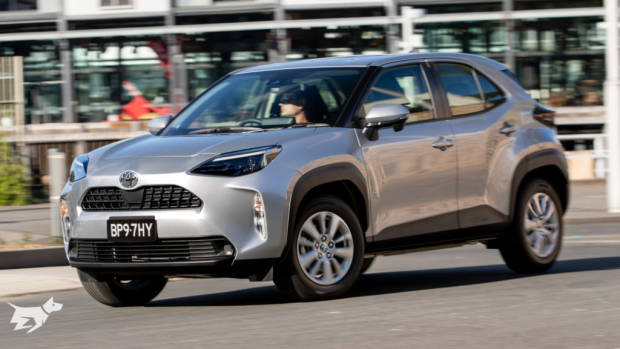 Toyota asks only $2,000 to upgrade to the hybrid powertrain, and just like in the uber-popular RAV4 midsize SUV, this is money well spent. The Yaris Cross hybrid produces slightly less power at 85kW combined – but while Toyota don't state a combined torque figure, the hybrid is noticeably stronger when accelerating, tapping into its electric juice whenever possible. The hybrid does not run for extended periods in electric mode but instead takes every opportunity to shut the engine off when coasting, crawling, or braking. It's hard to argue with the results.
The Yaris Cross hybrid actually uses two front-mounted electric motors but you can spend a further $3,000 to add one at the rear, endowing this small SUV with electric AWD without the need for a mechanical transaxle. However, unlike the more powerful RAV4 Hybrid AWD, this lighter-duty eFour system only works below 70km/h. Arguably, it'll be useful for the snow but not so much for higher-speed gravel road work that is common in Australia – so our recommendation is firmly for the front-wheel-drive hybrid. It's a recommendation compounded by the fact the hybrid AWD foregoes a spare wheel – the extra motor takes that space.
Underneath, the Yaris Cross rides on Toyota's celebrated new modular architecture referred to as TNGA. Rigid and light – ranging from 1,140kg in base form to 1,305kg in the loaded, top-shelf Urban AWD hybrid – the Yaris Cross's handling is expert in execution and endows this small SUV with probably the best dynamics in its class.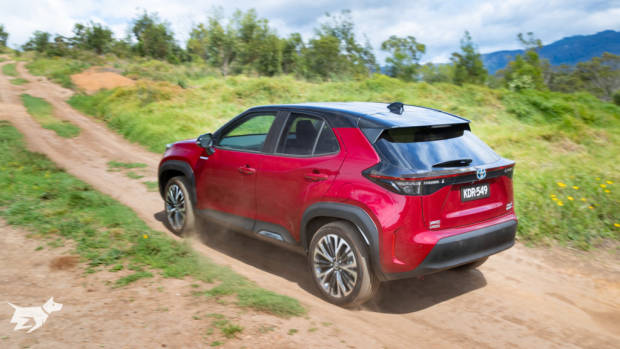 On a tight, sinewy country road, the Yaris Cross is incredibly fun to drive, with perfectly weighted steering linking to a beautifully-tuned chassis that offers security and stability to any driver, while giving keener pilots way more bandwidth than you'd expect in a vehicle like this. Perhaps the virtues of the forthcoming GR Yaris hot hatch have been rubbing off on its more utilitarian SUV-styled sibling?
We will be running a 2021 Toyota Yaris Cross GXL hybrid as a long-termer over the coming Australian summer to explore these talents further, while also recording more reliable long-run fuel economy figures.
Impressively, the Yaris Cross manages to combine its engaging handling with excellent ride quality. Partially, that is a factor of the base GX grade and mid-spec GXL running on sensible 16-inch alloy wheels within chunky, grippy Bridgestone Turanza tyres – the Urban, which we have not tested, steps up to lower-profile 18-inch wheels that would likely (and ironically) degrade urban comfort.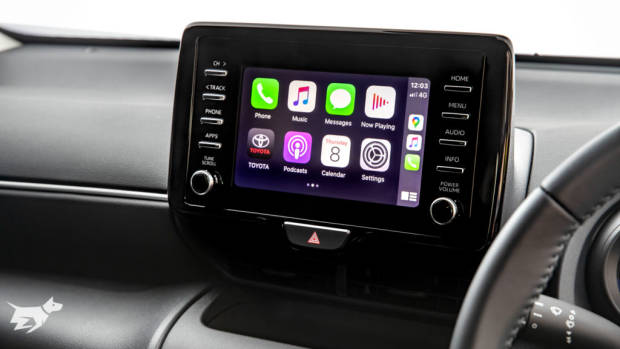 Still, the GX and GXL pair that we drove extensively soak up in-town speed bumps and big country hits with grace – even despite their basic rear-end torsion beam suspension setup. The Yaris Cross rides so well on our classically pockmarked local backroads we have to assume that some validation work was done in Australia. It's even fairly quiet and refined as it goes – except if you're revving out the engine often and aggressively.
Choosing a Yaris Cross specification to buy is a fairly straightforward affair: you select a drivetrain (petrol-only, hybrid, or hybrid AWD) and one of three grades (GX, GXL, or Urban). The range starts at $26,990 plus on-road costs for a GX petrol. There is a $2,000 step from petrol to hybrid, and $3,000 from hybrid 2WD to hybrid AWD. There are $3,000 steps between the GX, GXL, and Urban variants. A fully-loaded Urban hybrid AWD costs $37,990 plus on-roads.
The GX kicks off the range with a decent swathe of equipment: 16-inch alloys (though buyers can option steel wheels on the GX hybrid 2WD, if they want to), all-round disc brakes, keyless start and keyless entry for the front doors and boot, a seven-inch touchscreen and 4.2-inch trip computer, DAB digital radio, six speakers, a reach-rake adjustable leather steering wheel, 40/20/40 folding rear seats, and automatic climate control.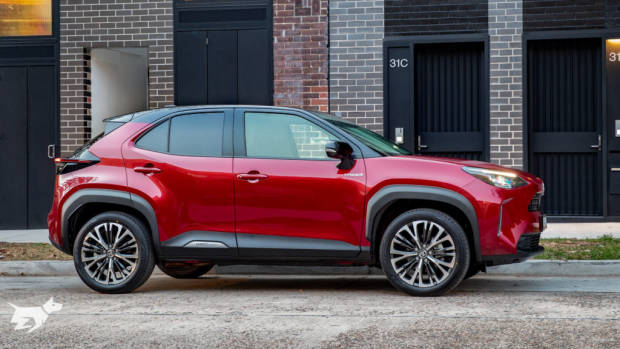 Standard, range-wide safety features for the Yaris Cross take in AEB with vehicle, pedestrian, cyclist and junction-oncoming detection, adaptive cruise control, lane keeping assistance with centre-tracing, speed sign recognition, centre airbags, a reversing camera, and a new SOS-call system.
The GXL justifies its $3,000 upcharge by adding a few little luxuries: LED headlights and indicators look and work better; you also get tinted rear windows, all-round parking sensors, satellite navigation, blind spot monitoring, and a 360-degree camera. The GXL also picks up reversing AEB – it's worth noting that it is standard on the rival Mazda CX-3.
The ultimate Yaris Cross grade – the Urban – costs a further $3,000, and adds larger 18-inch wheels, tweed fabric/faux-leather seats with electric adjustment for the driver and heated front seats, a head-up display, a power tailgate with kick to open and close, and a second USB port.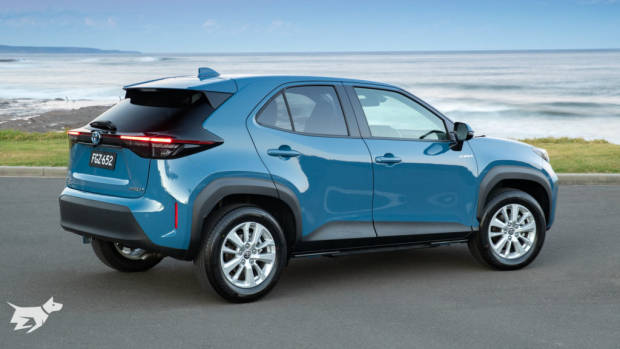 The final step up to the Urban looks expensive but the upgrade to the GXL makes sense to us, so we'd recommend the Yaris Cross GXL hybrid 2WD ($31,990, about $35,000 driveaway) looks like it makes the most sense: the more sophisticated headlights and additional safety tech make a real difference, and the integrated navigation is helpful for when your phone has no service.
Like all Toyota models, the Yaris Cross is covered by a five-year unlimited kilometre warranty. Logbook servicing is required at the first occurrence of every 12 months or 15,000km. The first five visits are priced cheaply, at $205 each – meaning the Yaris Cross costs just $615 to service over three years or $1,025 over five years. Given that the hybrid powertrain will accept 91-octane petrol, running costs for this small SUV are very competitively low.
Effectively, the Toyota Yaris Cross is all about disrupting the Mazda CX-3's party. The popular, good-looking CX-3 has had almost five years to grab and run away with the 'light' SUV segment in Australia, and it dominates this set. However, it's clear the Yaris Cross is a very sorted small crossover – we look forward to aligning the pair for a comparison test soon.