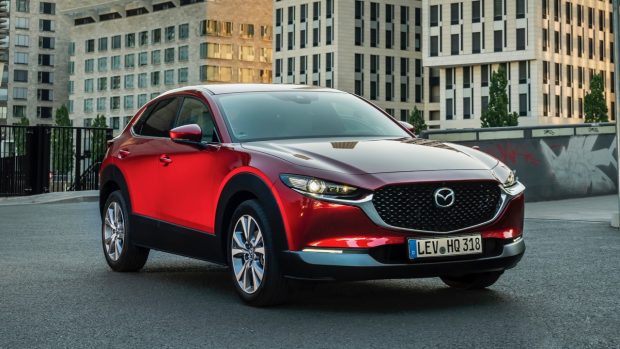 Japanese brand Mazda has had great success in building small and medium SUVs in the popular CX-3 and CX-5. Is there room in the middle to split the difference? We have a first drive in the impressive 2020 Mazda CX-30 before its arrival in Australia next year.
Is it possible for a brand to sell too many SUVs? We posed this question to Mazda's head of product planning, Hiroyuki Matsumoto, before driving the brand's new CX-30 SUV this month in Germany. "Our wish is to address the needs of the market," replied Mr Matsumoto, coyly. "I can't share how many SUVs this is, but we'll keep an eye on the future."
With good reason, Mazda have spotted sufficient open space between the city-sized CX-3 and the uber-popular CX-5 mid-sizer. And there is a gap. With the Honda HR-V and Toyota C-HR offering small dimensions outside with a higher practicality dose inside than the CX-3, there is an emerging 'big small' SUV niche to cover.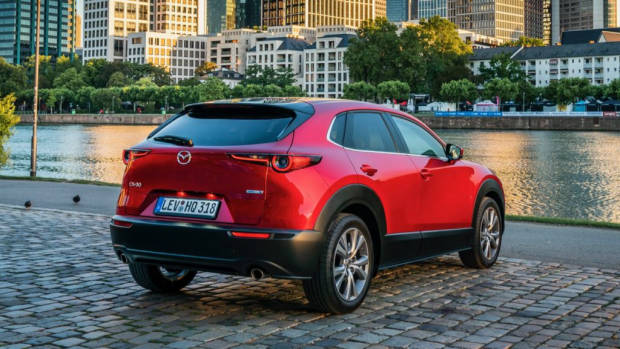 Related: Mazda CX-30 coming to Australia in 2020, execs say
Falling roughly halfway between the length measurements of the brothers CX-3 and CX-5, the new CX-30 has pleasant proportions, especially when seen in the metal. In many ways, the CX-30 reminds of a boosted Mazda 3 – no bad thing given the high esteem Australians hold for that car. Only the very prominent black plastic body cladding appears to have caused controversy with our commenters on YouTube.
Oh, and why CX-30? There's already an SUV badged CX-4 sold in China, and Mazda didn't want to go down the same path of badge duplication between eastern and western markets that other manufacturers try. As for whether the new name will be well received – time will tell. It'll require some clever marketing, we think.
The similarities between the new CX-30 and the recently-arrived Mazda 3 small car are far more than skin-deep. The two share a platform, and the CX-30 is the second Mazda arrival that subscribes to the brand's dedicated 'Premium' philosophy. The vast majority of the 3's interior carries over to the CX-30, which is a good thing. The CX-30 rides about 4cm higher; the wheelbase is a little shorter. We think of it as the Mazda 3 SUV.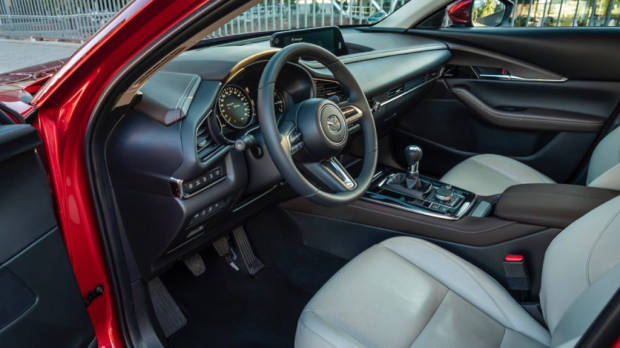 Like its lower-set hatchback sibling, the CX-30 packs a segment-best interior. With pricing expected to sit between the high $20,000s range and the low $40,000s over a three or four-model spread, the CX-30 packs a far more plush cabin than this segment has offered thus far. With thoughtful ergonomics, splashings of leather, acres of soft plastics and high-end infotainment, this is another Mazda that punches into luxe territory inside.
First impressions count for an awful lot, and sliding behind the thin, almost art-deco-esque steering wheel of the CX-30 for a first drive hits plenty of high notes. Firm but supportive seats pack adjustable thigh support on every model. Available light-coloured cloth seats elevate the base grades well beyond stripper level, while the leather-lined high-end CX-30 variants feel ready to compete with Audis.
The same dash-mounted infotainment screen as the Mazda 3 carries across here. It's not a touchscreen; all interactions are completed through a safer rotary dial between the seats. Apple CarPlay and Android Auto are standard fit. If Australian specification mirrors the 3, you can expect the CX-30 to pack navigation and DAB radio on all grades.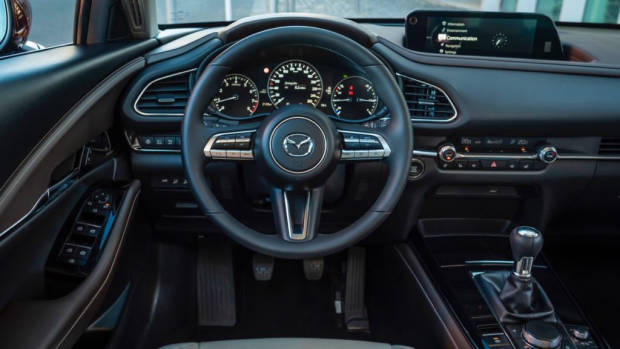 On plenty of cars, only the high-end trims get the full assortment of soft materials inside; on the CX-30 that isn't the case, with all versions getting soft padding on the dashboard and transmission tunnel. If Mazda are smart, they won't repeat the same mistake as on the 2019 3 hatch and sedan, which see the base models fitted with a poxy plastic steering wheel. On an interior of this quality, the wheel and shifter should always be leather!
Storage is plentiful up front, with a large centre bin and big door bins, but a couple of practicality misses include a lack of wireless smartphone charging. Plus, there are only two (fast-charging) USB ports; there are none for back seat passengers, which is disappointing.
Speaking of the back seat, it's a good step up on the very compact accommodations of the smaller CX-3, while not being that much smaller than a CX-5 in row two. If anything, the CX-30 demonstrates most clearly that Mazda is learning a huge amount about SUV packaging in a small amount of time, making use of interior space better here than in any Mazda-badged crossover before it.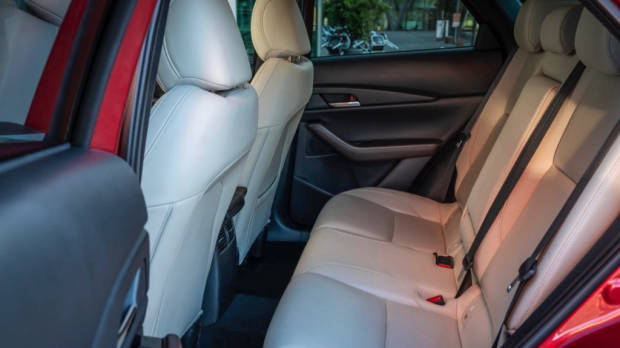 The bench is slightly elevated to give a good view out the front, while clever seat mounting tricks ensure that toe room remains acceptable despite the wheelbase shrinking marginally over the 3 small car. Headroom is good for six-footers and legroom's fine, too. Air conditioning vents in the back are appreciated.
The boot is available with an electric tailgate, which feels like an indulgence in a vehicle this small – but the market demands it. The actual load space is wide and generous, though the European-market testers we drove were fitted with no spare wheel. By the time the CX-30 reaches Australia it will pack a space-saver spare, so expect the boot capacity to shrink from Europe's 430 litres to more like 380 litres. Still, that would be 100L more than a CX-3…
Behind the wheel, the CX-30 is clearly tuned to drive similarly to the new Mazda 3 hatchback, though with some appropriate concessions to its status as an SUV. These include longer-stroke suspension, slightly softer damping, and a subtle stability control tune that helps to rein in the greater body motions of a higher-riding crossover.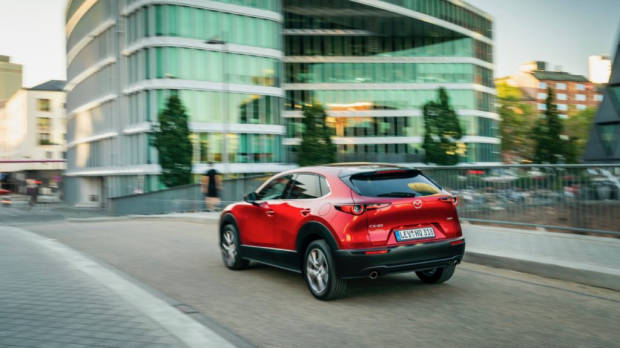 Mazda's superlative approach to dynamics has created a really rewarding SUV to drive, with a consistent feel to the control surfaces and a gently encouraging demeanour that will push skilled drivers to exploit the well-sorted chassis on display.
Around the suburbs, the CX-30 feels well sized and easy to see out of, especially thanks to the very large side mirrors. The steering is quick, which makes this SUV feel manoeuvrable. Parking the thing is a doddle, certainly a little easier than a CX-5. Visibility is much better than the Toyota C-HR, which has a rapidly rising beltline that obscures rearward vision.
Get the CX-30 out onto a backroad, though, and it displays its family ties to Mazda dynamics with excellent clarity. Beautifully-weighted steering, linear handling, good body control and nicely matched powertrains and gearboxes make you want to keep driving.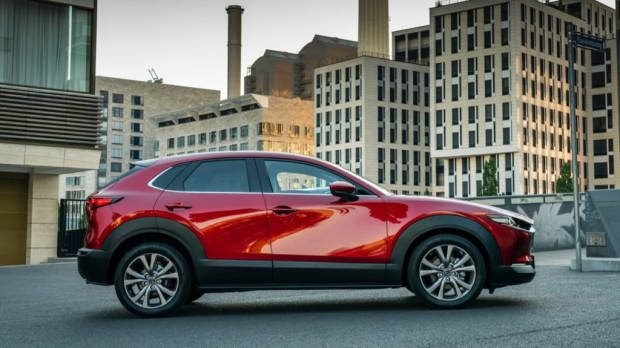 The German roads upon which we sampled the CX-30 were mostly glassy-smooth, so a proper evaluation of this Mazda's ride quality will require waiting until it reaches Australia. From the few bumps we could find, the longer-travel suspension appears to soak up imperfections better than a Mazda 3 hatch, which we find a little sharp. 18-inch wheels are likely to be standard in Australia, so we shied away from the under-wheeled absolute base car riding on 16s.
One area where the CX-30 trails some rivals is in the powertrain department. This Mazda will arrive at the same time as the new Volkswagen T-Roc (reviewed here), which is similarly sized and will cost a similar amount – but the VW packs punchy turbocharged engines where the CX-30 relies upon conventional aspirated petrols.
Our European drive took in two specific engine tunes that will not be coming to Australia: the first was a torquey 1.8-litre turbo diesel that we would love to see, though Mazda aren't confident there would be sufficient demand. The second was a 2.0-litre atmo petrol: we'll be getting this engine, though with more power than the 90kW tune we drove in Germany.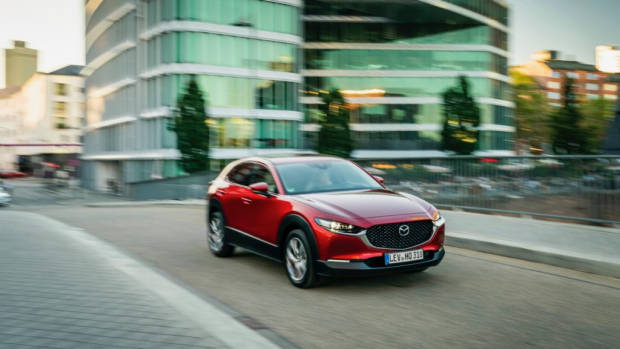 We'll likely receive a 110kW/200Nm 2.0-litre four-cylinder unit, plus a perkier 140kW/250Nm 2.5-litre four if Mazda Australia can get the larger-displacement engine over the line with head office. That's the conventional engine lineup from the Mazda 3 small car; we think the 2.5-litre will offer good motivation, but we'll wait to drive it first.
Those engines would be slated to arrive in Australia with the CX-30 in early 2020. There will also eventually be an interesting third option in the form of the Skyactiv-X engine – a very novel spark controlled compression-ignition engine Mazda have developed and are almost ready to launch on the 3 small car. This will produce around 132kW/220Nm, but the torque is produced lower in the rev range than a normal atmospheric petrol.
With final judgment reserved on the elements that may yet change for Australia – the engines, and also the ride quality on our uniquely pockmarked road surfaces – our first impressions of the Mazda CX-30 are very warm.
This is an SUV that looks good, demonstrates clear improvements in packaging know-how, offers a brilliant interior, and is fun to drive. If it's priced sensibly, there's no reason it can't be another home run for Mazda on the Australian SUV front.