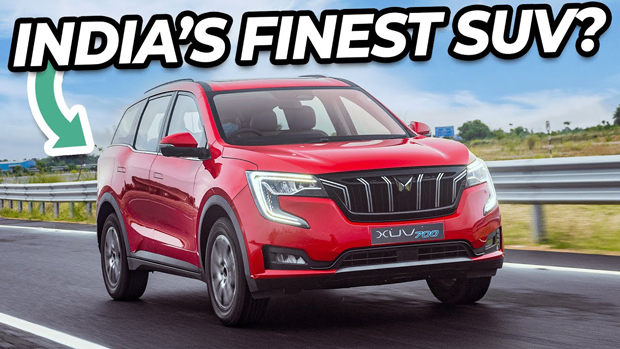 A decade ago, the chips-cheap XUV500 midsize seven-seat SUV lobbed as Mahindra's push into urban Australian households. But its unrefined nature and humdrum execution failed to make traction for a brand making stronger headway regionally with its buck-banging Pik-Up.
Today, the new – well, new-ish, given its 2021 Indian release – XUV700 has just landed in Oz to reboot Mahindra's aspirations for success in the suburbs. And if our first taste test of this modernized spin on an old pitch is anything to go by, the chances of success seem much better with this measurably stronger offering.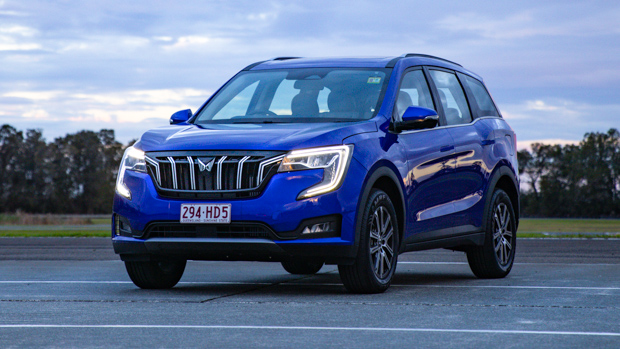 Let's not beat around bushy things: the XUV700's headline act is value for money. And it punches hard enough in some areas to surely ruffle feathers with some segment rivals while surely swooning many budget-savvy buyers.
It's a slim range: two variants in the base AX7 and the high-spec AX7L, the latter essentially the former with a luxury package features added. In fact, bar esoteric details, the two variants appear almost identical inside and out.
The AX7 enters at $36,990. The AX7L peaks at just $39,990. Cheap? No half. And that's national driveaway pricing.
Monocoque construction and single-spec 149kW turbo petrol front-drive plants XUV700 firmly as an on-road prospect alongside its ladder-frame stablemates in forms of the all-terrain Pik-up and the Scorpio SUV.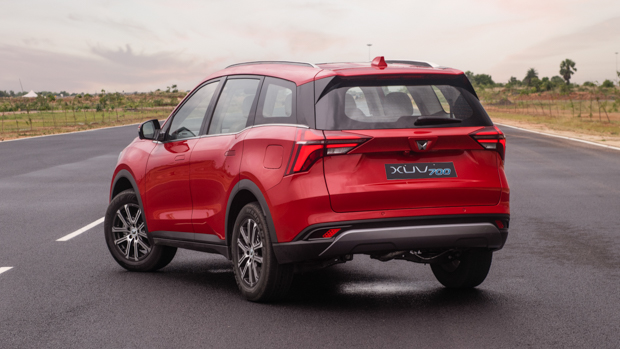 Both oiler and all-paw versions of XUV700 are offered in India – where this midsize SUV has been on sale now for the thick end of two years – and Mahindra Australia has mooted that this format might migrate to local showrooms eventually.
But for now, the local importer is loading up what's essentially one variant, its recipe chock full of stuff to swing buyers away from Toyota RAV4 and Mazda CX-5.
The question is whether there's real substance and quality beyond the XUV700's lengthy features lists.
What are the XUV700's features and options for the price?
Mahindra is no stranger to pitching low balls at the midsize SUV segment: a decade ago, the seven-seat XUV500 launched from just $30k neat.
But expectations of minimum equipment – notably in-cabin tech and safety – have risen massively in ten years, making it tough for any newcomer to measure up in any segment, let only the hotly contested one XUV700 finds itself in.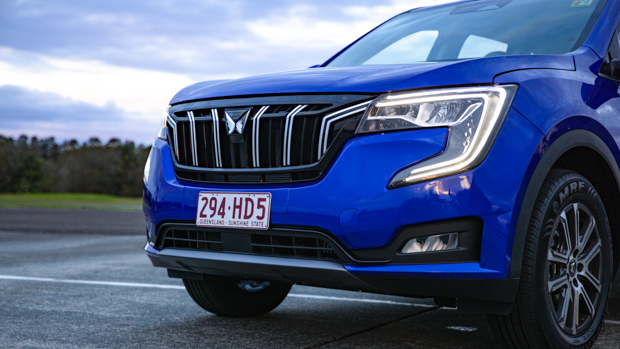 And yet, the features list for the AX7's $36,990 driveaway ask is verging on unprecedented. Standard features include:
LED auto headlights, DRLs and tail lights

Cornering lamps

18-inch alloy wheels

Flush door handles

Panoramic sunroof

Rain sensing wipers

Seven seats

Dual 10.25-inch digital driver and media displays

Leatherette trim

Leather trimmed wheel and shift knob

Six-way power driver's seat with memory

Android Auto and Apple CarPlay mirroring

Six-speaker audio

One-touch row-two seat tumbling

Dual-zone climate control

Reversing camera

Adaptive cruise control

Six airbags
The base version also gets a comprehensive safety suite outlined in detail further down the story.
However, it's worth noting that the XUV700's safety fitout is vastly more comprehensive than its pricier (from $41,990 driveaway) all-terrain Scorpio SUV stablemate that launched just a couple of months back.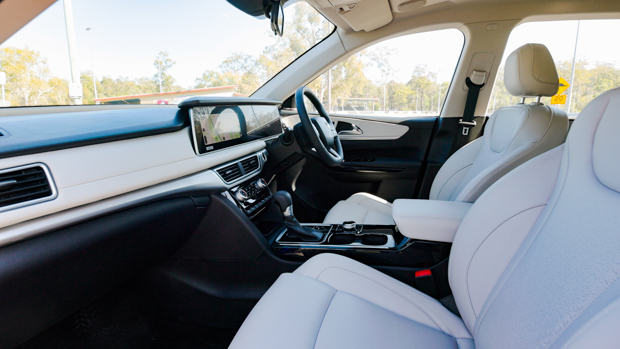 The three-grand walk-up to the ($39,990 driveaway) AX7L adds the following features:
Blind view monitor camera display

360-degree camera system

12-speaker 3D audio

Driver's knee airbag (seven total)

Steering wheel reach adjustment

Electronic park brake

Adaptive cruise with stop and go

Electric door handles

Wireless phone charging
From the wheels to digital display hardware and from leatherette trim to the no-cost choice of five body colours, the AX7 and AX7L are largely indistinguishable. And it's easy to consider the higher-grade variant is essentially the AX7 with an options pack added.
Further, the cream leatherette is, right now, the only interior choice. However, Mahindra Australia says that it is considering a more conventional black cabin theme because "that's what so many Aussies seem to be asking for".
Either way, the XUV700 is no pauper when it comes to equipment.
How does the XUV700 drive?
The sole powertrain on offer appears healthy on paper. It features a 2.0-litre direct-injected turbo petrol inline four outputting 149.2kW – yes "point-two" according to Mahindra literature – and a rather healthy 380Nm of torque. It's backed by a transverse Aisin-made six-speed automatic exclusively driving the front wheels.
That's a fair amount of poke: it wasn't all that long ago that mainstream midsize SUVs found themselves corralling around the 200Nm mark in naturally aspirated desperation. The new XUV700, though, boasts outputs offering hot hatch levels of energy.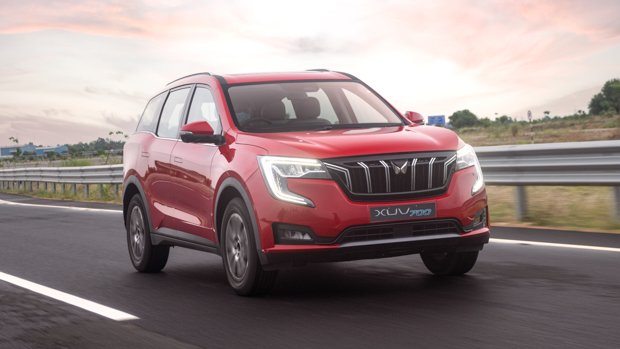 So it proves on road. Its 380Nm clock on at 1750rpm and the pronounced midrange torque hump rockets the XUV700 along, dispatching the high-grade AX7L's 1835kg kerb weight (versus 1829kg for the AX7) with aplomb.
Whatever the stopwatch reality, the Mahindra feels quick two up and amply robust four up and with luggage. There are certainly no gripes about the stonk on tap. It's also impressively smooth all the way to its 5000rpm redline and quiet, even under hard acceleration load.
The six-speed auto is generally quite cooperative, with well sorted calibration that's neither overly enthusiastic nor too leisurely. However, the transmission can become granular and unpolished at times, often at low speed, and isn't immune to the odd nudge than thump. Experience tells that it's a bit of a trait of this particular Aisin unit.
Steering is vapid and aloof, though you do settle into its manner and, as a plus, it's easy to use around town and during tiller-twirling manoeuvres such as parking and three-point turns.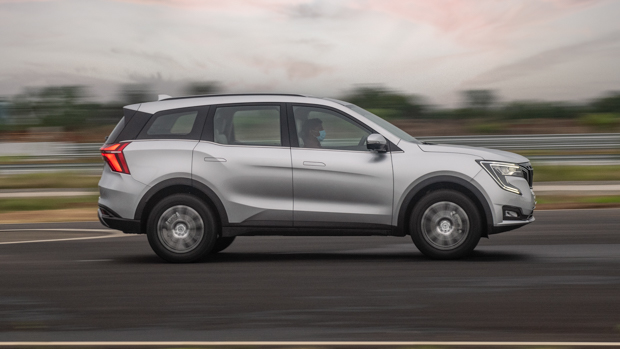 But the really impressive bit is the ride.
The XUV700 is two years young in its home market. Unsurprisingly, then, its maker has already ironed out many gremlins and, suspension wise, this generation has benefitted from around 540 revisions to its design, which features passive frequency selective damping.
The compliance of the chassis on its 60-series rubber is very impressive indeed. The bump control is exceptionally good, the rebound a touch floaty, but defaults in a supportive manner even loaded up with adults and luggage and, from our test drive at least, there's no sign of crash-through across big dips at speed.
I'd go as far to say that ride comfort is superior to a good many SUVs twice its price…plus a few others that are far more expensive than that.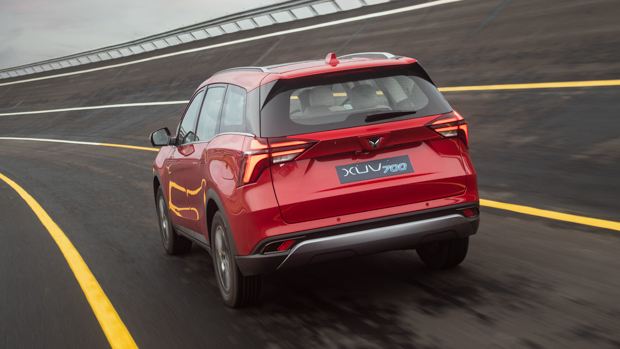 Handling is more competent than it is confident, though there is a veneer of driver engagement even if one senses that the chassis talent mightn't quite be an ideal match for the enthusiasm of the powertrain. But to a fault? Not necessarily.
In fact, the XUV700 does quickly and quietly settle into a role equally adept at the urban cut and thrust and at long-legged country touring. Characteristically, it does everything it should well and, frankly, with more polish than you might rightly expect for its price point.
Downsides? Well, it is thirsty. The claim is 8.3L/100km combined and our drive at the Australian launch wasn't conducive enough for accurate real-world assessment.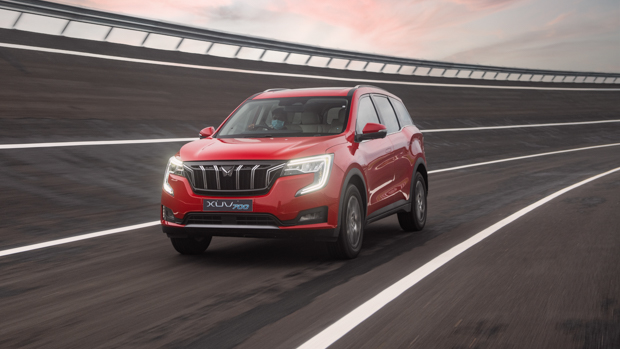 We'll get a better read once the XUV700 hits the Chasing Cars garage, though if consumption is close to the mark then it could be viewed as fair trade for the outputs on offer. But if it's much thirstier…
In terms of active interaction, some of the Mahindra's safety systems are conservatively calibrated and overbearing, particularly the lane departure warning. On country roads, it beeps away incessantly despite the lack of road markings. And while you can switch most of it off, the adjustments are well hidden in distracting driver's screen submenus.
The high-spec AX7L does get a version of blind spot monitoring that's a little different to that popularised by the likes of Hyundai/Genesis. Rather than left or right views appearing in the corresponding side of the driver's screen, the camera feed appears centrally between the digital roundels.
What is the XUV700's interior and tech like?
Make no mistake: this cabin will be the primary drawcard in putting buyer bums in cream leatherette seats. The wow factor the XUV700 offers for the price of entry is, in areas, quite unprecedented.
Those areas? Specifically, it's the trio of seat execution, the full-length glass roof and the dual 10.25-inch digital screens housed inside an oh-so-Euro flat panel display. The latter items, as Mahindra points out, are by Visteon, who also supplies to Mercedes-Benz.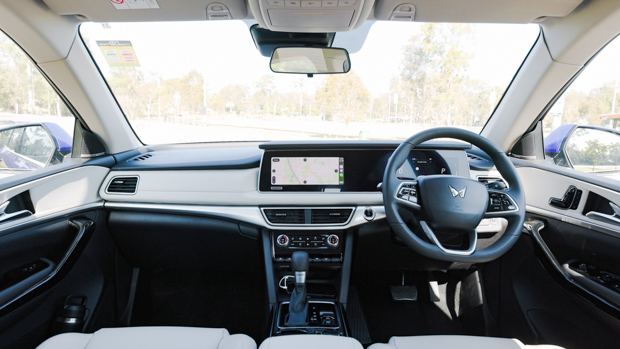 Add the electric door handles on the 'L' version and this SUV does make you question why you have to spend so much more to find such niceties in premium marques.
Presentation is very good: again, this is the only colour and trim offered for XUV700, common in both grades save for a few details. But apart from the difference in handbrake mechanism – mechanical lever for AX7, electric button for AX7L – they really are indistinguishable. And equally 'champagne on a wine cooler budget'.
The design is neat and not particularly unique in look or format, but the judicious use of double-stitched soft touch cream across the dash fascia, door trims and all over the seating, front and back, detacts marvelously from the requisite cheap plastics necessary to keep costs down.
The light colours and huge glass roof do bring an airiness to the cabin that's not ostensibly roomier than other midsize SUVs trying to squeeze in three rows of seating, such as Nissan X-Trail and Mitsubishi Outlander. The leatherette, too, is impressively supple – not Lexus grade, mind, but not a long mile away from it either.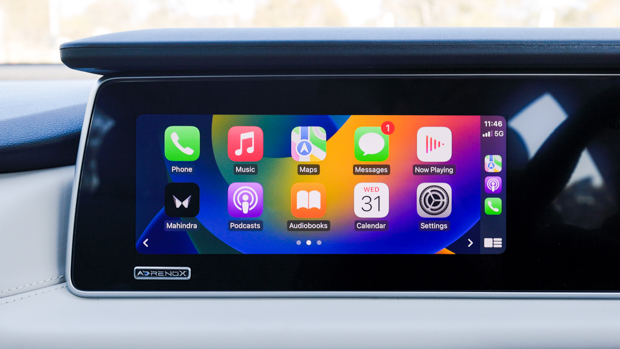 The dual digital screen array is slick, too. Resolution is sharp, the skin content is pleasing and easy to use and it's quick to respond to inputs.
However, smartphone mirroring is wired for both Apple and Android formats despite the inductive phone charging on the high-grade variant. However, the camera systems – reversing for AX7, 360-degree for AX7L – do lack clarity and are slow in frame rate.
It's not without other shortcomings, of which there are a few. The seats – all of them – have very high seat bases, which impacts head room, particularly in AX7L where the fancier sound system locates speakers quite close to taller occupants' foreheads.
Ergonomics, too, are a little wonky, the high seating and lack of steering wheel reach adjustment in the base AX7 potentially impacting long-haul comfort for some. The AX7L's telescopic fitment is, we're told, due to the addition of the driver's knee airbag, though just why fundamental adjustment is omitted from the base version is a big head-scratcher.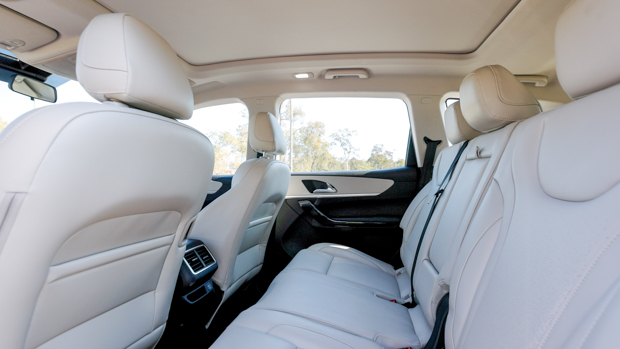 And if we're nitpicking, some of the switchgear, especially the so-called Intelli Control console mounted rotary controller for the media system, is downright flimsy and certainly par for the cut-priced course. First row occupants also get two USB-A outlets.
Row two room is quite decent. Again, the seats are set very high – great for small kids, not quite as much for taller adults – but it's quite comfy and airy, and Mahindra hasn't skimped on key appointments such as rear air vents, device power (a skimpy, single USB-C), oddment storage in the door bins and cup holders.
Clever is the so-called Ergo lever, a mechanical latch in the back of the front passenger seat to allow second-row occupants the ability to slide the front seat forward on its rails to improve legroom. Also nifty is the One-Touch Tumble effect of the 40:60-split second row bench for quick and easy (kerbside) access to the third row.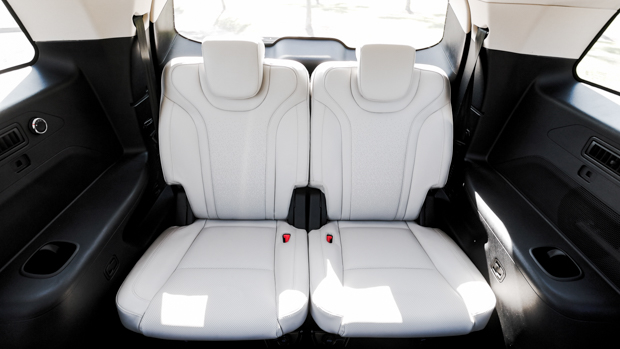 Row three is cramped. This isn't unexpected shoehorning tree rows into a wagon measuring less than 4.7 metres in length. But it will prove fine enough for younger kids, at least for short journeys. Kudo to Mahindra for including third-row air vent and a fan speed control, as well as cup holders and a 12-volt power outlet for the rear-most occupants.
Boot space is a little contentious. Mahindra doesn't advertise a litrage figure as a seven seater because, well, there is no luggage space to speak of, per say. With all seats in play, there's room for a couple of cricket bats. Or a skateboard. Maybe.
Converted to a five-seater, it's a decent sized load space of no specific volume Mahindra wishes to advertise. There's no reason not to as far as your reviewer can tell. Go figure. But as a five-seater, the XUV700 doesn't seem any more nor less practical than midsize-SUV median expectations.
Is the XUV700 a safe car?
Let's face it: when pitching an urban-centric midsize family SUV, a lack of fundamental safety coverage would halt the XUV700's potential success dead in its tracks.
Wisely, Mahindra has fitted a broad suite of active essentials, such as autonomous emergency braking, forward collision warning, lane departure warning, lane keep assist, high beam assist and traffic sign recognition.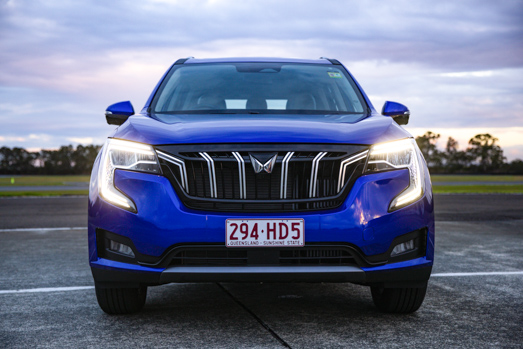 There's no blind spot monitoring on the base version though the AX7L does feature a camera-based blind spot view monitor system. Rear cross traffic alert or avoidance isn't offered in range.
Airbag wise, the AX7 count is six, including curtain coverage across all three seating rows. The AX7L fits an additional driver's knee unit.
The XUV700 is currently unrated by Euro NCAP or ANCAP.
What are the XUV700's ownership costs?
The XUV700 is covered by Mahindra's decent seven-year warranty, albeit capped at 150,000kms. Seven years of roadside assistance is offered for this duration.
Servicing occurs every 12 months or 10,000km, whichever comes first. However, at the time of review Mahindra Australia was unable to supply capped price servicing details.
The SUV's turbo petrol four runs on a minimum of 91-octane fuel and fits a 60-litre tank. Claimed consumption is 8.3L/100kms.
The honest verdict on the XUV700
The newcomer from Mahindra certainly packs some seductive tricks in its bag. Be it the strong engine, the flashy digital displays, the fetching trim work, the glass roof or other goodies, there's certainly enough sweeteners to lure a good many buyers after a value-laden seven-seat family trucker.
Is it the most well-rounded midsize SUV out there? Perhaps not. But it does also deliver reasonably in other areas that also matter, such as ride comfort and generally decent refinement. It's quiet, built solidly, and even the paintwork, mirror like and bereft of conspicuous orange peel, reinforces the impression that this is not, for the most part, cheap motoring.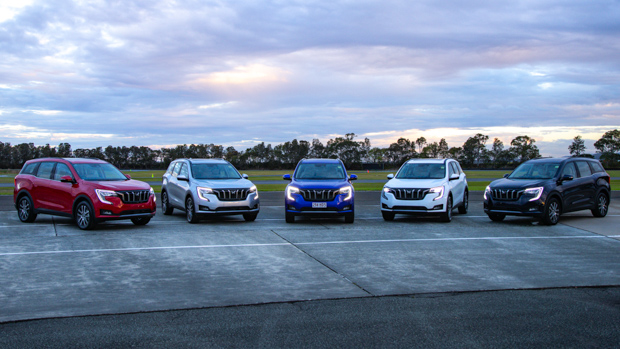 In a sense, the XUV700 bucks a basic inclination of the motoring industry where carmakers push models upmarket and charge higher premiums as justification. Instead, Mahindra seems to be dragging luxury – or at least a fair whiff of luxury – downmarket while making it more attainable to buyers on slimmer budgets.
As a result, there's a lot that's workmanlike or merely adequate and there are certainly areas fit for improvement, if aspirations of grandeur take hold and Mahindra decides to push pricing well north. In which case, there are plenty of areas in which XUV700 could lift its game further and higher.
But for now, the XUV700 really does seem like a hard push to chase large tracts of new – or at least unconquered – ground for the Indian marque, propelled predominantly by sharp pricing and a sense of value delivered large.