Australia's independent new vehicle testing authority ANCAP has released an expanded test criteria, which will come into effect in January 2023.
These changes are shared with ANCAP's European counterpart Euro NCAP and are part of the program's regular enhancements, which keep safety at the forefront of the new car market.
The last update to the scheme was in 2020.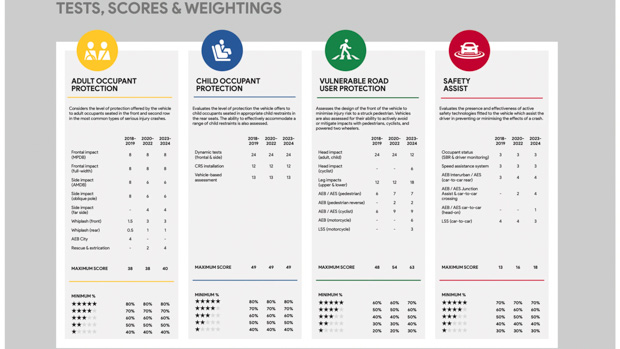 "Our 2023 requirements build upon our existing criteria to promote further vehicle safety improvements and address some of the ongoing challenges on our roads," said ANCAP Chief Executive Officer, Carla Hoorweg.
From 2023, the vehicle's ability to avoid a crash with a motorcyclist, child presence detection, and vehicle submergence will all be formally assessed.
On the motorbike front, autonomous emergency braking will be tested for both moving and stationary vehicles. The vehicle's blind-spot monitoring system will also be tested in its ability to prevent side swipe accidents with motorcycles.
When it comes to child detection, vehicles will be assessed on the ability to monitor the rear seats and doors, and alert drivers via either the vehicle or a phone app if a child has been left behind.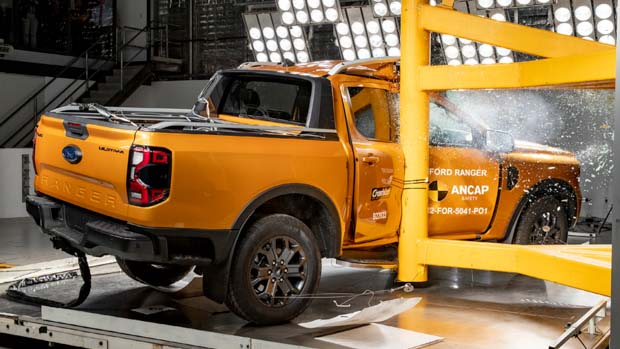 E-call alerts to emergency services, winding down the windows and automatically engaging the air conditioning system are advanced functions that will also be tested in regards to abandoned occupants.
Vehicle submergence testing will look into whether or not a vehicle's battery is able to electronically open the doors and open the windows after being submerged for ten minutes.
Alongside these new elements, several existing testing protocols will be enhanced, including vehicle-to-vehicle compatibility, vulnerable road user protection, direct driver monitoring systems, and autonomous emergency braking.
These updates to existing systems will mainly be based around the weighting on points in ANCAP's scoring scale.
"ANCAP safety ratings are designed to ensure new car buyers and the road users they interact with are offered the safest vehicles and newest technologies. We encourage all vehicle purchasers to choose a vehicle with the highest ANCAP safety rating possible and the latest datestamp. It could save your life, or the lives of those closest to you," said Ms Hoorweg.