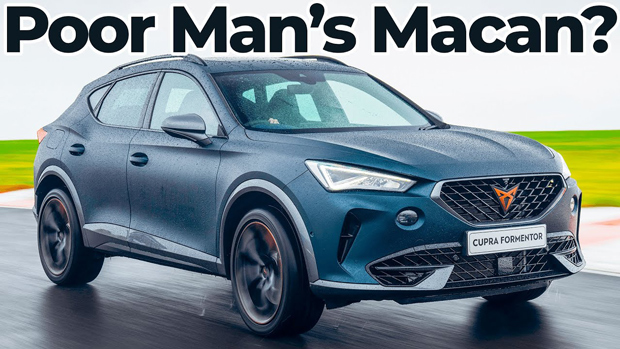 At this early stage, it's Volkswagen, Skoda and Audi die-hards in Australia that would know of the Group's Spanish performance car brand Cupra, but if the marque gets its way locally after a mid-2022 launch, far more people in this country will recognise the copper talon logo.
The most important model to be released in Australia this year by Cupra is the Formentor, a relatively compact midsize SUV that shares its MQB Evo architecture with the likes of the Volkswagen Tiguan, Skoda Kodiaq and Audi Q3.
However: while the Formentor might pinch engine, suspension and cabin componentry from the same general 'bin' as its Volkswagen Group cousins, the Barcelona boffins at Cupra headquarters have created a very strongly differentiated product that really doesn't feel anything like a VW product to drive.
Much more aggressive rear suspension tuning, for one, makes the Formentor a huge laugh to drive on track, ably assisting fleet-footed front-end turn in by swinging the rear axle around in controllable lift-off oversteer – even with electronic stability control fully on!
This month we had an early taste of the Formentor in both entry-level 140kW/320Nm AWD 'V' guise but more extensively in full-fat 228kW/400Nm 'VZx' trim at Sydney Motorsport Park, one of Australia's big, fast grand prix circuits.
The location choice in itself was kind of telling: Volkswagen Australia likes to soft-launch its sports cars at Luddenham Raceway west of Sydney, a sinewy, tight course perfect for front-drive hot hatches. Selecting SMSP, fondly known as Eastern Creek for its geographical placement near Sydney's M7 ring-road, indicates a higher level of capability and sophistication for the Cupras.
Chasing Cars drove all three of Cupra's launch models: the midsize Formentor crossover (from $54,990 driveaway), plus the Ateca small SUV (available in high-spec VZx only, $65,990 driveaway), and the Leon hatchback (from $43,990).
The Spanish brand will have the honour of releasing the Volkswagen Group's first Australian-market, non-luxury electric car early next year in the form of the rear-wheel drive (!) Born hot hatch, which is understood to produce 170kW/310Nm.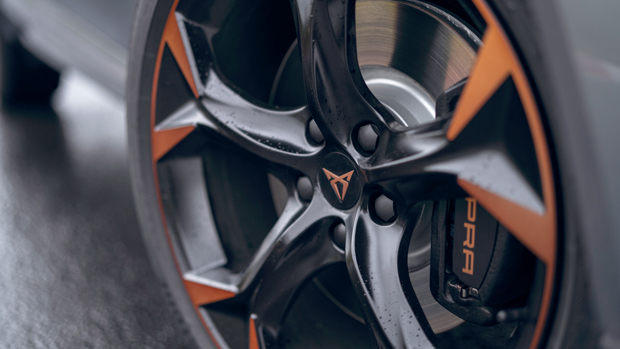 On paper the Formentor is pretty conventional, but its actual dynamics are anything but. Like so many Group products it makes use of the light, compact 'EA888' 2.0-litre single-turbo petrol four-cylinder engine in every variant bar a forthcoming plug-in hybrid that we haven't driven. All have a wet dual-clutch auto; six gears for the hybrid and seven for the remainder.
Wonks like us will probably appreciate the entry-level, cloth-seated Formentor V, which has the EA888 in modest yet sufficient 140kW/320Nm tune with AWD, 18-inch wheels and chubby tyres that should deliver the best ride quality of all Formentor specs on pockmarked Australian roads.
We drove the 140kW V on track for one session of five laps and found it to be engaging if a little outgunned on such an intimidatingly fast track – we suspect on speed-limited roads it will be enough. Still, the light and quick steering rack gave us something to appreciate.
Interestingly, from the V it's a step to a 180kW/370Nm Formentor VZ … with front-wheel drive! There's an electronically-controlled, mechanically-locking limited slip differential on the front axle, like a Golf GTI or Skoda Octavia RS. We haven't driven the FWD VZ (or its 1.4-litre, electric motor-assisted plug-in hybrid VZe counterpart) but we look forward to doing so.
In theory the front-drivers will be even more willing to throw around their rear end than the ludicrously enjoyable Formentor VZx, which adds Haldex-type AWD back into the equation along with a thrusty 228kW/400Nm tune of the 2.0-litre engine.
No other MQB-platformed vehicle comes close to the Formentor's nuanced suspension setup when it comes to passive rear steering: point the nose via the light and quick-ratio steering and the rear pleasantly pirouettes around. We're not talking some uncontrolled, dangerous slide, but movement off-throttle from the rear is noticeable enough that it just subtly complements the driver and adds another level of fun.
All of this was clearly noticeable with high cornering loads at SMSP. Whether it's just as evident with the more modest limits set in road driving we'll have to wait and see. Either way, this feels like more fun than even Volkswagen's recently-released Tiguan R (Nathan Ponchard's review can be found here) with 235kW and a trick rear differential…
A solid performance on-road may even result in a number of buyers moving across to the Formentor – which will be in decent supply when the Cupra brand launches in July. There is a very long wait for certain fast VW Group SUVs, including the 162kW Tiguan R-Line (12 months in some cases) and 180kW Kodiaq RS (6-9 months).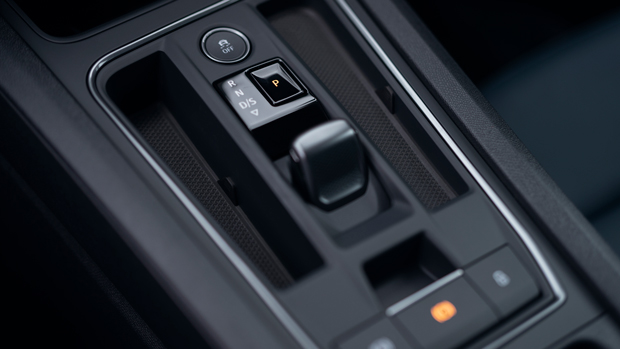 When it comes to the size and shape of the Formentor, it's a hybrid between classes. Proportionally, it splits the difference between a conventional midsize SUV and a raised, cladded wagon like an Audi A4 Allroad or Golf Alltrack. Parked next to a Golf R wagon, we noticed the pair are basically the same height – but the Formentor has too short a rear overhang to be regarded as a classic estate car.
At 4450mm long, applying strict Chasing Cars definitions…this is a small SUV – but the Formentor arguably drags itself back into midsize territory thanks to ingenious interior packaging. The boot is on the smaller side at 420 litres, but back seat space is somehow enormous: six-footers can sit one behind the other and legroom is still plentiful. Love it or hate it – the Volkswagen Group gets packaging and the Formentor is among the best we've seen in this regard.
Quality-wise, Cupra continues to blur once-distinct lines within the Group. Is Volkswagen above Skoda? Is Cupra above Volkswagen? Is Cupra above Skoda? Who knows. All Cupra models are probably underpriced to give the brand an initial hard kick when it drops down under, but the interior finishes feel somewhere between a Skoda and an entry-level Audi. And that ain't bad.
Most grades of Cupra product will score leather and all Formentors have cool coffin-shape sports bucket seats up front; the V has (nice) cloth, but the VZx we drove had unusual petrol-blue leather, a colour that extended to the dash and door pulls, supplemented by Cupra-copper stitching.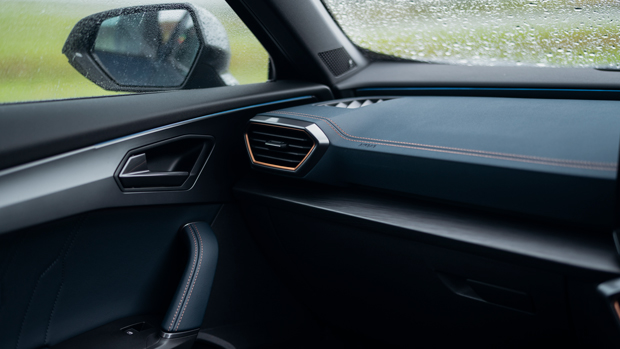 We did 15 laps in the Formentor VZx and found the seats pretty supportive and comfortable, with plentiful 12-way electric adjustment. Tighter lateral bolsters would help (it's a shame these aren't adjustable, as in a BMW), and on an unseasonably warm day at Eastern Creek we also missed seat coolers. The pews are heated only, as is the VZx's 'supersport' steering wheel with satellite buttons for different drive modes.
A big 12-inch screen stretches beyond the nine-inchers of a Tiguan or Kodiaq and while the Cupra-specific infotainment graphics seemed a little elementary, most buyers will opt to wirelessly mirror their phones with Apple CarPlay or Android Auto support. The stereo is supplied by Beats, like in Volkswagen's Polo GTI. The climate controls are on-screen and honestly, we didn't have time to assess their efficacy.
On the ownership front, all Cupras sold – for now – will bundle three years/45,000km of free servicing, which is a value of $1000 or so in other Volkswagen Group brands locally, keeping in mind that the fourth year service is normally the big one (as this is when the dual-clutch auto gets major attention for the first time in the car's life).
Sales and test drives will be through Cupra 'garages' located in Australian capital cities, though there will be selected suburban locations (including in Sydney's Artarmon – which will also house a Cupra-specific service centre). The degree of commonality between a Formentor and, say, a Volkswagen Golf is such that maintaining these vehicles is not likely to be a problem for other Group service departments.
Orders will open for a Formentor Launch Edition – based on the top-tier VZx – in May, with just 50 examples available to keen punters with a few select options added (Petrol Blue Matte paint with 19″ Exclusive Sport black and copper alloy wheels) for $69,990 driveaway. Only Asphalt Blue and Graphene Grey will be available as standard, with the $2,300 Petrol Blue Matte colour only available to the Launch Edition.
Later, in June, orders will open for series production Formentor variants, in V, VZ, VZe plug-in hybrid and VZx form. The purchase process can only be completed through the Cupra website and prices are fixed nationally (except for the hybrid due to various state levies) – though a Cupra 'garage' expert can assist buyers in-person with their online order.
We've chosen not to rate the Formentor at this time as our track drive was tantalising and positive, but for a family SUV, so much turns on road manners – in particular, ride quality. We have high hopes here, but a score must wait for our first road drive in a couple of months' time.