The initial batch of 500 Toyota Land Cruiser 300 Series 4WDs for Australia has fallen well short of satiating buyer demand, with the second-hand market now fetching up to $200,000 before stamp duty for a lightly-used example or demonstrator unit.
The Land Cruiser 300 was released in Australia in October 2021 with a five-strong range priced between $89,900 and $138,790 before on-road costs.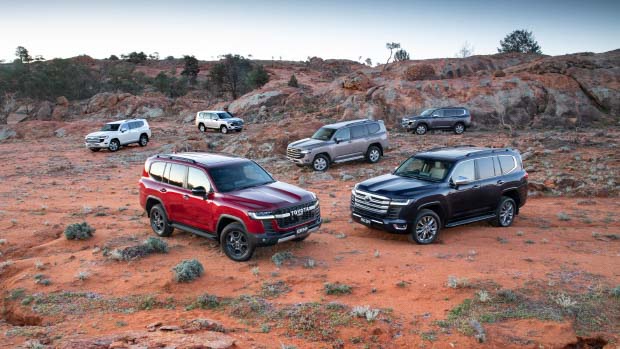 Thousands of Australian buyers had their name down for a Land Cruiser delivery and 500 have been lucky enough to get one of the first batch.
But some of those buyers – as well as dealers offloading stock and even demonstrator vehicles – are already selling their new LC300, with lightly-used second-hand examples commanding a staggering 28 percent markup on the original driveaway prices, despite the cars having up to 3900km on the clock.
Average Land Cruiser 300 markup hits 28 percent
Chasing Cars has scoured the classifieds and found the average asking price for a Land Cruiser with between 0km and 4000km is well above the driveaway price of a new example purchased from Toyota.
That is because wait times of 12-24 months are being quoted as the norm if you join the queue for a Land Cruiser now. Rather than wait, some buyers may be prepared to shell out $40,000 more to skip the queue.
It's the workhorse GXL variant attracting the biggest markup of all, with average asking prices 33 percent higher than the vehicle's $109,606 NSW driveaway price.
In fact, the average asking price for a GXL is a staggering $146,000 before stamp duty and other transfer fees – and that's with dealer demonstrator kilometres being the norm.
The range-topping, luxury-spec LC300 Sahara ZX is attracting the 'lowest' markups of all, with a 25 percent premium on average above the car's $148,658 NSW driveaway price – with second-hand examples averaging $186,000 on the private market.
Meanwhile, the rough-and-ready GR Sport is averaging a staggering $190,000 on the private market – representing a 29% markup on its $147,608 driveaway price.
One dealership in Victoria – claiming customers will face a wait time of two years for a new Land Cruiser – is asking $195,990 for a top-spec GR Sport with a not-insignificant 3340km on the clock. The price does not include on-road costs which will likely extend the out of pocket cost to well over $200,000.
It's not just top-spec models that are affected either, with one dealer in Western Australia asking $159,990 before on-road costs for a Landcruiser VX, reflecting a 40.35 per cent increase over the $113,990 recommended retail price.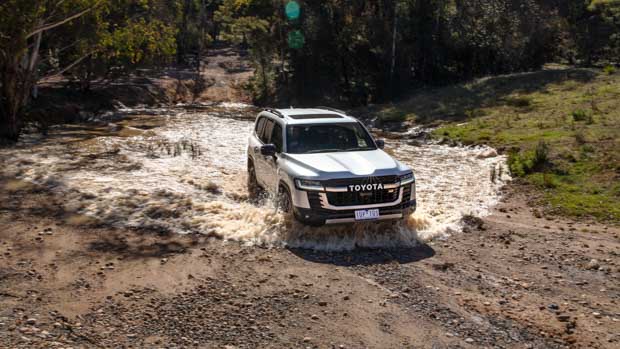 Average prices and markups for the Land Cruiser 300
Average markups for the Land Cruiser 300 have hit 28 percent over the price of a new vehicle in February 2022, with no variant of the LC 300 experiencing less than a 25 percent hike on the private market.
There are differences in average asking price and markup across the six-strong range, though there are too few base-model GX units on the market to calculate accurate numbers.
But what are dealers and private sellers asking Australians to pay on average for a second-hand Land Cruiser 300 Series? Let's summarise it:
Sahara ZX: $186,000 (average markup of 25% or $37,000)
GR Sport: $190,000 (average markup of 29% or $42,000)
Sahara: $180,000 (average markup of 28% or $39,000)
VX: $156,000 (average markup of 27% or $33,000)
GXL: $146,000 (average markup of 33% or $36,000)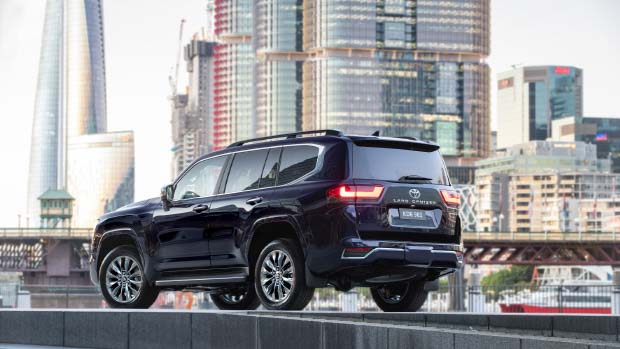 Why are Land Cruiser 300 prices so high?
The arrival of the new Land Cruiser 300 Series in late 2021 marked the replacement of the 200 Series that had been a dominant force on our roads for the last 15 years and the new model promised significant upgrades across the board.
Toyota managed to meet the incredibly high expectations with key upgrades such as the all-new body-on-frame chassis and 3.3-litre twin-turbo-diesel V6 engine.
Around the same time that the Land Cruiser 300 was launched, however, Toyota had finally begun to feel the pinch from the global shortage of semiconductors and has recently been forced to shut down production lines for extended periods while it waits for new stock to arrive.
Just 500 units of the Land Cruiser were promised for Australia in the first batch. Dealers were given freedom by Toyota Australia head office to retain their demonstrators or sell them as they saw fit – for any price.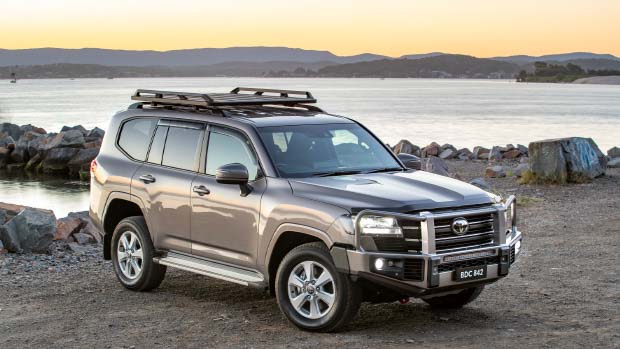 Toyota won't prevent these markups
With over 10,000 expressions of interest before the Land Cruiser 300 even went on sale, the current situation was predictable but Toyota Australia's sales, marketing and franchise operations vice president Sean Hanley said in October 2021 that he had faith in its dealer network.
"In terms of selling practices, our dealer network is very responsible, I believe very ethical through the Toyota standards that we set," he said.
"We have a recommended retail price on [the Land Cruiser 300 Series], and our dealers are free to trade accordingly based on the market condition."
Toyota Land Cruiser 300 Series 2022: prices in Australia
All prices listed are before on-road costs.
GX: $89,990
GXL: $101,790
VX: $113,990
Sahara: $131,190
GR Sport: $137,790
Sahara ZX: $138,790