The muscly exterior stays the same, while improved features inside are the big changes for the 2016 Subaru WRX and 2016 Subaru WRX STI range.
The roaring, 2.5-litre turbo WRX STI models actually fall in price for their basic trim, making Subaru's fastest model more accessible at under $50,000 before on-road costs.
The current-shape WRX and WRX STI, which dropped the Impreza name in 2014, has been an unsung success story for Subaru. The Japanese brand haven't sold this many WRX sports sedans since these cars were a huge hit in the late 1990s, in the rallying heyday.
The WRX and WRX STI combined are actually the top-selling sports car in Australia so far in 2015, beating the Toyota 86. More than 1,600 of the Subarus have been registered—up 15% on this point last year.
The biggest difference between the two models is mechanical. Both the WRX and WRX STI use turbocharged four-cylinders, but in different capacities and tunes.
The basic WRX uses a two-litre unit making 197kW of power at 5600rpm, and 350Nm of torque between 2400 and 5200rpm. That's good for a power-to-weight ratio of 138kW per tonne.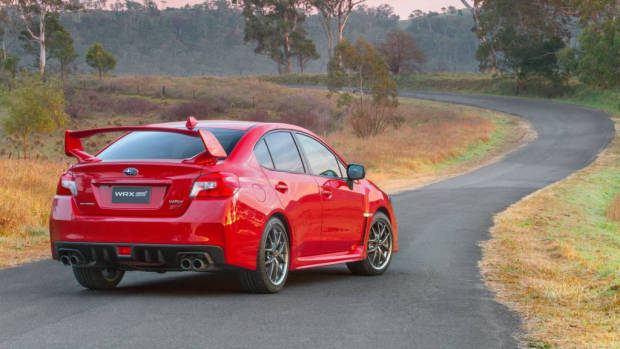 The WRX is also unique in that a Lineartronic CVT automatic option is offered for $2,000 more than the standard six-speed manual.
If you're after something more, the WRX STI kicks the displacement up to 2.5-litres. That engine makes a bigger 221kW at 6000rpm, and 407Nm of torque at 4000rpm. That makes 150kW per tonne: plenty.
To keep the WRX models on top, we're seeing some minor feature changes for 2016.
The cheapest way into the range remains the WRX ($38,990 manual, $40,990 CVT). The WRX gains a 6.2-inch touchscreen to control the audio and infotainment, plus a new design for its 18-inch wheels. For the WRX, those prices remain the same on last year.
Those features carry over to the WRX STI, which is priced at $49,490, which is a $500 drop. With the rear wing, the price heads up to $49,790, or a $200 saving on last year.
The Premium trim on both models increases in price. In the WRX, that's up $900 to $44,890 (manual), or $46,890 (CVT). However, Premiums are outfitted with lots of new safety technology: there's blind spot monitoring, lane change assist with a side view monitor in the dash; rear cross traffic alert; and automatic high beam. You also score Subaru's cleaner seven-inch touchscreen for the navigation.
2016 Subaru WRX: Australian price
Subaru WRX: $38,990
Subaru WRX automatic: $40,990
Subaru WRX Premium: $44,890
Subaru WRX Premium automatic: $46,890
Subaru WRX STI: $49,490
Subaru WRX STI plus rear spoiler: $49,790
Subaru WRX STI Premium: $55,390
Subaru WRX STI Premium plus rear spoiler: $55,690