Launched in Detroit overnight, the Mercedes-Benz C450 ushers in a new 'AMG Sport' line of models for the German manufacturer.
Just as we've always known, Mercedes will continue to build everyday flavours of their range, and the AMG tuning house will build the halo cars – but they'll now work more closely together on a third option that sits in the middle. Think of AMG Sport cars as properly quick AMG-lite options – much like Audi S models.
So, what are we dealing with here in the first-ever AMG Sport? Well, the C450 shares the C400's twin-turbo petrol V6, but in this guise it will kick out a monstrous 270kW of power and diesel-like 520Nm of torque, available from just 2000rpm. We don't get the C400 in Australia, but we will certainly see the C450.
Those figures, Mercedes tell us, translate to a sub-five 0-100 sprint but we wouldn't be surprised if the real world reveals a time closer to 4.5 seconds.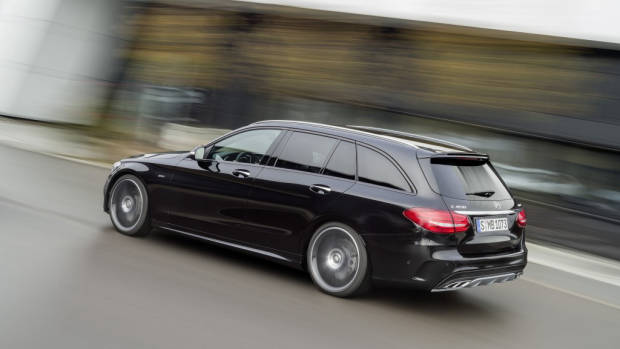 A wagon will also be available for families in a hurry.
That power will also be very usable, thanks to the standard 4Matic all-wheel-drive system, a point of difference from the halo Mercedes-AMG C63 with which the C450 shares a number of suspension and chassis parts, including the AMG Ride Control adjustable damper system.
AMG have also had a hand in directing the visual appeal of this special model: the beefed-up exterior clearly enunciates this is C63-lite, while the interior features unique trim options, sports seats, and a racing-style instrument cluster.
The C450 AMG Sport will compete directly with two other all-paw Euro sports sedans: the Quattro-equipped Audi S4, and the Volvo S60 Polestar, which sports a Haldex all-wheel-drive setup. Additionally, performance is similar to that found in the rear-drive BMW 335i.
The Mercedes-Benz will be priced to compete with that lot. Chasing Cars anticipates a price in the mid $110k range when the car hits our roads at the end of 2015.