The new Mercedes-Benz C-Class is a great car, but does the $62,400 entry-level diesel, the C200 Bluetec, represent the best value proposition of the lot?
Chasing Cars recently sampled the C200 at Sydney's Eastern Creek raceway to find out.  The diesel C200 sits one rung up from the base C200 turbo petrol ($60,900), and is powered by a 1.6-litre turbodiesel four-cylinder producing 100kW of power at 3800rpm, and 320Nm of torque between 1500–3000rpm.  Stepping up to a quicker diesel means an additional $8,000 outlay for the 155kW, 500Nm C250 Bluetec ($70,400).
As we found on track, the extra eight grand is money well spent. When pushed in a fast-paced environment, the oil-burning C200 reveals itself to be just a little too sluggish and slow.  Turbo lag is problematic, while the 320Nm torque figure doesn't provide the characteristic shove of the best diesels in the Mercedes-Benz range.
The C250 solves those issues: it has a second turbocharger to largely eliminate the lag factor, and the additional 180Nm of additional torque certainly doesn't hurt.  The two diesels do share a slightly agricultural character in common, though, being noisier than we'd like in a vehicle of this calibre.
No matter the engine you opt for, though, the W205 C-Class really has reset the expectations for the small luxury class. The interior of the updated car is superb, taking a number of design cues straight from the flagship S-Class.  The C-Class certainly has the best-executed cabin in its class, and one of the most resolved in the Mercedes lineup today.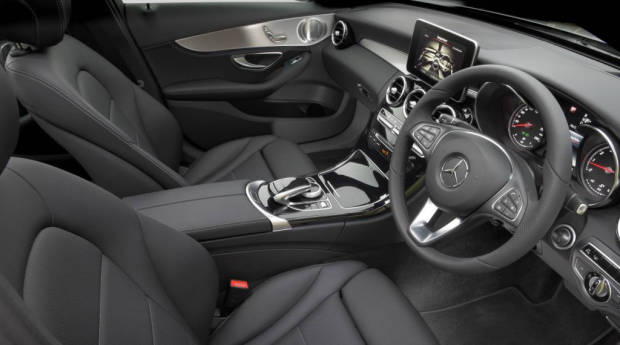 The Obsidian Black example that we drove was a little dark inside thanks to its black leather, though the natural, textured ash wood trim was simply gorgeous. The stitched dash is also lovely, and attention to detail like this is extended further if you option the Exclusive package, which provides a leather dash top in addition to other luxuries.
The previous-shape C-Class wasn't as on point through the corners as the BMW 3 Series.  The new model still doesn't hit BMW levels of sharpness through bends, though it represents an improvement: cornering is more direct than any C-Class before it, and there is a predictability and balance in driving the C-Class.  It feels heavy and secure.  When driven hard, the rear-wheel-drive architecture lends itself to some enjoyable handling characteristics, and faster models provide an ability to balance the throttle through sweeping bends to great effect.
The relative age of the current 3 Series, and Audi A4, mean that the C-Class hasn't had to fend off much competition this year.  However, with a midlife update to the 3 Series incoming, and an all-new Audi on its way, it'll be interesting to see whether the Mercedes maintains its tight grip on the small luxury sedan market in Australia.