The 2021 Maserati Quattroporte range has welcomed the new Trofeo grade which brings the intimidating combination of a twin-turbo V8 and a rear-driven layout back to the range.
While the now discontinued Quattroporte GTS previously used the same Ferrari-built 3.8-litre unit, outputs were rated at 395kW of power and 710Nm of torque, the Trofeo steps things up a notch with 433kW and 730Nm.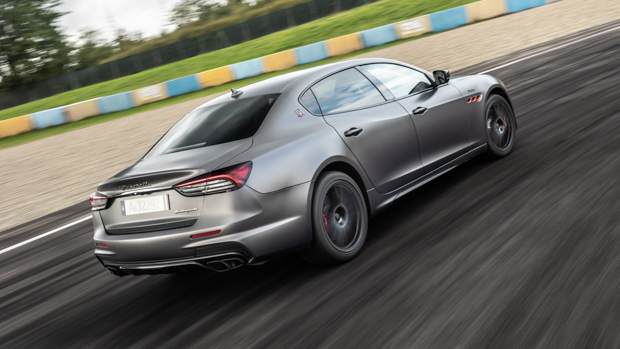 All that power is sent through an eight-speed torque converter gearbox and straight to the rear wheels, though Maserati has wisely fitted a self-locking differential to try and keep things under control.
The Quattroporte is one of three models to get the Trofeo treatment, alongside the Ghibli large sedan and Levante large SUV which all receive the same engine. 
Wrangling the two-tonne kerb weight is a Bosch-developed Integrated Vehicle Control system that reads the road ahead and adjusts outputs such as individual wheel torque to help the Quattroporte corner flatter and faster.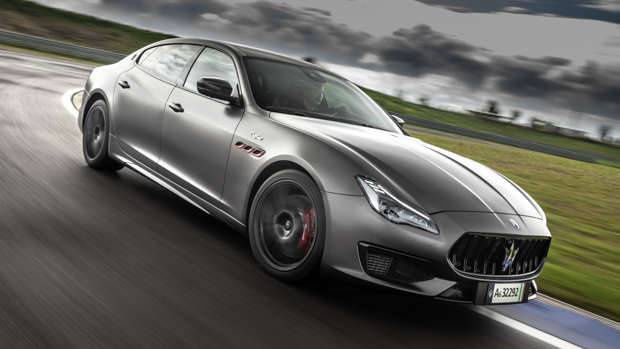 Both the Ghibli and the Quattroporte are also fitted with a 'Corsa' mode that is said to further enhance the driving experience by providing a sharper throttle response, quicker gear shifts and a louder exhaust.
The Quattroporte is no slouch with a 0 to 100km/h time of 4.5 seconds, but it does lag behind the lighter Ghibli and the all-wheel-drive Levante with times of 4.3 and 3.9 seconds respectively. 
While the cyclonic engine has made the Quattroporte Trofeo a very fast car, it also remains a very luxurious place to be with Maserati utilising full-grain Pieno Fiore natural leather for the upholstery.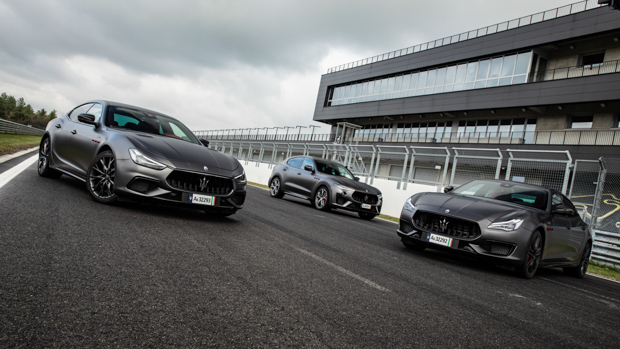 To separate the Quattroporte Trofeo from other models; Maserati has embedded specialised badging around the cabin, in the headrest and even in the digital displays upon startup.
In the recent 2021 update, the Quattroporte received an updated 10.1 inch widescreen and a more advanced adaptive cruise control system which all carry over to the Trofeo.
The unique details continue outside as well, with the grille sporting a more aggressive Piano Black twin vertical bar design but keeps a cleaner and less aggressive design than the Ghibli which opts for bonnet scoops.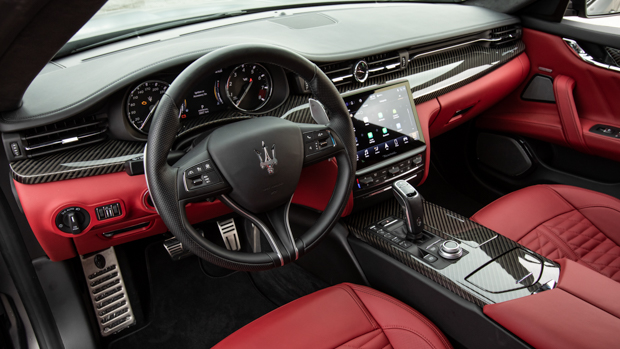 Maserati has also fitted a healthy supply of carbon fibre around the front air ducts and rear extractor, while 21-inch aluminium Orione wheels give the Quattroporte a more striking look.
Priced at $376,900 (before on-roads) the Quattroporte is not cheap, and will have to fight off rivals such as the Porsche Panamera GTS which also uses a twin-turbo V8 and starts at $316,800 (before on-roads.)
However, Maserati has said the Trofeo trio will be the last ever models to be fitted with this very special Ferrari-built engine and will no doubt attract many buyers who dread a future of downsized and electrified powertrains. 
Maserati Quattroporte 2021: prices in Australia
All prices listed are before on-road costs.
Quattroporte: $210,990
Quattroporte GranSport: $227,990
Quattroporte GranLusso: $227,990
Quattroporte GranSport S: $269,990
Quattroporte GranLusso S: $269,990
Quattroporte Trofeo: $376,900