With regulations looking to kill off the combustion engine by as early as 2030 in Europe, many automakers are choosing to go out with a bang rather than a whisper.
At the forefront of this movement is Maserati, who have just released the 2021 Ghibli Trofeo – which is one of three full-fat Trofeo models joining the lineup in Australia alongside the Levante large SUV and Quattroporte large sedan.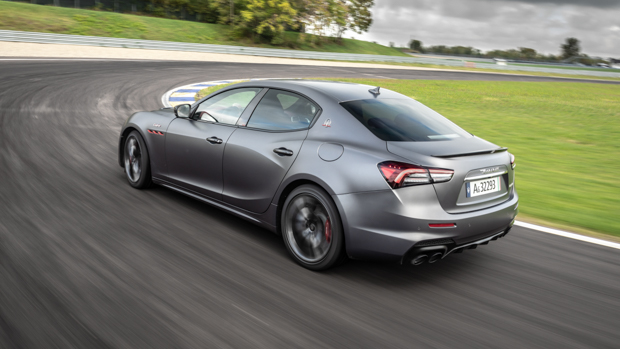 Key to the chaos is the 3.8-litre V8 twin-turbo petrol engine making 433kW of power and 730Nm of torque which sits at the front in true grand-touring fashion. The engine itself is built by Ferrari at its factory in Maranello to Maserati's specifications. 
Helping that power get to the ground is an eight-speed torque converter automatic transmission which sends power exclusively to a mechanical limited-slip differential slotted between the rear wheels.
Climb in, activate launch control, hang onto the wheel and plant your foot and the Ghibli will slingshot from 0 to 100km/h in just 4.3 seconds, which is impressive but actually slower than the 3.9 second time from the heavier and all-wheel-drive Levante Trofeo with the same engine.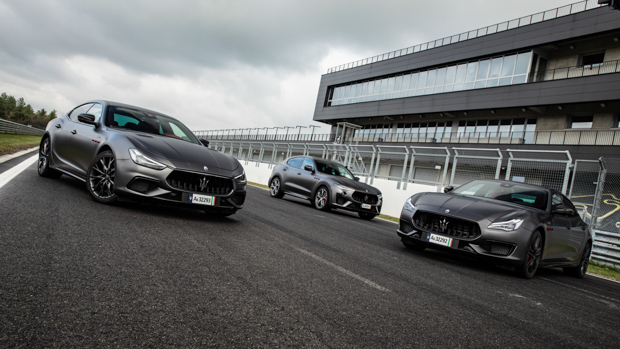 Maserati says the Ghibli Trofeo will not stop accelerating until it reaches a top speed of 326km/h, a figure only matched by the Quattroporte Trofeo – with both sharing the crown as the fastest Maseratis ever made.
Keeping things under control in the corners is a Bosch-developed Integrated Vehicle Control system that reads the road ahead and adjusts outputs such as individual wheel torque to help the Ghibli corner flatter and faster.
While you will likely hear the Ghibli coming from a mile away, Maserati has also made some subtle changes to the exterior to make it stand out from other grades.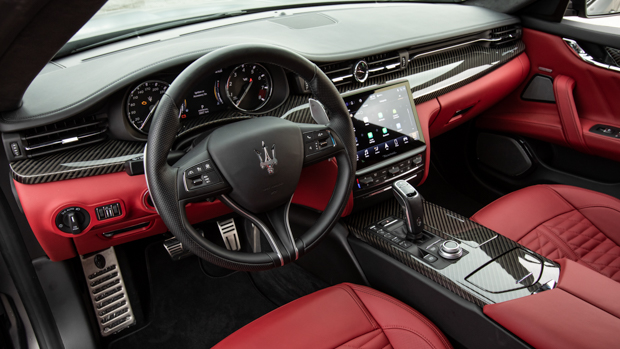 Key among these changes are two air ducts in the top of the bonnet, along with a new Black Piano front grille with a twin vertical bar design. Lower down, a slew of carbon fibre has also been fitted around the front air ducts and rear extractor.
Flared along the side of the bodywork are red side vents that match an adjoining Maserati badge that sits on the C-pillar. A set of larger 21-inch aluminium Orione wheels have also been added at each corner.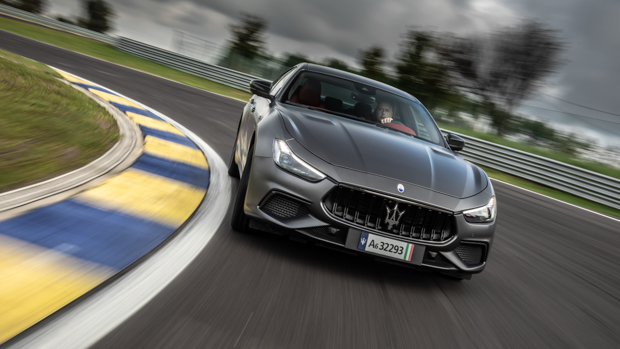 Inside, all Trofeo models have been trimmed in full-grain Pieno Fiore natural leather with specialised Trofeo badging sewn into the headrests and integrated elsewhere around the cabin.
The rest of the interior includes recent updates made to the Ghibli range including a frameless 10.1-inch screen centre screen and a more advanced adaptive cruise control system.
Maserati Ghibli 2021: prices in Australia
All prices listed are before on-road costs.
Ghibli: $144,990
Ghibli GranSport: $168,990
Ghibli GranLusso: $168,990
Ghibli GranSport S: $175,000
Ghibli GranLusso S: $175,000
Ghibli Trofeo: $ 265,000.00