Just months after Maserati announced the fire-breathing V8-powered Ghibli Trofeo the automaker has diversified its line up with the arrival of a mild-hybrid version of its large sedan.
The Ghibli Hybrid marks the automaker's first venture into electrification and will be followed later this year with the arrival of the Levante Hybrid large SUV.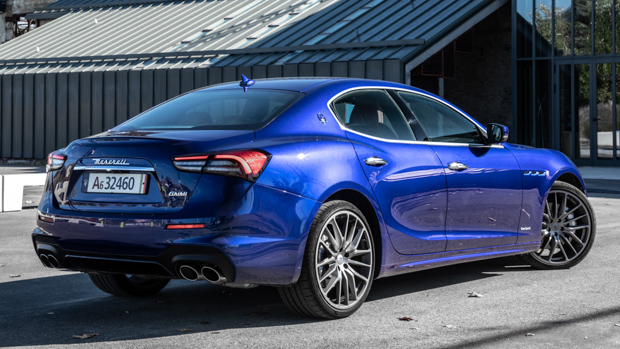 Maserati says it developed the Ghibli Hybrid at their Innovation Lab in Modena, Italy, with the aim to create a package that provides solid performance and even retains the exotic sound thanks to a specially developed exhaust. 
Powering the Ghibli Hybrid is a 2.0-litre four-cylinder petrol engine that is both turbocharged and supercharged, with the latter thanks to the 48-volt mild-hybrid system that can spin up the turbine instantly.
The combined output from this drivetrain is 246kW of power and 450Nm of torque that is funnelled through an eight-speed torque converter to the rear wheels.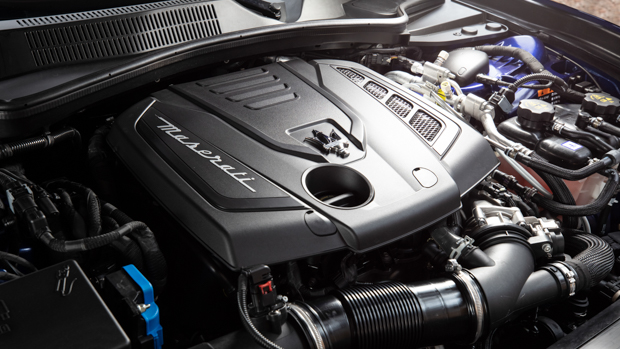 With outputs similar to the previous entry grade with a twin-turbo V6 257kW/500Nm, it will come as no surprise that the Ghibli hybrid is only 0.2 seconds slower from 0-100km/h at 5.7 seconds.
Despite the Ghibli Hybrid using a mild-hybrid instead of a full hybrid system like that found in a Toyota Kluger large SUV, the new drivetrain is significantly better on fuel and can chew through as little as 8.5L/100km (WLTP) compared to 11.2l/100km with the six-cylinder. 
Maserati also claims the Ghibli Hybrid is lighter than its siblings, weighing in at 1,878kg which it says is 80kg lighter than the diesel version offered overseas and even has better distribution of the mass thanks to the rear-mounted battery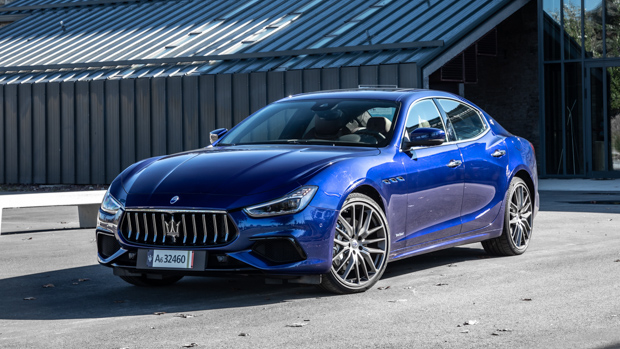 The design has remained largely unchanged with the hybrid variant, though Maserati has added a strong blue theme in reference to the electric technology underneath.
This starts with the exterior badging on the C-pillar that features Maserati's Trident logo with a lighting strike running through it and continues to the side air vents and brake calipers.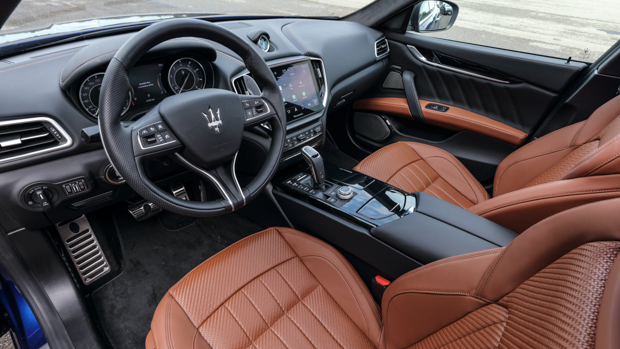 Maserati has naturally carried over all the changes from the recent facelift, which saw a new boomerang-like taillight incorporated alongside the large grille along with a larger 10.1-inch widescreen on the inside. 
The Ghibli Hybrid will serve as the new entry point for the range with a starting price of $139,990 (before on-road costs) which is stepped up to $163,990 (before on-roads) for the more heavily specified Ghibli Hybrid GranLusso and GranSport models.
Maserati says all variants of the Ghibli Hybrid are available to order through local dealerships.
Maserati Ghibli 2021: prices in Australia
All prices listed are before on-road costs.
Ghibli Hybrid: $139,990
Ghibli Hybrid GranLusso: $163,990
Ghibli Hybrid GranSport: $163,990
Ghibli: $144,990
Ghibli GranSport: $168,990
Ghibli GranLusso: $168,990
Ghibli GranSport S: $175,000
Ghibli GranLusso S: $175,000
Ghibli Trofeo: $265,000