A new batch of Hyundai Ioniq 5 examples is en route to Australia, with 119 pre-specified AWD units available to buyers – with the online Ioniq 5 sales portal set to reopen on 20 July at 1pm for August delivery.
The twist is that the 119 incoming Ioniq 5 examples are the first to wear new Techniq AWD branding – that's now the name of the top-shelf Ioniq 5 model in Australia.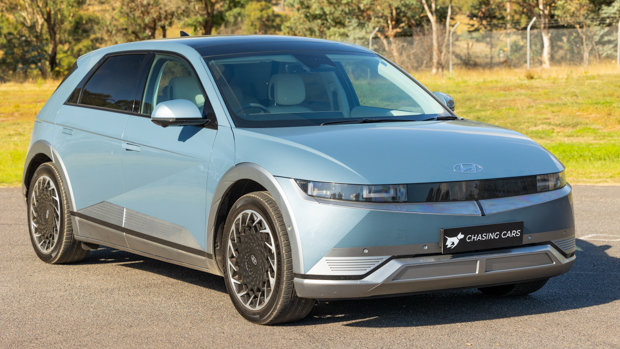 Previously, the Ioniq 5 was available only in one high-specification trim with a choice of 160kW RWD ($71,900 before on-road costs) or 225kW AWD ($75,900 before on-road costs, reviewed here).
As of July 2022, though, the RWD model will be rebadged the Dynamiq RWD – a new mid-specification grade, still with 160kW of power, but with a $2000 lower price of $69,900 before on-road costs.
July release is all-AWD, August release expected for cheaper RWD model
While the RWD cars are now meaningfully cheaper – quite the contrast to the related Kia EV6, which uniformly increased in price this week by almost $5000 – the AWD version gets more expensive.
Hyundai will sell the flagship Ioniq 5 Techniq AWD for $77,500, representing a relatively modest $1600 increase.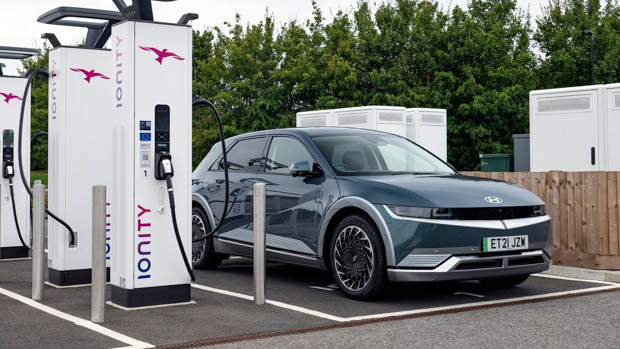 Every car in the incoming 119-strong batch, which is set to arrive in Australia between mid-August and early September, is a new $77,500 Techniq AWD.
Guido Schenken, Hyundai Australia public relations manager, told Chasing Cars that there was "a good spread" of colours in this month's release.
Schenken said he expected that a "similar number" of vehicles would be released in a forthcoming August drop, and that this next release would include a number of examples of the now-cheaper RWD grade.
Dynamiq RWD model is cheaper and has 30km more range than before
The rear-wheel drive version of the Ioniq 5 is effectively being downgraded from a flagship trim to a middle-specification car – and that means it is now getting smaller wheels.
While the 20-inch wheels that will be retained for the Techniq AWD are attractive, they do pinch driving range. Shifting the Dynamiq RWD to 19-inch wheels liberates another 30km range (WLTP) compared to the outgoing rear-driver.
That means the 2023 Dynamiq RWD will offer a claimed 481km range (WLTP), equating to consumption of 15kWh/100km from the 72.6kWh lithium-ion battery.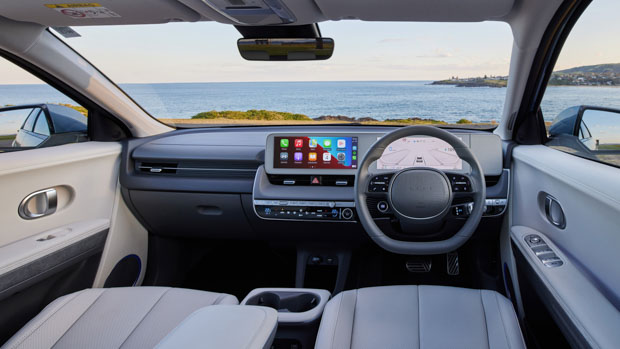 At $69,900, the entry-level Ioniq 5 is $2500 cheaper than the new Tesla Model Y. The Hyundai has 26km greater claimed range.
Standard on the Dynamiq RWD will be a leather interior, heated front seats with 10-way power adjustment, Bose premium stereo, and a power tailgate.
The RWD model also picks up new features – an additional inside power point for the existing vehicle-to-load (V2L) functionality, as well as an augmented reality head-up display to complement the dual 12.3-inch digital displays in the cabin.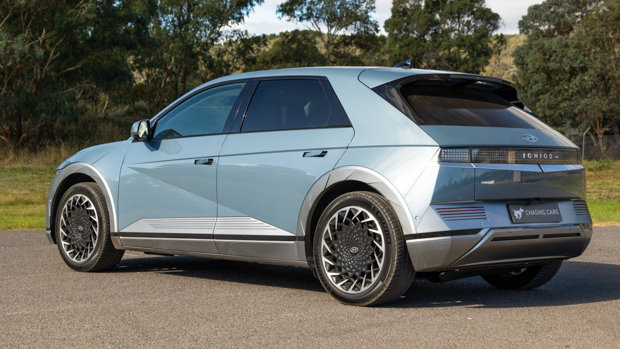 But part of the $2000 price reduction for the RWD model sees a few features deleted: memory 'relaxation' seats, front seat cooling, powered and heated rear seats, and rear sun shades will all now be AWD-only exclusives.
But the $1600-dearer Techniq AWD loses its previously standard glass roof, which now becomes a $1500 option.
Matte paint is a $1000 option on both versions.
Hyundai Ioniq 5 2022: prices in Australia
All prices listed are before on-road costs.
Ioniq 5 Dynamiq (RWD): $69,900 (down $2000)
Ioniq 5 Techniq (AWD): $77,500 (up $2600)