The arrival of an all-new Toyota Camry is always a big deal – especially when it's the first fully-imported Camry Australia has received in thirty years, arriving just seven weeks since local production came to an end. Before its arrival in dealerships later this month, the Camry arrives from $27,690, in a range that sees prices gently rise or fall in price depending on the model grade. And while it's acknowledged that 2018 Toyota Camry volumes will naturally dip without local manufacturing and the pin-sharp driveaway prices of the outgoing model, the hope is that in 2018, the Camry will retain its title as Australia's best-selling mid-size car for the 25th year in a row.
Priced from $27,690 plus on-road costs, the new Camry's pricing rises up to $1,200 over the outgoing car, dependent on trim level, but with much more standard equipment, according to Toyota. The eighth-generation Camry represents the first product in Toyota's post-Australian manufacturing future, and is now built in Japan. The new model also signals the death of the Aurion, and the reintroduction of a V6-powered Camry.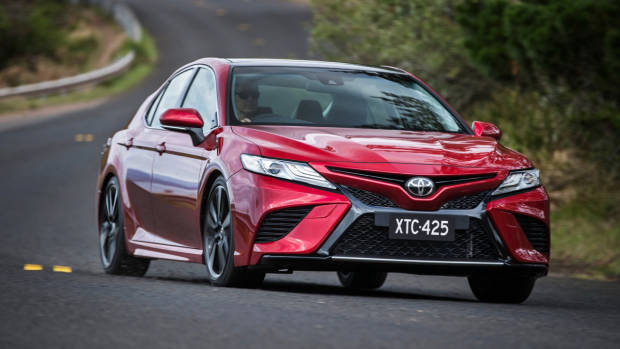 Toyota's senior divisional manager of sales and marketing Sean Hanley said the new range represents the largest generational change for Camry since the nameplate was introduced in 1983.
"All-new Camry builds on the car's proven reputation for quality, durability, reliability, space, comfort and safety while injecting greater visual appeal and a fun driving experience with rapid acceleration and crisp handling," Mr Hanley said.
"Sharp pricing adds remarkable value to an all-new Camry that looks great while offering an unprecedented level of driving enjoyment and improved fuel economy," he said.
"New Camry has all the ingredients to continue as Australia's best-selling mid-size car, a position it has held for the past 23 years in a row."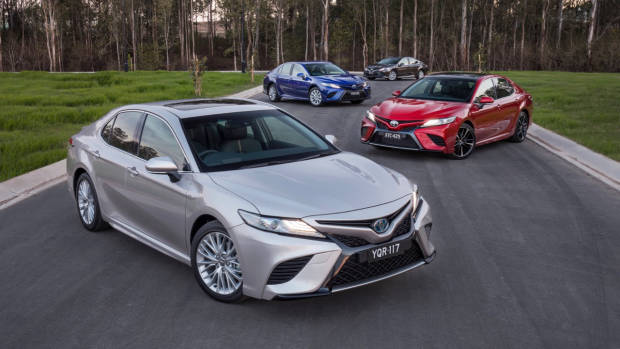 Model Lineup
The 2018 Toyota Camry lineup has changed to accommodate Toyota's new model naming structure. Now a four-tiered lineup with nine individual available specifications, the same 2.5-litre four-cylinder petrol engine, as well as the new 'Dynamic Force' 2.5-litre petrol teamed with a hybrid drivetrain and a 3.5-litre V6 petrol that replaces the former Aurion are part of the local Camry lineup. As with other Toyota models, the new Camry's lineup consists of entry level Ascent, value-focused Ascent Sport, sportier SX and high-end SL, with the four-cylinder unit available on all four models. The hybrid is limited to non-SX spec, and the V6 is limited to SX and SL.
Pricing starts from $27,690 for the entry level Ascent 4-cylinder, up by $1,200 – though Toyota are currently offering the current Camry Altise for $26,990 drive away, meaning the price increase is more like $5,000. This price increase gains significantly more equipment, according to Toyota. Pricing for the entry level Camry Ascent Hybrid has fallen by $500 to $29,990 plus on-road costs, though the current Camry Hybrid is being offered as little as $32,990 drive away. Like the C-HR small SUV, the new Camry's servicing intervals have increased to yearly/every 15,000km, and $195 per year capped pricing lasts for five years.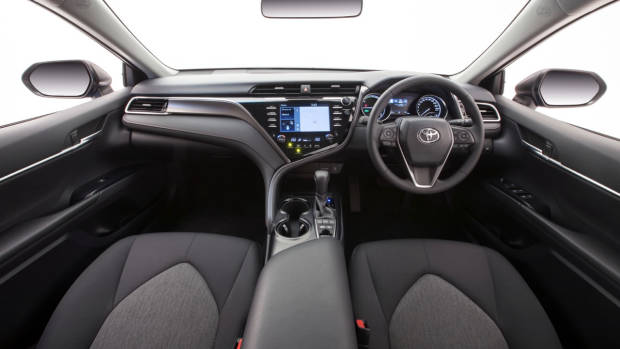 Standard equipment for the entry level Camry Ascent is more generous than before, with Toyota's SmartSense active safety tech now standard equipment, gifting all Camrys autonomous emergency braking with forward collision warning, 'all speed' radar cruise control, lane departure warning with steering assist and automatic high beam headlights. In addition, LED headlights with LED daytime running lights and tailights, as well as an electronic handbrake (goodbye to the foot brake!), air conditioning, seven airbags, driver's seat electric lumbar adjustment, auto up/down on all windows, a 7-inch touchscreen with six speakers and Toyota Link, as well as a urethane steering wheel with audio controls and gearknob.
The Camry Ascent hybrid earns more equipment for its price premium, including dual-zone climate control, keyless entry and start, as well as hybrid-specific equipment including the new Dynamic Force engine, CVT transmission with six newly-stepped ratios and a Nickel-metal hydride (Ni-MH) battery (now mounted under the rear seat due to the adoption of Toyota's new TNGA platform) drivetrain and space-saver spare wheel due to batteries taking up space in the boot.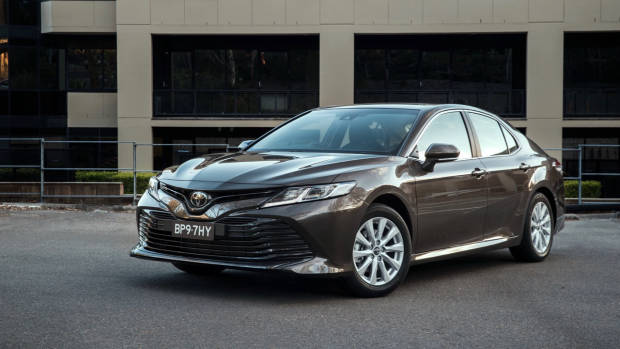 Step up to the Ascent Sport ($29,990 for the 2.5-litre, $31,990 for the hybrid) and buyers earn sportier exterior styling, keyless entry and start, front and rear parking sensors, an 8-way power driver's seat, dual-zone climate control, a leather-wrapped steering wheel and gearknob, a 7-inch driver's information display and a larger 8-inch touchscreen with inbuilt satellite navigation. Toyota claims that the Ascent Sport is now priced $200 better as the 2.5-litre, and $1,200 better as the Hybrid compared with the former Camry Atara S.
Above the Ascent Sport sits the Camry SX, which is available in both petrol 4-cyl ($33,290 – $200) and V6 ($37,290) forms. The Camry SX adds 19-inch alloy wheels with sports suspension, paddle shifters, 'higher-grade' LED headlights and tailights, a rear lip spoiler, sports seats with leather upholstery, two rear seat USB charging ports and wireless phone charging. The Camry SX is available with a 3.5-litre V6, and replaces the former Aurion in Toyota's lineup.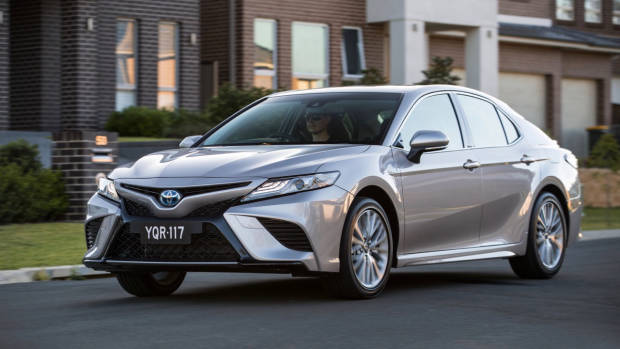 Top of the local Camry tree is the Camry SL and is the only model available with all three drivetrains – the 4-cyl petrol costs $39,990, the hybrid $40,990 and V6 $43,990. Camry SLs earn more active safety equipment, including blind-spot monitoring and rear traffic alert, as well as rain-sensing wipers, smaller 18-inch alloy wheels for better ride quality in line with the SL badge, ventilated front seats with 10-way adjustment for the passenger and memory functionality for the driver, a 10-inch colour head-up display, auto-dimming rearview mirror, power steering wheel column adjustment and a panoramic glass roof (4-cylinder and V6) or glass sunroof (Hybrid).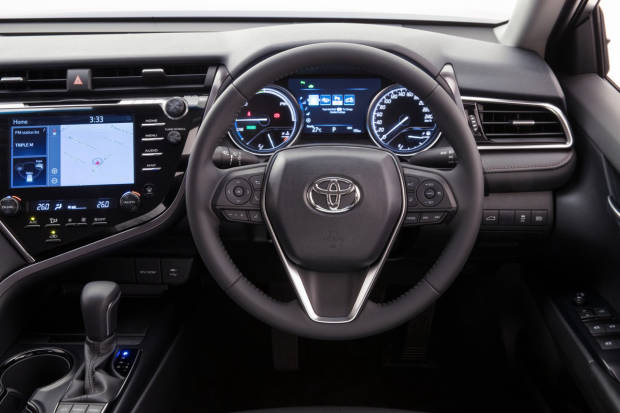 Drivetrains
The 2018 Toyota Camry offers more drivetrains than ever before, with a total of three on offer, with a newly-developed hybrid drivetrain joining the carry-over 2.5-litre four-cylinder petrol engine and 3.5-litre V6 that essentially replaces the Aurion in the Toyota lineup.
Instead of offering the new 'Dynamic Force' four-cylinder engine as per other markets, Toyota Australia has chosen the same proven 2.5-litre four-cylinder engine as the previous generation model to power the Camry. This engine produces 133kW of power and 231Nm of torque in base Ascent trim, or 135kW/235Nm due to a dual exhaust system in Ascent Sport, SX and SL trims. This engine is matched to an improved (according to Toyota) six-speed automatic, and now features three different drive modes (normal, eco and sport) and auto-blipping control.
Toyota claims fuel consumption of the 2.5-litre petrol engine at 7.8L/100km for the Ascent and 8.3L/100km for SX and SL models. CO2 emissions are listed as 181g/km or 194g/km for SX and SL variants. Of the 930,000 local Camry sales over the past 30 years, the four-cylinder variant has sold approximately 705,000 – needless to say, Toyota are expecting a similar sales split for the new model.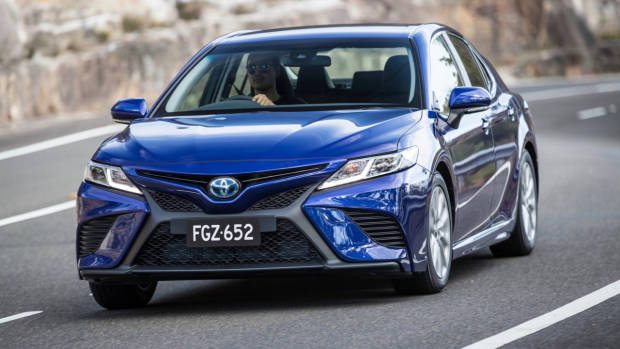 20% of the current Camry's sales have been for the hybrid variant, a figure that Toyota Australia expects to grow, thanks to the new generation of hybrid drivetrain offered in the new Camry. Featuring the new 'Dynamic Force' 2.5-litre engine that was rejected for the standard model and a Nickel-metal hydride (Ni-MH) battery that is now mounted under the rear seat thanks to the adoption of Toyota's new TNGA platform, a total power output of 160kW is 8kW superior to the last model. The petrol engine produces 221Nm of torque, with the electric drivetrain producing 202Nm.
Whilst the outputs may be similar to the old model, Toyota is proud of the efficiency gains with the new generation of Camry Hybrid. Now rated at just 4.2L/100km for the Ascent and Ascent Sport (4.5L/100km for the SL), the new hybrid system uses one litre less per 100km – a claimed 19 percent improvement over the last model. Whilst the new engine and battery system aid this consumption, a number of mechanical engineering changes have also been made, including Toyota's D-4S multi-hole direct injection system to boost efficiency and output, electric valve timing actuation and a new Power Control Unit for the electric drivetrain.
Having been sold before and disappearing when the Aurion arrived on the scene in 2006, the V6-powered Camry has returned for 2018. This time around, the Camry V6 is powered by a new 224kW/362Nm 3.5-litre unit and is matched to a new eight-speed automatic with paddle shifters. This new V6 uses Toyota's new VVT-iW system, which allows for an operation of both Atkinson and Otto cycles for 'maximum engine efficiency and performance'. Toyota claims fuel consumption of 8.9L/100km for the SX and 8.7L/100km for the SL – down from 9.3L/100km in the Aurion. CO2 emissions are listed as 202g/km for the SX, 197g/km for the SL and in a move sure to upset the traditional Toyota owner base, the V6 requires a minimum of 95RON premium unleaded.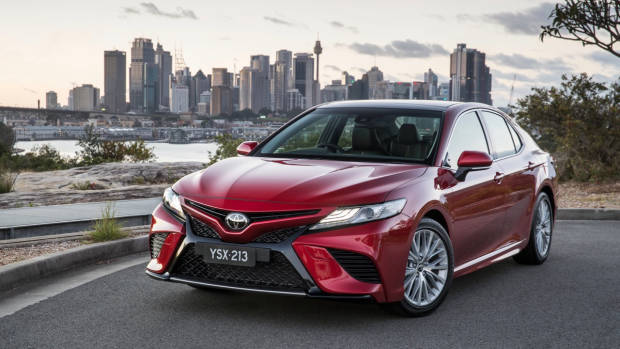 A dramatic new look, inside and out
According to Toyota's global chief engineer, Masato Katsumata (Katsumata-san), the shut down of local production allowed for a total change to the Camry name globally. "Today's buyers want more – they are looking for an emotional connection when buying a car. A great brand like Toyota must change its strategies to meet these challenges – to create a Camry that responds to these needs, our team felt we had to go beyond the normal territory and strive for fundamental changes. In response, we came up with the theme of unprecedented change." Because of these needs, the 2018 Toyota Camry shows a generational change not seen with the brand thus far.
Whilst the lineup, drivetrains and value equation have been improved for the eighth-generation 2018 Toyota Camry, the biggest departure compared with Camrys of old is the shedding of the so-called cardigan image and incorporating much sleeker and more modern styling. Gone is the bland look of the old Camry, in its place an almost-coupe like roofline, with a sleek front end and a large mouth and side intakes to add a more aggressive look. The rear is much more aggressive, with cuts in the rear bumpers and even quad tailpipes from the Ascent Sport and up. Even the inclusion of LED headlights and tailights across the range ensures the Camry appears much more premium, and gives buyers access to more superior headlights than ever before.
The interior appears much higher quality and more premium than any Camry before, and is decidedly more stylish as well. Now featuring a skewed Y-shape dashboard with textured inserts and a stitched dashboard panel, the 2018 Toyota Camry's interior is, like the exterior, a large departure from the previous model. Available technology has increased tenfold, with new 7- and 8-inch infotainment systems, a 10-inch colour heads-up display, wireless phone charging and even ventilated front seats (though, curiously, not with heating unlike every car on the market with ventilated seats) all standard equipment on the high-end SL model.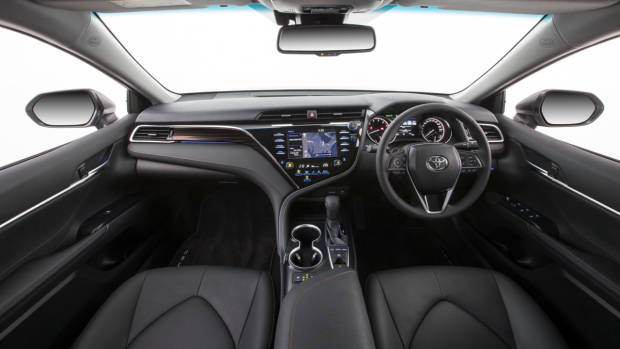 The 2018 Toyota Camry's overall length of 4,885mm (4,905mm for models other than the Ascent due to longer bumper styling) is 35mm longer than the previous Camry, aiding both interior and bootspace – the Ascent's 493-litre bootspace due to a full-size spare wheel is 22-litres less than previous non-hybrid Camrys, though the 525-litreage of the new model is 10-litres more and hybrid models now feature the same bootspace as the non-hybrid models thanks to the relocation of the batteries from the boot to under the rear seat.
The interior space of the 2018 Toyota Camry has increased thanks to a 50mm longer wheelbase, now 2,825mm. Lower hip points help contribute to more interior space, even despite the 25mm reduction in total height – 1,445mm. The Camry's width grows just 5mm to 1,840mm.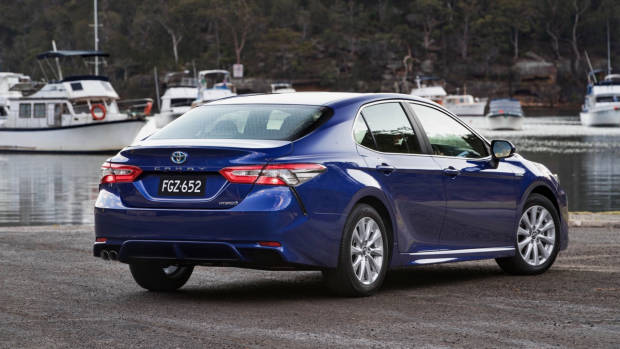 2018 Toyota Camry pricing (plus on-road costs):
Ascent 2.5-litre: $27,690
Ascent Hybrid: $29,990
Ascent Sport 2.5-litre: $29,990
Ascent Sport Hybrid: $31,990
SX 2.5-litre: $33,290
SX V6: $37,290
SL 2.5-litre: $39,990
SL Hybrid: $40,990
SL V6: $43,990
The 2018 Toyota Camry is due to arrive in Toyota showrooms later this month.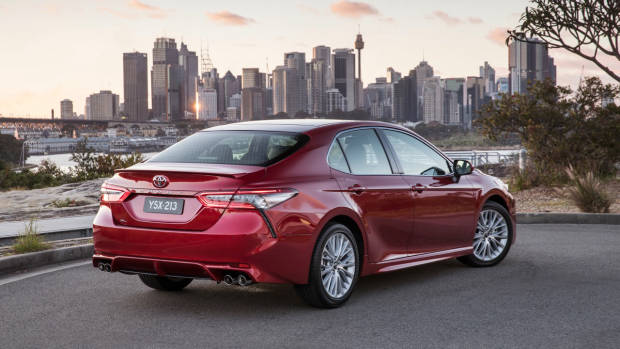 Stay tuned to Chasing Cars for our first drive review of the 2018 Toyota Camry.