The anticipated ninth-generation of Toyota's long-running Camry midsize sedan has been fully unveiled and is set to land in Australia in the second half of 2024.
Debuting at the Los Angeles Auto Show, the Camry Hybrid previews a significant new chapter for the sedan which will go hybrid-only for its new generation, similar to the C-HR small SUV.
Although the Toyota Camry has confirmed all-wheel-drive hybrid options for the US market, so far only front-driven versions have been locked in for Australia.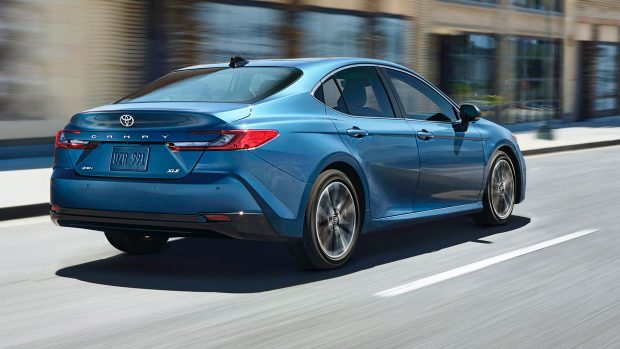 Armed with a more efficient hybrid powertrain and a significantly updated interior featuring technology such as a huge 12.3-inch multimedia screen, the ninth-generation takes the fight to rivals such as the recently updated Hyundai Sonata.
The new design – which Toyota has previously teased is a clear evolution of the previous eighth-generation 'VX70' which has been on sale since 2017.
What's new for the 2024 Camry?
A cleaner and more modern design takes centre stage on the new Camry which features a distinct new grille design that looks like it has taken significant inspiration from current generation Lexus models like the RX.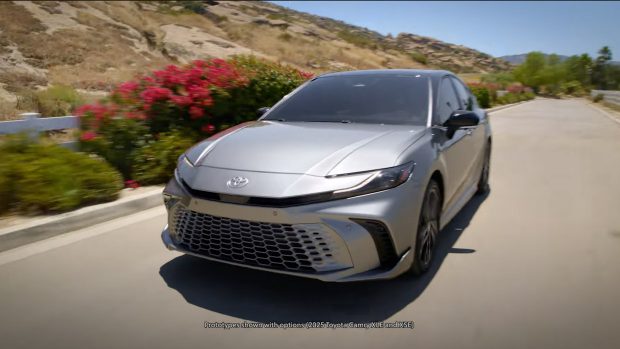 The rear has been similarly tweaked with slimmer tail-lights, while the side profile maintains the current generation's recognisable silhouette. Toyota says that the new Camry will be available with 17-inch or 18-inch alloy wheels depending on grade.
The new Camry will also be the first Toyota in Australia to be equipped with the auto-maker's 2.5-litre inline-four cylinder engine and fifth-generation Toyota Hybrid system, which first debuted on the Corolla Cross small SUV.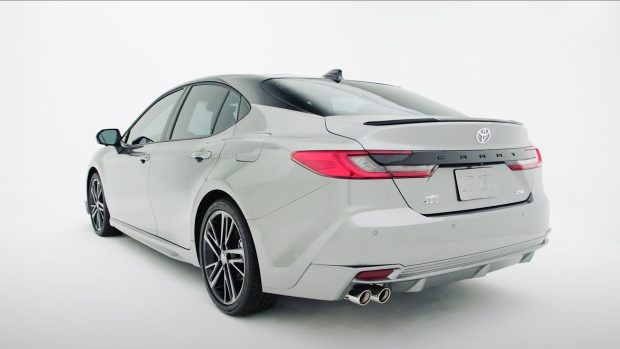 While Australian specification details have not yet been confirmed, Toyota has revealed that three-grades will be available in Australia.
More powerful and more efficient
As previously mentioned, US versions of the Camry gain a hybrid-powered all-wheel-drive option – similar to the RAV4 SUV here – which will be available across its lineup stateside but there are no signs pointing to Australia's Japanese-built models scoring this upgrade.
US details for the new Camry also highlight a retuned suspension and increase in power output for the new model, with around 167kW of power expected for the new engine in front-wheel-drive form; AWD models quote 173kW combined.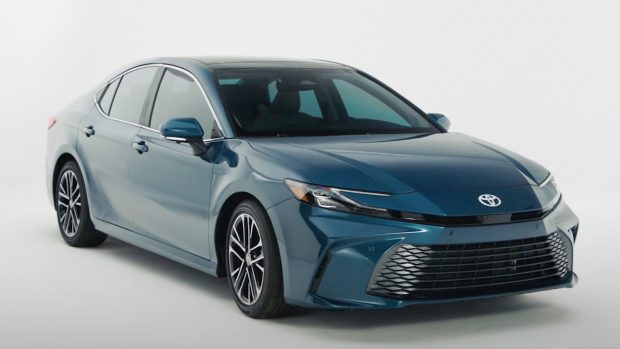 For comparison, the current eighth-generation Toyota Camry is also powered by a 2.5-litre petrol-electric hybrid which produces 160kW of power, meaning for a modest increase for the new model.
Although Toyota says the Camry is more efficient it's yet to reveal by exactly how much; these details will likely come closer to the official launch.
Refreshed, tech-heavy interior for 2024 Camry
Inside the new model sports a heavily re-designed and tech-ladden interior which debuts a 12.3-inch media display which will be available on higher spec models. Lower grades will feature an 8.0-inch display.
A 7.0-inch digital gauge cluster will also debut on lower grades, with a 12.3-inch version on higher spec models.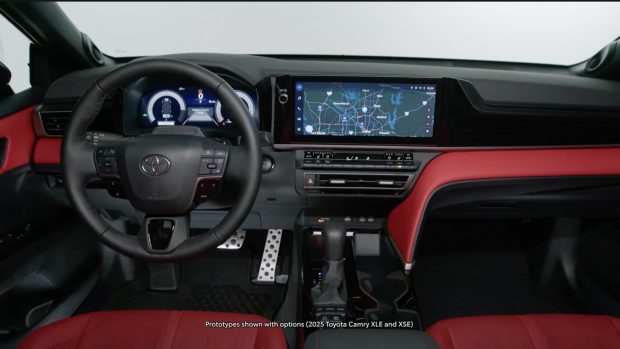 As well tech updates, Toyota boasts many comfort-focused changes for the new Camry including "ergonomic improvements for seating comfort", with the front seats receiving updated seat backs and repositioned headrests. Heated and ventilated front seats will also be available depending on the grade.
Camry continues to dominate its segment
In the face of a declining midsize passenger car segment and falling sedan popularity, the Camry continues to buck the trend, in markets like Australia and North America at least.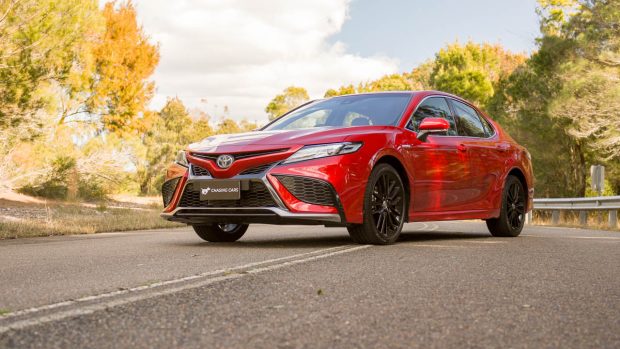 So far this year it has shifted 8055 units, delivering a 69.8 per cent market share and a commanding lead over its second and third place competitors, the Mazda 6 (1305) and Skoda Octavia (1215).
Despite its popularity in Australia the model was discontinued in its home market of Japan earlier this year due to declining domestic sales. Nevertheless, it continues to be produced for overseas markets.