The latest manufacturer to demonstrate that 2015 is the year of the ute is Nissan. In launching the third-generation Navara utility, Nissan has identified the segment's trend towards car-like refinement. The result is a much more competitive product that's ready to face up to the new Toyota HiLux and the soon-to-be-updated Ford Ranger.
Though twenty-seven variants will be available by the end of the year, in single cab, king cab and dual cab shapes, only dual cab Navaras are available at launch.  The four-door range spans $26,490 for a two-wheel-drive petrol manual, through to $54,490 for a flagship four-wheel-drive ST-X diesel automatic.
The latest Navara, labelled NP300, channels the aesthetic of the full-size Titan utility from the United States—that vehicle isn't available in Australia.  The interior is much more car-like, modelled on the brand's current X-Trail SUV and Qashqai crossovers.  Better and more padded materials, plus updated technology including USB and twelve-volt power, are all featured.
The most significant refinement improvements occur under the Navara's skin, though. Coil springs are used on a new multi-link rear suspension, which ups tail-end stability. Most models also feature a newly-developed diesel from the shared Renault-Nissan stable.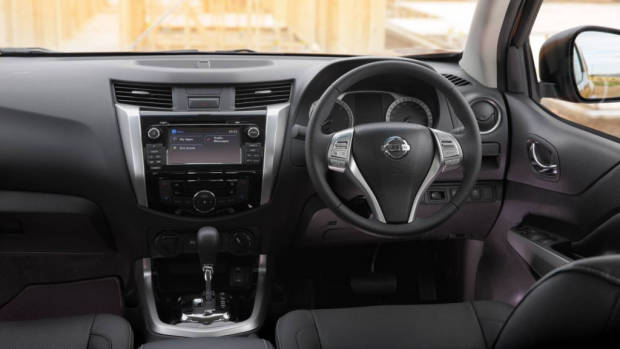 That diesel is a 2.3-litre twin-turbo four cylinder unit. It produces 140kW of power at 3750rpm, and 450Nm of torque between 1500rpm and 2500rpm.  Those figures get to the ground through a choice of a six-speed manual, or a seven-speed automatic.  The manual is slightly more efficient, promising 6.5L/100km combined, to the auto's 7L.  Both promise a quieter cruising experience thanks to better insulation.
The base two-wheel-drive DX model will solely feature an existing 2.5-litre petrol. This unit, shared by the X-Trail and Altima, produces 122kW of power and 238Nm of torque.
All-paw NP300 Navaras feature an on-the-fly four-wheel-drive system, switchable from two high, to four high at up to 100km/h, via a dial system. Low range is also available.
Technology won't be a leadership point for the Navara, though. Only the upmarket ST and ST-X will feature a reversing camera. Disappointingly, this crucial safety technology—a no-brainer on a large vehicle like this—will not even be optional on lower models, a blight for the brand. Advanced safety technology won't be available on any model, though hill start assist and hill descent control will feature on the ST-X flagship.
Capped price servicing is included across the new Navara range, limiting maintenance costs to 120,000 kilometres.
2015 Nissan Navara range: pricing
All prices are RRP list prices, before on-road costs or options. At this stage, only dual cab pricing has been announced for the 2015 Navara.
DX 2WD manual petrol: $26,490
DX 2WD automatic petrol: $28,990
RX 2WD manual diesel: $32,990
RX 2WD automatic diesel: $35,490
ST 2WD manual diesel: $38,990
ST 2WD automatic diesel: $41,490
ST-X 2WD manual diesel: $44,990
ST-X 2WD automatic diesel: $47,490
RX 4WD manual diesel: $39,990
RX 4WD automatic diesel: $42,490
ST 4WD manual diesel: $45,990
ST 4WD automatic diesel: $48,490
ST-X 4WD manual diesel: $51,990
ST-X 4WD automatic diesel: $54,490