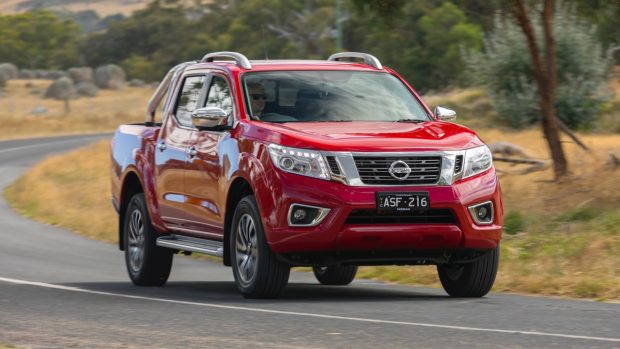 What do you do when your ute has a patchy reputation for carrying loads, even after you've already revised it once? Well, you bring the engineers responsible out to Australia to show them the problem and spend a year fixing it. That's what has gone into the 2018 Nissan Navara Series III – and, happily, it's worked. Sure, it's a little curious as to why we've had to get to a third version of Nissan's D23 NP300 Navara utility before getting to a suitable tolerance for high payloads and heavy-duty towing – but with an all-new Navara still some years off, it's certainly a case of better late than never. We spent a couple of days2, in the Victorian high country getting accustomed to the adjusted Navara, which takes on beefier dual-rate rear springs, a lifted rear ride height and reduced steering ratio in 4×4 dual-cab form and found that Nissan's effort has largely worked. The Navara is a markedly better ute to drive and to carry loads in.
And that's a good thing, as the D23 Navara is one of the best-looking and most comfortable utes on the market. If you didn't carry much in the tray before, you wouldn't have encountered many issues with the Navara either, slow steering and jittery rear end excepted. The good news is that the rear spring upgrades haven't only benefitted those that carry heavy loads: unladen, the Navara is now one of the best-riding utes on the market – it's about as settled as a Ford Ranger with nothing sitting in the tray, if not quite as plush as the refinement leader of this class, the Volkswagen Amarok. And the Navara's new steering ratio (19:1, a 12% improvement on the 2017 model's very slow 21.5:1) benefits everybody, giving this ute more driveability in town. It's easier to get around corners and park thanks to quicker steering and there's a little more weight to the tiller now, too. It's noteworthy, though, that the new spring setup and steering ratio are only found on SL, ST and ST-X dual-cab 4×4 models, with a minimum price of $43,990.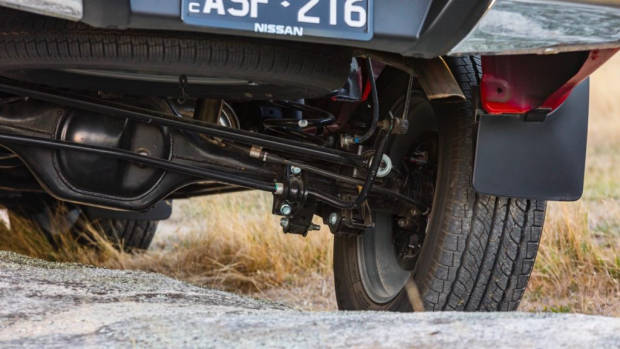 Look at the new Navara outside, and the only difference you'll spot on Series III vehicles is the higher rake of the tray. Unladen, Series III 4×4 dual-cabs sit 25mm higher than the Series II car, hinting at the additional suspension travel; with the maximum payload of about 960kg in the tray, the rear end sits a remarkable 40mm higher than before – the visual 'sag factor' has been eliminated, at last. And while the rear end is relatively shake-free when unladen – it's vastly better than a Toyota HiLux in this regard – put a 650kg load in the tray, as we did, and the Navara is totally settled in the way it rides. The tray itself measures 1,503mm long by 1,560mm wide, but between the arches the 1,130mm width falls short of the 1,165mm standardised Australian pallet.
It's a slightly different story with a heavy trailer, which re-introduces some expected scuttle shake back to the rear end. Navaras equipped with the stronger of the two 2.3-litre diesel engines are rated for 3,500kg of braked trailer; I towed about a third of that and the Navara was adequate, if not exceptional. It'll maintain 100km/h uphill but if you tow heavy loads regularly, you'll want the twin-turbo engine producing 140kW of power and 450Nm of torque, and the six-speed manual gearbox. The seven-speed automatic is favoured by the majority but it costs $2,500 and isn't a great example of its type. Even when unladen, it hunts around and unnecessarily revs out in third gear, way past where the twin-turbo four makes a juicy amount of torque – and it just can't be coaxed into engine braking at all, which is a bore with a heavy trailer. The manual allows you to eliminate these nasties.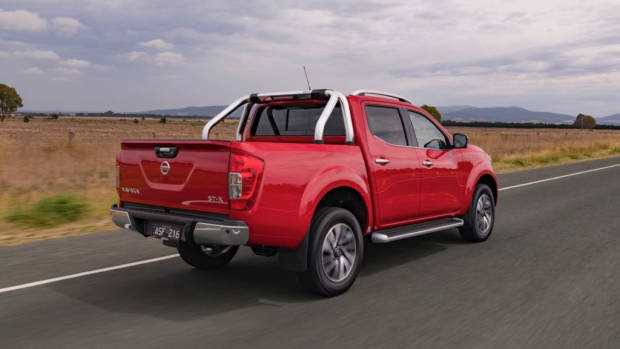 A stunning two-thirds of Navaras sold are either upper-spec ST ($47,190 manual, $49,690) and ST-X ($51,990 manual, $54,490 auto) dual-cab variants, and Nissan does very little trade in Australia in the single- and king-cab versions, so it's no wonder that the launch of the Series III focussed heavily on the posher trim grades. How the Navara presents around the fifty grand mark is a mixed bag. The logically laid-out interior isn't a bad place to spend time, with comfortable and supportive seats allowing most to find a decent driving position, although the old-school steering wheel that adjusts only for rake (and not for reach) leaves a little to be desired. Acres of hard plastic remain the norm for utes, so there are no real concerns there. There are plenty of practical hidey-holes for kit and two 12-volt sockets plus a USB port in the front make powering appliances easy. Sadly, the 7-inch infotainment screen in the ST and ST-X is not up to scratch with ancient graphics, a small panel and a lack of Apple CarPlay and Android Auto.
The Navara range is complicated but can be summarised into five trims: DX (single cab 4×4 only); RX (single, king and dual cab); SL (dual cab only); ST (king and dual cab only); and ST-X (king and dual cab only). See the bottom of this review for detailed pricing of each variant, but here are the basics.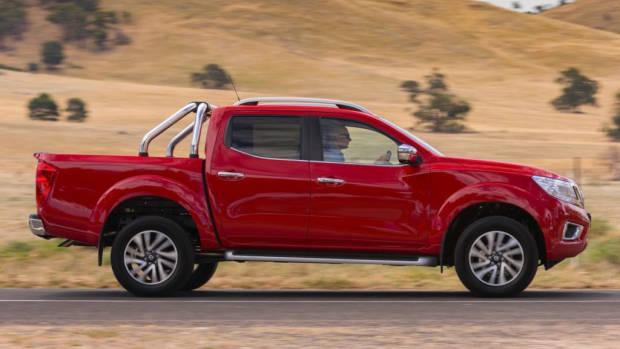 The DX (from $31,990) kicks off with cloth seats and vinyl flooring, 4 speakers with Bluetooth connectivity, daytime running lights, 3 12-volt sockets, cruise control, automatic headlights, 15-inch steel wheels and a leaf-spring rear end that also features on the RX single-cab.
The RX (from $25,990) starts cheaper as it's available in 4×2 form but it adds keyless entry, a rear window defroster, 16-inch wheels and an alarm. In the king cab, the RX additionally gets a bed-mounted 12-volt socket, an auto-dimming mirror, a rear-view camera and a power-sliding rear window. In the dual cab, the RX adds the more sophisticated five-link coil spring rear suspension – but not the 2018 revision with dual-rate springs, strangely, privacy glass, six speakers, and ISOFIX points in the back.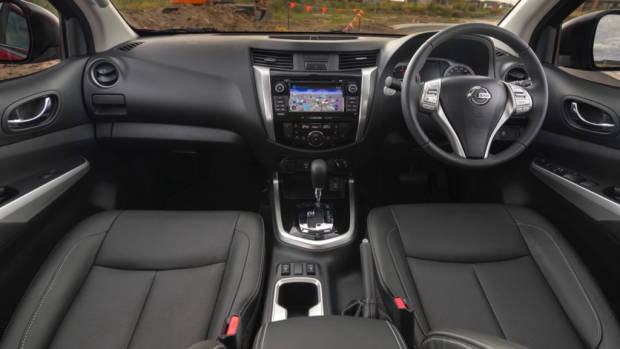 The SL (from $43,990) is dual-cab only and adds wide-body flares, a digital compass in the rear view mirror, LED headlights, a 5-inch infotainment screen, a locking rear differential and the revised dual-rate rear springs, plus the revised steering ratio.
The ST (from $43,990) can be had with the king cab or dual cab and adds front fog lights, a leather steering wheel and hand brake, 16-inch alloys, a sports bar in the tray and sat-nav on a 7-inch infotainment screen. The ST-X (from $49,990) further adds keyless entry and start, a 360-degree parking camera, 18-inch alloys, hill descent and start assistance, rear parking sensors, a tub liner, and power folding mirrors.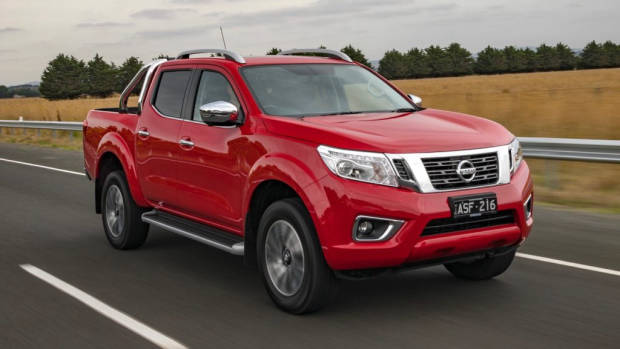 The ST-X, which looks great outside with silver roof bars (why don't more high-spec utes have these) and a smattering of chrome trim, is especially nice when equipped with the $1,500 leather package, which introduces black leather upholstery, heated seats in the front and a 10-way electrically-adjustable pew for the driver. The ST-X can be further optioned with an opening sunroof for $1,000, bringing the cost of a fully-loaded auto Navara to an eye-popping $56,990 – that's straying into Volkswagen Amarok V6 Sportline ($55,990) territory, which means losing luxury kit like leather, but the Amarok remains the sole V6 diesel ute on the market, producing a healthy 165kW/550Nm in ultra-smooth fashion. It'd have to be a consideration if you're in the third of people who spend pretty big bucks on the ST-X trim.
The Amarok might be the sole V6 diesel on the market now, but Nissan offered a similar 170kW/550Nm six-cylinder diesel in the previous-shape Navara. There's no six-cylinder on offer on this D23 Navara, but there should be. Nissan theoretically have access to the Mercedes-Benz 190kW/550Nm diesel six that will be fitted to Benz's rebodied Navara, the X-Class. We quizzed Nissan's global senior vice president of light commercial vehicles, Ashwani Gupta, about the chance of a new Navara V6; Mr Gupta admitted the idea was possible and worthy of consideration but remained cagey on any hard commitments. It was the same story on the question of whether Nissan would consider a Navara in the performance ute space to rival products like the forthcoming Ford Ranger Raptor: it's all possible, according to Gupta.
A six-cylinder Navara would be a good idea as even the higher-spec 2.3-litre four-cylinder diesel is starting to feel long in the tooth. A single-turbo version is offered on low-end models producing 120kW/403Nm, but we spent all of our time in the far more popular twin-turbo version which sees the wick turned up to 140kW/450Nm. On paper, that's competitive with offerings like the 130kW/450Nm 2.8-litre unit in the Toyota HiLux and not far off the Ford Ranger that makes 147kW/470Nm from its five-cylinder. That said, the 1,945kg Navara dual-cab feels slower than its specifications suggest, especially hooked up to the average automatic. It's trucky when revved out, too, but it does provide some of the best fuel economy figures in class. Officially, the twin-turbo is rated at 6.5L/100km in the manual, or 7L/100km in the auto. In combined use, we saw about 8.5L/100km unladen, which in the automatic which is excellent.
Apart from raucous engine noise when the automatic gearbox insists on revving out the 2.3-litre diesel, the Navara is a pretty quiet ute. Road, wind and environmental noises are very effectively isolated, and the engine gets quiet when cruising in its tall seventh gear in the auto, so long-distance cruising is palatable. It's also possible to take your kids along without too many complaints, as the back seat is more generously sized in the Navara than in most of its competitors. Legroom and headroom are good for adults in the second row; there are dedicated air vents, and unlike the Amarok, there are curtain airbags in the back.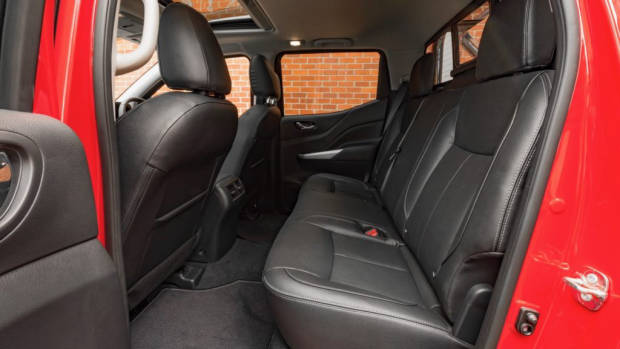 We drove the Navara for about 100km on dirt and gravel and found it to be an intuitive performer off the bitumen. 4×4 models feature a rotary switch in the cabin to choose between rear-wheel-drive – for normal running conditions – to high-range four-wheel-drive, and low-range. Two-high and four-high can be switched on the fly at up to 100km/h, and we found that the Series III switched from one to the other almost immediately, compared to a wait in the Series II Navara. On dirt, the traction and stability control are well-tuned for fast Australian gravel roads and the heavier steering is welcome in slippery conditions, too. The four-wheel-drive system engages the front wheels liberally to scrabble through bends and the Toyo Open Country All-Terrain tyres are pretty grippy here, although they tend to scream a little when pushed on tarmac.
Nissan are clearly aware of the interest in accessorising utes, as the Navara offers a broad range of accessories that can be fitted in-house. Unlike some OEMs, these include nudge bars ($1,140 fitted) and bull bars (from $2,610); LED light bars (from $437); front sports bars (from $945); hard tonneau covers (from $2,760); and fairly eye-catching wide-bodied fender flares ($1,050), among other things.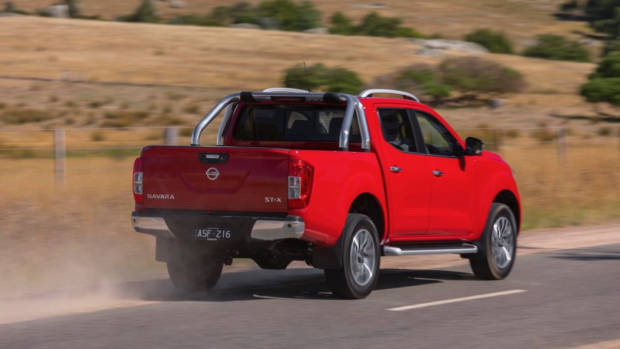 Put all the pieces together, and the Series III is the ute the D23 Navara should have been from the very beginning. It's a little silly that the NP300 (Series I) and the Series II were effectively not up to the task of the kinds of heavy loads some Australian ute drivers subject their vehicle to – but it's welcome that the Series III now carries and tows loads much more effectively. Add that to the Navara's decent all-rounder attitude, good looks and competitive pricing, and it's a ute that should definitely be considered on the list of those wanting a lifestyle ute. With this year's adjustments – even if they only arrive on mid- and higher-end dual-cab versions, the Navara now a fully-worthy rival to the HiLux, Triton, Ranger and Colorado set.