Australians love a ute. There's no denying our obsession for them: the sales charts every month confirm that for every ten cars sold in Australia, three of them are utes. And why is that? Well, these are versatile vehicles – they do seemingly everything. They transport the kids to school, take the family on weekend adventures and carry a lot of shopping – but they can also work hard. As ute sales rise, so too does the success of the reigning king of the segment of many years – the Toyota HiLux. Having amassed 31,407 sales this year – up almost 14 per cent on last year – the HiLux badge, and Toyota itself, share strong market leadership positions. But does the HiLux deserve its first-place sales finish? And is the best HiLux you can buy – the 2017 Toyota HiLux TRD – worth consideration, despite its premium pricing?
For starters, this new TRD grade – which stands for Toyota Racing Development – is related to the last HiLux TRD in looks only. In a move that will disappoint some, TRD haven't fiddled under the bonnet this time around, as they did when they mounted a supercharger onto the last-generation version.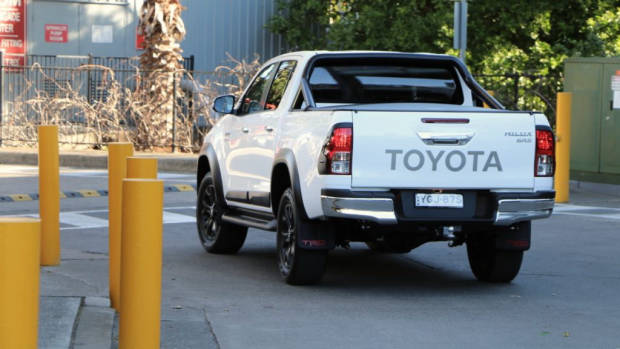 This time, the TRD is, mechanically, an SR5 2.8-litre turbo diesel with the same 130kW and 450Nm outputs as that donor car. Transmission options include a six-speed manual or the more popular six-speed automatic of our test car. Pricing is listed as $61,990 drive away for the white automatic TRD variant: that's one expensive ute! The pricing has the consequence of placing the HiLux TRD amongst two very tough rivals – the Volkswagen Amarok V6 Highline ($59,990 plus on-road costs), and the Australian-engineered, five-cylinder Ford Ranger Wildtrak ($61,790 plus on-roads).
Realistically, the limited-edition HiLux TRD package is merely aesthetic in nature. Available in white or black, the TRD is fitted with many common cosmetic parts that passionate HiLux fans choose to fit themselves. There's a lot of masculine, matte black: the wheels, front and rear guards, wheel arch extensions, taillight covers and sports bar are all finished in this menacing, but attractive, finish.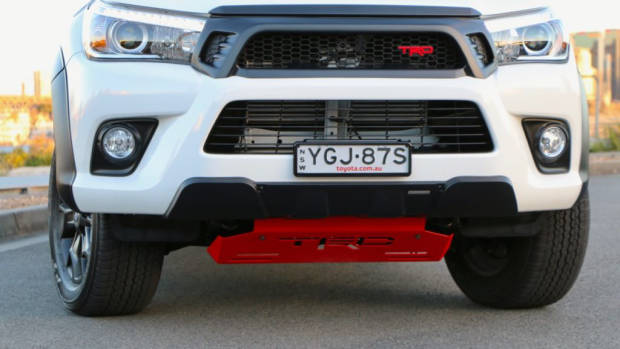 To ensure you don't miss it, the front bash plate and the offset grille badge are bright red. Inside, a carbon-look gearshift and custom floor mats are as broad as the changes get. The package looks convincing, providing some contrast to the already handsomely-styled SR5 model ($56,390 plus on-roads).
The value equation makes sense on the TRD – while the on-road pricing is steep for a dual-cab ute, it ends up being cheaper on-road than the SR5 that sits underneath it – if you consider that the SR5 requires optional leather seats with eight-way power adjustment for the driver ($2,000) to match the TRD inside. You also benefit from the SR5's inclusions – you get navigation, a reversing camera, a six-speaker sound system with DAB+ digital radio, keyless entry and start, climate control, electric folding mirrors, and automatic LED headlights and running lights (impressively, Australian-delivered HiLuxes offer only 'on' or 'auto' for the headlights).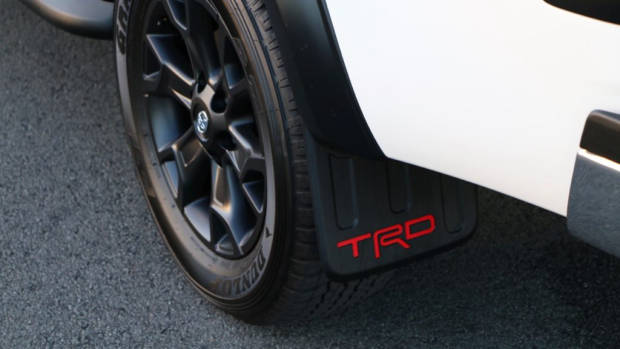 However, the HiLux – like Volkswagen's Amarok – is shown-up by the Ford Ranger in terms of technology, particularly in the safety space. The radar cruise control, automatic high beam headlights, lane departure warning, lane keep assist and collision warning that come with the Ranger Wildtrak (and optional on the Ranger XLT) are nowhere to be seen on any HiLux (or Amarok). At least, like Ranger but not like Amarok, HiLux gets curtain airbags.
While that may not matter to some buyers, the fact is that many Australians are buying utes for full- or part-time family duties, and that means that at the very least, adequate airbag protection should be demanded. And, if Ford can go further and offer advanced safety tech as well, there's no reason Toyota should be excused on such an expensive product.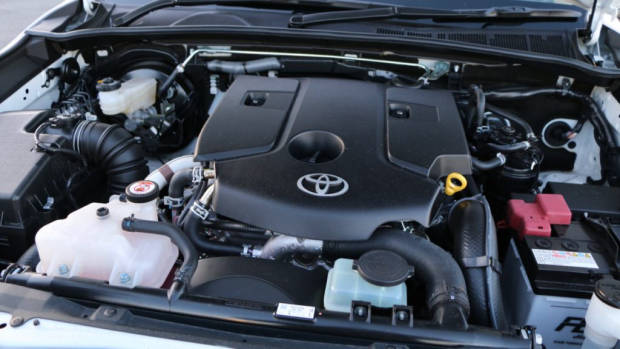 Under the bonnet sits the standard 2.8-litre four-cylinder turbo diesel also used in the HiLux SR and SR5 – the basic WorkMate trim gets a smaller 2.4-litre unit. These two diesels replace the old but familiar 3.0-litre D4D engine from the last-gen HiLux. The 2.8-litre tested here produces 130kW of power and, in the automatic variant, 450Nm of torque (the manual makes 420Nm). Peak torque is produced at a relatively low engine speed – 1,500rpm to be exact – while peak power is produced at a more aggressive 3,400rpm.
The engine itself is not very refined as, despite ample road and wind noise insulation, the diesel is intrusively audible at nearly all revs. It doesn't feel as torquey as the figures suggest, too – a Ranger's 470Nm five-pot pushes you back into the seat where the HiLux doesn't.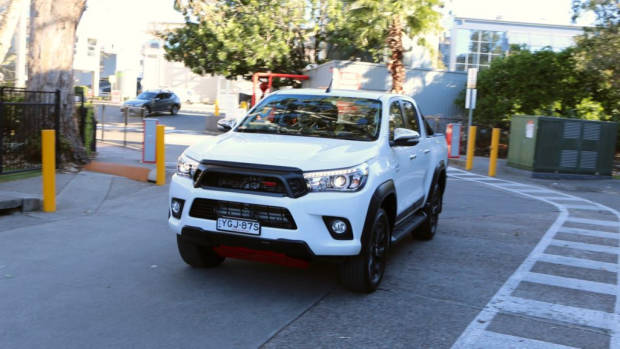 The lack of a sense of urgency can be partially attributed to the tuning of the six-speed automatic gearbox. When not accelerating, the automatic places itself into neutral, and when power is needed again, the car selects what it thinks is the correct gear. Sounds reasonable, but that gear selection is rarely correct, especially when entering a corner.
Frankly, the automatic appears to have been tuned for a petrol engine: floor the throttle and it allows each gear to rev right out, which is entirely inappropriate for this (and all) diesels, which produce their oomph at the low end and have little to give at high, loud revs. It makes the HiLux slower than if it were to upshift smartly around 3,500rpm; the currrent tuning retards forward progress and makes the diesel sound pretty unrefined, compared to both the Ranger and, especially, the comparatively silky Amarok V6.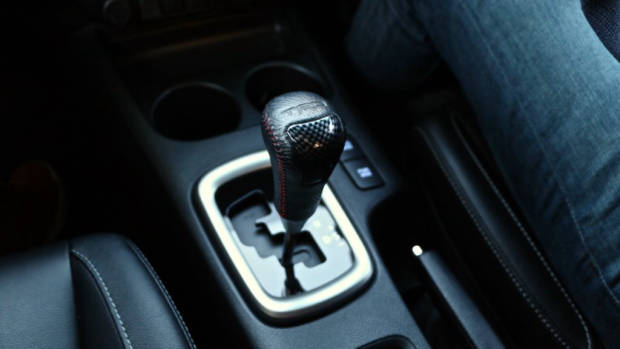 The transmission may also explain why the Toyota's claimed fuel economy is quite high; Toyota's claim of 8.5L/100km on the combined cycle is not brilliant when you consider the much gruntier, six-cylinder Amarok claims 9L/100km. However, we praise Toyota for posting realistic economy claims that are easy to match in the real world. In our urban testing, for example, the HiLux diesel returned 11L/100km – just 0.1L/100km higher than Toyota's urban-only claim of 10.9L/100km. That aside, however, we wouldn't waste our time or $2,000 on the automatic; the six-speed manual makes much better use of the 2.8-litre diesel engine, and the manual is also nearly 20 per cent more frugal!
A future facelift of this HiLux ought to include improvements to the ride and handling. The HiLux demonstrates a constantly fidgeting ride when the tray is unladen. A Ford Ranger is more comfortable with or without a load in the back, and then the Amarok is in a class of its own, feeling almost car-like regardless of load. The Toyota's steering, also, is too slow; three-point turns take longer than they should, and it's cumbersome in tight Sydney streets.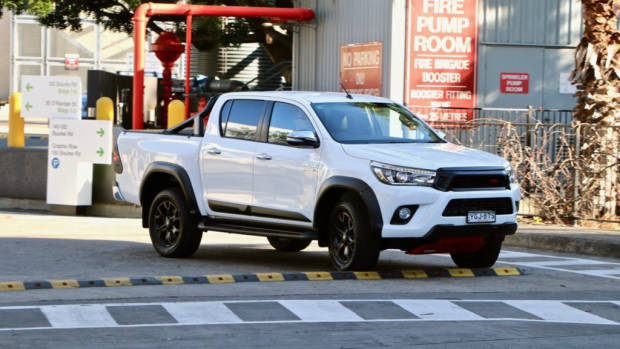 Body roll, though, is not an issue; the HiLux is easier and more rewarding to drive at higher speeds than in town – but it's at these higher speeds that wind noise picks up against the upright windscreen, and the diesel drone is pretty boring. Once again, compare to the Amarok V6, whose diesel – which is shared with the Porsche Cayenne – is effectively silent at highway speeds.
Now, onto towing capacity and gross combination mass. With any car, you need to look at the fine detail carefully – especially with dual-cab utes, which can be a bit deceptive about their load capacity if you have a trailer or boat behind them. In the Toyota's case, the HiLux weighs 2,040kg; it has a gross combination rating of 5,650kg; and it has a braked tow rating of 3,200kg. So, if you load up a 3.2 tonne trailer, that leaves you with just a 375kg buffer for passengers, and cargo. Considering the average Australian man weighs 86kg, a max-weight trailer and five guys aboard (430kg) puts you over the HiLux's legal combination mass limit.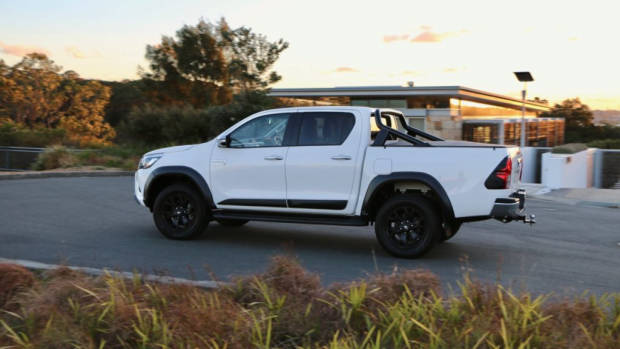 Not that the competition from Ford is much better. Let's take a look at the Ford Ranger Wildtrak, which weighs 2,289kg. The Ford's gross combination rating of 6,000kg offers more breathing space than the Toyota, and it can tow a higher 3,500kg. Tow that max figure in the Ranger and you're left with a laughably low 211kg remaining for passengers and cargo. Legally, that's room for just 2.5 average Australian men – and nothing else. The Amarok V6 is more realistic. That vehicle weighs 2,171kg, is rated for a gross combination mass of 6,000kg, but its tow rating is limited to a lighter 3,000kg. However, because that hitch is limited, it means that with a three-tonne trailer hooked up the Amarok can be loaded with 829kg of passengers and stuff, or in other words, a full complement of people and their luggage in the tray.
But let's equalise that comparison. Say you've got a three-tonne trailer. With that trailer hitched up, which of these three utes offers the most generous remaining limit for passengers and cargo to put into the vehicle? It's still the Amarok, at 829kg. The Ford can take 711kg, while the Toyota trails the pack at 610kg. That's probably still sufficient for five adults inside and their cargo in the tray, but you what it shows is the HiLux's smallish engine displacement (2.8-litre four-cylinder, versus the Ranger's 3.2-litre five-cylinder, versus the Amarok's 3.0-litre V6).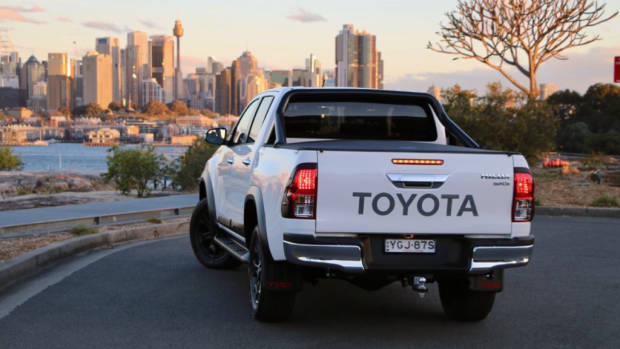 Onto the tray. While the HiLux SR5 – and especially the HiLux TRD – are lifestyle utes at heart, they are designed to be put to work, and a decent tray is an important element of that task. At 1,569mm in length, 1,645mm in width and 481mm in depth, the HiLux's tray is similar in size to that of an Amarok (1,555mm x 1,620mm x 508 mm), but critically, the Volkswagen's tray is wide enough between the arches, at 1,222mm, to carry a standard Australian pallet in the tray. An Aussie pallet is 1,165mm square, which will not squeeze into the Toyota's 1,109mm of width between the arches. The Ford Ranger's tray is longer, wider and higher than the Toyota's (1,847mm x 1,560mm x 511mm) – but similarly tight arches mean that the Ford is also unable to accommodate a flat Australian pallet.
The HiLux does score points back with its off-road credentials, however. Its 279mm of ground clearance is superior to the Ranger's 237mm – and it's noticeably superior to the Amarok V6, which claims 192mm. Unlike the Amarok V6, the HiLux features a dedicated low-range gearbox, with an interior dial allowing switching on the fly between 2WD high for everyday use, 4WD high for dirt tracks and snow, and 4WD low for heavy-duty off-roading. A rear differential lock is standard equipment to further help off-road. While, like many HiLux TRD buyers, we didn't venture off-road, testing the vehicle exclusively on tarmac duty, previous experience tells us these vehicles are excellent in difficult conditions. The HiLux is one of the best utes around if heading off the beaten track will be a regular task.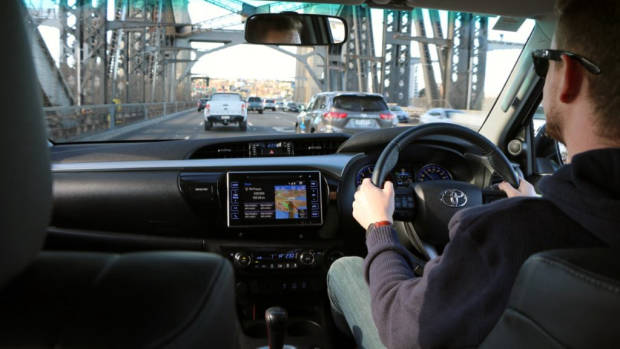 In other areas, too, the HiLux shines in this company. The interior, for example, is a nice place to be. Its layout is quite modern, with a tiered dashboard layout featuring an attractively integrated (and standard) glass-fronted seven-inch touchscreen. It's also quite practical – there are large door bins, a reasonable centre box with an armrest, two cupholders in the centre console, two gloveboxes (one with a air-conditioning function), and even two sneaky cup holders mounted in front of the side air-conditioning vents.
The steering wheel is quite thick, and while it doesn't adjust far enough for reach, it features easy-to-use shortcut buttons, and a good driving position is easy to find. Visibility, in particular, is fantastic – large windows, an upright windscreen with slender pillars and a large reversing camera screen mean that the HiLux is easy to see out of.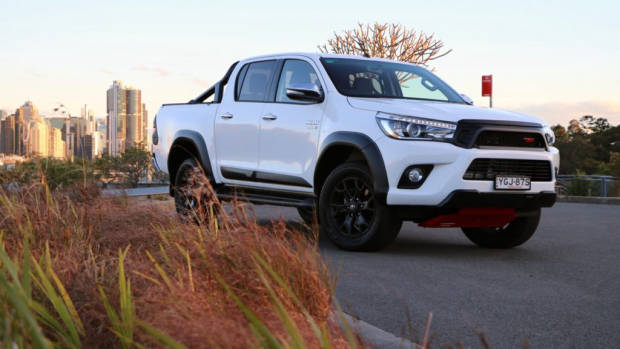 So, are Australians correct in choosing the HiLux as their favourite ute? Well, the HiLux has its good points. Its cabin is refined, the ownership costs are pretty cheap, it's got great visibility, it's styled handsomely, and Toyota's usual reliability – and the HiLux's reputation for dependability – mean that for a lot of buyers, the HiLux will be the only choice. And, further, the Toyota HiLux TRD introduces a bit of flair, and some added value, into a commonly-seen ute.
However, there are rivals that, with far superior refinement, feel considerably 'newer' than the HiLux. That's especially the case in the Volkswagen Amarok V6. The VW doesn't have the same outright off-roading ability and the lack of curtain airbangs is a big oversight, but it has a hugely-appealing V6, and its annual servicing requirement (rather than the Toyota's six-monthly demand) means it's actually not much more expensive to maintain.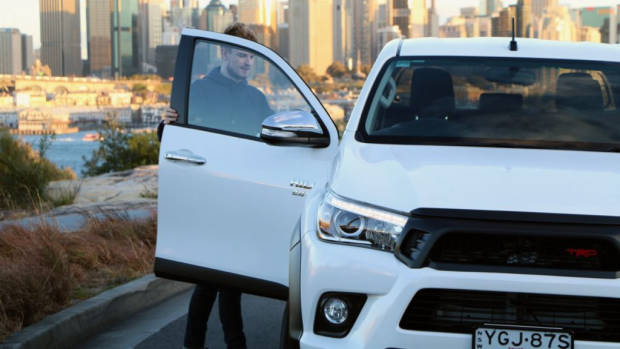 For me, though, a Ranger Wildtrak would be an even better option. It offers a better technology proposition than either competitor, particularly on the safety front. It can tow the most – 3,500kg; its gross combination rating is mid-pack but generous enough. Unlike the HiLux, the Ranger is proof that Ford isn't just sitting on its laurels with ute-building – it's trying to make utes that are really well-rounded, and it is succeeding. More Australians are being converted – Ranger sales are closely trailing those of the HiLux. So what should Toyota do? Well, it needs to inject the kind of fresh thinking that made the new C-HR small SUV such a surprisingly good car. But if Toyota confines that innovation to its passenger cars while rivals like Ford and Volkswagen put in a major effort, the HiLux will be in danger of losing a sales crown that Toyota, at times, appear to take for granted.