Market-niche expert Toyota is planning to add yet another small SUV to its line-up in Australia in around 12 months time and it's the Japanese-built Corolla Cross – unveiled late yesterday in its home market and due to start production later this month at Toyota's Takaoka plant.
This follows the reveal of the North American Corolla Cross line-up last week – a car that will be the debut vehicle from a brand new joint-venture (with Mazda) facility in Huntsville, Alabama once production begins there in December.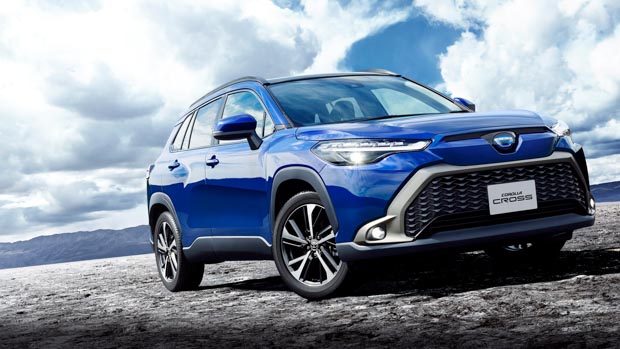 The Corolla Cross small SUV first emerged way back in July 2020 from Toyota's Thai plant, followed by the same car from other production sources in Taiwan, Brazil and South Africa.
Given this breadth of scale, there's clearly plenty riding on this Corolla-badged SUV.
Yet the Japanese version only appeared late yesterday, and it features completely different front-end styling to the Corolla Cross offered in all other markets.
Toyota Australia has already confirmed that our 2023 Corolla Cross models will be sourced from the Japanese plant, but the question remains, will they feature the Japanese look?
Fresh face for Japan's Corolla Cross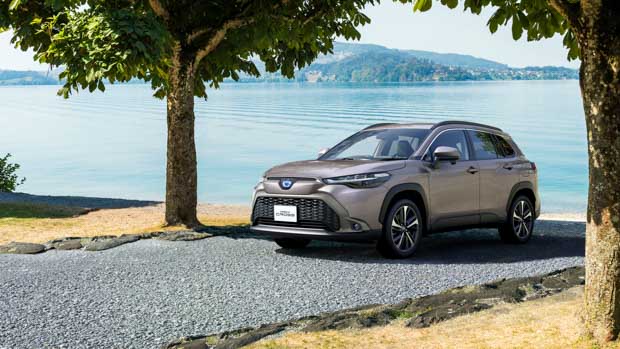 The Thai-built Corolla Cross features a prominent RAV4-esque front grille, as if it's trying to look as large and butch as possible – just like the Corolla Cross in the US, South Africa, Brazil and Taiwan.
The Japanese-built version, on the other hand, features its own much more subtle face.
While the headlight shape is near-identical (though with more high-tech lighting graphics), the entire front bumper and grille assembly has been swapped out for a more sophisticated design that places the Toyota badge dead centre (or in Japan, a Corolla logo) in a similar fashion to the closely related C-HR, and moves the grille's air intakes lower down.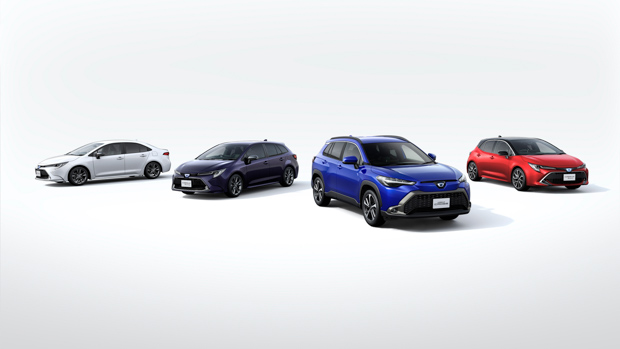 This visually links the Japanese Corolla Cross small SUV with its Corolla hatch, Corolla sedan and Corolla Touring wagon relatives, which is a clever move.
It neatly differentiates the Corolla Cross from the smaller Yaris Cross and larger RAV4, and provides a subtly distinctive visage.
Given that the US-market Corolla Cross front-end has neither the cohesion of a RAV4, the cuteness of a Yaris Cross or the sleekness of a C-HR, the Japanese-market solution appears to make genuine stylistic sense.
We expect this will be the version that Australia will see in late 2022.
Rear end styling tweaks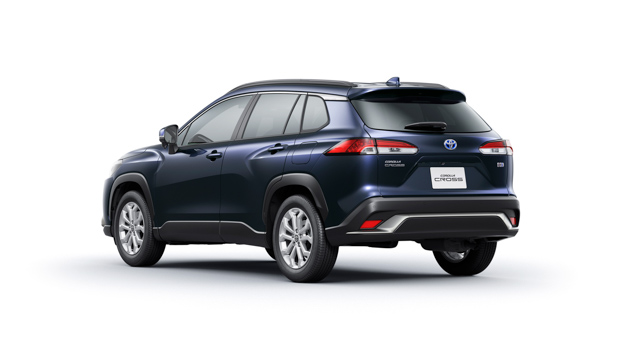 While the general look of the Japanese-built Corolla Cross is much the same at the rear – including tail-lights inspired by the handsome Corolla Touring wagon – there are several changes that link it to the restyled front end.
'Corolla Cross' badgework has been shifted from the numberplate plinth on Thai models to the tailgate (like on US models) and there's a different 'hybrid' badge too. But the main change is to the bumper design, which foregoes a fake centre diffuser detail and vertical side reflectors for a broader silver insert with horizontal reflectors.
The Japanese version also has different tail-light detailing, again with a simpler horizontal aesthetic, and has grown 30mm in overall length.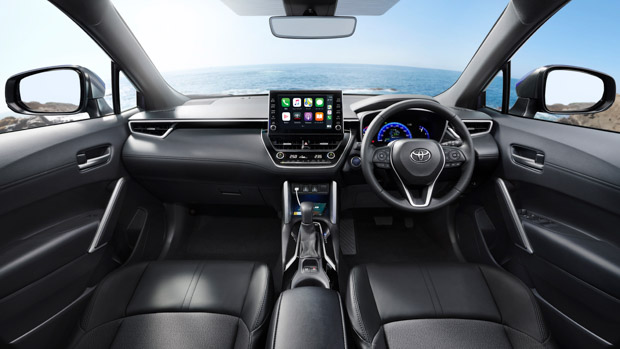 As for the rest of the Corolla Cross's dimensions, it rides on the same 2640mm wheelbase and new-generation GA-C architecture as the Toyota C-HR (launched in Australia in February 2017), which is also identical to what's underneath the current Corolla hatch.
Likewise the Corolla Cross's interior, which has a near-identical dashboard to a Corolla hatch but raised slightly. It also features a reclinable rear seat and a decent 487 litres of boot space below the luggage cover – a huge improvement over the Corolla hatch's abysmal 217 litres.
At 4490mm long, the Corolla Cross is around 100mm longer than the C-HR (4390mm) and Corolla hatch (4375mm), and significantly longer than the Yaris Cross (4180mm).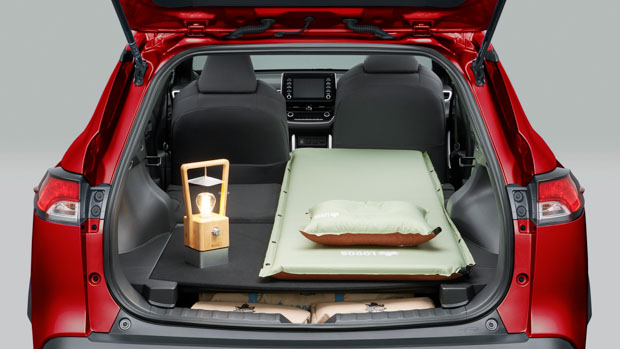 As a reference point, the larger RAV4 rides on a 2690mm wheelbase and is 4600-4615mm long.
What's under Corolla Cross's bonnet?
The Japanese-market Corolla Cross features two engines – a 1.8-litre naturally aspirated four-cylinder and the same 1.8-litre petrol-electric hybrid four with a CVT and front-wheel drive as our C-HR Hybrid.
But the Japanese also get the Corolla Cross Hybrid in 'E-Four' AWD guise, with an electrically actuated rear axle and double wishbone independent rear suspension instead of the front-drive model's torsion beam. Ground clearance is 160mm on all models, regardless of drivetrain.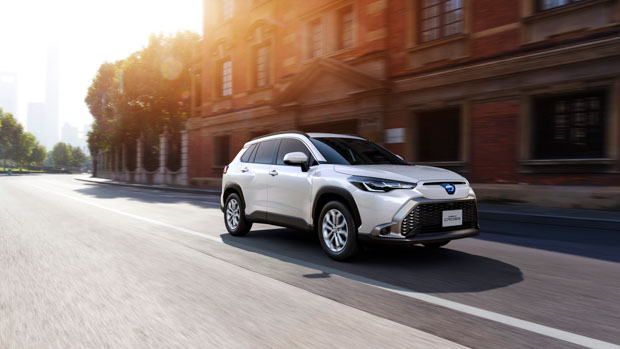 The US-market Corolla Cross, on the other hand, is initially available only with the 125kW/200Nm 2.0-litre 'Dynamic Force' four-cylinder with CVT transmission and front-drive as per our entry-level Corolla, with a Hybrid version arriving later.
In Australia, expect to see the 1.8-litre hybrid powertrain in both front-drive and E-Four AWD configurations, joined by the Corolla's 2.0-litre petrol four-cylinder with front-wheel drive.
Anything else?
Other useful features on the Japanese Corolla Cross include a tight 10.4-metre turning circle, an available hands-free electric tailgate, and an accessory power outlet in Hybrid models that can provide an emergency power supply, and also power household electrical appliances.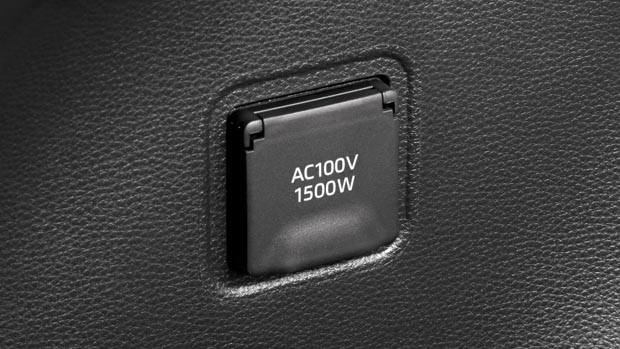 The Japanese do love their gadgets!
Australian positioning
Speaking to Chasing Cars at last year's Yaris Cross launch, Toyota Australia's sales, marketing and franchise operations vice president, Sean Hanley, said "my feeling is that the Corolla Cross will be brought to market at exactly the right time.
"What we know is that urban use of these cars, and active lifestyles, are changing, [so] it is exactly the right time to be bringing this expanded SUV line-up to Toyota."