Toyota has unveiled a purpose-built GR Hilux to take on the famously tough Dakar Rally which is set to kick off in Saudi Arabia from January 2nd, 2022.
The Toyota Gazoo Racing motorsport team will run four vehicles, dubbed the GR DKR Hilux T1+, in the T1 rally category.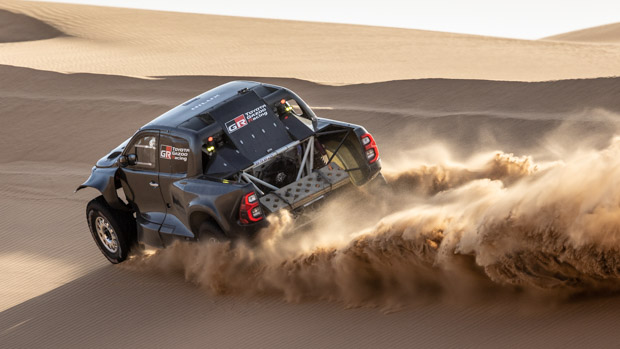 Just as Toyota's long-time World Rally Championship efforts led to the creation of the roadgoing GR Yaris hot hatch, it's more than possible that the Dakar GR Hilux will form a blueprint for a future high-end production GR Hilux off-roader.
Pictures of the GR Hilux T1+ were released this week, with changes aplenty on show. These rally-focussed alterations include enlarged wheel arches to house huge 37-inch tyres measuring 320mm wide. The production Hilux maxes out with 32-inch tyres that are just 245mm wide.
While the Dakar special does share parts with the road-going Hilux, this GR ute ups the performance credentials enormously – thanks to its Land Cruiser heart.
Borrowed from the new Land Cruiser 300 Series is a twin-turbo 3.5-litre V6 petrol engine. Australia's 300 Series 'Cruiser is diesel-only, but a number of overseas markets utilise this petrol engine borrowed from the Lexus LS 500 sedan.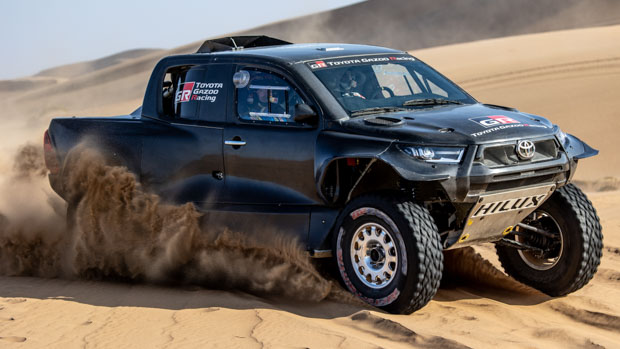 In standard form, this engine produces 305kW of power at 5,200rpm and 650Nm of torque from 2,000rpm, though Toyota says these figures are "significantly higher" in race tune.
The Dakar-spec GR Hilux will also be significantly lighter than the standard ute's2.2-tonne kerb weight, with the body panel crafted out of carbon fibre and dramatically reshaped to suit the conditions.
A huge air ram sits on top of the roof to cool the engine, a feature that will become virtual as the team races through Saudi Arabia, where conditions are known to exceed 50 degrees.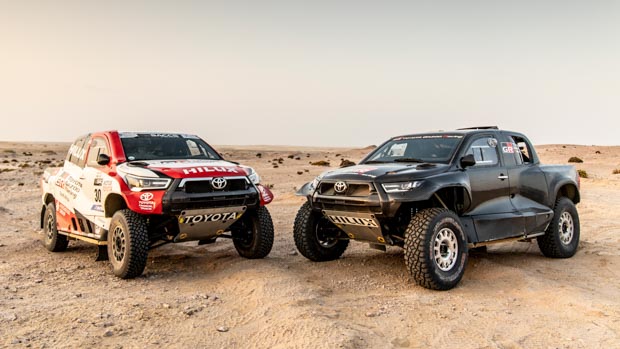 Long-travel suspension has also been fitted, providing up to 350mm of movement and enabling better approach and departure angles to avoid getting bogged in the endless sea of sand dunes.
The GR Hilux remains in prototype form for now and will likely see further improvements before its unleashed onto the infamous rally stage.
It will join other manufacturer-backed efforts from Audi, who will utilise the RS Q e-tron prototype to prove the durability of electric vehicles under treacherous conditions.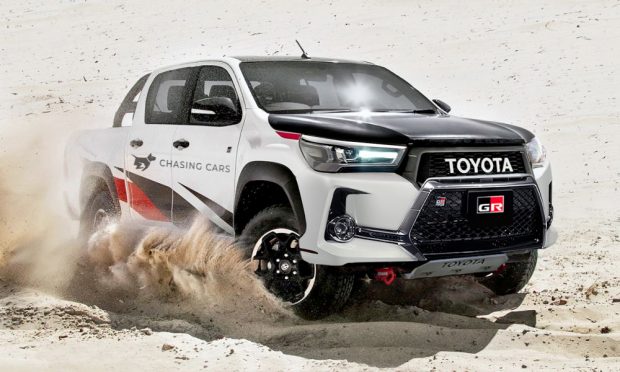 Toyota's latest entry into the Dakar also signifies a continual commitment to rallying and motorsport as a whole.
In the last year, it has competed in a broad spectrum of competitions including the 24 hours of Le Mans, the WRC and even entering the Australian Rally Championship with a highly modified GR Yaris. 
Previously, Chasing Cars created a render of what a production-ready GR Hilux might look like and asked Toyota if it was in the works – and the response was encouraging.