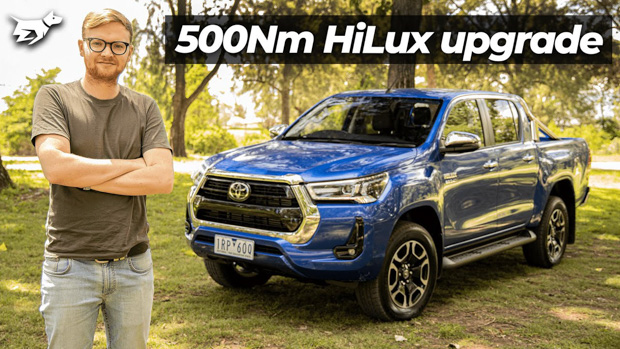 We Aussies are a funny lot. Our most popular TV show involves tarting-up houses for profit; our most popular sport – one no other country plays – sees you scoring a point for missing; while our most popular 'car' is a pick-up typically costing over 50 grand.
You can buy a petrol-powered Hilux WorkMate for a few slabs over $30,000 drive-away, but with two doors, two seats, two driven wheels and an alloy tray, it's not the one ubiquitous on our roads.
Instead, we're buying Hilux 'double cab' utes with four-wheel-drive, a diesel engine and "Look! I have an adventurous lifestyle!" kit. We typically ignore the entry-level WorkMate dual-cab with its 110kW/400Nm 2.4-litre turbo-diesel and hop into the SR or SR5 featuring a brawnier 150kW/420-500Nm 2.8-litre oil-burner.
Tradies, weekend campers, athletic types, grey-nomad adventurers, high-riding mums at school drop off – they all have them. And that's one heck of an achievement by Toyota when you see the best-selling SR5 dual-cab 4×4 is around $64,000 on-road. You can bump that up to $66K if you want an automatic gearbox, as most people do.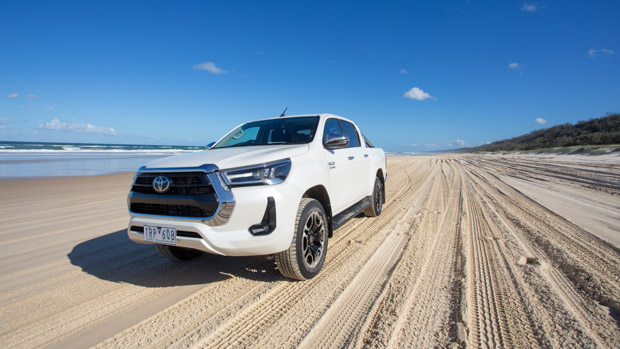 Our love affair with utes has surged this past decade and competition is fierce. There are many cheaper options – the Mitsubishi Triton and GWM Ute included – plus the ever-popular Ford Ranger snapping at the Hilux's heels. Regardless, the Toyota truck has been the land's best-selling vehicle for six straight years.
In August 2020, the Hilux range was given a significant facelift that included styling, performance, driveability, economy and equipment improvements. A few small sweeteners were then added in August 2021 to lessen the blow of more price rises.
In SR5 guise, it's a tough-looking rig with two-tone 18-inch alloys, a chrome grille, sharp-looking LED headlights, stainless steel sports bar and side steps included as standard.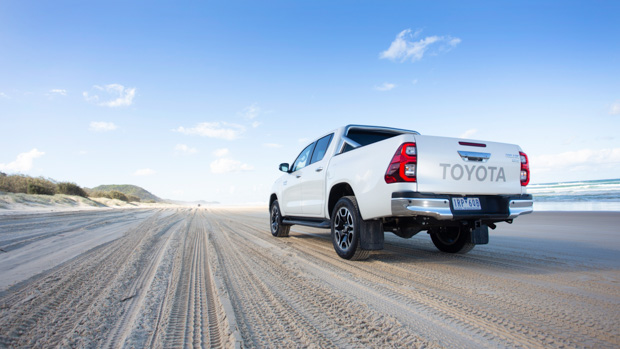 The only free hue is the rental-car white seen in our photos – Toyota asks $675 more for a colour. You get no tub liner or tub cover either, and while you do score a tow bar, it costs extra for the ball and trailer wiring harness.
As our test Hilux SR5 with manual gearbox and ($2500 extra) Premium Interior is about $66,700 on the road, it's a serious chunk of change.
If it's dual-cab ute or nothing for you then you'll not need convincing, but for that money you're in seriously high-specification 4×4 SUV territory, including ute-based ones with off-road clout.
How does the Hilux SR5 drive?
A proper one-tonner, the 4×4 SR5's payload is bang on 1000kg. As with all utes, the ability to carry such mass means the suspension – leaf-sprung at the back in a Hilux – must be able to cope.
If you drive a dual-cab ute without any load in the tub, those leaves at their least compressed deliver a bouncy ride. Older Hiluxes suffered terribly from a pogo-ing rear end that struggled to settle over road bumps, which often made rear passengers feel nauseous. But the latest round of updates saw Toyota promise: "the ride comfort of the rear suspension has been noticeably improved when driving without a load."
So yes, there are improvements, but that's from a pretty bouncy baseline.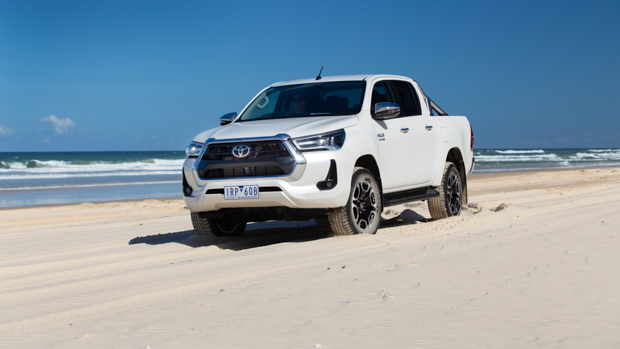 I still think the decade-old Volkswagen Amarok behaves closest to a decent SUV when it comes to ride compliance and handling agility, with the Ford Ranger rating an honourable mention.
I managed to cram about 500kg of logs in the tray of the Hilux and the ride difference was stark. Unladen, I'd take roundabouts and corners in a tip-toeing manner to avoid the body roll and uncomfortable bounces from road imperfections. I'd dial down the speed and steering inputseven further in the wet to prevent sliding.
Logged-on – so to speak – the handling was transformed. The rear obviously felt more planted, boosting not only comfort but also the sense of safety and security in corners. Evidence, if it were needed, that when used as a proper work truck, a Hilux can shine on the road.
The 2.8-litre turbo-diesel four-cylinder engine is reasonably smooth and quiet unless you stomp on the throttle, then the note becomes unpleasantly gruff. When cruising it's whisper quiet – knock it into sixth gear at 110km/h and you'd barely know it was on. The cabin is decently insulated too, while braking performance is above average for such a heavy lump of a vehicle.
There's ample low-down performance from the 2.8 diesel, although with our manual gearbox you're only working with a maximum of 420Nm of torque rather than the auto's chunky 500Nm.
You still surge forward at a decent lick if you're quick through the manual gears, and it's a slick enough six-speed for a commercial vehicle. Towing types and off-roaders may still favour the cheaper manual transmission, and with a rev-matching feature for downshifts, it's incredibly easy and even enjoyable to use.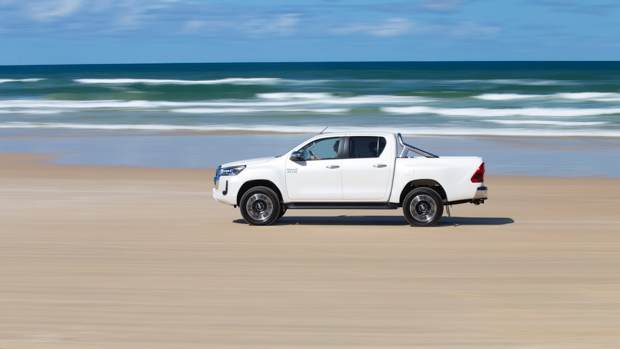 Not so good is the feel of the manual gear shift knob. It looks more in keeping with a 1980s Corolla rather than a $60K-plus high-spec dual-cab, and I found reverse and first gear too close together. Not realising you've selected reverse instead of first could see all your Austin Powers nightmares come true.
We headed to Noosa's North Shore for some beach thrills in the Hilux SR5, offering about 40km of uninterrupted sand adventuring.
The move into low-range 4WD is simple and devoid of nasty clunking, and despite riding very much on road rubber (which we didn't deflate for sand driving), the Hilux proved a superb off-road tool. Has been for years, and that's one reason it enjoys such a loyal following.
Effortless is the best way to describe its progress, even over some tricky deep-sand areas. It showed impressive control over the lumpy terrain, absorbing seriously testing bumps with aplomb.
It may not be the most composed thing on the hard stuff, but put the Hilux in its element and you have ultimate confidence in its abilities and engineering, which is solid peace of mind for those buying a dual-cab for adventurous weekends.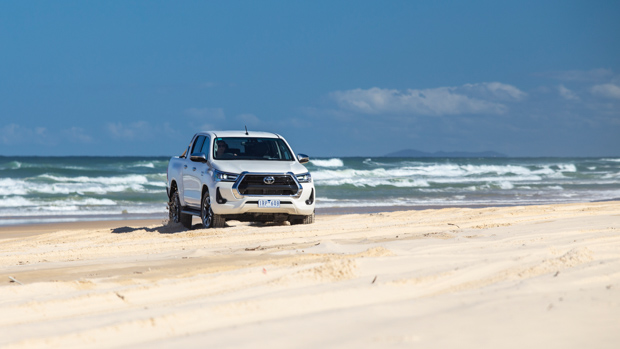 On the specs front, towing is now up with the class leaders at 3500kg. Ground clearance is 216mm, wading depth 700mm, and approach and departure angles at 29 degrees and 26 degrees respectively.
Active safety has been a thorn in the Hilux's side in the past, but inclusions are improving. There's AEB, lane-departure alert, adaptive cruise control and road-sign assist, but no rear cross traffic alert or blind spot warning – really useful things in 5.3-metre long vehicles – which are becoming more commonplace in ute rivals.
There's no surround-view camera either. Again, something incredibly useful when trying to park a ute of this size. You do get front and rear parking sensors and a reverse camera, but in low light or rain it's not the clearest.
How is the Hilux SR5's interior?
Don't expect the SR5's cabin to rival a $60,000 SUV's – it remains quite utilitarian, with hard and scratchy plastics for the door and dash tops.
With an optional $2500 Premium Interior added to our test ute, the seats and door trims are leather-accented, the front seats are heated and the driver's is powered too. Strangely, the heated seat buttons aren't illuminated, so if you fancy some nocturnal warmth you have to turn on the interior light to find them.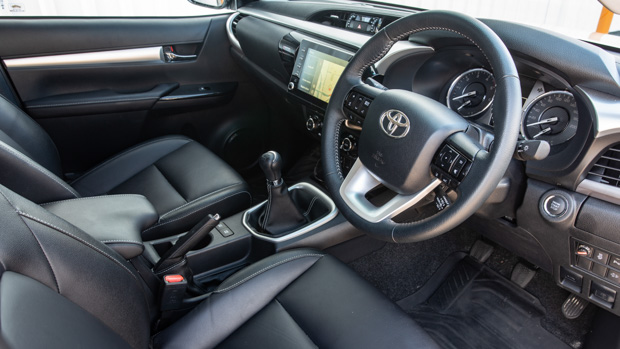 On the positive front you sit commandingly high, seats are superbly comfortable and the dashboard layout is clean and simple to operate. There's ample storage and everything feels robust, if plain.
The 8.0-inch infotainment screen, which is responsive and runs Apple CarPlay and Android Auto, is well-positioned for easy operation, but with the manual gear change I found myself occasionally hitting the screen when up-shifting.
A digital speedo and dual-zone climate control – absent on previous Hilux SR5s – are now standard and you score navigation, digital radio, carpet on the floor (rather than vinyl), an air-conditioned cooler box up front and a 220V power outlet.
Enhancing its family-friendly nature are rear air vents (you won't find them on lesser grade Hiluxes), two Isofix points and two top-tether child-seat anchors. Rear space is ample with good visibility, but the SR5 lacks the creature comforts of modern large family SUVs such as reclining rear seats or USB ports back there.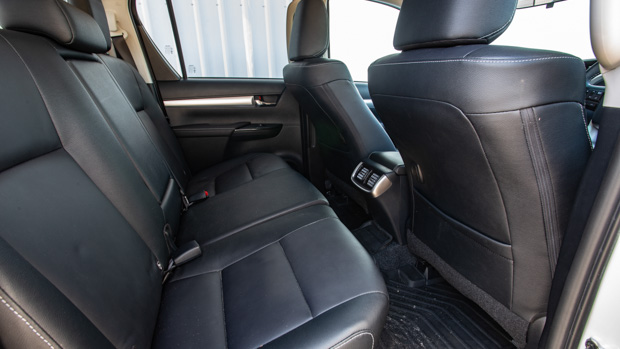 There's no tonneau cover or tub liner included, so factor in spending another few grand to put that right. If the SR5 is to be a proper everyday vehicle, no cover for the tub means whatever you put back there – shopping, work tools, bikes or boards – are more vulnerable to theft, will get wet in the rain and scorched in the sun.
Careful with the tailgate too. It's a heavy thing and lacks the soft-open gas struts seen in the far cheaper GWM Ute, for example.
What are the Hilux SR5's running costs?
While cheap servicing for Toyota passenger vehicles has become legendary, the Hilux requires visits every six months/10,000km and the bills soon add up.
Across five years, those 10 services add up to a whopping $3537. For comparison, five years servicing in a Toyota Kluger is a more digestible $1250. Different buyers and vehicle use I know, but it's worth contemplating if you're tossing up between a dual-cab ute and a large SUV as the family car.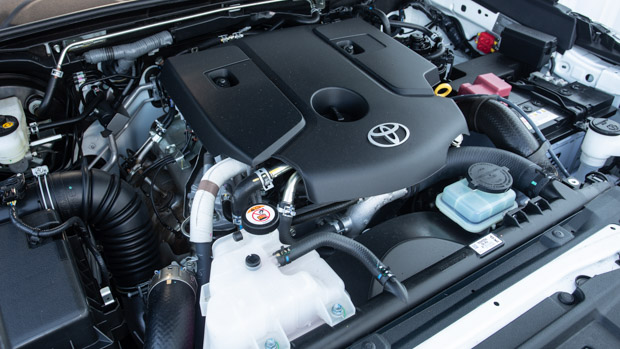 Combined fuel economy is quoted at 7.7L/100km and we returned an impressive 8.7L/100km average over almost 1000km, which included plenty of time playing on the beach.
Toyota's warranty is an industry-average five years/unlimited kilometres. Then there's Toyota's reliability. You can't put a price on the strong reputation the Hilux enjoys, and the fact it's a default choice (alongside the Land Cruiser 70 Series) the deeper you go into Australia's harsh interior speaks volumes for its durability
A bugbear for diesel Hilux owners in recent years has been its diesel particulate filter (DPF) not burning off its build-up if it typically does short, urban trips. Toyota has remedied that by fitting a manual burn-off switch, adding peace of mind.
The final verdict
The sales figures for the last six years don't lie. The Toyota Hilux is Australia's best-selling vehicle time and again because it does most things well and appeals to a massive cross section of our population.
If a Hilux SR5 is bought simply for showboating and school runs – we know many are – it's an expensive, cumbersome and not particularly enjoyable thing to drive. Plus it lacks the equipment, safety, refinement and luxury many buyers would find in a $60K 4WD SUV.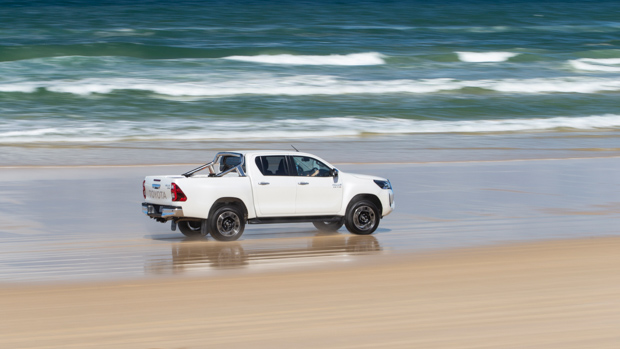 For those who properly use a Hilux for work, adventures, towing or off-roading (perhaps all of the above), the SR5 offers a decent blend of style and features to go with its unquestionable tough-stuff ability.
At a time when dual-cab rivals are plentiful and often deeply impressive, and cheaper, the fact Hilux has remained on top – whatever the reasons – must be respected.