Audi has purpose-built an electric-powered prototype featuring a petrol range extender to take on the infamous Dakar Rally in January next year.
The endurance race covering over 8,000 kilometres in length will see competitors face some of the harshes conditions on the planet as they thread their way across Saudi Arabia.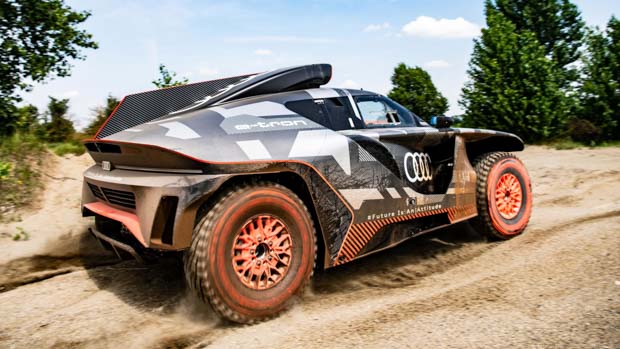 Audi aims to be the first car manufacturer to use an electrified drivetrain to complete the rally, after achieving a similar goal in 2012 when it won the Le Mans 24 Hours in 2012 using a hybrid setup.
With stages stretching up to 800 kilometres in length and a distinct lack of charging infrastructure engineers have opted to fit a petrol-powered range extender to keep the battery constantly topped up.
Similar arrangements have been seen in road cars such as the Mazda MX-30 and the Honda HR-V Hybrid to increase range and reduce overall emissions.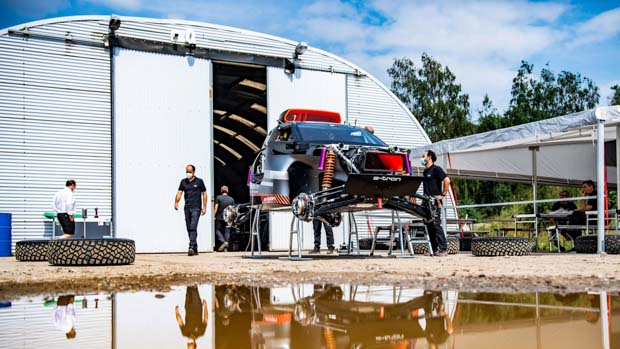 Audi has taken three electric motors from its current e-tron FE07 Formula E car and mounted one motor on each axle to give it a proper all wheel drive system.
The third motor works in conjunction with the DTM touring car-sourced petrol engine to charge the 50kWh battery, which adds around 370kg to the kerb weight by itself.
Engineers say the RS Q e-tron is capable of producing 500kW of power but that figure could be tuned down somewhat as Dakar Rally organisers pour over this new drivetrain for a competitive advantage.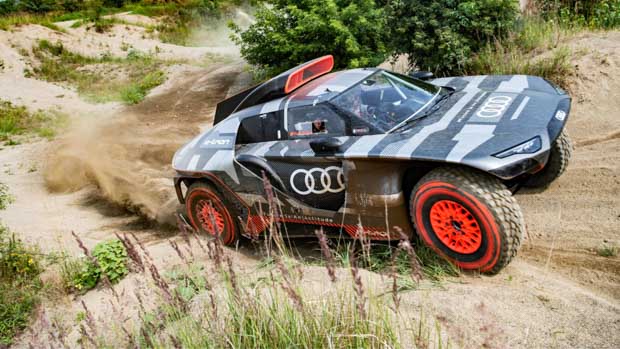 Andreas Roos, who heads up the Dakar project at Audi, stressed that the distance and challenges they were facing were immense.
"What we are trying to do has never been done before. This is the ultimate challenge for an electric drivetrain," he said.
Historically, motorsports is where many car manufacturers have made some of their biggest strides in reliability and producing new innovations, both of which would no doubt be welcomed as Audi looks to convert its entire lineup to EVs.
However, team principal Sven Quandt said this race would be incredibly tough and simply finishing would make the project a success. 
"The electric drivetrain means that a lot of different systems have to communicate with each other. Besides reliability, which is paramount in the Dakar Rally, that's our biggest challenge in the coming months," he said.