Next year's Hyundai Ioniq 6 electric sedan has been spotted on Sydney roads undergoing local tuning ahead of its on-sale date early in the first half of 2023. 
Following the Ioniq 6's official unveiling earlier this month, Hyundai Australia public relations senior manager Guido Schenken said one car was delivered to its headquarters in Sydney early this week for local evaluation and suspension/steering tuning purposes.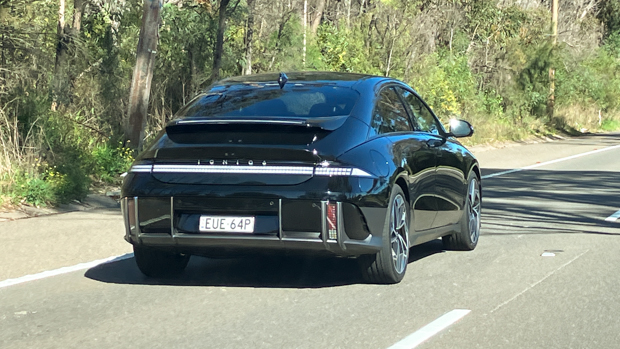 Engineers from Hyundai's local ride and handling assessment team began their evaluation of the Ioniq 6 on Friday in Sydney's northern suburb, where it was quickly spotted by Chasing Cars.
The initial stages of testing will evaluate how well factors such as the suspension and steering of the Ioniq 6 are suited to Australian roads and a judgment call will be made about whether the electric sedan requires localised tuning to suit our conditions.
Hyundai Australia has repeatedly confirmed its commitment to locally evaluating suspension and steering tunes and altering them if required.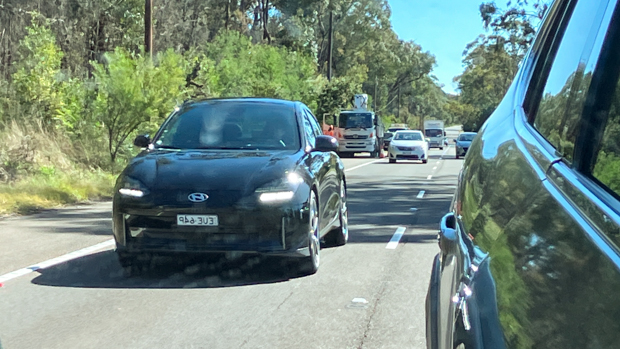 That said, in recent years Hyundai Australia has increasingly judged global or alternative regional tunes to be sufficient for local purposes as the baseline ride/handling prowess of the marque's models has been enhanced.
A localised ride and handling tune wasn't undertaken for the Ioniq 5 midsize SUV due to the difficulty of evaluation during the peak of the Covid-19 pandemic, but the engineering team faces far fewer challenges today. 
Futuristic looks but normal mirrors
Seen without any camouflage and dressed in a shade of black, the Ioniq 6 spotted in our images appears to be a top-spec version with large wheels and a contrasting grey colour applied to the bumpers and side skirts.
Key features like the pixel-style tail-light were seen in action, working in conjunction with a more traditional brake light mounted on the spoiler above.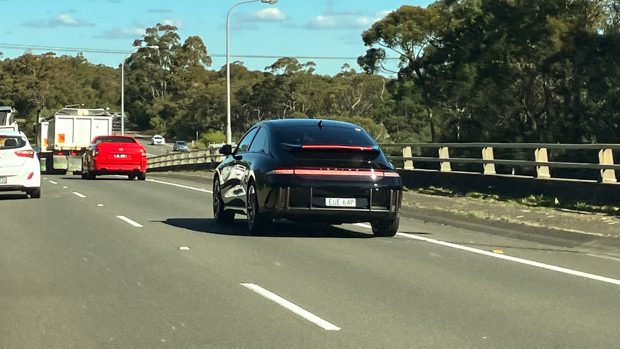 The prototype also featured traditional side mirrors, not the slimline digital mirrors seen during the global reveal. This suggests that Australian buyers will at the very least be given the chance to option traditional mirrors if they choose to do so, similar to the Audi E-tron large SUV when it went on sale.
Ioniq 6 to arrive in early 2023
Hyundai is expected to officially release the Ioniq 6 to Australian buyers early in the first half of next year, with both dual-motor AWD and single-motor RWD variants said to be on the way.
Chasing Cars understands that the single-motor RWD car will produce approximately 168kW/350Nm, while the dual-motor vehicle will make around 239kW/605Nm.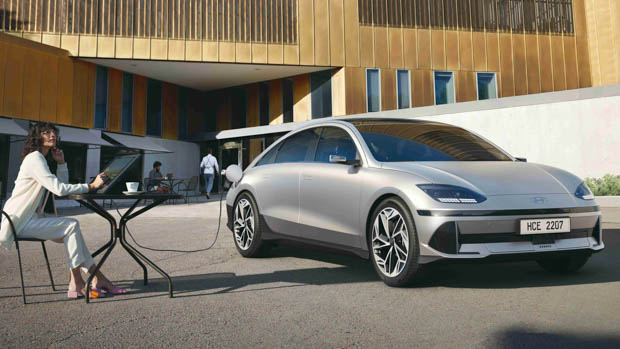 The aerodynamic profile of the sedan has resulted in a drag coefficient of Cd 0.21, which Hyundai says will translate into a WLTP electric driving range of greater than 600km in some specifications.
Two trim grades are likely to be sold in Australia: a mid-specification Ioniq 6 Dynamiq for about $70,000 before on-road costs, and a flagship Ioniq 6 Techniq for closer to $80,000.
If these claims come to be, the Ioniq 6 will likely present a strong new option for those looking to get into an EV and are already considering rivals such as the Tesla Model 3 sedan and Polestar 2 liftback.